21 Best Simple Websites (Examples) 2022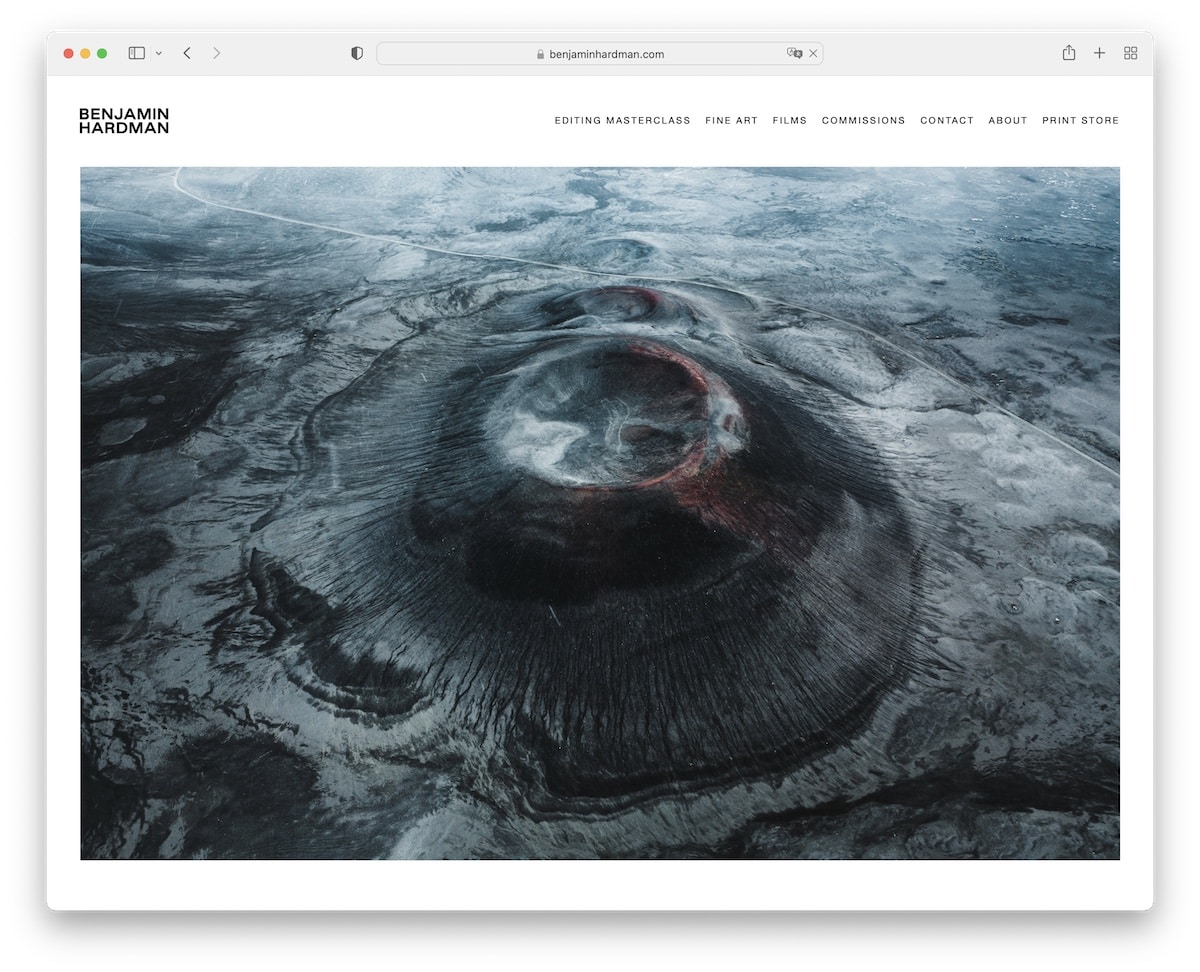 Are you a minimalist searching for the best simple websites for inspiration?
It was pretty challenging to curate a list of the most outstanding with so many beautiful pages.
But here we are; if you like to keep the web design simple, this is the collection you need to check.
From eCommerce and personal websites to online portfolios and business sites, you'll find them all and then some.
While you'll also learn which platform/builder each page uses, we know many of you prefer WordPress.
For this reason, we also created a list of the best simple WordPress themes that aren't only easy to use but create a beautiful and clean website.
Best Simple Websites For Inspiration
1. Bedow

Built with: Gatsby
Bedow is a simple page example with a very engaging video in the hero section that keeps everyone's eyes occupied.
The header only features a sticky waving hand that opens a full-screen menu overlay on click. But the website does use a footer, which is minimalist with links, contact details and a newsletter subscription widget.
Note: Add an engaging video above the fold to trigger visitors' interest.
2. ETQ

Built with: Shopify
ETQ is a simple and minimalist eCommerce website example with a full-screen hero section that features 2/3 image and 1/3 text and call-to-action (CTA).
The header (with mega menu) disappears on scroll and reappears when you scroll back to the top.
Moreover, the footer is integrated into the main design with a white background to maintain the clean look.
Note: Keep a smoother scrolling experience with a disappearing/reappearing header.
3. Lars Tornoe

Built with: Squarespace
Lars Tornoe has a framed website layout with a vanilla header and no footer on the home page. The two-column grid features large images with a hover effect that take you to individual project pages when you click them.
Note: Don't use a footer if you want to create a cleaner website look.
Also, don't miss our Squarespace website examples for more creative ideas.
4. Co & Co

Built with: Craft CMS
Co & Co welcomes you to their world with a full-screen video background, text and a vertical right sidebar contact information.
We also like that choice of background color for sections, changing between black and white. The font choice and the use of white space make the page a lot more readable.
Plus, using the testimonial slider with client avatars, names and positions is very impactful.
Note: Integrated testimonials into your responsive web design for social proof.
5. Monograph

Built with: Webflow
Monograph is a simple website with a gradient background that spices up the user experience.
What's unique about Monograph is that the website is text-heavy, without using any images. For this reason, they use larger fonts with white space and lines that break the layout into multiple sections.
Note: Don't feel like using visual content on your website? No problem, do a text-only one!
Do you want to check more Webflow websites? We have a whole collection dedicated to them.
6. Verbal + Visual

Built with: Contentful
The simplicity of Verbal + Visual is pretty serious, starting with an animated background and text-only hero section. The header is minimalist, with an icon that opens a full-screen menu.
The portfolio-style home page features only one item per column, which has a cool hover effect that you need to try.
And before the footer, Verbal + Visual features logos of some of the clients they worked with.
Note: If you worked with some notable brands/companies, mention them on your website as a reference.
7. Netil Radio

Built with: Gatsby
Netil Radio keeps the look clean and simple, using the hero section to promote the next show. The next section features residents and the third is already a footer with logo, text and social media icons.
What's cool is when you press the play button, all the dots activate by becoming solid.
Note: Even if you plan to create a plain website, you can still use an animation or another creative element to give it some life.
8. Welovedaily

Built with: Kirby
Welovedaily's page is bloat-free but uses some animated elements to keep scrolling the content more engaging.
The header sticks to the top of the screen, so you can access other information at any time without needing to scroll back to the top.
You'll also find a carousel-like user feedback slider that builds customer trust.
Note: A minimalist layout and catchy animations go very well together.
9. Field

Built with: Craft CMS
Field has a pleasant content-loading scrolling experience with text, images and enough white space to make everything pop up more.
We like that the header, the footer and the base of this simple website use the same background, which adds up to the cleanliness of the design. But the hamburger menu icon in the header opens a full-screen overlay with a dark background.
Note: One way to simplify the website layout is to maintain the same background color across all sections (including the header and footer).
10. Benjamin Hardman

Built with: Squarespace
Benjamin Hardman puts all the shine on his beautiful photography works with a light design and a slider.
He only uses a header with a drop-down menu for a more refined search. And, of course, to achieve a truly minimalist appearance.
Note: A light and simple design is perfect for emphasizing your photographs.
You may also want to check some more photography websites to enjoy gorgeous designs.
11. Melula

Built with: Squarespace
While Melula's website is pretty simple, it's also pretty colorful, which goes so well with its branding and message.
It features a hero image with a parallax effect, a transparent header and a top bar notification that you can close by hitting the "x."
The "They talk about us" section contains some of the authority logos that add to the brand's popularity.
Note: A simple website layout doesn't necessarily mean using plain colors. Go colorful!
12. Scott Snyder

Built with: Squarespace
Scott Snyder uses a unique portfolio grid layout with static and animated images. Every portfolio item opens the project on an individual page with additional images and text.
Scott also shows some of the clients that he's most stoked on, two testimonials and a CTA that takes you to the contact form.
The footer consists of a clickable logo for the home page and copyright text – that's it.
Note: Make your online portfolio website more engaging by mixing static and animated elements.
13. Wendy Ju

Built with: Wix
Wendy Ju's page combines simplicity nicely with a cool text animation above the fold. The home page features an eight-item grid portfolio with moving and static elements and hover effects.
This two-page website has a modern layout with a sticky sidebar that contains LinkedIn and email icons.
We can almost say that the website doesn't really have a header or footer but has a floating corner navigation with only two links.
Note: You can use various ways to welcome visitors to your personal website, an animated "hello" being one of them.
But here are some more websites built on the Wix platform if you'd like to see what else is possible with this builder.
14. Candy Black

Built with: Squarespace
Candy Black is a clean agency website with a tiny header, text that explains what they do and a long grid portfolio. All portfolio elements hover with the project's name and category.
Like the header, Candy Black's footer is also small, with business information, contact and social links.
Note: Use a portfolio grid with extra spacing, so it's easier to focus on individual items.
15. Kerry Lyn

Built with: Wix
Kerry Lyn is a simple website with a large hero image with text and a header with a hamburger menu icon that opens navigation from the right side of the screen.
The page has multiple sections with solid color backgrounds and one being a parallax image. The video carousel includes some of the other practitioners who Kerry recommends, which is very nice of her.
Note: While your services matter the most, recommending others can show your professionalism.
16. Soilboy

Built with: Squarespace
If you're building a website about selling plants and creating content around plant care, you must check Soilboy.
The choice of the background image and the images go so well together, creating a soothing atmosphere.
Soilboy's basic header disappears when you start scrolling, so your focus is on content and items (but it reappears on the back scroll).
Also, the Instagram feed is one of the cleanest we've seen in a while!
Note: Do you want to add more content to your page? Integrate an IG feed.
17. Steve Benjamins

Built with: Squarespace
Steve Benjamins run a simple page with dark-ish vibes that has 100% transparent header with menu links and a CTA button to iTunes.
The site's base promotes his new song that opens on a new page with video, lyrics, and more.
Lastly, Steve uses the footer for promoting his vinyl, newsletter subscription form and social media icons.
Note: Use a CTA button in the header, so everyone interested can take immediate action.
18. Ginventory

Built with: Webflow
Ginventory is a modern landing page example with a clean design featuring a header with social icons and a footer with, again, social icons and a contact button.
The rounded corners resemble a mobile app experience fantastically well. And thanks to the iPhone screenshots, you can easily get a sense of what to get from the app and how it looks.
The CTA buttons above the fold and at the bottom (and between content) are a must to increase downloads.
Note: Ensure CTA buttons are visible and clickable to drive more potential users to the download page.
19. O'Neil Langan

Built with: Squarespace
Like Benjamin's simple website, O'Neil Langan also uses an uncluttered header and a slider on the home page.
No page on this site has a footer, which takes simplicity to the next level.
Besides the business details and contacts, O'Neil Langan also has Google Maps with location marker.
Note: Integrate Google Maps to showcase your business's location.
20. Casa Mami

Built with: Squarespace
Casa Mami has a massive image-only slider that showcases the beautiful location, making you feel like you're there.
This page has a lot of white space, a parallax image effect and a CTA button for bookings (redirects you to Airbnb).
All the text on Casa Mami's website is tiny, which makes the images stand out more. And the renovation page features before/after sliders showing the process.
Note: Use before/after sliders if you work on redesigns, renovation, body transformations, etc.
21. Oishii

Built with: Shopify
While Oishii has some more elements going on on its website, we still find its overall design simple and clean.
The first thing is a top bar notification (that you can close), and the second is a transparent header that floats on scroll.
Moreover, you'll find a full-width IG feed just above the footer that opens as a lightbox gallery. And the footer consists of links and a subscription form.
Note: Use a top bar notification for special announcements.
Let us know if you liked the post.