30 Free Bootstrap Gallery Templates 2023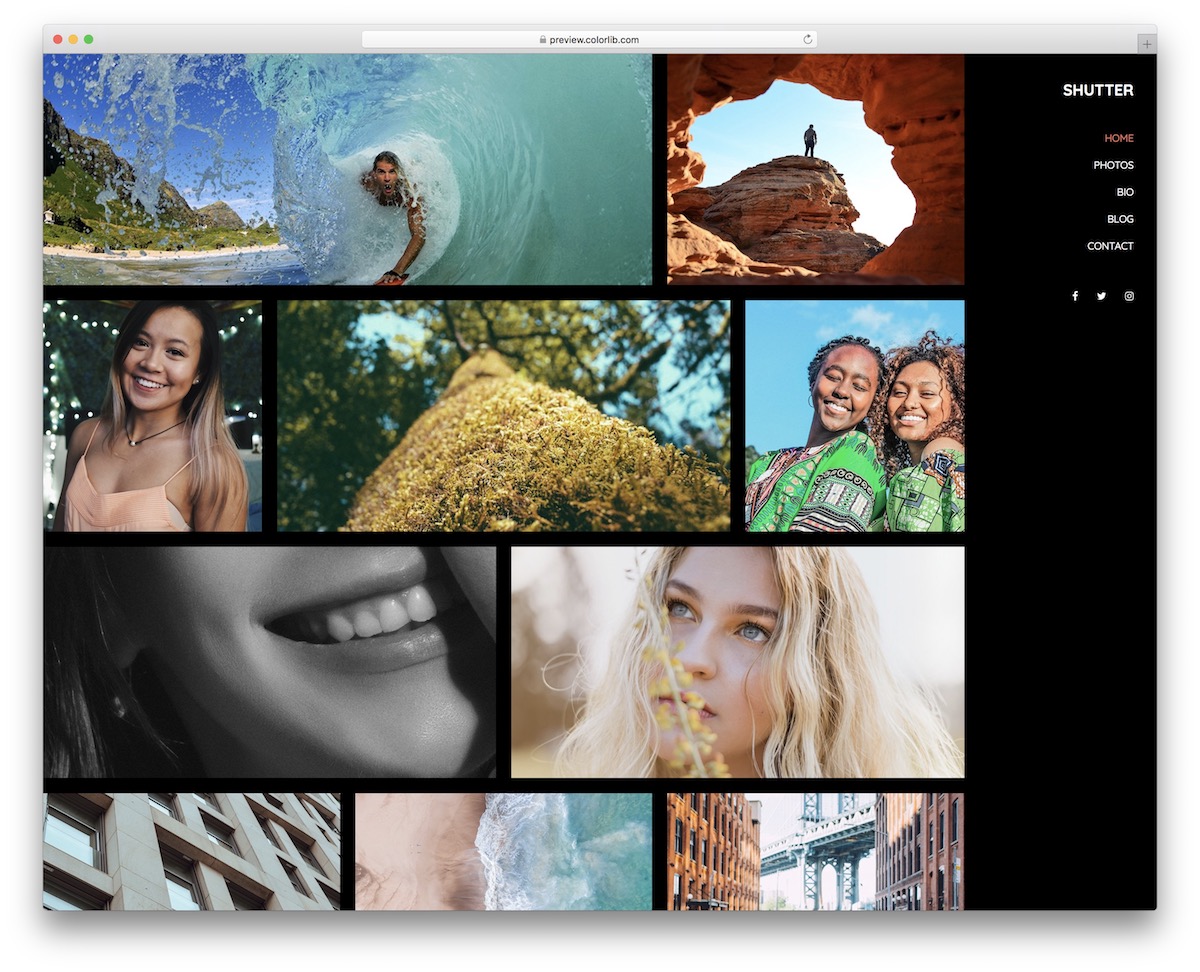 We bring you a collection of the most versatile and eye-pleasing free Bootstrap gallery templates. These work especially well for any creative individual, even an agency.
We have a stunning web design for you if you are a photographer or want to create an online portfolio website.
With any of these tools, you will enjoy creating an interactive and modern-looking gallery website through the roof. Two of the most common gallery styles are grid and masonry.
Friendly reminder: Skip straight to free HTML templates.
Moreover, if you are a developer who likes to find inspiration and tweak the design to your custom needs, these free Bootstrap gallery templates can help you start your project in no time.
While most site canvases on the list below are HTML (coding knowledge is necessary), we included a few WordPress alternatives. With a WordPress theme, you do not need any experience whatsoever. It operates with a visual editing process that beginners and professionals can comfortably take to their total advantage.
Instead of focusing on 3rd-party platforms, social media, and lacking a solid online presence, take things to the extremes now. With a ready-to-use template or theme, you can make an immediate difference.
Divi (WordPress)
You can build a gallery website for different professional and amateur intentions. Instead of doing things the hard way, you can entirely simplify the process with Divi. This ingenious web layout has an outstanding collection of over one hundred predefined designs for your convenience. In short, Divi has something for everyone, no matter how picky your taste might be.
In addition to that, Divi also rocks a functional page builder for any additional corrections and improvements. Of course, there will be no coding necessary. On the other hand, you can call the process of customizing Divi visual coding.
There are also tons of extensions, responsive editing, filters, effects, animations, and 24/7 support, along with many layouts. Divi is also translated into 32 languages, making it a one-of-a-kind site canvas.
More info / Download
Jevelin (WordPress)
Jevelin is a gallery website template that will surely spark your interest. It is a complete solution for building pages and starting fresh online projects. You can instantly get your feet wet with the thirty and counting demos. Once you choose the demo that fits your taste best, install it with a single click and modify it if necessary. The amazing customization functions of Jevelin allow everyone to establish a website that meets their heart's desires. It is a lot simpler than you think.
Additional goodness of Jevelin contains mega menu, parallax effect, Slider Revolution, social sharing, custom widgets, and complete search engine optimization. You also get a lifetime worth of free updates for a website that always keeps up with the trends. Now it's your turn to take action and materialize your ideas with the adaptable Jevelin.
More info / Download
Dopi (WordPress)
Dopi is dope – that is the shortest introduction to this marvelous web design. It is a multi-functional layout for an assortment of different intentions. With Dopi, you will have a breeze setting up sites for agencies, architects, designers, creative agencies, freelancers, law firms and many more. You can enrich the default setting using Elementor drag and drop page builder when you pick from the available designs. Nowadays, you do not need coding and design skills to establish a striking online presence.
The options and possibilities with Dopi are very many and that is something you will soon find out. You can create a custom header and footer, showcase beautiful imagery, sell goods online, and start a blog. The layout of Dopi is responsive, mobile-ready, optimized for SEO and fast loading.
More info / Download
Best free Bootstrap gallery templates
Pentax
Photographers, both amateur and professional, can greatly benefit from Pentax. From home and inner page layouts to all the other specialties and practical features, Pentax has plenty of material to ensure you shine online. This free Bootstrap gallery template is a solid solution to help you create an online portfolio that you stuff with your outstanding masterpieces. Alternatively to creating a website from square one, you can help yourself quick-start the project with Pentax.
Filterable portfolio, sticky menu, pricing tables, testimonials and blog section are just amenities in the Pentax kit. The design is fluid and mobile-ready, guaranteeing killer performance across all devices and platforms. Start on the web like a pro with Pentax and enjoy the positive impact it creates on the industry and potential clients.
More info / Download
Thumber
Creating a spectacular gallery website for your outstanding works happens much quicker than you think using Thumber. It is a tool that offers you an outstanding web design that guarantees to trigger everyone's curiosity in the snap of a finger. It comes with an eye-catchy home page that offers a massive slideshow to display the most recent works for everyone to enjoy examining in great detail. Coupled with your imagery, the home page alone is worth more than a million words.
Still, Thumber includes other inner pages for your portfolio, about and a contact form. With its dark look, Thumber promises to ensure everyone undergoes a pleasant experience.
More info / Download
Shutter
Dark and creative appearance is what's up when it comes to Shutter. If that is something you fancy, you are in good hands with the mind-bending Shutter. The tool is phenomenal in all aspects, making sure to help you establish an outcome that will move mountains. And if you dig the design, you can freely use it exactly as it comes out of the box.
Shutter is a magnificent free Bootstrap gallery website template for photographers and other creatives. Nowadays, you do not need to start from the ground up or spend a dime to kick things off with a gorgeous tool. Thanks to the thrilling Shutter, only great things will happen.
On scroll content loading, social media icons, blog, functional contact form, bio and more is what awaits you in the Shutter bundle. To make it special, make it with Shutter.
More info / Download
Alime
Photographers, but any creative can utilize the power and flexibility of Alime. This nifty web design comes as a pack of handy features and functions to shine online. Whether you are just starting in your field or an established creator, make your masterpieces pop online with Alime. The tool is easy to work with, ensuring everyone gets the most out of it.
It's still an HTML template, so you need to have the basics under control. From then on, you can experience a smooth sail. Create a striking online gallery with Alime and make an impact.
More info / Download
Space
The cleanness and distinct touch of Space grab everyone's attention in the snap of a finger. When showcasing your creative work, make a website that adapts to your style. With Space, achieving a spectacular result will be a piece of cake. After all, this free template works fantastically well as is, so no need to change much. Still, you can personalize it to your heart's content.
The content reveal feature creates a pleasant experience scanning your website. There are all the necessary sections to introduce yourself and your professional services to the masses. You can also include client testimonials and raise your potential sky-high.
More info / Download
Photosen
Photosen is a unique free template – hence the name – for amateur and professional photographers. If you are interested in a dark web design, Photosen is the right choice for you. It will help your visitors and potential clients instantly immerse in your world of photography. Create a gallery that will stand out and make a strong and lasting first impression on everyone.
More info / Download
Sun
A super minimalistic look is what you get with the incredible and always impressive Sun. It is a free Bootstrap gallery template you can utilize for various purposes. In short, every creative individual looking to push their works can benefit from Sun greatly. 
Sun has a filterable portfolio section, a framed web design and a few home variations. It might be simple and clean, yet the professionalism and knowledge of Sun are of the highest degree.
More info / Download
Photography
Photography is, of course, a free website template for amateur and professional photographers. Photography creates a strong first impression with a full-screen slideshow to help you win over fresh guests, fans, and potential clients. In addition, Photography is versatile and highly adaptive to work with other gallery-style websites. In other words, if you need to create a portfolio for your marvelous design and any other services you offer, Photography is a page canvas that will do you well.
Moreover, Photography opens images in a pop-up, features a working contact form and does not miss a blog section. The latter, you can use to share your story, write about your work and any other news and information you would like to put out. Get known with Photography and shine online.
More info / Download
Photon
If you are looking for a way to do things differently on the web and not have the same style of website that the majority runs, you came to the right place. Here is Photon, a free Bootstrap gallery website template with originality and uniqueness written across the entire design. Photon works ideally with photographers but is powerful enough to use it for something entirely different. While Photon keeps things relatively simple, it is still an out-of-this-world tool that will quickly place you ahead of the competition.
With a home page consisting of a carousel and nothing else, you will surely spark everyone's curiosity. The menu opens in a sidebar where they can access other sections of your page. Photon also comes with a clean and working contact form, social media buttons and services section with pricing.
More info / Download
Louie
As a photographer, you must own an online portfolio to share your talent and work with a global audience. Louie is the free gallery website template powered by Bootstrap Framework that you must check out. With a scheme like this, you can regularly start scaling your photo project and gain new gigs. Even if you are a hobby photographer, you can do much more for yourself with a website.
Louie has sticky sidebar navigation, split-screen slider, social media icons, newsletter subscription and a full blog-section. When they become interested in contacting you, everyone can use the integrated contact form and learn about your location by peek at Google Maps. Indeed, you should consider writing a photography blog and taking your project to the next level.
More info / Download
PhotoGallery
This next free Bootstrap gallery website template is pretty self-explanatory. PhotoGallery builds nifty and distinctive photo gallery websites for photographers and other creative individuals. With a ready-to-use layout, you will need to spend much less time working on your site than building one from scratch. After all, you have the design ready and set to push the boundaries for you. Besides, you step things up by adjusting and improving them according to your needs and making PhotoGallery your own.
It all happens with the enticing and lovely home page. The first page they visit should positively impact all your visitors, which is something PhotoGallery succeeds at every time. A full categorized gallery page is also included in the bundle and blog, contact form, Google Maps, and social buttons.
More info / Download
Capture
Capture is a creative free gallery website template based on the popular Bootstrap Framework. The performance of your page will be of the highest standards no matter what device they use to browse the world wide web. They must experience your page without a hitch, what indeed increases your potential.
The trip with Capture starts with a grid gallery that offers you to share with everyone your best works. There is also an extra gallery page where you can display all the other images of completed projects. Write a compelling about, start a blog, link your page to your social accounts and give them access to your talent with a working contact form, Capture is ready for everything.
More info / Download
Riddle
If you are looking for a free Bootstrap gallery template, you should do yourself a favor and check out Riddle. Regardless of your profession and expertise, if you need to show your work to the world, Riddle will help you. With its wide, bold and sophisticated web design, Riddle is here to take care of your web space and get you known. It is a responsive and mobile-ready tool with amazing features and assets you can use to your advantage.
Straight away, Riddle hits you with a filterable portfolio section that beautifully displays your completed projects and entices visitors. Riddle has other internal work and contact sections along with the super smooth index page. Also, call-to-action buttons are strategically placed across the web design for potential clients to contact you whenever they want. Speaking of getting in touch, Riddle has integrated a working contact form.
More info / Download
Halo
Halo is a free Bootstrap gallery template with insane flexibility and great extendability. Meaning, whatever end product you will create with Halo, will smoothly appear on all devices, from smartphones and tablets to desktops. You do not have to worry about your page's stability and solid performance by following the newest web and tech guidance.
With Halo, you can swiftly set up an online portfolio to showcase your spectacular works and increase your potential. Lovely hover effects, contact form, blog section, and full about page with testimonials is all that you get with the impressive Halo. Spark their interest with the full-screen slideshow and intrigue them to learn more about you and your talents.
More info / Download
Transcend
Go above and beyond with Transcend free Bootstrap gallery template and expand your reach to new territories. Do not be surprised if your inbox gets flooded with business deals suddenly. The remarkable Transcend combined with your spectacular works can take you exceptionally far. But first, let's focus on the template and how much you can accomplish with it. Transcend is a tool that amazes you with its cracking look and high-performing layout.
Among many features, full-screen banner, parallax background, and on scroll content load are the ones that pop up. Other goodies are testimonials slider, animated statistics, social media icons, newsletter subscription widget, and back to top/scroll down buttons. It is all there, ready and set for you to take full advantage of and reach the success you always wanted to see for yourself.
More info / Download
Strategy
Whatever creative work you do that you want to push and bring online, strategy will help you do it in style. With the right strategy, you can do a lot of stuff while simultaneously save yourself plenty of time and effort. When establishing your dream website, you should drop everything and peek at the Strategy free Bootstrap gallery template. This refined tool's web design is minimal and simple, yet cutting-edge and advanced.
Strategy brings your works right before your visitors, allowing them to examine your creations in great detail. You can tell all about your process, how you approach each project and create an in-depth presentation for everyone to observe. Strategy also has a fantastic and full-width call-to-action button at the bottom of the page, taking potential clients straight to the integrated and functional contact form.
More info / Download
Stellar
So, you finally decided to step up your game and get your project blooming, but you do not know how to approach it? No biggie, that's when we come into play. First thing's first, you need a website. After all, a solid internet presence is still one of the best marketing tools to push yourself to new heights. Instead of building a page yourself, pick Stellar free Bootstrap gallery template and win big time. Have your website up and running in as short time as possible, promoting your work and incredible skill.
More info / Download
Bato
When simplicity meets knowledge, you get Bato. This free Bootstrap gallery template is a bundle of features and assets to help you appear on the web like a professional. With the majority of work executed for you in advance, you only need to enrich Bato with your content and details and you are ready to go. If you are tight on budget, the deadline is just around the corner or you are a newbie developer, choosing Bato is the right thing to do.
While you can utilize Bato as is, you can freely improve and enhance the web design. Indeed, Bato is fully customizable and easy to use for everyone to get the most out of it. Unique and full-screen slider with pagination, on scroll content loading, subscription form, cleanness, you name it, Bato provides all the needed for you to stand out from the crowd.
More info / Download
Pemodule
Pemodule is a colorful modern website template made for photographers and studios. Within the boxed width layout design all the web elements and the contents are spread evenly. This template will be helpful for freelancers to share their stunning photographs. The sleek animation effects and smart layout design get user attention easily. The gallery section of this template is designed like a grid with an equally spaced square. The developers have used hover effects to show the details about the particular photograph. The cool color gradient adds more lively feel to your rich photographs. Other features with this template are a carousel, parallax effects, and neatly designed contact form.
More info / Download
Droppler
Droppler is a full-page album style bootstrap gallery template. The creative and modern design of the template makes Droppler a perfect fit for the agencies. Though it is a photography website template by default, an equal amount of importance is provided for the texts. On the homepage, bold texts are used to describe the project, using the read more link user can see the project in detail. The Droppler uses subtle animation effects for the transitions and web elements, which look elegant and professional.
The Droppler template uses HTML5, CSS3, and Bootstrap framework. It is a multi-page website template, so you need not worry about adding extra pages to the template. The Droppler also allows you to add video to the template easily. A hamburger-style menu option is used to give users a distraction-free website experience.
More info / Download
Yaseen
Yaseen is an interactive website template for bloggers, photographers, and studios. With beautiful image background and cool overlay colors, this template helps you to showcase your photographs elegantly. The gallery section is designed like a grid with regular-sized rectangles. Below each image, spaces are given for you to add content about the image and also have an option to add call to action buttons.
The Yaseen template follows gradients as the color scheme and hamburger style menu option to display the navigation menu. The gallery section also gets animated counters, line icons, and neat fonts. You also get a neatly designed subscription form along with this template.
More info / Download
GoCrepe
GoCrepe is a colorful website template for image-rich websites. Since it is a template for image-rich sites, it can be used for restaurant and photography websites. This template includes all the necessary features and web elements to create a professional website. With a beautiful light color gradient overlay, the background images look pleasant. The use of light stroke line vectors adds richness to the template. This template gives visual effects like hover, parallax, and neat transition. The content blocks follow a split design, giving you space to show images and texts simultaneously.
More info / Download
Glint
Glint is an agency-style modern-looking website template for creative professionals. This template gives you plenty of space to display your mesmerizing photographs with the full-width design layout. The text on this template is bold and clear so the user can read and interact with your website easily. Animation and visual effects are used to make this template more interactive. The transition effects are simple and clean. The gallery section is designed to hold the portrait images well like a long rectangle. It is a one-page template so that you can manage your site easily. Since there are no other pages to describe, the homepage is made long enough to accommodate all the important sections you normally need in a professional site.
More info / Download
Po-Portfolio
Po-Portfolio is also a creative agency-style bootstrap gallery template. On the homepage, you have nothing but a gallery section. With this template, you can impress the user with your beautiful images. The hover effects and animation effects are also done well in this template. By default, this template uses tinted orange color as the color scheme. If your brand has a color, you can tweak this template to your brand color to create more branding on your site.
This is a multi-page website template, out of the box, you get a page like about and services pre-designed for you. The only slight drawback of this template is the font size. The font used is neat for reading, but if you increase the font size, it will be easy to read even on small screen devices. This template uses HTML5, CSS3, and Bootstrap frameworks.
More info / Download
Personal
Personal is a portfolio website template for creative professionals like graphic designers and photographers. It is a simple-looking website template whose soul single purpose is to showcase your work, that is it. There is not even a navigation bar in this template. But the design of the template is clean and professional-looking. If you are looking for a website template to showcase your products, this template could help you.
As a background, you have a big static hero image in the header section. With bold texts, you can make a strong self-intro about yourself. There is also an option to add social media profile links like Facebook, Dribbble, Behance, and Instagram. It won't be a big issue if you like to customize the template. This template uses HTML5, CSS3, and Bootstrap framework.
More info / Download
Cocoon
Cocoon is a brand-focused bold website template for studios and agencies. It is a one-page website template, so users don't have to navigate between the pages to find what they want. The template looks classy with bright colors and bold texts. The grid style gallery section with equal space between the square-shaped image holders. You have a text slider in the header section to give an interactive introduction about you and a call to action button. On hovering over the images you get a card that shows the image title, call to action button, and number of likes. Other useful sections with this template are services, sign-up form, about and neatly designed contact form.
More info / Download
Yummy
By default, Yummy is a food blog template. So eventually, you get plenty of place for your images and a modern image holder with this template. With the full-width design and lots of white space, this template helps you to present your photographs neatly to the user. It is a multi-page template, so you get ample page templates to add to your site.
The visual effects on this template are done with great care, it manages to get visitors attention and includes many user-friendly. You get an image slider with links to the corresponding posts in the header. The gallery section (in this template archive page) follows a rounded rectangle image holder arranged in a floating style that shows the number of likes and comments. Apart from the main page section, you also have a full-width footer widget to add your Instagram images. Since it is a blog template from the core, you can group your posts based on tags and categories for better content management.
More info / Download
Create the best gallery website
These are some of the best free Bootstrap gallery templates you can use for your site. Keep in mind, if you need even more similar templates that are a little breeze to use and allow for the implementation of a gallery, make sure you take a peek at the best bootstrap website template.
The HTML website templates are best to showcase your work, but if you expect more functionality, opting for a WordPress theme is better. If you are new to the web world and wondering how to select a theme for your site and how to set it up, check out our website setup guide.
Another alternative is to combine WordPress as CMS with these gallery WordPress plugins to achieve amazing results using a simple user interface.
Was this article helpful?
YesNo