7 Best Unlimited Web Hosting Providers 2023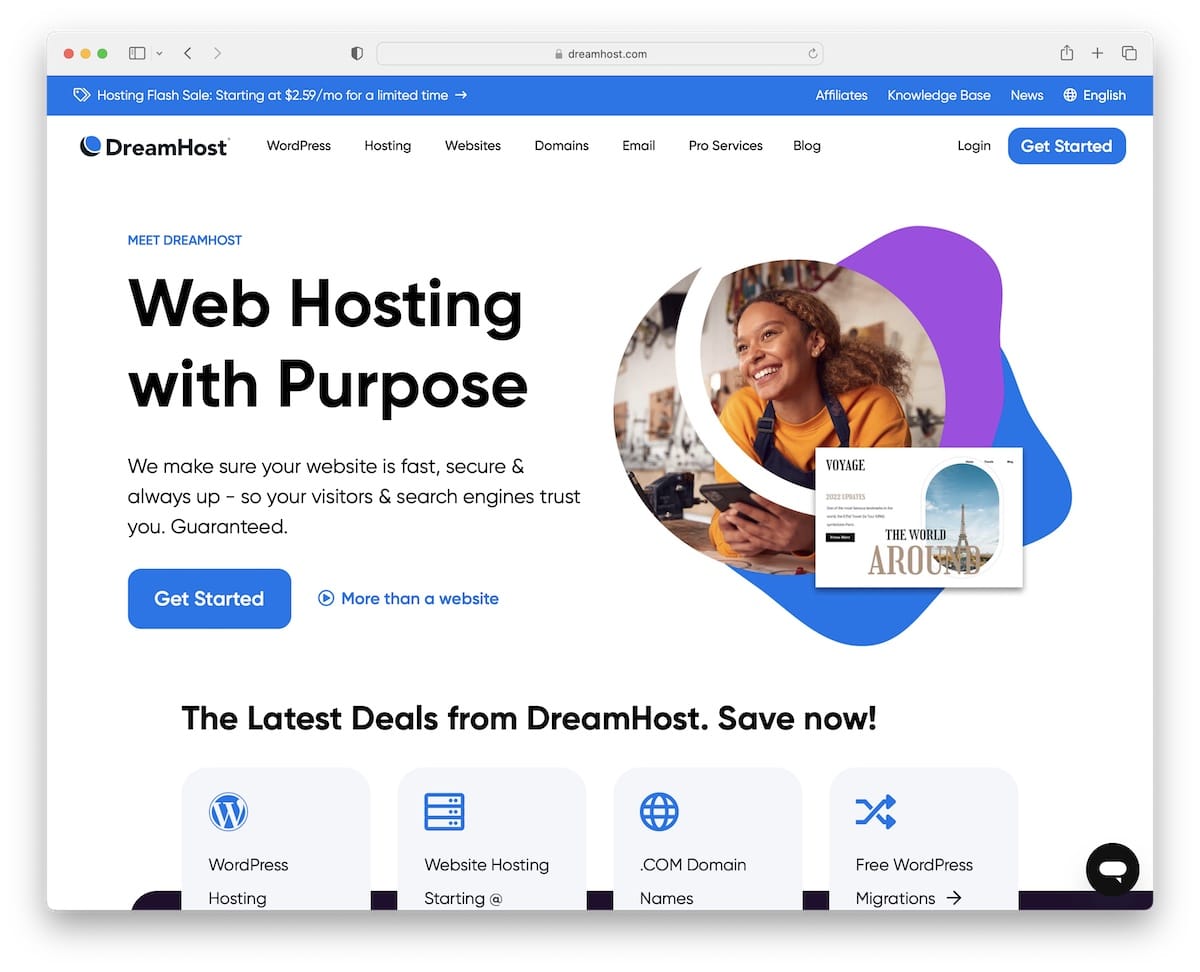 Are you searching for the best unlimited web hosting providers?
Are you captivated by the allure of "unlimited" web hosting providers? Unlimited websites, unlimited domains, unlimited bandwidth, unlimited emails, etc.
You're certainly not alone.
The promise of limitless storage, infinite bandwidth, and never-ending domains is almost too good to resist.
Whether launching your first blog, scaling an online business, or managing a digital empire, this article is your ultimate guide to navigating the complex world of "unlimited" web hosting.
Now, let's get something straight: The term "unlimited" in web hosting often comes with a pinch of salt. It's a brilliant marketing term, but the reality is that no provider can genuinely offer unlimited resources. Think of it more as "unmetered," with some reasonable limitations.
This doesn't mean these plans aren't worth your attention, but it's crucial to understand what you're getting.
In this article, we've dug deep to separate fact from fiction. We've analyzed the terms and conditions, scrutinized the fine print, and challenged the bold claims.
Through rigorous review, we present a curated list of web hosting providers offering the most generous "unlimited" packages with transparent limitations.
Remember, you're getting more of everything (but not necessarily unlimited) compared to hosts with limitations. And you won't have to worry about traffic spikes.
Your journey toward making an informed choice starts here!
This post covers:
7 Best Unlimited Web Hosting Providers
Hostinger: Ideal for those on a budget, Hostinger offers unlimited bandwidth.
DreamHost: With unlimited bandwidth, storage, emails, and domains, DreamHost is perfect for those looking for no caps on their hosting resources.
HostGator: A go-to for businesses and individuals who want unlimited bandwidth, emails and a free domain, with a flexible, easy-to-use control panel.
Bluehost: Excellent for WordPress users, Bluehost provides unlimited bandwidth and a free domain.
GoDaddy: Best for those needing various online services, GoDaddy offers unlimited bandwidth.
A2 Hosting: Suited for the tech-savvy, A2 Hosting offers unlimited SSD storage and websites on most of its plans, along with high-speed performance features.
InMotion Hosting: A strong choice for businesses that require unlimited email addresses and bandwidth, along with a choice of data center locations.
1. Hostinger
Features: Free email, free domain, free migration, free one-click WordPress installation, drag & drop website builder.
Uptime: 99.9%
Best for: Hostinger is best for small to medium-sized businesses, freelancers, and individual users looking for an affordable, all-in-one web hosting solution focusing on speed, reliability, and 24/7 customer support.
Current deal: Get Hostinger 75% off!
Looking for a hosting platform that does it all? Let's chat about Hostinger.
These guys are the whole package: global reach with data centers from the USA to Brazil and all the way to Singapore, so you're never far from your audience.
Their all-in-one website solution is like a powerful combo for webmasters – host up to 100 sites, snatch up a free domain, and get that professional email rolling.
Speed demon? You'll love their LiteSpeed tech and caching options that make your website fly.
Stuck at 3 a.m.? Their 24/7 support has got your back with quick chats and tutorials.
Safety first – they throw in unlimited SSL certificates, DDoS protection, and a rock-solid 99.9% uptime guarantee.
Oh, and moving from another host? They'll handle the migration for you, stress-free. Hostinger's got the works, and they're ready to be your web hosting BFF!
When it comes to pricing, Hostinger rocks three solid ones, all delivering unlimited SSL, unlimited bandwidth, unlimited FTP accounts and unlimited cronjobs.
The lowest, the Premium plan, goes for $2.99/month and allows you to host 100 websites with a whopping 100 GB SSD storage. But it gets even better.
The Business and the Cloud Startup plans cost $3.99 and $9.99, with the first supporting 100 websites and 200 GB NVMe of storage and the second 300 websites and 200 GB NVMe storage.
Pros:
Plenty of resources
No setup fee
Great customer support
Affordable plans
30-day money-back guarantee
Get Hostinger
2. DreamHost
Features: Unlimited websites, free domain, free SSL, website builder, automated WordPress migration.
Uptime: 100%
Best for: DreamHost is best for individuals and small businesses looking for an affordable, reliable, and feature-rich web hosting solution that offers the flexibility of managing multiple websites and domain-specific email hosting.
Current deal: Get DreamHost 63% off!
DreamHost's Shared Unlimited hosting plan is a robust package that covers all your bases at an affordable starting rate of just $2.95/month, offering a whopping 79% savings over the monthly plan.
Quick note: Shared Starter and DreamPress are also solid plans but only have unlimited traffic and bandwidth.
The Shared Unlimited plan is a jack-of-all-trades, ideal for anyone who needs to manage multiple websites and desires domain-specific email hosting.
Not only do you get unlimited websites, traffic, and SSD storage, but you're also backed by a 100% uptime guarantee thanks to their multi-location data centers and constant monitoring.
Plus, the plan has a user-friendly custom control panel, 1-click WordPress installation, and award-winning round-the-clock support.
DreamHost makes it even easier to get started, thanks to the free domain, unmetered bandwidth, free SSL, and a drag-and-drop website builder.
With the added comfort of a whopping 97-day money-back guarantee, it's a low-risk, high-reward solution for web hosting needs.
Pros:
100% uptime guarantee
Free domain and SSL
Cheap-plans
Various unlimited features
97-day money-back guarantee
Cons:
No cPanel (they use a custom control panel)
Data centers only in the US
Get DreamHost
3. HostGator
Features: Unmetered bandwidth, domain registration, SSL certificate, email, eCommerce tools.
Uptime: 99.9%
Best for: HostGator is ideal for beginners launching their first website to experienced webmasters looking for feature-rich, scalable hosting solutions.
Current deal: Get HostGator 70% off!
If you've been on the hunt for an all-inclusive web hosting service, HostGator's got something special for every type of website owner.
From beginners to seasoned webmasters, HostGator offers various hosting plans that fit diverse needs.
Hatchling Plan: This starter pack is now a whopping 62% off ($3.75/mo)! It's perfect for those who need to host a single website. You get 10 GB SSD storage, unmetered bandwidth, and one-click WordPress installs.
Email and chat support are included, along with a free domain name for your first year. It's a fantastic plan for those just dipping their toes into the world of web hosting.
Baby Plan: Scaling up? Consider the Baby Plan, which is currently 70% off ($4.50/mo)! Here you can host up to 2 websites, benefit from 20 GB SSD storage and, like the Hatchling Plan, enjoy unmetered bandwidth and one-click WordPress installs.
Plus, it comes with both phone and chat support, a free domain name for the first year, and $500 in Google Ad spend match credit and $100 in Microsoft Advertising credit to kickstart your online presence.
Business Plan: If you're running a more complex operation, the Business Plan, now 69% off ($6.25/mo), lets you host up to 3 websites.
It boasts 40 GB SSD storage, unmetered bandwidth, and one-click WordPress installs. Email is included, and you get comprehensive phone and chat support.
Additionally, it throws in a $500 Google Ad spend match credit, $100 Microsoft Advertising credit, and features like Cloudflare CDN, a dedicated IP address, Positive SSL upgrade, and even professional website migration services.
Each plan comes with features like 24/7/365 support, a 99% uptime guarantee, and eCommerce tools, ensuring your website remains fast and accessible.
Pros:
Advertising credits
Free domain
One-click installs
Robust security
30-day money-back guarantee
Cons:
Limited SSD storage
Data centers only in the US
Get HostGator
4. Bluehost
Features: Free domain, free CDN, custom WP themes, free SSL.
Uptime: 99.9%
Best for: Bluehost is ideal for individuals and small to medium-sized businesses looking for a reliable, user-friendly, and feature-rich WordPress hosting solution.
Current deal: Get Bluehost 50% off!
Bluehost provides a comprehensive solution for anyone looking to launch a WordPress website, offering plenty of features to simplify the web development process.
Their shared hosting plans include an intuitive, user-friendly dashboard, automatic WP installation, and an in-built Wonder feature to streamline your website setup.
When it comes to "unlimited," Bluehost's plans come with unmetered bandwidth, while the rest of the resources are limited. Moreover, except the entry-level plan, others also feature unlimited email accounts and storage, unlimited sub-domains and unlimited MySQL databases.
Speaking of plans, they start at $4.95/mo and go all the way to $13.95/mo.
Security is a priority, with free and premium SSL options, automatic malware scans, and SiteLock Security to guard against malicious attacks.
Performance is another focus, thanks to Cloudflare CDN integration and server-level caching, all running on solid-state drives (SSDs) for faster load times.
On top of that, they offer 24/7 phone and chat support, Resource Protection to ensure your site's performance is not affected by other websites on the same server, and even have a feature-rich online store builder.
Plus, their ongoing collaboration with WordPress adds a layer of trust and expertise to their offerings.
Overall, Bluehost aims to be an all-in-one solution for WordPress hosting, catering to both beginners and experienced webmasters.
Pros:
User-friendly
Seamless WordPress integration
Multiple educational resources
Solid performance
30-day money-back guarantee
Cons:
Upsells
Somewhat confusing user dashboard
Get Bluehost
5. GoDaddy
Features: Free domain, free email, free SSL, daily backups, Microsoft 365
Uptime: 99.9%
Best for: GoDaddy is best suited for individuals and small businesses seeking a one-stop shop for domain registration, website hosting, and additional services like email and website building tools, prioritizing ease-of-use and customer support.
Current deal: Get GoDaddy 42% off!
GoDaddy provides a comprehensive and trustworthy web hosting solution designed to cater to various needs, with a 99.9% uptime guarantee that gives you confidence in your website's availability.
The company focuses on superior performance and faster load times, made possible through optimized server hardware, NVMe Solid State Drives (SSDs), and PHP OPCache.
All hosting plans come with unmetered bandwidth, meaning you don't have to worry about website traffic limitations. Unfortunately, websites, storage, databases and emails are limited, depending on your chosen plan.
They offer a user-friendly control panel and one-click installations for over 150 free apps, making site management a breeze even for beginners.
Security is also a strong suit, with around-the-clock network monitoring, DDoS protection, and daily backups available.
Additional features include a free SSL certificate to boost SEO and secure user data, 24/7 expert hosting support, and global data centers to ensure fast page loads regardless of your audience's location.
This makes GoDaddy an ideal choice for those who want a reliable, high-performing, and secure web hosting service.
Pros:
Various services
Scalability
Global data centers
Daily backups
30-day money-back guarantee
Cons:
Mixed customer reviews
Resource limits
Get GoDaddy
6. A2 Hosting
Features: Free SSL, free website builder, custom data center selection, free site migration.
Uptime: 99.9%
Best for: A2 Hosting is best suited for everyone looking for high-speed, reliable web hosting with strong customer support and flexible options for scalability.
Current deal: Get A2 Hosting 75% off!
A2 Hosting offers a robust shared web hosting experience designed for speed and reliability, featuring 20X faster page load times.
Their Turbo Plans boast 40% faster CPU and 3X faster NVMe storage for those seeking even higher performance.
Whether you're a beginner or an experienced webmaster, A2's 24/7/365 Guru Crew Support is there to assist you, and they even offer free account migration.
With a 99.9% uptime commitment and a money-back guarantee, A2 offers a risk-free hosting solution.
Their plans, except for the Startup option (which allows only one website and generous 100 GB storage), come with the added benefit of unlimited websites, databases and unlimited SSD storage, making it a versatile choice for growing businesses or projects.
You can choose between four packages: Startup ($2.99/mo), Drive ($5.99/mo), Turbo Boost ($6.99) and Turbo Max ($14.99).
Moreover, all plans support unlimited transfers, unlimited free email addresses and unlimited sub-domains and parked domains.
Don't forget to read our in-depth A2 Hosting review.
Pros:
High-speed performance
Solid reliability
Plan for every project(s)
Security measures
30-day money-back guarantee
Cons:
Learning curve for beginners
Big performance gap between entry-level and higher-tier plans
Get A2 Hosting
7. InMotion Hosting
Features: Free domain, free SSL, security suite, US and EU data centers, live chat & phone support.
Uptime: 99.99%
Best for: InMotion Hosting is suitable for beginners and established businesses, offering scalable options with unlimited bandwidth, email addresses, and advanced developer tools.
Current deal: Get InMotion Hosting 75% off!
InMotion Hosting offers a range of shared hosting plans, each packed with features designed for different user needs but unified in their emphasis on unlimited capabilities.
Starting with the Core plan, available at $2.29/month, users get 100 GB of SSD storage, unlimited bandwidth, and the freedom to host two websites. It also includes ten email addresses and 2x speed and performance enhancements.
This plan is ideal for those just starting out and is limited to US data centers.
The Launch plan, at $4.99/month, takes it up several notches, offering 25 websites, unlimited NVMe SSD storage, and unlimited bandwidth. It also allows users to choose their data center location (US or EU) and includes unlimited email addresses.
For those who need even more power, the Power plan, also at $4.99/month, offers unlimited websites, NVMe SSD storage, and bandwidth, with a 12x speed and performance boost.
This plan comes with live phone support in addition to chat, and like the Launch plan, it provides the flexibility to choose your data center location.
The top-tier Pro plan, at $12.99/month, offers all the unlimited features of the Power plan but with a 20x speed and performance boost, a dedicated IP, and an enhanced support level agreement (SLA).
It is ideal for businesses or developers who require top-of-the-line resources and support.
All plans have a security suite, marketing tools, and developer-friendly hosting features like Python, Node.JS, Ruby, and GIT version control.
For even more details, check out our InMotion hosting review.
Pros:
Unlimited features
Data center options
Advanced developer tools
Security
90-day money-back guarantee
Cons:
Limited basic plan
Advanced features might be overwhelming for beginners
Get InMotion Hosting
Unlimited Web Hosting Providers Compared
While I'm sure this was a lot of information, here's a recap of all the top providers, comparing unlimited resources and the cheapest available unlimited plans.
Unlimited Web Hosting Providers: Our Final Recommendations
Choosing the right web hosting service is crucial for the success of your online venture.
But with so many great options out there, it can feel overwhelming.
So let's make it easy for you:
Hostinger: Perfect for budget-conscious individuals or small businesses looking for fast and reliable hosting without breaking the bank.
DreamHost: Ideal for those who prioritize strong performance, top-notch security, and wish to use a custom control panel.
HostGator: A fantastic choice for beginners and SMBs that want an easy-to-use platform and 24/7 customer support.
Bluehost: Great for WordPress users who want a seamless experience, backed by strong customer service.
GoDaddy: Suitable for those looking for a well-rounded host that offers a wide array of services beyond just hosting, such as domain registration and online marketing tools.
A2 Hosting: Best for tech-savvy users and businesses that require high-speed performance and advanced customizability.
InMotion Hosting: A solid choice for businesses that require robust features, flexibility, and a variety of data center locations.
So there you have it, folks!
There's a hosting provider for everyone, no matter your needs or budget. Choose wisely and happy hosting.
What To Look For in Unlimited Web Hosting Providers
So, you're searching for an unlimited web hosting provider, huh? That's awesome!
The good news is that there are loads of options out there; the not-so-good news is that "unlimited" usually comes with an asterisk or two.
But hey, no worries! Let's navigate these web hosting waters together.
Your Hosting Needs
Understand What 'Unlimited' Really Means
In the hosting world, "unlimited" is more like your grandma's "endless love" than an infinite pizza buffet. Grandma will always love you, but if you turn her living room into a petting zoo, there might be some "terms and conditions" you didn't know about!
Your Web Hosting Checklist: What Do YOU Need?
So, what should you be considering? Let's break it down:
Number of sites: Are you starting with a single blog, or do you have visions of a multi-site empire? Some "unlimited" plans actually limit the number of websites you can host. If you're dreaming big, ensure your hosting provider can keep up!
Storage space: Sure, your blog might be text-only right now, but what about when you want to add hi-res photos, videos, or even podcasts? Make sure you choose a plan that gives you enough room to grow.
Bandwidth: This is a biggie! Bandwidth determines how many people can visit your site at the same time. Even if you don't expect to become the next Amazon, you still don't want your site crashing if you get a little burst of traffic. Look for a generous bandwidth allotment.
Email accounts: Your email is your gateway to your audience and clients. An email address that matches your domain looks professional and makes you memorable. Some hosting providers limit the number of email accounts you can have, so be sure to check.
Also, don't forget to look at additional features like SSL certificates (for that sweet, sweet security), backup options, and customer support. Because you never know when you'll need a little help from your friends.
Compare Available Plans
Price Tag vs. Quality
Unlimited hosting plans can range from budget-friendly to premium. But hey, don't just jump at the cheapest plan you see! A low price is tempting, but you want to make sure you're getting the goodies you actually need.
Storage and Bandwidth
Most "unlimited" plans will promise you endless storage and bandwidth. But, just between us, you'll want to read the fine print. Some plans offer truly impressive limits, while others might pull you up for using "excessive resources." Know what you're getting into.
Additional Features
Some hosting plans come with a bunch of extra cherries on top. We're talking free domains, SSL certificates, daily backups, and maybe even some marketing tools. These might be the tiebreakers if you're torn between two seemingly identical plans.
Room for Growth
Think about scalability. If your site grows like Jack's beanstalk overnight, can you easily upgrade your plan? It's good to think ahead; you're not just buying for today, but for tomorrow too.
Specialized Needs
If you're planning to run an eCommerce site or a video-heavy blog, look for plans specialized for those needs.
Check Customer Reviews
Let's face it, every hosting service will claim they're the best thing since sliced bread.
But the real test? What everyday users like you and me think.
Reviews can provide a 360-degree view of the service. You'll find out about the highs and the lows, often with a level of honesty you won't find in official marketing materials.
They tell you the good, the bad, and yes, even the ugly.
Of course, while you're scrolling through reviews, remember that not all reviews are created equal.
Some might be overly positive or negative based on personal biases.
Dig Deep Into Features
You see, features are like the toppings on a pizza. Sure, the 'all-you-can-eat' buffet sounds amazing, but would you enjoy it if the only topping available was, say, pickles?
That's why it's so important to look beyond the word 'unlimited' and explore what each plan actually offers.
Here's what to keep an eye on:
The types of "unlimited": Is it SSD or HDD storage? SSD is faster and generally better, so if you find an 'unlimited' plan offering SSD, that's a win!
Emails: An 'unlimited email accounts' feature is a gem, but check if features like spam protection are included, too.
Content Delivery Network (CDN): A CDN can make your website faster by storing copies of your site in various locations worldwide.
Security: Check if features like SSL certificates, daily backups, and firewalls are included in that "unlimited" plan you're eyeballing.
Site builder tools: Some hosting services offer intuitive site builder tools with their plans. This is a godsend for those of who don't speak fluent HTML/CSS!
Support: Okay, this may not be a 'feature' in the traditional sense, but let's face it, things go wrong sometimes. Does the plan offer 24/7 customer support? Is there a live chat feature?
Contract And Terms Of Service
Before you dive headfirst into this web hosting array, there's some fine print you absolutely must read.
Yes, I'm talking about the contract and terms of service (TOS). Trust me; it's more exciting than it sounds.
Key points to focus on:
Fair usage policy: Many web hosts have a 'Fair Use Policy' hidden in their TOS. This clause might limit how much bandwidth or storage you can use before they throttle your speeds or ask you to upgrade.
Cancellation policies: What happens if you want to break up with your web host? Look for information on refunds, grace periods, and how to terminate your contract.
Data backup and loss: Check who's responsible for data backups. You don't want to discover that it was supposed to be you the hard way.
Resource usage: 'Unlimited' often doesn't apply to CPU usage. You may be allocated a certain percentage of server resources; exceeding this could get you suspended.
Ah, that magical word – unlimited.
It promises the world but sometimes delivers a continent. Or an island. Or a rock.
Basically, "unlimited" often has limits – they're just hiding! Here's how to find them:
Fair usage policy: Your unlimited web host might actually have a "Fair Usage Policy," usually tucked away in a corner of their TOS. It's like a speed bump for your website, setting limits on bandwidth or storage once you hit a certain level.
CPU and RAM caps: While the hosting plan may boast "unlimited storage," what they don't tell you is that there might be limitations on CPU and RAM usage. If you go overboard, you could find your site slower than a snail carrying a bag of bricks.
Database size: Watch out for this one! You might have "unlimited storage," but individual databases could still have a size limit. That could be a real buzzkill for growing websites or online stores.
Concurrency limits: This is the number of simultaneous requests or processes that can happen on your website. Even if the bandwidth is unlimited, if you have a low concurrency limit, high traffic can still crash the party.
Inode limits: This is the total number of files and folders you can have. Even though you may have "unlimited" storage, you might have a limit on the number of files you can store. It's like having a library with unlimited books but only one bookshelf!
Performance And Scalability
Check the tech specs: Look for SSD storage, ample RAM, and robust CPUs. These are the engines that will power your website into the fast lane!
Data center locations: The closer the data center is to your audience, the faster the load times. Sometimes "unlimited" hosts might limit you to data centers far, far away – so double-check!
Scalability plans: Sure, you're starting small, but dreams are big, right? Check to see how easily upgrading your plan or adding resources is.
Run tests: Some providers offer a trial period. Use this time wisely – run performance tests and simulate scalability to see if the provider stands up to the challenge.
Reliability And Security
Uptime guarantees: Look for uptime guarantees when shopping around. The closer to 100%, the better. A reliable host is like a reliable car – it'll get you where you need to go without hiccups.
Security protocols: The basics include SSL certificates, firewalls, and DDoS protection. However, some heroes – erm, I mean hosts – go above and beyond with regular site backups and advanced security monitoring.
Customer support: A responsive support team is crucial for both reliability and security. If something does go awry (knock on wood), you'll want to solve the issue ASAP. Live chat, 24/7 availability, and quick response times are all golden traits.
Trial and error: Many hosts offer a money-back guarantee period. Use this time to test out their reliability and security features. No harm in a little test drive, right?
FAQs About Unlimited Web Hosting
What is unlimited web hosting?
Unlimited web hosting is like an all-you-can-eat buffet for your website – think endless storage, bandwidth, and sometimes even domains! But remember, even though it says "unlimited," some fair usage policies are usually tucked away in the fine print.
Is there free unlimited web hosting?
Technically, some services do offer "free unlimited web hosting," but there's often a catch involved – like limited performance, ads on your site, or less-than-stellar customer support. So, while it might seem like a zero-cost paradise at first, it's always good to read the details and think about your specific needs. Plus, you won't look as professional with a free hosting as a paid one.
What is the cheapest unlimited web hosting?
Hostinger is the cheapest option if you're choosing unlimited hosting, starting at only $1.99/month.
Is unlimited web hosting reliable?
Yes, many established hosting companies offer reliable services under their "unlimited" banner – just be sure to do your homework and check reviews! And remember, there might be some limitations, so reading the fine print is essential.
Yes, the term "unlimited" in web hosting can be a bit misleading. While you may get ample storage, bandwidth, or other resources, there are usually acceptable usage policies that outline limitations on CPU usage, file types, or even the number of files you can store.
Is unlimited web hosting suitable for all types of websites?
Unlimited web hosting can be an excellent option for many types of websites, especially those expecting to grow quickly or manage multiple sites. However, it may be overkill for very small, static websites that don't require a lot of resources. Additionally, high-traffic or resource-intensive sites may still hit usage limitations described in the provider's Terms of Service, so it's not a one-size-fits-all solution.
Was this article helpful?
YesNo