Best Automated Answering Services For Small Businesses Compared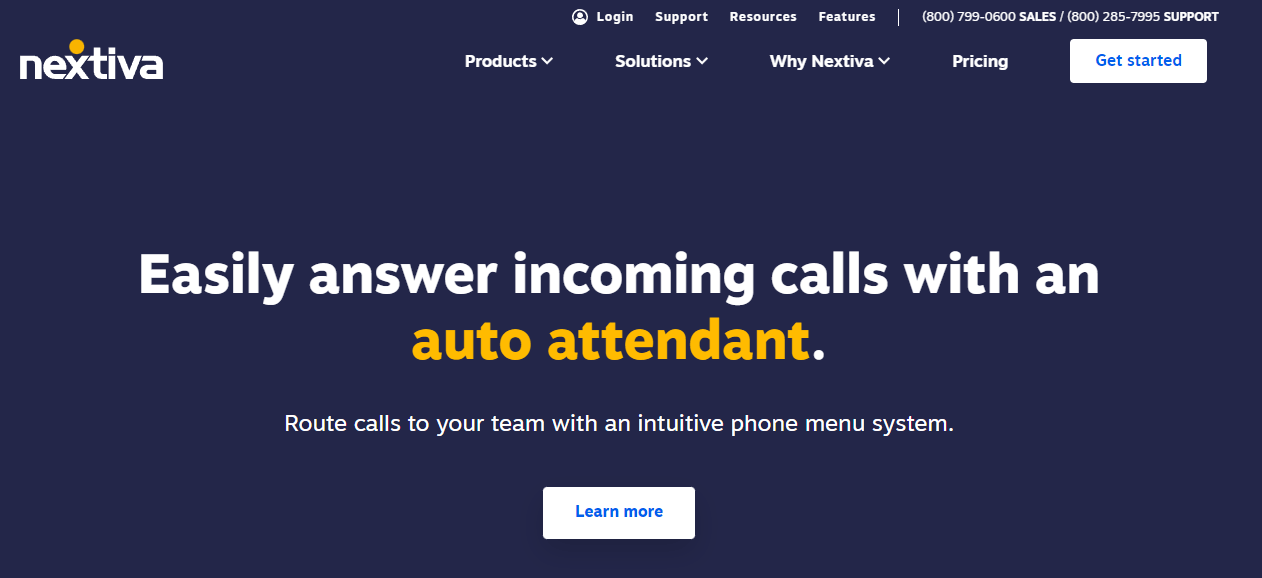 Some phone calls to your business don't require a receptionist. An automated answering service can field a lot of common questions or direct calls to the appropriate person. We tested and reviewed dozens of automated answering services for small businesses to find out which ones offered the best bang for your buck. We found Nextiva to be the best option for most because of its easy-to-manage workflow, affordable pricing, and helpful features for scalability.
The Best Automated Answering Services For Small Businesses for Most 
Nextiva
Best for Most
Small teams can choose Nextiva's Professional plan to get a multi-level auto-attendant built for workflow and scalability. Create customizable greetings and smart routing paths to send customers exactly where they need to be, starting at just $22.95/month.
Although you have a small business now, you don't know what the future holds. Therefore, having an automated answering service like Nextiva that can grow with you as your business's needs change is crucial for a seamless transition. 
Nextiva's auto attendant is one of the easiest to set up and manage, which you can do right from your online portal. The automated service is fully customizable with greetings and routing paths and is designed to handle multiple calls at once. Plus, you'll pay less than $25/month per user for numerous features, including voicemail to SMS, CRM integrations, and unlimited calling.
The Best Automated Answering Services For Small Businesses Options to Consider 
Nextiva – Best automated answering service for most small businesses
Ooma – Best value virtual receptionist
RingCentral – Best for comprehensive business phone services
Vonage – Best for customizable phone service plans
eVoice – Best for user-friendly department routing
Genesys – Best for budget-friendly hourly pricing
When It Makes Sense to Invest In Automated Answering Services For Small Businesses
Choosing between saving money and increasing productivity is often a pain point for small businesses.
However, answering the phone to answer questions about your business or to direct callers to the right employee can take a lot of time away from other essential tasks. That's where an automated answering service can help.
These services answer phone calls automatically and present a list of options for callers to get the information they need. Some services feature voice recognition to answer questions that callers speak into the phone. Others are text-based, allowing callers to press numbers based on your phone system's options.
With an automated answering service in place, you can save your employees time answering common questions or placing people on hold to get them to the appropriate staff member. 
The best services feature flexible pricing options for affordability at any business stage, including smaller teams with just a few people on staff. 
If you notice that a significant chunk of your workday is being used to answer the phone, it could be an excellent time to invest in an automated answering service. 
#1 – Nextiva — The Best Automated Answering Service for Most Small Businesses
Nextiva
Best for Most
Small teams can choose Nextiva's Professional plan to get a multi-level auto-attendant built for workflow and scalability. Create customizable greetings and smart routing paths to send customers exactly where they need to be, starting at just $22.95/month.
Nextiva is a full-service VoIP phone system for businesses, but you can also use it solely for its automated answering service, known as an auto attendant. 
The feature lets you create customized customer greetings and phone system rules based on your business hours. You can even decide how to route callers based on their area code, time zone, and other factors that could dictate how to handle their calls.
With Nextiva's virtual receptionist system, there's no need to have a real person answer calls during or after business hours. Instead, your system can include answers to frequently asked questions to field frequent calls or direct customers to their desired contact or department.
One reason Nextiva stands out for most small businesses is its user-friendly administrative portal that you can access from a computer or the Nextiva mobile app. You can control your entire phone system and auto attendant through your portal.
It's also excellent for scalability. When your business grows and you require more advanced customer contact features, Nextiva has you covered with VoIP, video, and chat services, virtual voicemail, and more. 
Nextiva's pricing is incredibly affordable for small businesses, especially considering the features you get in addition to the auto attendant. Plans start at $18.95 per user per month when paid annually. They include unlimited phone and video calling, internet fax, call history and logs, access to the Nextiva app, and conference or desk phones. 
We suggest moving up to the Professional plan for $22.95 per user per month on an annual subscription if it's within your budget.
This plan offers a multi-level auto attendant for more complex routing. This can be especially helpful for small businesses with multiple departments or those that might benefit from a more in-depth phone menu. If you want to learn more, read through our full Nextiva review.
Get started on Nextiva today to tap into all these benefits.
#2 – Ooma — Best Value Virtual Receptionist
Ooma
Best Value Virtual Receptionist
For small businesses seeking an affordable office phone system packed with features, Ooma has you covered. The virtual receptionist is just one of the 50 standard features you get with every plan, starting at just $19.95 per month.
Ooma is a complete office phone system that's designed for small businesses. It's affordable, easy to set up, and even easier to use on a day-to-day basis. 
Every Ooma office plan comes standard with a virtual receptionist. This is an automated answering system that directs callers to the right department or employee, which is cheaper and easier to manage compared to paying for a traditional answering service. 
Historically, having a virtual receptionist and multi-level auto-attendant has been reserved for larger businesses and enterprises. But Ooma brings this functionality to small business office phone systems—adding an extra level of professionalism to companies of all sizes. 
Your Ooma virtual receptionist is completely customizable. You can set up different greetings and options based on the time of day, day of week, or even during holidays. 
When a customer calls your office, they can be quickly routed to a specific employee, department, or voicemail based on their needs—all without having to wait on hold or for a real person to answer the phone. 
Another benefit of Ooma's virtual receptionist feature is the ability to create menu options for multiple languages. So all callers, regardless of their native tongue, can quickly find what they're looking for. 
This is just one of 50 standard features that come with every Ooma phone plan, so it's an incredible value for such an affordable price. 
Plans start at just $19.95 per user per month, and your subscription is backed by a 30-day money-back guarantee. You can get set up in less than 15 minutes, and Ooma will even let you keep your existing phone number. 
#3 – RingCentral — Best for Comprehensive Business Phone Services
RingCentral
Best for Comprehensive Business Phone Services
Many business phone systems offer more than just automated answering, but RingCentral provides some of the most comprehensive services for customer and staff communication. Get perks like collaborative tools and call logs to keep everyone on the same page.
Having an automated answering service is great, but if you're also considering a full business phone solution, look to RingCentral.
RingCentral services your customers through its multi-level auto-attendant feature with customizable inbound call routing. Set specific schedules for the service to pick up, like business off-hours or during conferences.
You can also set up different profiles for various departments or multiple locations to ensure that customers reach their target. Get up to 250 sub-menus per account.
Need more for your business phone? Get voicemail-to-text, toll-free numbers, call log reports, CRM integrations, and call recording with various RingCentral plans. We put together a detailed RingCentral review that focuses on its phone features, so you can learn more.
In addition to automated answering and other phone services, RingCentral helps your staff manage their communications through video conferencing and team messaging and collaboration tools.
Simplify workflows with project management tools, share documents, and switch between the RingCentral mobile and desktop apps to take your work with you.
RingCentral plans with the auto-attendant feature start at $20 per user per month when paid annually or $30 per user per month monthly plan. 
#4 – Vonage — Best for Customizable Phone Service Plans
Vonage
Best for Customizable Phone Service Plans
Small businesses could scale to large businesses one day. Leave some wiggle room with an automated answering service from Vonage that grows with your business. Start with a multi-level auto-attendant and customize your plan to include visual voicemail, call recording, and other add-ons as needed.
Vonage is a VoIP phone service that's built for business needs. As such, it's designed to scale with companies of virtually any size. Vonage offers affordable plans with must-have features and optional add-ons to customize your plan to your needs.
Let's start with its multi-level auto-attendant, which is available on its Premium and Advanced plans. Using the aesthetically pleasing admin portal, you can drag and drop schedules, greetings, and menus to personalize your phone's menu.
You can even drill down rules for your phone system to assist customers during lunch breaks or staff holidays. 
All Vonage plans also include 24/7 support, caller ID blocking, and over 50 other business phone features. Some of those features include things you'll use on the regular, like a virtual receptionist, click-to-dial functionality, voicemail to email, paperless fax, call monitoring, and call forwarding options.
Every Vonage plan also includes Vonage Meetings, so you can do team messaging and voice or video collaboration. Vonage Meetings is available on your desktop, web browser, or mobile app.
So no matter where your team is physically located, everyone can stay on the same page. This is a great feature for today's distributed workforces, and a nice add by Vonage. You can learn more about this feature and others by reading our full Vonage review.
When your business needs change, and you need more out of your automated answering service, you can add on Vonage's Business Inbox for $9.99/month. It gives you access to business texts and Facebook Messenger messages in one convenient inbox to help you manage customer contacts.
Vonage with multi-level auto-attendant starts at $29.99/month/line and includes the mobile and desktop apps, unlimited calls and text, and CRM integration.
#5 – eVoice — Best for User-Friendly Department Routing
eVoice
Best for User-Friendly Department Routing
If you're looking for no-frills automated answering for your business, eVoice is it. The user-friendly interface makes it a breeze to set up your phone menu to route callers to the appropriate department. You'll also get access to a Dial-By-Name directory for callers to find the right staff member.
Get all the benefits of an automated answering service with the added bonus of a straightforward setup with eVoice. 
The service's intuitive, user-friendly interface lets you create a menu that guides callers along the right path without confusing them. 
To help them along, eVoice includes a Dial-By-Name directory. Callers can type the first few letters of a person's name even if they don't know their extension. Or, your automated system can present a name directory to callers with an associated number to reach their phone line.
As a result, calls get to the right person without leaving your general inbox full of voicemails from callers looking for a specific person or department.
In addition to its auto-attendant feature, eVoice includes call forwarding, customized greetings, conference calling, and a convenient mobile app to manage your service.
The eVoice mobile app turns your smartphone into a fully-functioning business phone system. This lets you truly manage your business communications from wherever you want to be.
With the mobile app, you can read voicemail transcripts, send and receive business texts and faxes, connect to the existing personal contacts on your phone.
You can also do all the things you could do from the office, like screen unwanted calls, route calls, put calls on hold, record conversations, and use speed dial.
Since the mobile app and your online account share the same message center, the two will always be synced. Any changes you make to either one will transfer to the other.
eVoice pricing starts at $12 per month with annual billing and includes a 30-day money-back guarantee to ensure your satisfaction. Unlike other solutions, eVoice's month-to-month rate is still really affordable at $14. This is a great option if you don't want to lock in a long-term contract or pay in advance.
The company also builds custom plans based on your business's unique needs.
#6 – Genesys — Best For AI-Powered Predictive Routing
Genesys
Best For AI-Powered Predictive Routing
Genesys is a complete unified communications system that comes with speech-enabled IVR features and advanced AI capabilities. Plans start at $75.
Genesys provides versatile voice and digital communications system to a wide range of business types. They have solutions designed SMBs, mid-sized companies, and enterprise organizations across industries like retail, financial services, government, healthcare, and more.
The unified communications platform, Genesys CX Cloud, comes in multiple versions to support various needs. From voice-only systems to all-in-one solutions for voice, live chat, and workforce management, there's a Genesys CX Cloud plan that addresses the needs of any business.
All voice packages come with a speech-enabled IVR. So when a customer calls your business, a voice bot can automatically answer the phone. From here, the bot can resolve the caller's issue without any human interaction or use predictive routing to ensure they're transfered to the right phone agent.
So whether you want to provide self-service, live support, or a combination of both, Genesys has you covered.
What really makes Genesys stand out from the crowd is its AI capabilities. You can leverage turnkey AI models to extract value from data that's already in the CX Cloud. This makes it possible to continuously improve the way calls are automatically routed, and ultimately helps enhance the customer journey.
The software can capture and piece together a caller's complete interaction history with your business. This allows the AI bots to have even more context during interactions.
Genesys pricing starts at $75 per month with an annual contract. The AI Experience add-on costs an additional $40 per month, and includes predictive engagement, voice bots, and predictive routing.
Methodology for Choosing the Best Automated Answering Services For Small Businesses
Transitioning to an automated answering service for your small business might leave you with a few questions, like "What do I need in a phone service?" and "What will make things easier for my customers?"
We aim to take away some of the confusion by outlining a few top features small businesses should look for in an automated answering service.
Multi-Level Call Attending
An auto attendant feature takes calls for your business and gives callers a menu to get to where they need to go. A multi-level auto attendant takes this service up a notch by allowing a business to create custom paths for each caller based on their specific needs.
For instance, you might create one path for customer accounting and another path for technical support. In the customer account path, callers might hear options to hear their balance information, get paperwork emailed to them, or change their PIN. 
In other words, a multi-level call attendant lets you have multiple attendant profiles to help callers get the exact information they need or perform specific tasks. 
This feature best suits small businesses with multiple departments or customers with diverse needs. 
Account and Call Monitoring 
Can you easily change your automated answering service's caller paths, monitor your call analytics, and set up your system via a dashboard?
Automated answering services typically have an online dashboard you can use as the hub of your phone system. Your dashboard should easily let you add users, change permissions, and control each aspect of your phone system without hassle.
Better yet, some companies include a mobile app with their plans to let you do all of this even when you're out of the office. 
Before choosing a company, consider using a free trial or demo to get hands-on experience with the user interface, just to ensure it's as user-friendly as possible.
Optional Live Call Answering
Although you're searching for an automated answering service, there might be points in time when having a live person on the other end of the phone can come in handy. 
For instance, some customers simply prefer speaking with a person instead of using an automated menu, especially if they have a unique question. It might boost their satisfaction to have a menu option for an operator that connects them to someone who can help.
Some services offer live operator services as add-ons to their automated phone plans. Even if you don't need this service now, choosing a company that has it as an option when you're ready to scale might be helpful.
Flexible Hours
Some businesses might want around-the-clock automated answering services to field calls to their business. Others might prefer only to use the automated system during off-hours so that customers can continue connecting when needed.
It's possible that your business's needs change, causing you to switch from 24/7 to off-hours answering services or vice versa.
Opting for a company that lets you choose whatever kind of pattern you need for your answering service's hours can give you more flexibility.
If you plan to include live call answering now or in the future, make sure that the company you plan to use offers live receptionists during times that fit into your schedule, too.
Additional Business Phone Features
Scalability should be a primary focus of your small business to better plan for the future. You might just be on the hunt for an automated answering service now, but a growing company could benefit from additional business phone features.
Services like Nextiva and Vonage offer a lot of room for growth without making you spend outside of your budget now.
Choose the plan that fits your current needs while getting access to more features if your business requires them in the future.
Here are a few features you might want to consider having available:
Web and mobile chats
Post-call surveys
Conference calling
Voicemail transcription
Call recording
CRM integrations
Interactive voice response (IVR)
Conference call services are especially helpful as an add-on feature. As teams of workers operate remotely with more frequency, setting up conference calls can make them feel connected to their co-workers.
Adding conference calling capabilities to your business phone services also can help with keeping clients up to date. You don't have to visit the client in person each time you need to deliver a major update. Just hold a conference call instead.
As long as the conference calling service you are using is of a high quality, you should be able to hold meetings with clients successfully. You want to impress them with the quality of your conference calling service, rather than leaving them questioning your company's capabilities through a spotty conference call service.
Some people prefer having a high-quality video conference call capability in the business phone service. If you routinely need to deliver presentations to clients, video conference calls may be a necessity.
Again, it needs to be of an extremely high quality, or you may not impress clients. Video skips or low-resolution video can leave you with significant issues.
If you are running a sales operation via telephone, a call recording service may be an invaluable add-on feature. By recording calls, you can better train salespeople on their sales techniques. You also can better investigate customer complaints about poor customer service when you record all calls.
Expanding Your Knowledge: Best Automated Answering Services For Small Businesses
Nextiva
Best for Most
Small teams can choose Nextiva's Professional plan to get a multi-level auto-attendant built for workflow and scalability. Create customizable greetings and smart routing paths to send customers exactly where they need to be, starting at just $22.95/month.
Summary 
An automated answering service can give callers necessary information with helpful, self-served guidance, saving your business time, money, and staff resources.
Of course, your customer service heavily relies on your phone system to do its job. 
That's why we highly recommend Nextiva for most small businesses. Its administrative portal is simple to work with, so you won't need to be an expert tech to get it running the way you want it to. Plus, you can benefit from an array of extra features you'll probably need as your business needs expand.
Businesses that only need a once-in-a-while service might prefer Genesys's more flexible pricing. On the other hand, companies on the verge of significant growth could enjoy having RingCentral's more comprehensive phone system at the ready.
Consider where your business is right now and where you plan for it to go within the next 1-5 years to determine which automated answering service fits the bill.