How to Configure a VPN on OpenWrt router in 2023?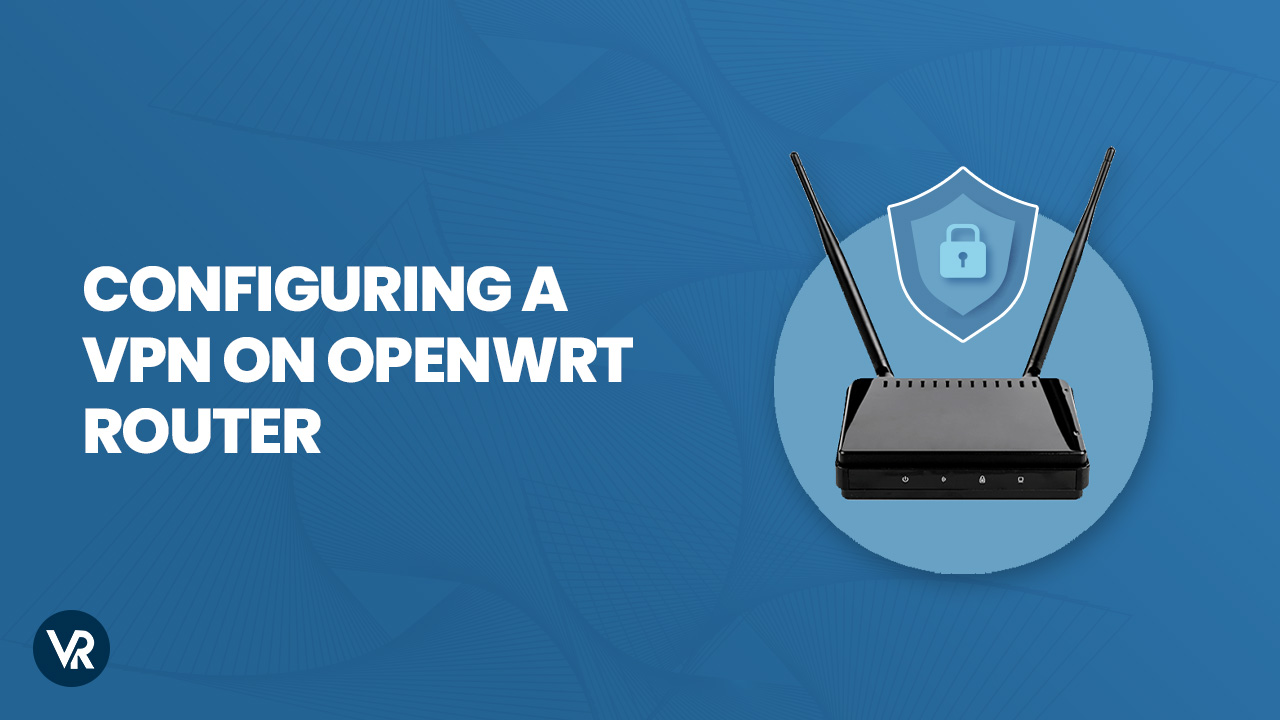 Are you looking for a VPN that will work with OpenWrt? If you're thinking about configuring a VPN on OpenWrt router, we think it is a great idea. That's because all traffic to and from any device connected to an OpenWrt VPN router will become encrypted.
Installing a premium VPN to your router will allow you to safeguard your entire network's traffic from prying eyes. It routes traffic through your preferred server country, allowing you to access geo-restricted material by directing traffic through your preferred location, rather than your real one.
Furthermore, most VPN services limit the number of simultaneous connections, but a router counts as one device. As a result, you can encrypt all of your network devices while just using one of your available connections.
OpenWrt is a relatively recent open-source router firmware that is gaining traction. It is highly adaptable and a popular choice among developers due to its vast range of add-ons. With an improved user interface, OpenWrt Router VPN Setup is becoming easier and more suitable for less experienced users.
Below, we go into great detail about the best VPNs that support OpenWrt.
Step-by-Step Guide: How to Configure a VPN on OpenWrt router
Setting up a VPN on your OpenWrt router may differ depending on the router model and the VPN you're installing. However, we've provided a general guide below for how to set up a VPN on OpenWrt Router, which should work with most VPNs since the overall process to install a VPN on OpenWrt is typically the same.
Here are some easy steps that explain the process
configuring a VPN on OpenWrt router
:
Sign up for a compatible VPN service provider. Our top recommendation is ExpressVPN.
Check that your router is running OpenWrt firmware.
Change the root password and install the OpenVPN software to enable OpenVPN.
Download the OpenVPN configuration files for the location you want to use from your VPN provider. Change the "ovpn" file extension to "conf."
Add a forwarding rule to a new network interface and firewall zone.
Configure DNS servers in accordance with your provider's guidelines.
Note: Flashing a router (changing its firmware) can cause damage to the router. You should probably not try this unless you're fairly tech-savvy. One of the main draws of this firmware is its add-ons available, which make it highly configurable. Its UI used to be very complex, however, the current version has an improved interface making it easier for less experienced users.
Get ExpressVPN for OpenWrt router in 202330-day money-back guarantee
Best VPNs for OpenWrt – Detailed Analysis
Here's a detailed analysis of the best VPN for OpenWrt router:
1. ExpressVPN – Best VPN to Configure on OpenWrt router:
ExpressVPN is the best option for configuring a VPN on OpenWrt router. It creates its own unique firmware that may be used with any router that is compatible. It also provides pre-configured wifi routers that have been flashed with their own firmware and are configured to all servers.
ExpressVPN has a huge network of over3000 servers spread across94 countries. You could easily use server networks to circumvent multiple geographical limitations from various areas around the world.
We tried browsing the internet after configuring ExpressVPN on our OpenWrt router, and it worked perfectly. we were able to unblock different services without detection and managed to watch our favorite shows without interruption or buffering.
ExpressVPN excels at safely accessing your favorite streaming platforms when it comes to streaming. This is true even for sites that are tightening down on VPN use, such as Amazon Prime Video, Hulu, and others. Also, ExpressVPN works with Neflix very well and you can easily access its different libraries anywhere.
On a 100 Mbps internet connection, our ExpressVPN speed test produced an amazing download speed of 89.42 Mbps and an upload speed of 84.64 Mbps. These speeds exceed than adequate for continuous video in 4K Ultra-HD playback.
Although only a few VPN service providers offer multiple simultaneous connections, ExpressVPN offers 5 connections running concurrently while also offering an easy-to-use VPN configuration for almost all widely used devices.
It is compatible with all major operating systems including MacOS, Windows, iOS, Android, and Linux. Other devices like  PS4, routers, Kodi, Roku, Chromebook, Smart TVs, Firestick, and Android TV boxes are all supported by ExpressVPN, making it the ideal to be your companion for internet privacy and unblocking needs.
It can also be installed on other routers that use compatible firmware, and ExpressVPN has confirmed that it supports OpenWrt. There is currently no online training available, but you can get help with the setup from ExpressVPN's dependable and skilled 24/7 live chat customer care service.
This VPN service employs 256-bit encryption and perfect forward secrecy, as well as the OpenVPN and Lightway protocol. It has a kill switch and DNS leak prevention to make sure that your data is never compromised. ExpressVPN never keeps any activity logs, and this has been independently verified.
ExpressVPN is a tiny bit more costly than other VPN services. ExpressVPN costs $6.67/mo (Get 49% Off + 3 Months FREE on its 12-Month Plan), but it is completely worth it because it is unequaled in offering premium VPN services.
There is no way to go wrong with this service, regardless of your internet requirement, because it offers a week-long ExpressVPN free trial for mobile users. Additionally, each premium subscription comes with a thirty-day money-back guarantee.
Please refer to our ExpressVPN review to discover more details about this service provider.
Pros
Provide pre-configured routers, OpenWrt support, or installation on compatible routers
Support personnel are friendly, knowledgeable, and available at all times.
Streaming HD entertainment or downloading/uploading huge files at quick, dependable rates
Throughout, high-grade privacy, security, and encryption
Cons
There are fewer options for advanced configuration for power users.
Slightly more expensive than some of its competitors
Get ExpressVPN for OpenWrt router30-day money-back guarantee
2. Surfshark – Budget-Friendly VPN to Configure on OpenWrt router
Key Features:
Work well on routers
There is no restriction to the number of concurrent connections.
Price: $2.30/mo (Get 84% + 2 Months FREE on 2-Year Plan)
Military-grade AES-256 encryption
Compatible devices: Smartphones, laptops, tabs, Smart TVs, gaming consoles
Surfshark is an excellent low-cost VPN for OpenWrt. It is one of the most affordable VPN providers that are capable of providing enough online security, privacy, unblocking, and data protection, and costs only $2.30/mo (Get 84% + 2 Months FREE on 2-Year Plan). The service's website provides one-on-one guides for installing the VPN to Mikrotik, Tomato, ASUS-WRT, DD-WRT, and OpenWrt routers; you should have no trouble obtaining a low-latency, high-speed connection.
Surfshark runs a server network with over 3200 servers spread in over 100 countries. Don't let its low price trick you, it is capable of bypassing almost all geo-restrictions due to its extensive network of servers located in 100 different countries.
After setting up Surfshark on our OpenWrt router, we attempted to access various websites and were pleased to find that it worked flawlessly.
It also allowed us to unblock a number of other streaming platforms, such as Disney Plus, Hotstar, NBC Live, Amazon Prime Video, BBC iPlayer, Spotify, Channel 4, BT-Sports, Hulu, ESPN+, and others.
Surfshark guarantees a lightning-quick VPN connection thanks to its integrated high-speed service network. On a 100 Mbps internet connection, Surfshark speed test produced an amazing download speed of 81.32 Mbps and an upload speed of 76.12 Mbps. Furthermore,every video we streamed was done in video quality 4K Ultra-HD and Ultra-HD.
Surfshark, like any other premium VPN service provider, can be effortlessly configured onto a variety of operating systems including iOS, Windows, macOS, and Linux. You can also get Surfshark on Android using its app. Furthermore, Surfshark can be used on an unlimited number of devices at the same time. Feel free to enjoy your favorite content by using Surfshark on Roku, Kodi, Mac, Firestick, Xbox, PS4, Kindle Fire, router, and many more different devices.
Finally, it has a comprehensive set of security components. These consist of a kill switch, 256-bit encryption, and protection against IPv6 and DNS leaks, as well as a quality that automatically activates the VPN whenever you connect to an unprotected wireless network. Importantly, Surfshark does not retain any logs due to its strict no-logs policy.
Surfshark is a great VPN service for all intents and purposes due to its low pricing, reliable and effective customer service 24 hours a day, seven days a week care crew, limitless simultaneous connections, and includes a 30-day money-back guarantee. It also offers a 7-day Surfshark free trial for mobile users.
Check out our Surfshark review to discover more about this provider.
Pros
Works well with routers and has set up clear documentation methods.
Unlimited bandwidth and fast speeds
You can join as many devices as you want.
Excellent streaming capability
Outstanding security features
Cons
Has a slow server on occasion
Get Surfshark for OpenWrt router 202330-day money-back guarantee
3. NordVPN – Large Server Network VPN to Configure on OpenWrt router
NordVPN is the best VPN for security features. You can either manually set up the VPN to a compatible router or buy a pre-configured router from a third-party affiliate, FlashRouter. However, the latter only manufactures NordVPN routers based on the Tomato and DD-WRT firmware. You will have to manually configure OpenWrt.
NordVPN has an extensive network of over 5500 servers across 60 different countries. These servers ensure an unlimited and dependable unblocking experience everywhere.
Once we had configured NordVPN on our OpenWrt router, we decided to play games on our handheld gadgets. To our delight, we found that it worked seamlessly, and we were able to bypass the restrictions undetected.
It can also enable access to a variety of streaming services based in different countries, including Amazon Prime Video, BBC iPlayer, Hulu, and HBO Max due to its easy ability to bypass geo-blockers used by such services.
The connection was relatively fast for a provider that never claims about connectivity or streaming speeds. NordVPN speed test revealed an outstanding performance on a 100 Mbps internet connection, we got a download speed of 83.82 Mbps and an upload speed of 44.64 Mbps.
A NordVPN subscription plan allows you to connect to six devices at the same time, making it suitable for families or anyone with a large number of gadgets.
It is compatible with all major operating systems, including MacOS, Windows, iOS, Android, and Linux. Moreover, it supports a variety of other devices such as PS4, routers, Kodi, Roku, Chromebook, Smart TVs, Firestick, and Android TV boxes, making it the ideal choice for anyone seeking internet privacy and unblocking capabilities
This service employs 256-bit encryption and guarantees full forward secrecy. There is a DNS leak protection and NordVPN kill switch built in. This means that your information will never leave the encrypted channel. NordVPN's no-log policy ensures that your data and activities remain protected. This service also features automated wifi protection and NordLynx, its own protocol that is faster and easier to audit than OpenVPN.
In terms of cost, NordVPN offers monthly subscriptions as well as a great deal $3.99/mo (Get 57% Off + 3 Months FREE on 2-Year Plan). Furthermore, NordVPN offers a thirty-day refund guarantee if you want to test the service before committing. Mobile users can test the service completely free through a 7-day NordVPN Free trial.
If you want to understand more information about this service provider, we recommend reading our NordVPN review.
Pros
OpenWrt can be configured manually with instructional guidance.
Manual setups can be aided by live chat.
A large server network is ideal for streaming.
Extremely fast speeds
Strong encryption and no logs provide maximum security and privacy.
Cons
Automatic server selection may not be appropriate for all use situations.
Get NordVPN for OpenWrt router 202330-day money-back guarantee
Finding the best VPNs for OpenWrt: Our Methodology
You are here because you are considering ways of configuring a VPN on OpenWrt router. However, there are other factors to consider such as server performance and security levels. Below, we outline the process we use to find the best VPNs for OpenWrt:
Speed: We conduct speed tests to identify the fastest VPNs that provide unlimited bandwidth, making them ideal for downloading torrents and streaming. If your ISP throttles your bandwidth, using a VPN may improve your connection.
Security: It is important to note that setting up a VPN on a router does not offer the same level of protection as using a VPN application on a computer or mobile device. Therefore, we only select VPNs that employ the most secure VPN protocols.
Privacy: Some VPNs do not prioritize your privacy and may sell your personal data and online activities to third parties. However, you don't have to worry about that with the top VPN services for OpenWrt listed in this post, as they all have a no-logs policy. We evaluated 140 VPN logging policies to determine which ones offer anonymous browsing.
Ease of Use: While some VPNs make big promises, their apps can be complicated and hard to use. Hence, we prefer VPNs with user-friendly apps and round-the-clock online chat and email support.
VPNs that don't work with OpenWrt
Our VPN providers have confirmed that their services are compatible with OpenWrt. They are viable options if you're thinking about configuring a VPN on OpenWrt router since they all offer online tutorials or customer support to help you with the setup. However, our research showed that other similar providers do not support the use of OpenWrt firmware at this time.
Here is the list of VPNs that do not work with OpenWrt:
CyberGhost
StrongVPN
 IPVanish
 VPNArea
Note: Since OpenWrt is relatively new, it's understandable that it's not yet widely supported. As it becomes more popular and there is a greater need for VPNs that are compatible, this list may diminish as providers improve their services
FAQs: Configuring a VPN on OpenWrt router
No, it is highly unlikely that you can use a free VPN with OpenWrt. This is because configuring a VPN on OpenWrt router may require some expert assistance, which is not typically a strength of free VPN services due to their limited resources for providing timely and knowledgeable customer support.
Moreover, they often have a small network of servers and a large number of users, resulting in limited access to a few locations and long wait times for servers, as well as poor service quality. Therefore, it is best to stay go for a reliable premium VPN like ExpressVPN that provides secure services, reliable customer support, and widespread compatibility.
Yes, it is possible to get a router with a VPN built-in. some companies now offer routers that come with pre-installed and specialized VPNs, but they tend to be quite expensive. ExpressVPN, for instance, offers its own pre-configured Aircove router.
Most router firmwares include options to set up a VPN connection, but finding them and configuring a VPN on OpenWrt router to provide reliable protection can be challenging. However, if you're willing to spend an afternoon navigating through the router's configuration menu, you can save a lot of money.
DD-WRT and OpenWRT are two types of router firmware. OpenWRT, being the oldest open-source firmware, may not be the most user-friendly to install and navigate, but it does support a wide range of hardware. DD-WRT, on the other hand, is built on OpenWRT and shares many of its features. It is more user-friendly and supports many common home routers.
Yes, installing OpenWrt is safe as long as you carefully follow the instructions when and avoid changing any settings without a clear reason. Many people are afraid to change their router's firmware because they are concerned that they may harm it. While this is a possibility, it is extremely rare because all reputable firmware comes with detailed, step-by-step installation instructions to make the process as easy as possible.
Conclusion
OpenWrt is a relatively recent open-source firmware for routers that is gaining popularity. It routes data through a server of your choice, allowing you to access geo-restricted content by impersonating your location.
Configuring a VPN on OpenWrt router is easy if you understand the process. Hope that this guide helps you to learn how to configure a VPN on OpenWrt Router along with which VPN is best to do that.
ExpressVPN is the most recommended option for configuring a VPN on OpenWrt router. It confirmed OpenWrt support and competent support staff may aid with installation. Fast servers and a strong reputation for privacy.