How to Fix If FireStick Remote Is Not Working 2022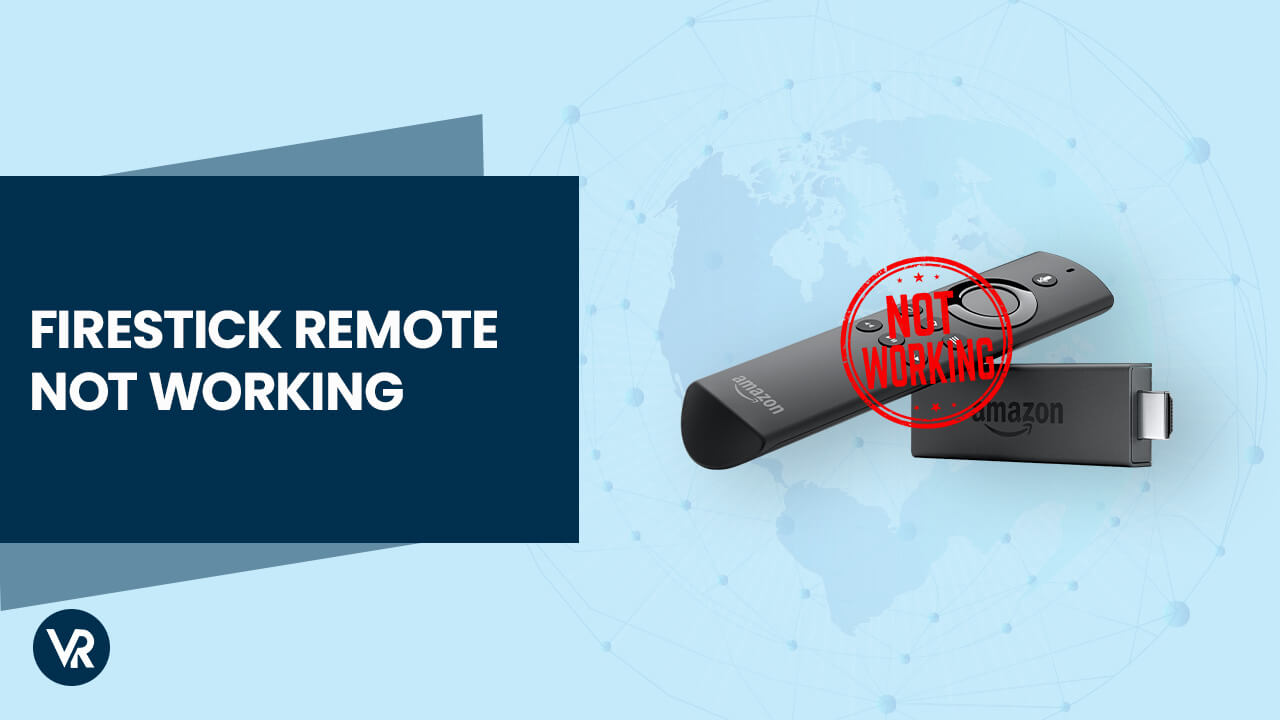 With the digital evolution, streaming devices like FireStick are becoming popular. Firestick and Fire TV devices come with special remotes to control the working. There can't be anything more frustrating than a remote that stops working suddenly while you are watching your favorite program.
If your remote stops working, it can interrupt your entire streaming experience. Glitches in remote commands can be due to the following reasons:
Dead, Weak, or Incorrectly Installed Batteries
Fire Tv Remote Not Working with CEC-Enabled TV
Remote Incompatibility
Damaged Remote
Firestick Remote Not Working After Update
Firestick Remote Not Working After Reset
If this defines your experience, worry not. We have got you covered by offering you the solutions on how to fix the firestick remote not working.
In this post, we will discuss a comprehensive guide on fixing Firestick remote issues to ensure quality service. For the Best VPN compatibility review on Firestick, check out this article for free VPN for Firestick.
Quick Fixes "FireStick Remote Not Working"
How to get Firestick remote to work when it malfunctions? Try to first figure out the reason and then jump onto the fixing techniques. Whether it's an update failure, battery issue, or problem with the volume, it can be easily resolved.
Some of the common remote failures and the fixing tips are given ahead:
Dead, Weak, or Incorrectly Installed Batteries:
Though it may seem a simple suggestion, incorrectly inserted or low-on-power batteries can create issues in FireStick remotes. Nearly everyone knows how to insert and change a battery, but mistakes can happen at times.
Moreover, your FireStick may seem small, but it may have a large consumption of power whenever you click the buttons. Remote controls heavily rely on batteries to keep running.
Many people use banging the remote technique, which sometimes revives the batteries, but mostly for a short duration. It may sound familiar to the majority of users. Well, let's confess we have too tried it out at some point, but we know it doesn't last too long.
Repeating this practice often leads to battery leakage or internal remote failure.
Open the back cover of the remote and take out the batteries. Observe closely how they were installed.
Examine the direction marks (+/-) on the FireStick remote to verify the correct battery installation. Kids often change sides and put batteries in the wrong direction, which stops remotes from working.
If you find the batteries installed correctly, try replacing them with a new pair. Make sure you put matching batteries. Using different brands together is not what we recommend due to the possibility of leaking and even exploding batteries.
If you tried all the above suggestions and still your battery didn't work, the fault is somewhere else. You can try changing the battery type, for instance, using alkaline instead of rechargeable batteries that may not retain the charge. Also, these batteries tend to weaken with time after frequent sessions until they totally stop working. In this case, Alkaline is the ideal option.
Fire TV Remote Not Working on Your CEC-Enabled TV
While using CEC-enabled settings and CEC-enabled TVs, the remotes that are not paired with Firestick will not function with your TV. If you are not using CEC settings for controlling the TV, Infrared technology remotes can operate with it when within the field of vision.
To resolve the issue with CEC functionality, repairing mostly works when you have a CEC-enabled TV and a Wi-Fi network to let it run. The remote needs Wi-Fi, as the Fire TV Stick uses a Wi-Fi connection to communicate.
You can control your TV with CEC functionality via a Wi-Fi network or IR technology to control your TV. The Firestick and cube need Bluetooth or Wi-Fi connection. IR technology (1st generation remote) needs line-of-sight, whereas CEC (2nd generation remotes) can operate the TV from even great distances using a Wi-Fi connection.
With CEC, you send remote signals to the Firestick instead of the TV, which transfers the command signals to the TV over the CEC-enabled HDMI switch. You don't need any additional programming or complicated steps to let the remote operate with TVs.
To make the remote work on TV, follow these simple steps:
Switch on the TV and make sure Firestick is connected to power.
Try to access the TV settings, which may vary between different models. Next, search for CEC options to enable the CEC feature. After completing this step, Firestick will be able to turn the TV on or off.
Check if the Firestick turns your TV on or off by clicking the Power button on Firestick. If it does the job, it's all done. Otherwise, proceed to step 4.
Switch on your TV with the remote or manually and confirm whether the remote is functioning for Firestick. If it doesn't, move on to step 5.
If your remote doesn't work for Firestick, you must clear or unpair your Firestick. To do so, hold the Back and Home buttons for 10 seconds.
Now to pair the remote again, press the Home button for 10 seconds. Test the remote on your TV. If it doesn't work, repeat the steps a few more times if required.
If pairing doesn't work for you, try resetting your remote. Every model has different resetting commands.
Firestick Not Responding to the Remote
The 2nd generation firesticks and later versions use BlueTooth technology, which has less distance coverage as compared to the infrared models. For instance, if you have a spacious TV lounge and you try to use the remote from any other room, the BlueTooth may not work unless you switch to CEC/Wi-Fi. Place the remote close to the Firestick, removing all hindering objects and barriers in between to verify if the distance was the root problem. If your remote functions after moving it closer to the TV, try using the Firestick extension to relocate the device. One solution that often works is to re-pair the remote to the Firestick if it doesn't work for your TV.
To unpair and clean it, press and hold the buttons for Back and Home for almost 10 seconds on the remote.
Try to re-pair the remote by holding the Home button for around 10 seconds. After this step, your remote should operate with Fire Cube or Fire TV stick.
If your remote still doesn't work, open and check your CEC settings. Open Equipment Control Settings and make sure you have CEC enabled on the Firestick.
Remote Incompatibility
If you have recently changed your Firestick remote and set a new one, it may not be compatible with your Fire TV Stick, leading to problems.
When your remote no longer remains compatible with your device, try using your smartphone as a remote. Depending upon your device vendor, you can either use the Android FireTV app or the iPhone Fire TV app.
To use your smartphone as a remote, follow the steps given below:
Search and download the Fire TV app on your phone.
Switch on the TV by using the remote or pressing the Power Enter your credentials and log in to your Amazon Fire TV smartphone app account.
Pick your Fire TV device from the smartphone app
Get the code displayed on the TV and enter it into the smartphone app.
Damaged Remote
Inspect your remote to notice any visible flaws on the surface, as both external damage and internal issues can stop your remote from functioning. Whether it's the damaged parts or the water absorption, the remote can become completely useless.
Firestick Remote No Light/Not Working
If you don't see any light in Firestick remote, unplug the Fire TV stick manually from your device and hold it back for 20 seconds. Then, plug it in to check if the problem has gone. However, if your batteries are working fine, the insufficient and inappropriate messaging with Firestick doesn't cause the light in the remote to glow.
The practical workaround to resolve the "No Light" issue is to pair the Fire TV stick remote. If unplugging and reconnecting the Firestick doesn't work for you, the possibility of your Firestick remote being unpaired to the TV is high. To pair the Firestick remote to the TV, follow the steps ahead:
Turn on your Fire TV Stick with your remote
Move your phone near the TV and hold the two, Back and Home buttons for about 10 seconds. It will unpair your Firestick.
Now, pair the Firestick again, and press the Home button for 10 seconds. You can repeat this process a few times to make it work.
If by following all these steps, the remote light/LED issue doesn't get resolved, make sure you are in the closest proximity of the TV. We have already discussed that the Firestick remote can only work within a certain distance.
Just guarantee correct installation and insertion of batteries. They may be running on very low charge and have to be changed.
Firestick Remote Not Working with Volume
Several Fire Stick users experience volume-relate problems, which may happen due to many reasons. The most popular method of fixing this issue is to pair the Firestick remote via the Equipment Control settings on the smartphone.
From the Equipment Control settings on your Firestick, try using the Change TV option to allow the remote to reconnect with your TV. Your volume control issue may get resolved by reconnection.
To manage the Equipment Control options, try the following steps:
Download the Amazon Fire TV app on your smartphone.
Use the remote or power button to turn on the TV. Make sure you have the updated and correct input set to show the Firestick. Simply go to Settings and then to Equipment Control.
From Manage Equipment, select TV.
Move to Change TV and again click on the same "Change TV" option.
Hit Continue and pick your TV type from the list provided on the screen.
On your Fire TV remote, press the Power button to switch off the TV.
Wait for around 10 seconds, and then hold the power button to switch it back on.
Firestick Remote Not Working After Update
In some cases, Firestick remote stops working after an update. Then, how to get Firestick remote to work? Here we present 5 solutions to resolve this issue. If anyone doesn't work, try out the rest sequentially until the problem gets fixed.
First, pair the remote to the TV if it's not connected already by pressing the Home button for almost 10 seconds on the remote.
Unplug your device from the back to check the remote one more time
Switch off the TV and also rest your remote
Remove any obstructing objects to ensure the connection between the remote and the TV
Try replacing your batteries and insert them according to the marked directions.
If your remote got damaged by something, the new updates might not necessarily support working with the remote.
Firestick Remote Not Working After Reset
If even after resetting, your Firestick remote terminates working, you should use the following techniques:
First, restart the Firestick TV. After you get redirected to the remote pairing screen, try to unplug the TV from the backend and plug it in again within 10 seconds. Next, attach the remote by pressing the Home button for 10 seconds.
Replace your old batteries with new matching pair as the problem could be in low-battery could be restricting your remote from functioning openly. Also, remove any dirt or dust that you may find inside the remote.
If, even after replacing the batteries, the remote didn't work, get another remote and try to connect it to your Firestick TV. Either purchase a new one yourself or borrow it from someone to try another remote. If my fire stick remote is not working, I would prefer this method. Otherwise, downloading and using the Firestick app for Android or Apple as a remote is another option.
Check how you can change your location on Firestick using a VPN.
Beware Firestick Users!
Online ISPs and government authorities often track user activities and traffic to discover personal and sensitive data. While you browse, stream, or play on any unsafe platform, you are vulnerable to all kinds of cyberattacks and threats.
However, with a reliable VPN, your online identity is fully secure, and your traffic is securely encrypted. Therefore, we recommend using ExpressVPN, it is one of the best VPNs for Firestick with ultra-fast servers spread over 94 countries in the world. You can experience remarkably safe and enhanced performance with it is special Lightway protocol and other latest technologies.
With ExpressVPN, your investment is safe if you go for ExpressVPN's free trial. You can claim a complete refund within 30 days to get it all back if you are not satisfied with their services.
Conclusion
Firestick and Fire TV are being used by people worldwide. Users generally experience minor issues with these devices that can be resolved with basic solutions. However, some of the cases need advanced techniques to tackle the complexity.
With your fire stick remote not working, your TV becomes inoperable and useless. Luckily, you have a wide range of options to try and test remote connection with your TVs. The most common and practical solution to make remotes work is unplugging, resetting, and re-pairing them.
It is recommended to check and change battery frequency as this is one major root cause that is often neglected. However, if nothing else works for you, contact Amazon customer service without delay.