How to know if Your ISP is Throttling You?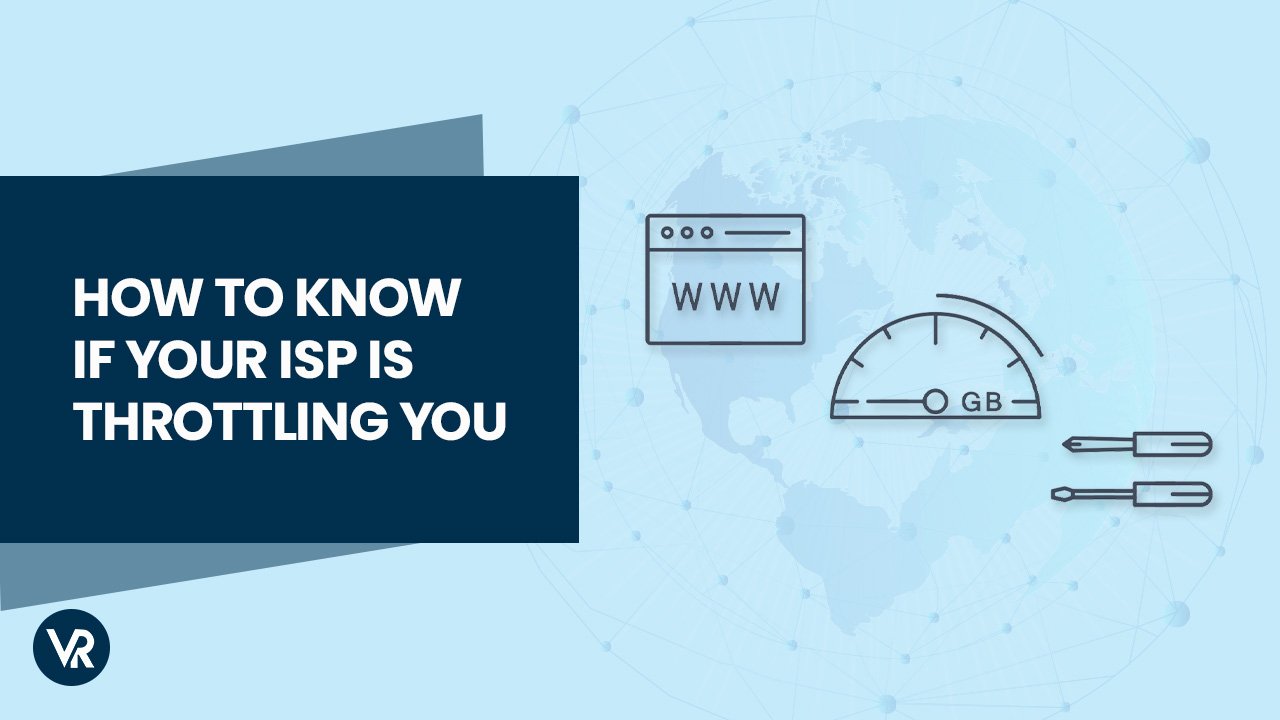 Have you ever experienced a slow internet connection when streaming or torrenting? This happens due to some ISP (Internet Service Providers) slowing internet traffic like BitTorrent. Some ISPs block specific websites, slow down the downloading speed, and impose bandwidth limitations. As a result, you may have to suffer buffering and lagging in videos and interrupted internet connections.
ISPs slow down the consumer's connection due to excessive downloading, which may lead the consumer to think am I being throttled? How to know if your ISP is throttling you? Is there any way to be sure? Well yes, there is!
You can perform various tests to check whether your ISP's throttled or not. First and foremost, you can use a reliable VPN service. There are other ways too like bypassing ISP throttling altogether. To learn more, continue reading this article!
BitTorrent Traffic Shaping
Is your BitTorrent traffic being slowed down by your ISP? Or are your torrents slow by default? This is one of the more typical instances that we'll start with. You can also look at how to bypass torrent blocking effectively.
For evaluating BitTorrent traffic shaping test and tracking it over time, Neubot is a helpful tool. Although challenging to use, this tool is quite effective.
Visit the Neubot page and select the "Download" option.
You need to download Neubat and Install it like any other speed testing tool. (Neubot will operate in the backdrop and carry out internet throttle tests)
Open your Start menu and select the "Neubot" shortcut to display the Neubot web interface.
Once downloaded and installed, you need to give Neubot access to get your internet address information to the Neubot web interface. By following these steps, Neubot can get permission;
Open the Neubot Interface shortcut.
In the privacy dashboard, you will find the "Privacy" tab; click it.
Then click on the "Save" button.
You can't use the Neubot if you don't follow this process. You need to provide permission to Neubot to collect and publish your Internet address.
Choose "speed test" from the list of tests to manually launch, then click "Go." Neubot will run a typical HTTP speed test.
After that, choose "BitTorrent" from the Testing box and press "Go". Neubot will perform BitTorrent speed testing.
As with other comparable tests, you should run this one without using your network for any sizable downloads.
Select the "Results" option at the page's top to see your results. To view your HTTP speed test results, choose "speed test" from the Test section at the top of the page and click "Go." You will get results of the BitTorrent speed test as your internet connectivity is performing well or not.
Bandwidth Caps or Bandwidth Limitations 
Have you consumed too much internet usage bandwidth, causing your ISP to slow down your connection? As a technique of implementing bandwidth controls, certain ISPs are known to do this.
You'll need to track the speed of your Internet connection over time to see if your ISP is gradually slowing it down. For instance, if your ISP limits your internet connection bandwidth, it's typically because you've used a lot of data toward the end of the month. At the start of the month, internet connection bandwidth is relatively high; you most likely have typical, quick speeds.
By utilizing a speed test website like Ookla SpeedTest, you may gradually keep track of Internet speed changes. Run a test at the beginning of each month and do additional tests frequently, particularly at the end of the month. If you routinely experience slower speeds by the end of the month; your ISP is probably restricting your bandwidth.
In our speed test of Ookla, we get 102.71 Mbps downloading speed and 43.73 Mbps uploading speed, respectively. This is enough to watch a streaming video without lagging and buffering. You can also use the Ookla speed test online.
Get ExpressVPN to Prevent ISP Throttle Issues
Problems with Connection
The internet connection tends to get disturbed when your ISP degrades the performance of the interconnection points where Internet traffic is moving from your ISP's network to another ISP.
Furthermore, you can try the internet health test with Battle for the Net. With Battle for the Net, determining the internet connection performance is relatively easy. It checks your Internet connection to see if there are problems at the interconnection points and monitors different routes, ultimately finding out whether you're experiencing degraded performance at one or more interconnection points. All you need to do is just click the "Go" button to get the results.
We have performed the health test on our internet connection. So, we get the 104.9 Mpbs downloading and 114.5 Mpbs uploading results, respectively.
Slow Netflix Streaming and Youtube Throttling
Streaming sites like Netflix and Youtube might slow down due to the ISP connection throttle if you want to check whether your streaming sites throttle or not. Further, steam throttles downloads. You can try out the Fast-SpeedTest and compare the results to get an evident answer.
If you get low-speed internet throttle test results for Netflix, the internet connection is relatively low – which means your ISP is throttling Netflix.
Eventually, we experienced the Netflix speed test. Hence the result is 95 Mbps internet speed. With this speed, we can watch your favorite Netflix shows with high pace speed and 4K resolutions.
Besides, the Google Video Quality report shows the status of your connection to YouTube's servers- powered by Google. If you have a low-quality connection to Youtube's server while your own internet connection is fast, then your ISP might be throttling connections to YouTube.
How to Bypass These ISP Throttling Issues?
Isn't it frustrating when your bandwidth is throttling? However, VPN services are the easiest solution to getting rid of ISP throttling issues. The VPN (Virtual Private Network) uses a unique encryption method to hide the data packets– that means ISP won't be able to throttle the internet traffic.
The best VPN encrypts your internet traffic, shielding your online activities from your ISP. Additionally, your internet speed and quality can also be improved. We highly recommend- ExpressVPN as it is the best VPN service e. ExpressVPN offers strong data protection, quick connectivity, ultra-fast servers, and unlimited bandwidth. Moreover, you will find how to bypass the ISP speed limits with ExpressVPN- a secure access service worldwide.
For more information, you can check out our ExpressVPN review.
Get ExpressVPN to Prevent ISP Throttle Issues30-day money-back guarantee
Conclusion
Eventually, you want to know how to prevent ISP throttling issues. Unfortunately, there is no exact way to avoid ISP throttling issues. You can restrict the throttling issues by reducing the monthly usage, upgrading data plans, getting unlimited bandwidth, or simply switching to a different service provider.
However, the best option is to use the reputed VPN service that assists you in bypassing the ISP throttling issues. You can use ExpressVPN for unlimited internet speed and bandwidth without traffic shaping. Now you get an idea of how to know if your ISP is throttling you and the limitations you bear due to internet traffic.