HubSpot CRM Review – The Good and Bad for 2023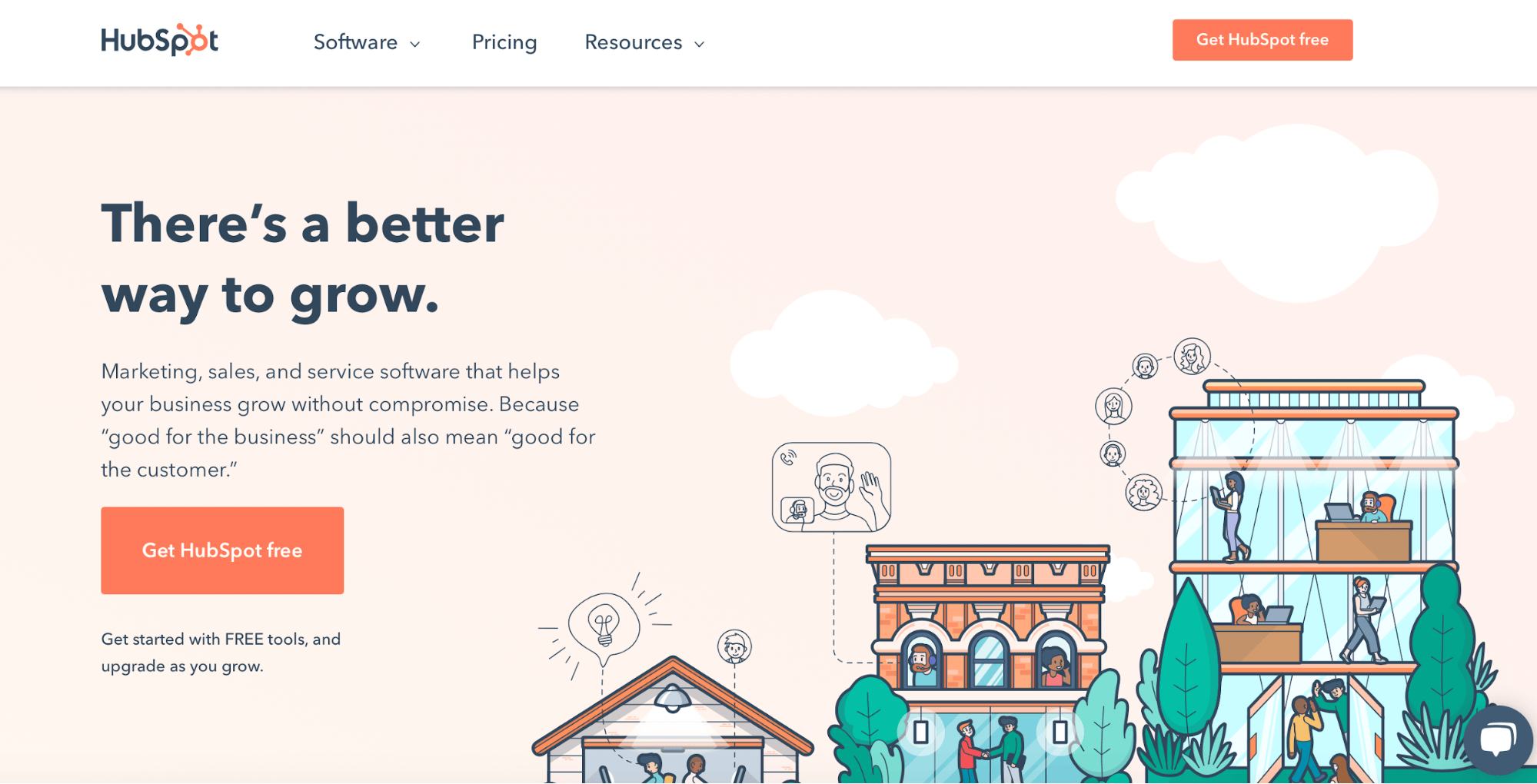 HubSpot has a comprehensive free edition that outshines many paid CRMs on the market. This is a sleek CRM that works across marketing, sales, and customer service teams. It's a great option for just about every business looking to improve customer relationship management. We compiled our extensive research and experience with the software—good and bad—into this review to help you decide if it's right for you.
Compare HubSpot to The Best CRM Software
Based on weeks of testing and our own hands-on experience, our team found several CRMs that outperformed HubSpot. We'd argue it's still the best no-cost CRM out there, but our other top picks are certainly worth investigating:
Monday Sales CRM – Best for most
Salesforce – Best for fast-growth organizations
HubSpot – Best free CRM software
In our full review of the best CRM software, you can see exactly how HubSpot stacks up against our other top choices. We took a deep dive into the most talked-about options, paying close attention to UI, reporting, lead management, support functionality, and sales features.
HubSpot: The Good and The Bad
HubSpot is our #1 free CRM recommendation. It is going to work for a most businesses looking for a better way to manage customer relationships. But it's not always perfect and it doesn't come without its share of drawbacks.
The Good
Comprehensive Free Plan: HubSpot offers the most comprehensive free plan we've seen out of the dozens of CRMs we've tried and tested ourselves. Most free plans look great on paper but fail to deliver the features you need to actually improve customer relationships. But HubSpot does things differently—it over-delivers on its free plan. Whether you're looking for customer support, marketing, sales, content management, or operational CRM, you get hundreds of powerful features and the ability to manage up to a million (1,000,000) contacts without ever paying a cent.
Flexible Pricing: While HubSpot's paid plans can get expensive, there are numerous ways to bundle services to get what you need at a reasonable price. You can choose to purchase individual hubs or upgrade multiple hubs at a discounted rate. Another option is an entirely custom CRM solution with only the features you need if none of the out-of-the-box bundles are a fit for your team. HubSpot's marketing, sales, customer support, and operational hubs start at $45 per month each. The CMS hub starts at $23 per month. But you can save a TON of money by bundling them all together. The Starter Bundle includes all the hubs and also starts at $45 per month.
A Modular, Scalable Solution: HubSpot's motto is 'there's no better way to grow.' Of course, that refers to the range of scalable tools it offers covering operations, content, customer service, sales, and marketing. All of HubSpot's tools are modular so the platform grows alongside your business as you scale and face the need for more advanced CRM features across different departments. You can mix and match solutions as well as payment plans for each module, making it a truly customizable and scalable CRM system designed to bolster growth and propel your business forward. Whether you're a new or small business on the free plan or on your way to upgrading every module to the highest tier, HubSpot's CRM spares no detail while delivering exactly what you need regardless of your business's size.
Easy to Use: Despite HubSpot's complex pricing structure and modularity, the platform itself is intuitive and very easy to use. The developers do a great job of making everything easily accessible, even though there are hundreds of features available. Even on the free plan, you'll have no trouble navigating around. Many CRMs struggle to find the balance between power, automation, and ease of use. The good news is that HubSpot doesn't sacrifice intuitiveness for the sake of power. Ease of use is particularly important for anyone using the free plan since it doesn't come with human customer support. In our experience, it's so easy you won't need support anyway. Regardless, you can leverage HubSpot's extensive knowledge base and a comprehensive library of third-party tutorials in conjunction if you ever need help.
Easy to Create: HubSpot is not only easy for users to navigate and use daily, but it is also incredibly easy to create with. For example, content creation areas like landing pages, forms, and emails, are all drag and drop. You can also bulk-create and schedule social media content. This will come as a huge advantage for many businesses who simply don't have time for these content creations.
Customer Support: HubSpot is renowned for its excellent customer support team. Depending on which plan you're on, you can contact the support team via chat, email, or phone. You can even connect with Support on Twitter! Although these support methods are limited to the paid plans, users with the free version will still have access to the in-depth online knowledge base and community, so you'll never be left out in the cold.
Tons of Free Tools: Anyone can access the free tools regardless of whether they're even using HubSpot for their CRM. Nevertheless, we still think it's extremely cool that HubSpot has so many free tools available for new business owners to use. There is a blog idea generator, invoice template generator, free business templates, email signature generator, and the list goes on. You'll never start your business in the dark with HubSpot.
The Bad
Complicated Pricing Tiers: I know we said that the flexible pricing was a benefit of HubSpot, and I stand by that. However, there is a difference between flexible pricing and confusing pricing. There are so many different plans and pricing options to choose from that some may be completely overwhelmed and resort to sticking with the (evidently limited) free version or moving to another provider. 
No Customer Support on Free Plan: Although users of the free version do have access to the online knowledge base and HubSpot community to assist with troubleshooting, sometimes you just want to talk to a human to resolve your issues. It's a shame that HubSpot doesn't at least extend live chat to those on the free plan, just to ensure they are truly reflecting their award-winning customer support capabilities. 
Easy to Max Out Limitations on Free Plan: At the end of the day, it is a free version! But, you must consider the limitations of the free plan compared to the higher tiered options. For example, on the free plan, you'll only have access to 200 email tracking notifications per month, compared to the Starter plan having unlimited. Some of the limitations may not matter to you, and some may be a deal-breaker. At the end of the day, the limitations that matter are the ones that are going to impact your business negatively. 
HubSpot Pricing and Options
Now that we understand all the benefits HubSpot has to offer (as well as the things they could improve on), let's look at what products they can bring to the table for your business. 
HubSpot Pricing
HubSpot offers a pretty comprehensive range of free tools in all their product offerings, as we've already discovered. That is free CRM tools, free marketing tools, free sales tools, and free service tools. 
However, should your business grow to the extent that these free tools are no longer cutting it, you can upgrade to the premium versions. But, HubSpot does not make it easy to understand what those upgraded versions might cost you. You see, there are so many different packages and pricing tiers available that it's a little confusing. 
For example, let's say you only want to use HubSpot for their CRM and sales tool. You're looking at a starting price of $45 per month over a 12-month contract. Maybe, down the track, you decide you'd like to use their marketing tools, too. The lead-in price for a Starter plan under this product offering is also $45 per month over a 12-month contract.
However, we're going to let you in on a little secret. If you were to just sign up for the Starter Growth Suite bundle for $50 per month, you'd have access to all HubSpot product offerings under the one bundle (except the CMS Hub, which we'll touch on later)!
To be fair, the price for the Starter Growth Bundle is usually $150 per month, but HubSpot has reduced the pricing to assist businesses during this tricky time.
Just some of the features the Starter Growth Suite includes are:
Advanced analytics dashboards
Simple automatic task creations and notifications
Up to 5,000 monthly marketing emails
Access to HubSpot's intuitive mobile app
Ad retargeting capabilities
Automatic conversion routing for sales and service teams
If you are looking for a Professional or Enterprise Growth Suite, these plans include more features, and the pricing jumps up to $1,343 per month and $4,200 per month, respectively. 
So, the moral of the story is to dig deep into the pricing models to truly understand what you're getting in the standalone plans compared to the bundle. And if you can catch the bundle while it's on sale for $50 per month, jump on it! You'll have access to tons of tools for almost the same price as a standalone plan. 
HubSpot Marketing Hub
HubSpot's marketing software is designed to help you attract and convert. That is, attract the right audience, convert those visitors into customers, and run complete inbound marketing campaigns without breaking a sweat (or the bank). 
You'll have all your marketing tools and data under one roof. You can publish blogs, build your search authority, track and manage ads, manage your social media channels, build a kick-ass landing page, and monitor and report on your progress. What else could you possibly want?
HubSpot's marketing hub is trusted by tons of big-name companies such as Frontify, Monday.com, Trello, and SurveyMonkey. They also consistently win awards from the likes of G2.com for being the best of the best. 
Pricing for the Marketing Hub plans look like this:
Free
Starter: $45/month
Professional: $800/month 
Enterprise: $3,200/month
In a nutshell, HubSpot's Marketing Hub is an excellent marketing tool designed to grow with your business. 
HubSpot Sales Hub
HubSpot's sales software is a CRM powerhouse. It will help your teams to close more deals, build stronger relationships, and manage their pipeline efficiently and effectively so that nothing slips through the cracks. 
With tools like email templates, email tracking, and call recording, you'll have the opportunity to build stronger connections with your customers by ensuring your team is always delivering the same, conducive message. Furthermore, you can arm them with branded quotes and sales management playbooks so that everyone knows exactly what's happening next.
Some other features you'll have access to with HubSpot's sales hub include:
Allow prospects to schedule appointments that automatically sync with your calendar
Automate your sales process with a personal touch
Direct live chat conversations to the right salesperson to build better customer relationships
Manage your pipeline with a single click ensuring important deals don't slip through the cracks. 
There is not much else you could ask for from CRM software. 
HubSpot is the ultimate CRM platform, and the wide-ranging communication features on offer with Sales Hub simply solidify their position as a market leader. Having access to all of these tools in one place will only make your business stronger, leaving you plenty of time to focus on the customer. 
Here is an overview of the sales software tiered pricing with the included features below:
Free
Starter: $45/month 
Professional: $450/month
Enterprise: $1,200/month 
HubSpot Service Hub
Once you've got your team up to scratch and working like a well-oiled machine, it's time to focus on the customer. When we say focus on the customer, we don't mean just draw them in and convert them from prospects to buyers. 
We mean really focus on them. 
Enlisting a customer service management (CMS) software that enables you to scale your customer support while uniting your front-office teams is essential to satisfying the customer. Luckily for you, HubSpot's service hub can do all of this for you in one platform.
Service Hub will allow you to:
Create a sophisticated help desk and ticket automation system.
Build a detailed online knowledge base for customers to troubleshoot their issues.
Enlist a clever live chat that directs your customer to the right place and people.
Connect your team's emails, live chat, Facebook Messenger, and more into one universal inbox for complete visibility into the communication pipeline.
In today's fast-paced world, customers expect round-the-clock resolutions and personalized support. So, by bringing all of your service data and communication channels under one roof, you'll spend more time supporting and impressing your customers than scratching your head over customer complaints. 
Pricing for Service Hub is very similar to those listed for the Sales Hub, with the Free, Starter, and Enterprise pricing remaining the same. The Professional pricing plan, however, sits at $360 per month. Here's an overview of the different features and limitations on offer for each of the Service Hub plans:
HubSpot CMS Hub
No doubt you've heard by now that creating engaging and interactive content for your audience and prospective buyers is one of the ultimate tools in building trusting relationships with them. 
When you give your audience enough 'free' advice to help them through menial tasks, but not quite enough to render your help useless, you will start to gain their interest and trust. How on earth are you going to deliver this free advice, though? 
With a content management system (CMS), that's how!
With HubSpot's CMS hub, you'll be able to create and manage website pages with a simple drag-and-drop editor, so you can say goodbye to waiting on developers for your every need. Better yet, these web pages will automatically be optimized for different devices, so your content won't lose shape. 
Some other features this product has to offer include:
SEO recommendations to make sure you're putting yourself on the map
Access to pre-built website themes for easy customization
Multi-language content creation
Analyze the impact of your website with contact attribution reporting
24/7 security monitoring and threat detection
Although we think this CMS hub is a great product from HubSpot, we need to highlight that if you are looking for a CMS powerhouse, it has to go to WordPress. 
However, for those who like to have all of their business tools under one roof and don't want to deal with an additional web host as required when using WordPress, HubSpot's CMS Hub is a good alternative. 
There is no free or Starter plan offered for CMS Hub. However, the available pricing tiers are:
Professional: $270/month 
Enterprise: $900/month
It's also important to note that this product is not included in the Growth Suite bundle we spoke about earlier. 
With this in mind, combined with the fact that there is no budget pricing tier, managing your content with HubSpot is actually pretty darn pricey, especially when you could have access to robust content management such as WordPress or Wix for a fraction of the price. 
Reviews of the Best CRM Software
There are dozens of excellent CRM software options out there, making it a bit tough to know exactly which one is right for you. That's why we researched and tested dozens of the best CRM tools out there, narrowing it down to the best solutions.
HubSpot made our list, but there are other options worth checking out.
Not only will you have the tools at your fingertips to build great relationships with new and existing clients, but you'll also have the ability to streamline your team's processes. With everybody on the same page, you'll spend less time managing the team and more time bringing in those loyal and faithful supporters. And at the end of the day, isn't that what good CRM is all about?