Is Email Hosting Right For You?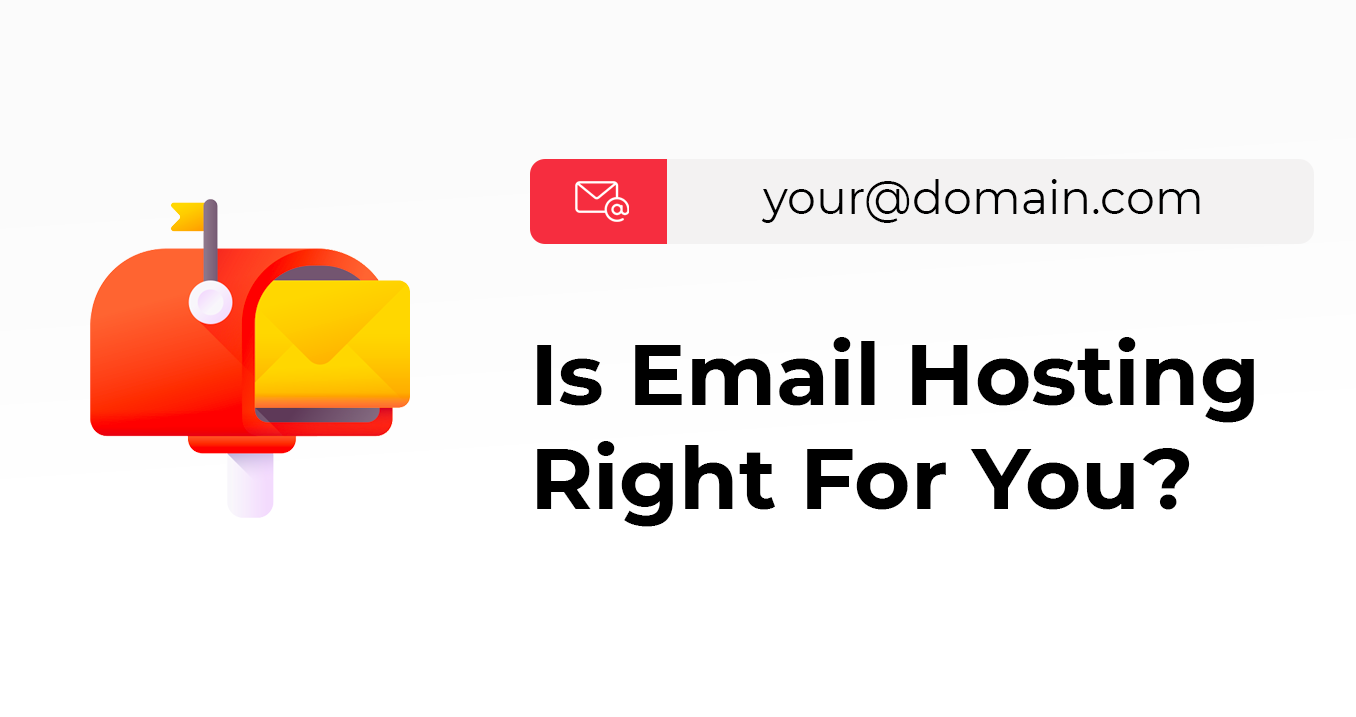 Email hosting is a professional service used to manage emails on a dedicated or shared email platform. The host or provider offers its servers to businesses, allowing them access to the flexibility and safety of a professional email host. Incoming and outgoing emails can be managed through the server, giving companies increased email capacity and professionalism.
Do you store sensitive information on your email accounts? If you don't, fee-based email hosting may not make sense for you and your business. However, if you use email to contact clients, perform invoicing and billing functions, or communicate in any other way that involves private information, you need professional email hosting. 
Professional email hosting all but eliminates email-related safety concerns regarding your business and customers. No more worrying about stolen passwords, computer hacks, and forgotten access codes. Because you are paying for a premium service, you have protection and timely assistance with any problems that may arise. 
In addition to the critical safety measures that email hosting provides, you will also have your domain name in your email address which adds another layer of professionalism, increasing the confidence of your customers. Can you really afford to miss out on the advantages a professional email host can give your business?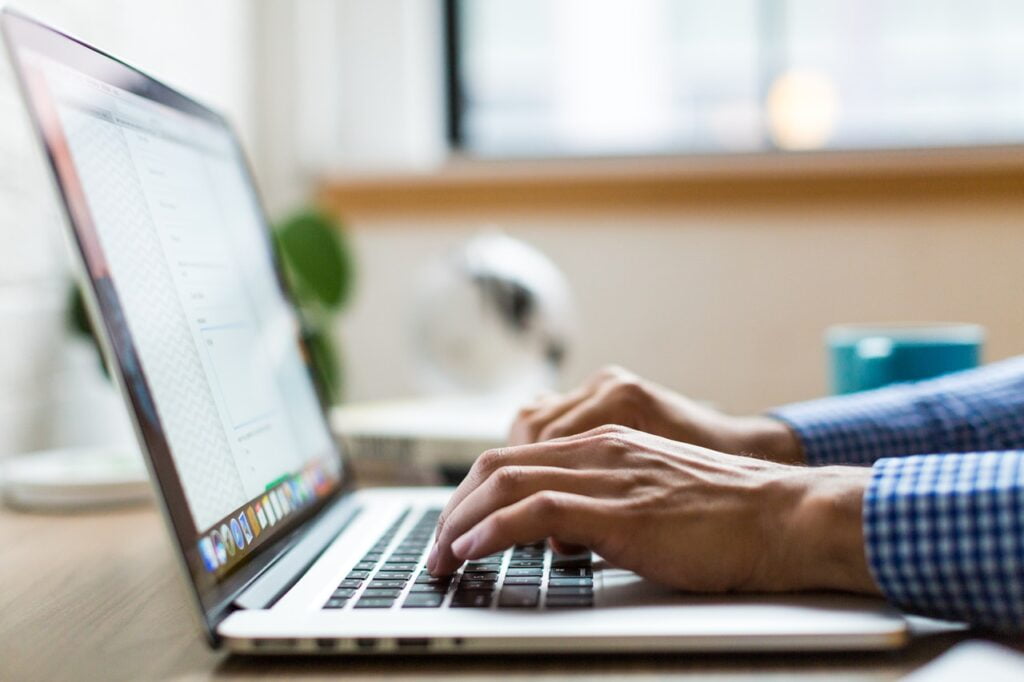 Putting sensitive data in the hands of free email services like Yahoo or Google may seem like a reasonable cost-saving measure. But when something goes wrong, and it always does, you will have few, if any support services available to help you recover. 
Email communication is more important than ever. Clients and customers are best served when information, solutions, and correspondence is consistent and timely. Relying on in-house email management significantly increases the chances of exposure to computer viruses and hardware or software glitches that can cripple your communications. These shut-downs erode consumer confidence and are why more and more businesses are choosing professional email hosting services. 
Paid email hosting isn't just about security. It's also a great way to access more efficient and consistent email service. Plans are offered to fit a variety of business email needs and additional features such as bundling with Microsoft Office are often available. 
Email hosting and website hosting are separate services that are often confused by business professionals. Organizations are likely to benefit from both services but may not understand the powerful difference having professional email services can make to their bottom line. 
Email hosting can seem more complicated than it really is. With the help of this guide, you can easily understand what email hosting is, how it differs from web and domain hosting, and why your business needs it.
A good example of professional email hosting is KnownHost. In addition to the free email hosting that is included in our web hosting bundles. We also offer a robust premium email hosting plan which includes significant upgrades, such as diverse email authentication, dedicated platforms customized to your business, and your email address linked to a domain name. 
Free email services are often ad-based, clunky, and unprofessional. KnownHost offers ad-free hosting, creative email management protocols, and cutting-edge technology to give your business the edge it needs to stand out among the crowd. KnownHost has provided an email management system that can transform your business and level up your customer service. Additional tools are available to assist with marketing, focused client communications, and personalized client outreach.
Three Critical Categories of Online Hosting
There are three types of online hosting that can prove invaluable to your business. It is important to understand the differences between each category so you can make the best decision to bring your business to the next level.
Domain Registration and Hosting
A professional online presence is crucial for business success. Your domain name is a foundational piece of the puzzle, allowing you to present a seamless and congruent online presence, protect any copyrights or trademarks, and build positive brand identification. Domain hosting services can allow you to purchase and register a domain name, or assist you in transferring your existing name onto their service. Similar to a street address, your domain name funnels customers directly to your website, which is the hub of your business. A professional, personalized domain name, properly managed, can even improve your search engine positioning.
KnownHost provides domain registration, in addition to accepting and facilitating transfers. The ability to lock or unlock your domain is in your hands at all times through our client portal.  
Web Hosting
Web hosting provides all the technology and services that are required to allow your website or webpage to be accessed from the internet. For example, a web hosting company will provide the needed memory, server space, and bandwidth to enable your website to exist on the internet and be accessed by your customers through an internet browser. 
A properly hosted website gives companies the benefit of a virtual store by providing the space required on the internet. The room provided by web hosting allows a business to use text, videos, photographs, and more, to advertise, promote and sell goods and services. 
There are different levels of web hosting available to suit the varying needs of companies. Shared hosting allows multiple sites to share a single server, while dedicated hosting provides a single server and all its space and bandwidth to one business.  
Email Hosting
An email hosting service has the capability to store all email communication with its associated files, on one server. As emails hit your domain address in-box, the communication is routed to, and stored on the email hosts server. Administrators then take action depending on the parameters in place. They may reply, ignore or otherwise respond to emails, like identifying spam and re-routing senders that are on a blacklist.
It is common for email hosting services to be included or bundled with website hosting and other services. The convenience of having a total hosting package may make sense for some businesses, while others may prefer having different companies handle individual hosting services.
Email Hosting Options
In the past, most of us accessed email services through an internet provider like AOL, and that was sufficient for the time, but times have changed. Today, businesses are needing increased security, larger server space, and something more professional than Google's free, domain generic email. Today's consumers expect an email domain that makes sense, is easy to remember and is safe.
Email hosting can be managed on the same server as web hosting, or emails can have a dedicated server of their own. Having a dedicated server specifically for emails, increases the storage space, virtually eliminating the need to delete files just to create room. In the past, splitting services required a business to employ an IT staff and maintain a server on-site and other costly expenses. With today's technology, the benefits of dedicated email hosting have been realized by accessing cloud services.
What's Wrong With Free Email Hosting Services?
In a word, nothing. A quality email hosting service may offer a variety of levels, including free services. The service you choose will depend on the immediate needs of your business and your projected growth into the future. There are options available to accommodate the various phases your business will pass through as it expands and grows.
Free Email Services Via Web-Hosting
A web-hosting provider may include a free email service that allows you to manage your communications through POP or IMAP. POP accesses your email service and downloads all new messages onto a computer. Using POP, your email can only be accessed from one device. The IMAP system allows you access to your email from any device, any location. Gmail, Yahoo, and Hotmail are examples of webmail accounts and are examples of some of the most popular free email services.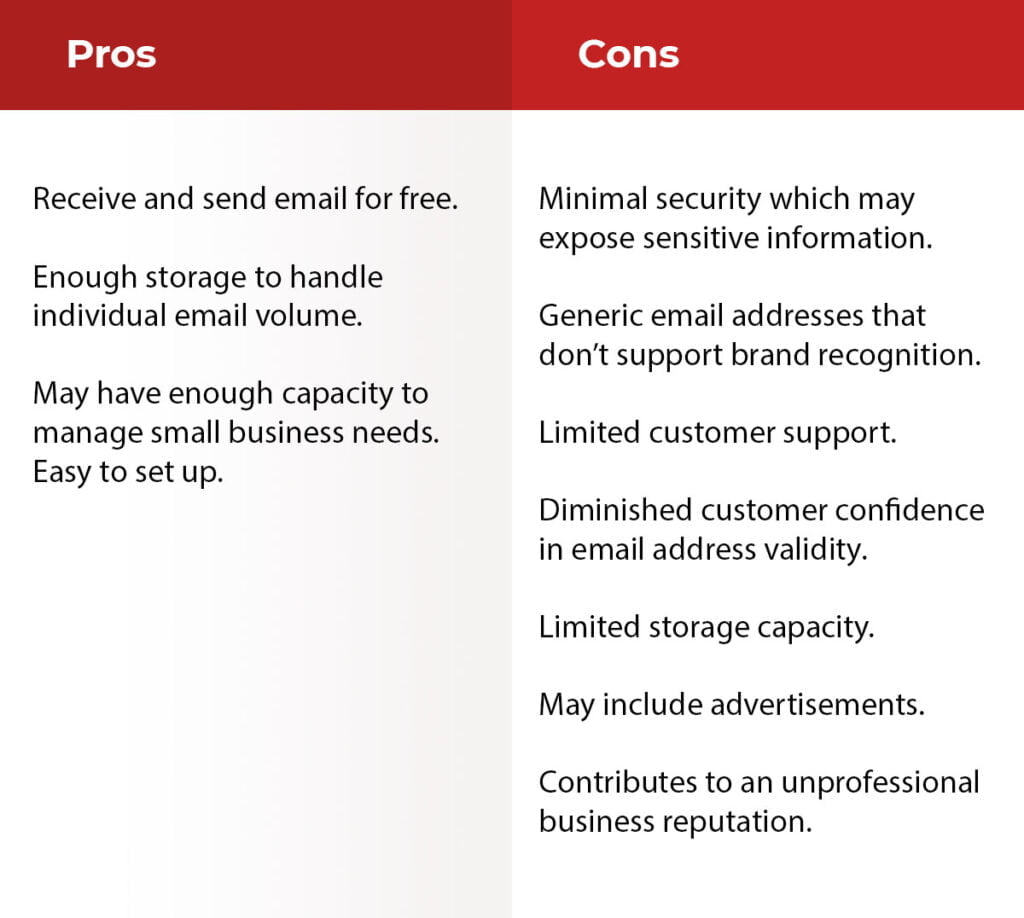 Professional Email Hosting: If your business relies on email communications as a revenue driver, it is recommended that you invest in professional email hosting. As in most things, you get what you pay for, and free services often fall short in security, capacity, and customer support. Your growing clients deserve an email domain name that is personalized and connected to your brand, the confidence that comes from doing business with a legitimate company, and the security of knowing their communications are secure. Paid email hosting services may include, but are not limited to, the following features:
Personalized Domain Name A unique domain connected to your email address builds your business brand, and instills confidence in your customers.Today's consumers are aware of fraud that is perpetuated through email and may be hesitant to connect with a business through an email system that appears generic or spam-like. A personalized domain name increases your legitimacy and improves trust with consumers.
Storage Space With professional email hosting you can rest assured you will have enough space to archive older emails for documentation and security, as well as enjoy a greater attachment size limit.
Antivirus and Spam Protection keeps your email communications running smoothly
Professional Security Measures are robust enough to ensure your system has minimal disruption in the event of a network failure or other technical disturbance. Professional email hosting services store your data at a secure center and have disaster recovery solutions in place should the need arise. 
No Advertisements keeps your business looking professional and honest.
Tools to Enhance Collaboration may include calendar sharing, address books, task assignments, project folders etc. All designed to help your organization communicate efficiently and transparently.
Multiple Device Access allows prompt communication through multiple devices.
Reduces Unnecessary Expense by turning your email management over to a professional hosting company, the need for onsight management disappears, as well as the need to pay to upkeep and repair hardware.
Email filtering, replication and rerouting options can improve efficiency and targeted advertising
Increased Email Attachment Capability Allows you to attach more information in a single email, eliminating wasted time and resources.
Mailing List Management can create and maintain black or whitelists of contacts to control and limit emails you don't want to receive and increase the ones you do.
Automated Services such as aliases, autoresponders and email forwarders give you more control over your inbox traffic.
Types of E-Mail Servers 
Internet Service Providers (ISPs) make their servers available to process the standard personal email services that individuals and families use for routine communication. This basic service is not intended to support businesses in sending out mass emails to customers. In fact, an ISP server may limit how many emails you can send each month. Businesses looking to embark on an extensive email campaign will find the ISP service insufficient for their needs, and are better off contracting with a web hosting bundle that includes email service or a dedicated email hosting company.    Cloud Email Hosting utilizes a network of physical and virtual servers that are connected and act as one. This configuration allows for flexibility and scalability based on a client's needs. Because the email applications are spread out through a network of servers, hardware failures rarely impact the user. As with other cloud-based services, cloud-based email systems are super-efficient and economical, eliminating the need to have in-house IT specialists to keep your system up and running. As your company grows, you can make adjustments to your user count, keeping your email system smooth and efficient. Cloud-based servers are equipped with the most current security patches and technology which means that along with your access to increased bandwidth, you can also rest assured that your information is safely backed up.
Shared Hosting is a service in which the provider serves multiple domain names from a single web server. Web hosting companies utilize shared hosting and offer email hosting as part of their services. The quality of email hosting varies according to the provider, but email accounts share the same server as the website. Email services offered with shared email hosting may restrict the number of accounts allowed, how many emails can be sent, and how much archive space is available. Basic spam and virus protection are usually offered in a shared hosting plan. 
Email Hosting Software
We've discussed the technology behind the scenes of email hosting, but just as important is the email interface which links the technology to the people using it. There are distinct differences between free, basic, and premium professional email hosting, and these differences have a direct impact on how businesses and customers interact and communicate with each other. Customer communication is critical to a successful business, it is important that you get it right.
Standard email accounts are suitable for anyone, though what is offered may vary from provider to provider. More than one email account can be managed through services like Outlook or Thunderbird using POP and IMAP systems and protocols. For businesses wanting a professional, credible, and trustworthy online presence, you may want to consider whether a generic Gmail account transmits the appropriate message about your business to your customers. Limits, restrictions, and a disfavorable perception may negate the money you save by going with a standard service.
Professional email services offer software that is robust, easy to use, and leaves a significant positive impression on customers. Professional email provides all the tools needed for a successful email marketing campaign, employee communication, document retrieval and document storage. In addition, calendar features make scheduling and coordination smooth and efficient. Unlike free accounts, professional email offers services such as collaboration tools and advanced task management systems that can help you make the most of internet technology and positively impact your bottom line.
KnownHost is a hosting company that uses the most up-to-date technology and networks available to provide a premium email experience at an affordable price. We provide on-demand capabilities with superior customer service, allowing businesses to grow, innovate and respond promptly to their customers. With KnownHost your email will always be available, online or off with access structured to your needs. We provide a dependable email service with top-notch security and disaster recovery protocols. Your sensitive emails are safe and secure with KnownHost.
How Do I Personalize My Email With A Domain Name?
Personalized email is a small, but crucial move when it comes to branding your business. In the fast-moving, technology-based world we live in, first impressions are more important than ever. Clients and customers can be impacted meaningfully by the simple but powerful addition of a customized email address. An email address that is specific to your business gives you immediate legitimacy and transmits to your customers and associates that your establishment is a real entity and can be trusted. It is wise for businesses to reserve their custom professional email for business use only and have a standard account for personal email communications.
Creating a personalized business email address is similar to the methods used to create a business website. First, choose an email platform that will meet your current needs, with the ability to expand into the future. Second, choose a professional email hosting service, like KnownHost can register your chosen domain name and manage your email services.
KnownHost provides free Domain Privacy for life, no hidden charges or fees, and USA-based customer support. There is no reason to be concerned about purchasing your domain from KnownHost. We will not hold your domain hostage and should you choose to go with another provider, will quickly facilitate your domain name transfer. With our client portal, you are able to access your domain transfer code at all times.
Should I Host My Email on My Own Server?
Maybe. But before deciding, ask yourself the following questions. 
Do I have a server large enough to accommodate all my business needs or will I need to purchase one?
Do I have the IT specialists on staff to manage the hardware and software, or will I need to hire them?
Do I have the financial resources to pay a full-time IT professional with the skills required to keep my system up and running?
Do I have the software licenses required?
Do I have the time to research an appropriate system, install it, and continuously monitor it for breaches, hacks, and failures? Do I have the resources to hire someone to do it for me?
Will the server I purchase now, meet my needs in the future?
Many businesses decide that having their own server is too much risk and hassle, taking valuable time away from actually running their business. Understand that your domain name does not have to be hosted by the company that registers it, but it can be. Your emails can be routed to different servers by entries in the Domain Name System (DNS) records.
There are many advantages that come with trusting your business email to a professional email hosting service. After all, it's what they do, it's what they are passionate about, and their passion and skill is what allow you to focus on the things that matter most to you: Building and running your business. 
KnownHost takes the risk and hassle out of email management by offering a professional email hosting service with fully managed support. We offer free setup, migration, and backups, as well as uncomplicated domain registration and smooth domain transfers. With a variety of packages and pricing tiers, KnownHost's highly rated services are available to businesses of all sizes. Whether you are looking for a fully managed email system, domain registration, or professional cloud hosting, KnownHost can create a personalized package sure to suit your specific needs.
Final Note
Email communication is the foundation for most business outreach in today's market. Whether it's communication with employees and team members, reaching out to customers or potential customers, or keeping vendors in the loop: Reliable email is king. If you want email services without the expense and hassle of acquiring and maintaining your own server, a professional email host is your safest bet. High-quality email hosting is in high demand by businesses because it makes the most sense economically and allows owners to focus on what they do best.
KnownHost provides managed web hosting with email services that adds credibility and stability to your business. A personalized domain name attached to your email allows businesses to increase name recognition and branding while instilling confidence in their customers. The sales team can walk you through the domain registration process and help you choose a bundle of services that will truly meet the needs of your company now, and accommodate your future growth.
Services offered by KnownHost include: 
and much more..!!!
Should you have any questions or concerns about your service, our on-shore support is available 24 hours a day, 7 days a week. We are proactive about problem-solving and are available every day of the year to help your business succeed.