Medical Device Standards: Purpose And Popular Examples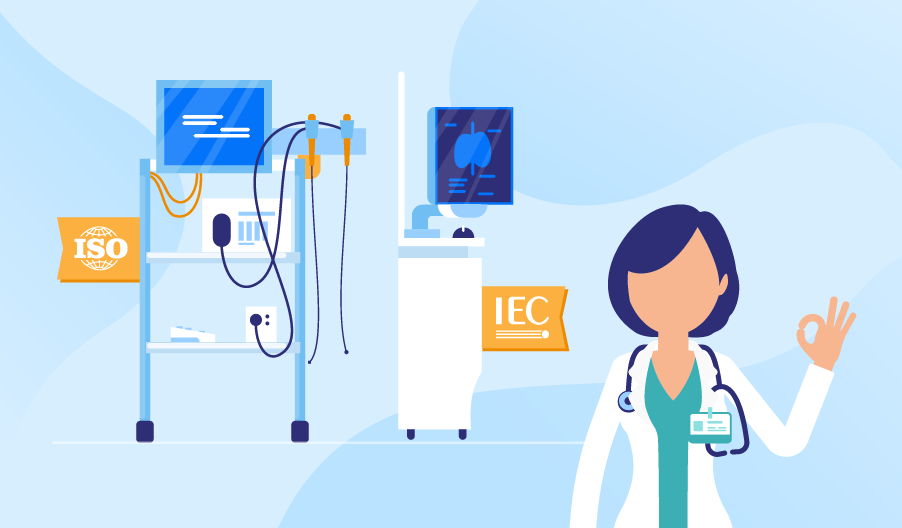 Editor's note: Gala explains why compliance with medical device standards is a must for medical device manufacturers and gives examples of the most important international medical device standards that are set by the International Organization for Standardization (ISO). If you are not sure how to identify applicable international medical device standards for the device you are bringing to market or planning to implement, you are welcome to turn to ScienceSoft's team for healthcare IT consulting.
The global medical device market stood at $432.23 billion in 2020 and is projected to reach $657.98 billion by 2028. The key market drivers are the growing awareness among the general population in the field of telemedicine and the rising prevalence of chronic disorders.
The high level of consumer interest in smart medical devices, close attention of regulatory authorities, and the resulting competition in the market forced manufacturers to pay special attention to the quality of their products. The safety and effectiveness of medical devices aimed at monitoring patients' health, preventing and managing diseases are ensured by medical device standards adherence. Moreover, the compliance of the product with international standards helps the manufacturer improves consumer trust and safety.
For medical device manufacturers, compliance with international standards means an opportunity to enter the global market. Usually, the name of the standard is indicated by a combination of a few digits and several numbers. The letters at the beginning of a standard are an abbreviation for the issuing organization, digits before the colon is the number assigned to the standard by its developers, and the digits after the colon are the year of its issue.
ISO standards
ISO 13485:2016 is the main Quality Management System (QMS) standard for medical devices and software as a medical device. It is intended to ensure that medical devices are designed, manufactured, delivered, and disposed of when necessary.
ISO 9001:2015 is the general directive for quality management and is used by medical device manufacturers to control the quality of medical device production.
ISO 27799:2016 stipulates requirements for medical device manufacturers to maintain the confidentiality and security of the personal health information of the patients who will use the medical device.
ISO 14001:2015 requires medical device companies to implement an environmental management system that helps conserve energy and reduce waste in medical device manufacturing.
ISO 50001:2018 helps medical device manufacturers establish an energy management system to enable manufacturers to continuously improve energy efficiency.
ISO 14971:2019 describes terminology, principles, and a process for risk management of medical devices, software as a medical device, and in vitro diagnostic medical devices.
ISO 45001:2018 defines the requirements for health and safety management systems that can be used in the medical device industry to reduce occupational accidents and related liability issues.
ISO 15223-1:2016 refers to symbols that are provided for the labeling of medical devices and can also be used in the accompanying documentation for a medical device and on its packaging.
ISO 16142-2:2017 lists and defines the essential principles of safety and performance of medical devices, identifies standards and guides that can be used in the assessment of conformity of a medical device to these principles.
ISO 18113-1:2009 stipulates general principles and essential requirements for information supplied by the manufacturer of in vitro diagnostic medical devices.
IEC standards
IEC 62304:2006 specifies the lifecycle process for the development of medical device software.
IEC 62366-1:2015 describes the process of analyzing, specifying, developing, and evaluating medical device usability. It also describes the assessment and mitigation of risks during the correct use of the device.
IEC 82304-1:2016 provides manufacturers with guidance on the safety and security of health software products designed to operate without dedicated hardware.
Compliance with standards like ISO helps medical device manufacturers prove the high level of quality and safety of their products, as well as manufacturers' concern about the environment and consumer interests. If you would like to enter the medical device market and make your device comply with the required standards, ScienceSoft's healthcare IT team will be glad to help.
Launch your Project
Medical Device Software Development by ScienceSoft
Looking to develop medical device software? Our certified BAs, developers and QA specialists work together to deliver highly secure and reliable healthcare solutions.