Microsoft Project Management Review – The Good and Bad for 2023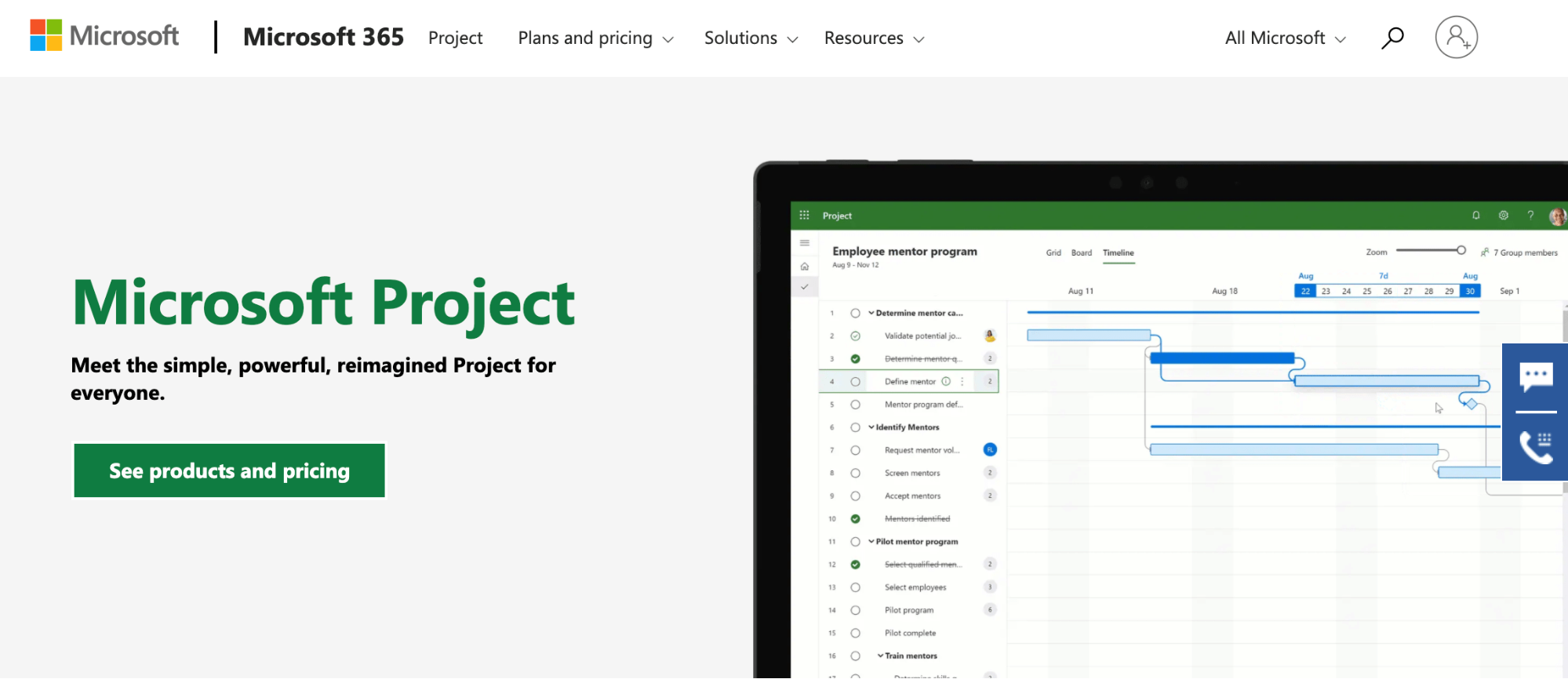 Microsoft Project is a powerful solution for experienced teams. Compared with other tools on the market, it sports a steep learning curve, but that's because it's one of the more robust solutions out there. Let's take a look at the pros and cons of Microsoft's own project management software.
Compare Microsoft Project to the Best Project Management Solutions
Despite all of its bells and whistles, Microsoft Project did not make the cut when we selected our best project management tools. Here are our top picks:
Monday.com – Best for project management software for most
ClickUp – Best remote work platform
Smartsheet – Best for flexibility
Teamwork – Best for client and service-based businesses
Asana – Best balance of power and simplicity
Trello – Best Kanban project management
Microsoft Project: The Good and the Bad
Below we'll take a closer look at the strengths of Microsoft Project, and we'll cover some potential drawbacks as well. This information is crucial to help you decide whether MS Project is right for you. You can decide whether the good outweighs the bad for your specific business and use cases.
What Microsoft Project is Good At
MS Project is a solid project management tool. But there are certain areas where it really shines above the competition. These advantages are based on real reviews from MS Project users.
Centralized Home Screen: If you're familiar with other Microsoft products, then you'll feel right at home using Microsoft Project The platform feels a lot like Excel and, just like Excel, you'll need to have a firm grasp of the software's capabilities to get the most out of it.
The home screen is an easy way to access the most important information with a centralized view. You can create new projects, open recent projects, or access top-of-mind information. This is especially useful for those of you juggling multiple projects at scale. 
Supports Multiple PM Methodologies: Many project management tools on the market only support simple, linear, and basic projects. But MS Project allows you to manage projects in whichever way that you see fit. The software supports Scrum, Kanban, and custom workflows. You can use it for agile project management, waterfall project management, or even hybrid methodologies.
Adding newsprints to a project, customizing the duration, and adding tasks can be managed with a few simple clicks. MS Project can be fully customized to support your preferred project management style.
Resource Management: The resource management capabilities of Microsoft Project could be considered an advanced solution on its own. It's not necessarily a common or standard feature offered in other PM solutions on the market. Using this suite of features in MS Project to identify your team members' capacity so you can assign tasks accordingly.
Multiple Project Views: For users, projects can be managed from different views within MS Project. The grid view is an easy way to plan projects with an ordered list of pending tasks. There's also a Kanban-style board view that's an excellent visual resource to see the overall status of a project.
You can even fully customize task boards. Additionally, MS Project offers a Gantt chart view. This helps track dates and the relationships between tasks on a visual timeline. It's easy to switch back and forth between each view based on your needs and project management style. Project managers and team members alike love this flexibility. 
In addition to managing human resources, MS Project supports other work-related resources. You can use it to track resources like materials, equipment, and other project-related costs. MS Project allows you to add tons of details here. You can even add a unit of measure for each resource and enter any associated costs. 
Custom Reports: Microsoft Project delivers high-level reports to help you review and refine your project management processes. You can customize what you want to be displayed on each report, too.  For such complex software, MS Project's reporting features are surprisingly easy to use. Just head over the reporting section of the interface and select the data that you want to include.
Reports come out looking extremely professional and are easy to share and use in presentations with executives and stakeholders. You can even add tables and other visual elements to make the reports easier to digest.
Time Tracking: MS Project has a timesheet submission feature, allowing team members to track how they are spending their time on project work. It's a great way to capture both project and non-project-related tasks. In addition to tracking how much time was spent on a task, time spent can also assigned to specific categories.
For example, a user might fill a timesheet for a specific project task and classify it as research and development. This is particularly useful for invoicing, payroll, and job costing. Not every project management software includes time tracking tools, so the fact that you can get this feature built into MS Project is a huge advantage. 
Project Portfolio Management: MS Project has exceptional project portfolio management capabilities. It can easily be used to model different portfolio scenarios—allowing leaders and decision-makers to determine the best strategies for success. You can use it to weight proposals against other drivers to find out varying project costs and how certain paths will affect your resources.
It's an advanced way to evaluate ideas and proposals. Leaders can also set up a standardized process for reviewing each use case that flows in, determining how to proceed with each new project in the portfolio. This is definitely more of an advanced capability that's built for experienced portfolio managers and larger businesses. Smaller teams working on one or two projects simultaneously probably won't need to get this far into the weeds.
Project Management at Scale: Microsoft Project is an ideal solution for midsize and larger organizations. With so many tools out there being marketed towards small teams and beginners, it's nice to see Microsoft Project stand out by accommodating larger teams' needs. Large teams need quality solutions, too!
If your organization has complex project management needs, there's a good chance that MS Project can solve them. When this software is put in the right hands, it feels like anything is possible. 
On-Premises Deployment: We'll talk about pricing later, but we really like that Microsoft Project is available as either a cloud software subscription or as an on-premises solution that you can install on local computers. Having an on-premises option is becoming rarer with software packages, but larger organizations can seriously benefit from it when they want to ensure their internal or proprietary data is protected from prying eyes and security breaches.
What Microsoft Project is Lacking
Like most software, MS Project isn't perfect. So make sure you take the following factors into consideration when you're evaluating MS Project against alternatives on the market.
Not Kind to Beginners: Microsoft Project is not an entry-level project management solution. In fact, it's not really even for people who are just familiar with project management concepts. The software is designed for experienced project managers and technical users.
You'll need more than just some general technical knowledge to figure out how MS Project works. If you don't fall into this category, you'll struggle with the software, and so will your projects. 
Poor In-App Communication: In terms of team communication, MS Project has room for improvement. You can't just quickly message or ping a team member within the platform. With that said, Microsoft has tons of other communication tools.
It's likely assumed that most MS Project teams organizations already leaning hard on other Microsoft products. So you'll need to use Teams, Outlook, Skype, Yammer, or another one of Microsoft's tools to communicate with your team. These features aren't duplicated within MS Project itself. 
Lack of Integrations: MS Project doesn't really play well with other business tools, especially those outside the Microsoft family. It doesn't connect with Zapier either, which is a popular online resource to sync third-party apps that don't natively link with each other.
If you want to integrate your project management tool with other platforms like Salesforce or Slack, MS Project won't be an ideal solution for your needs. On the flip side, if you're using Office 365 and other Microsoft tools, MS Project will fit in perfectly. 
Steep Learning Curve: MS Project is not one of those tools that you sign up for today and start managing projects in a matter of minutes. There's definitely more of a learning curve, especially when onboarding new users. MS Project assumes that users are already familiar with big-picture concepts of project management. From there, it's just about learning how to use the software.
There are plenty of resources and tutorials from Microsoft explaining how to do certain things within the platform. However, you need to know what to look for first. Even experienced users will need to take some time to get used to Microsoft Project. 
No Updates on Perpetual License: For on-premises deployments of MS Projects with a perpetual license, you're not getting updates to the software. While you do own the software outright and you're not paying an ongoing monthly fee, you won't get the latest updates like you would with the web version.
Microsoft Project Pricing and Options
Microsoft Project Pricing
MS Project is not part of Microsoft 365. You can add it to your Office 365 subscription or just purchase it as a standalone product. 
There are two different ways to buy Microsoft Project. It's offered as a cloud-based solution, which is charged as a monthly per-user license. MS Project can also be bought as a one-time fee for on-premise deployment. 
Within each deployment option, there are several different packages to choose from. We'll discuss those plans and prices in greater detail shortly.
Compared to other project management tools on the market, the structure is unique. The vast majority of project management software is only offered as a cloud-based tool. So, the fact that Microsoft Project can be deployed on-site makes it stand out from the crowd. 
Microsoft Project Cloud-Based Solutions
There are three different cloud versions of Microsoft Project—Project Plan 1, Project Plan 3, and Project Plan 5.
Unlike other tools on the market, Microsoft doesn't use creative or fancy names for its packages (nor do they seem to like even numbers ). 
Even though the pricing for Project Plan 1 is in line with similar entry-level project management alternatives on the market, it's still designed for experts. Don't let that low cost fool you. Most organizations will start with Project Plan 3 at a minimum, as many of the best MS Project tools and features aren't included in Project Plan 1. But Project Plan 3 accommodates the majority of advanced project management needs. 
For example, the first tier supports grid views, board views, Gantt charts, collaboration, co-authoring, project planning, and project scheduling. That's essentially the basics. But most businesses turn to MS Project to get more than the basics. 
Upgrading to Project Plan 3 will get you reporting tools, visual and interactive project roadmaps, timesheet submission, resource management, and a desktop version of the software. 
Project Plan 5 is for larger organizations with even more advanced needs. The plan comes with portfolio optimization tools, demand management features, and a solution for enterprise resource planning. Starting at $55 per user per month, it's one of the most expensive project management plans on the market today.
Overall, Project Plan 3 is our top pick for most businesses. It's more advanced than the average project management tool but doesn't come with the extras that go above and beyond the realm of project management. It's a good value at $30 per user per month. 
Microsoft Project On-Premises Solutions
There are also three different MS Project versions for on-premises deployment—Project Standard, Project Professional, and Project Server.
At first glance, these rates might seem a bit high. But remember, the numbers reflect a one-time payment for a license, not an ongoing charge. It's actually quite affordable and cheaper than the cloud plans for most teams. Depending on your team size, you could easily be paying more than this on a monthly basis with a cloud package. Overall, the on-premises solutions are a great value.
With that said, Project Standard doesn't really hit the mark for viable business use. Similar to the entry-level cloud package, it's more of a basic version of MS Project. You can use it to manage projects, tasks, reports, and even business intelligence. But there are no other advanced features.
MS Project Professional is our minimum recommendation if you're seeking on-premises deployment. In addition to the Standard features, you'll also benefit from resource management tools and timesheets. You can sync the software with Project Online as well.
Project Server is a scalable on-site solution for project portfolio management. It gives organizations the ability to measure demand and use advanced analytics for proposals and portfolio planning. To get MS Project Server, you'll need to find a local partner and purchase the software through a third party. 
MS Project Professional will accommodate most needs. But overall, cloud packages are a better option for most organizations. 
Expanding Your Knowledge: Microsoft Project Management Software
Comparing The Best Project Management Software
Microsoft Project is undoubtedly one of the most powerful projects management tools on the market today. The learning curve is steep, especially compared to more beginner-friendly tools out there. But if you need an advanced solution for project management at scale, you should definitely consider MS Project.
It's generally a better choice for medium to large organizations with a highly experienced project manager. If that doesn't sound like you, our review of the best project management tools has a number of popular Microsoft Project alternatives.
We're particularly big fans of the Golden Eggs we highlighted earlier in this post. Monday.com and ClickUp are both very easy to learn while still sporting a lot of customization options, while Smartsheet is a powerful platform that fans of Excel may appreciate even more than MS Project.