Telemedicine Technology in Prisons: Key Benefits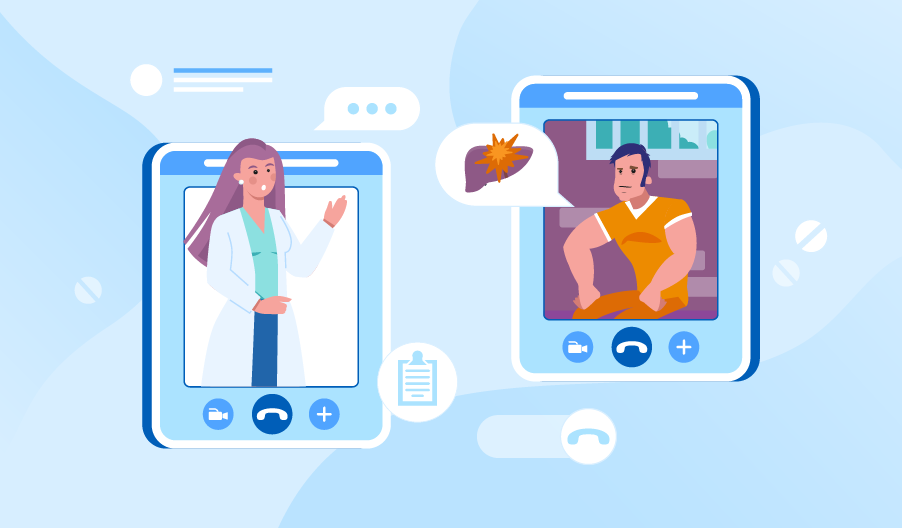 Editor's note: Alena overviews the advances in the use of telemedicine in correctional facilities and explains why it is necessary to pay special attention to security when developing and implementing telemedicine software. If you are interested in telemedicine technology, you are welcome to consider ScienceSoft's offering in the development of telemedicine apps.
14% of prisoners have high rates of serious psychological distress, compared with just 5% of the general US population with similar socio-demographic characteristics. 44% of imprisoned have a chronic health condition compared with 31% of the general US population. These health problems require regular access to healthcare specialists.
There are several models to provide traditional healthcare in correctional facilities. Some prisons provide on-site primary care, others hire doctors who visit the correctional facility on demand, some arrange care provision at the healthcare organization's site. Sometimes, for example, in case of serious health problems, the latter model can be the only option. At the same time, it poses the highest risks. For example, transporting sick patients for many hours can worsen their condition. Telemedicine can be the solution to these and other problems.
Store-and-forward doctor-patient communication and interactive videoconferencing are the most demanded telemedicine technologies in correctional facilities. Using videoconferencing, doctors can conduct a remote examination of imprisoned patients, diagnose the disease, and prescribe the treatment without face-to-face visits. Store-and-forward (asynchronous) technology allows to record, store, and send imprisoned patients' health data (e.g., photos of minor injuries, skin conditions) to medical professionals. Doctors analyze the obtained data on a prisoner's health condition and recommend treatment remotely, avoiding real-time interaction.
Note: Due to the exchange of confidential patient information, telemedicine software should be secure and comply with the Health Insurance Portability and Accountability Act (HIPAA).
Telemedicine provides imprisoned with timely and safe access to medical care, helps minimize the costs of transporting them to healthcare facilities, and keeps guards and medical personnel safe. Let's take a closer look at each of the benefits.
Security of guards, medical personnel, and local community
Every month about 45,000 jail inmates leave their prisons and interact with the public to receive healthcare. Although rare, several jail inmates manage to escape or attack their guards and medical staff. The use of audiovisual communication and store-and-forward functionality allows prisoners to remain on the premises of the correctional facility and eliminate the likelihood of an escape or an attack.
Reduced costs for the patients' transportation and treatment
In El Dueso prison (Spain), the average cost of telemedicine services was €1,196 per prisoner compared to €1,774 in usual clinical practice from the start of treatment till the recovery. When calculating average costs, direct (e.g., consultations with specialists, tests, ultrasound/CT scans) and indirect costs (e.g., transfer to the hospital, expenses on security guards) were considered.
Improved quality of medical care
Telemedicine can improve the continuity and accessibility of care and help prisoners keep, for example, mental disorders and chronic diseases under control (e.g., cardiovascular conditions). In a study of HIV-infected adults in correctional facilities, 91% of imprisoned receiving telemedicine achieved complete viral suppression within the first six visits, compared with 59% of prisoners receiving standard field care in facilities.
Telehealth technology facilitates communication between hospitals and primary healthcare units in prisons and ongoing training of primary care specialists. It results in better on-site medical care and improves outcomes.
Telemedicine also helps convicts after they are released from prison. It is being implemented in rehabilitation centers and homecoming programs. This is especially important for patients who have been diagnosed with a mental disorder in custody. Once released, prisoners often lose access to treatment and prescription drugs, putting them at greater risk of repetitive behavior.
The use of telemedicine allows imprisoned to receive timely healthcare through synchronous and asynchronous communication with a doctor, thereby ensuring greater access to treatment and continuity of care without compromising public safety or increasing travel costs for the prison. If you need professional assistance in any aspect of introducing telemedicine technology, ScienceSoft's healthcare IT team will be glad to help you.
Get A Consultation
Not Sure What Functionality Will Benefit Your Telemedicine App?
ScienceSoft's healthcare IT experts will advise you on the best ways of developing a high-quality telehealth solution with the feature set just right for your healthcare organization.