Zoho CRM Review – The Good and Bad for 2023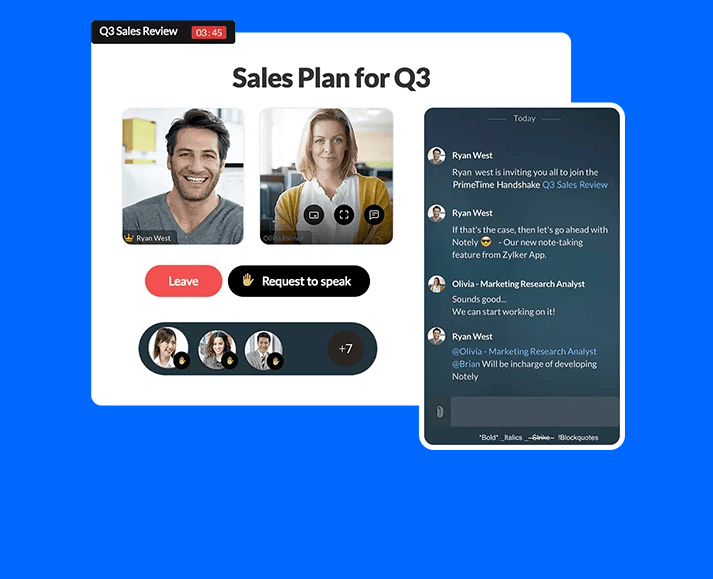 The best customer relationship management (CRM) software varies from business to business. You need to find one that fits your operations, goals, and structure like a glove. Zoho CRM is one of the top options in the category and a CRM that can work well for a variety of organizations. Let's delve into its real virtues as we review the product in full below.
Compare Zoho to the Best CRM Software
Zoho is a very strong CRM that we have reviewed many times over the years. Once again, Zoho found it's place on our list of top CRM software recommendations:
Monday Sales CRM – Best for most
Salesforce – Best for fast-growth organizations
Hubspot – Best free CRM software
Zoho CRM – Best CRM for deeper visibility
Freshsales Suite – Best automations for marketing and sales
Salesflare – Best CRM for strictly focusing on sales
EngageBay – Best all-in-one CRM suite for small business
Streak – Best CRM for working 100% from within Gmail
We like Zoho for the price, approachable user interface, and powerful reporting features–though it was not our top recommendation. You can see how Zoho compared to the other popular options in our full review of the top CRM software, or keep reading for a deep dive of Zoho CRM.
Zoho CRM: The Good and The Bad
For every product on the market, there are pros and there are cons. While we think that the pros of Zoho CRM outweigh any of the cons, it's important to cover both so you can decide for yourself.
What Zoho CRM is Good At
Easy to Set Up: Zoho provides a simple and straightforward setup. It's an ideal choice for small to medium-sized teams seeking something they can hit the ground running with. You won't have to worry about spending hours learning how to install, implement, and troubleshoot the software. 
You can even set up Zoho CRM without an in-house tech team. The included step-by-step guide covers each part of the process and simplifies it so you don't have to fuss with complications. You will likely start with the basics of your setup and then add on extensions and integrations to personalize the system and make it work best for your company's specific needs.
Easy to Use: Once you're up and running, Zoho CRM is very easy to use. Thanks to the user-friendly interface, there's virtually no training required to get the hang of this software. The home screen shows any tasks you have open, leads for the day, amount of money by stage, what sales you have closing that month, and more. 
The design is no-frills, but we like it that way, and you will too. The simplicity makes it easy to focus on what really matters. You can seamlessly navigate from page to page using the simple menu bar at the top, which includes items such as Leads, Contacts, Accounts, Deals, Activities, Reports, Analytics, and more. The menu bar automatically orders these items from most important to least, but you can customize their order any way you want.
Flexible: Different businesses have different needs in CRM software, and Zoho provides flexibility that allows it to work for all kinds of different businesses.
Zoho also offers lots of customization options. You can add extensions and integrations through the Zoho Marketplace to better manage your finances, improve sales, increase productivity, and much more. Many (though not all) of the extensions on Zoho are free and don't require coding to integrate them into your existing system.
Video Guides: Since Zoho CRM has so many different features and numerous ways to customize them. That's where the free online videos come in handy.
These videos provide how-tos of everything from interlinking modules to handling data processing bases so that you can take advantage of the customization options and make the setup of your Zoho exactly what your company needs.
Mobile App: The Zoho mobile app allows you to do most of what you can do on your laptop. The interface is user-friendly and keeps things basic enough not to overwhelm them. This is perfect for doing work on the go.
You can even work offline when there is no network available to connect to. The location feature allows you to see leads that are near where you are right now, and closing deals on the app is a simple, streamlined process.
Great Value: Zoho has plenty of packages to choose from one, including a Free Edition that comes with zero costs and zero obligations. The free option is available for up to three users. If you upgrade to a paid plan, several options provide a lot of additional features and add-ons.
What Zoho CRM is Lacking
Free And Budget Versions Don't Offer Much: While the free version is a great starting point, it won't get you too far. Most of the best Zoho features are only available with paid plans. 
Even the Standard $14/month plan has a limited set of features. The more robust Professional version at $23/month isn't all that much pricier, which helps, but if you're looking for a free or lowest-level package with all the features you could want, Zoho doesn't quite make the grade.
Customer Service Wait Times: With a program like Zoho CRM that has seemingly endless options for add-on features, chances are good that questions will arise along the way. While you can refer to the videos section we mentioned above, there are times that you may need a live person to talk to in order to get the answers to your problems, and Zoho frankly struggles in this area. 
Some users complain about being placed on hold for upwards of 10 minutes or going through multiple transfers to solve a simple question. While this isn't necessarily a dealbreaker, it's worth mentioning so you know what to expect.
Zoho CRM Pricing and Options
As mentioned above, there are a few different pricing plan options that make Zoho accessible to all businesses, regardless of your budget. Though the smaller plans limit what you can do with the software, they still serve as a great place to get started with CRM software in your company.
The free plan is available for up to three users. Anything past that puts you into the next pricing bracket. With the free version, you get lead, contact, and account management features as well as reports and analytics.
Zoho Standard
The first paid level of Zoho gives you more perks than the free version. It is priced at $14/month if you pay for the whole year, or $20/month if you pay month-to-month.
However, that price is per user. So, if you have 2 employees using Zoho, that means it is $28/month for the whole year paid in advance, or $40/month for month-to-month.
This is easy to overlook but makes a huge difference in your total cost per month. If you're a smaller company, it's better to minimize the number of people you have on Zoho and only give access to those who truly need to use it.
With this level of Zoho, you get everything that the free plan offers as well as scoring rules, email insights, and much more room for customization across the entire platform. This is key to making Zoho fit your specific needs rather than the general needs offered in the Free Edition. The Standard plan's database size is limited to 100,000 records.
Zoho Professional
Level up to the Professional plan and you get some key features that can add a lot of value to your company. This plan gives you everything that the Standard plan does, but also includes inventory management, Google Ads integrations, and the ability to use Zoho for process management.
The Professional plan is priced at $23/month/user with an annual plan and $35/month/user with a monthly plan.
Zoho Enterprise
If the above plans don't give you what you need, the Enterprise plan may. This plan is geared towards businesses that are on the larger side of small-to-medium. It includes everything that the Professional level does plus a number of additional features.
One is multi-user portals for customers, vendors, and partners. It also offers Zia AI which is an AI assistant that provides predictions and suggestions. You'll also love the CommandCenter that allows you to personalize the customer experience.
If you want to get more customization options, Enterprise is the way to go. At this level, you can customize page layouts, modules, buttons, web tabs, and more. You also get the ability to build and distribute custom apps.
This plan is priced at $40/month/user for an annual contract and $50/month/user for a monthly contract.
Zoho Ultimate
If you want to get the most of out Zoho, the Ultimate plan is what you need. This plan includes everything that the Professional plan does and more. At this level, you also get Zoho Analytics which opens up a whole new world of options and information. Zoho Analytics is a self-service BI and data analytics software tool that helps you to visualize your data and analyze it in a unique way.
Zoho Ultimate offers greater storage space and much more advanced customizations, as well as data enrichment. You also get a free 30-day trial when you opt for this level of Zoho.
The Ultimate plan will cost your company $52/month/user on a yearly basis or $65/month/user on a monthly basis.
Zoho CRM Bundles
In addition to the traditional CRM plans, Zoho gives you the option to bundle your CRM software with other Zoho products. This can be an incredible value if you're interested in combining sales, marketing, and customer service into a single CRM product suite.
There are two different bundles to choose from—CRM Flex and CRM Plus.
Zoho CRM Flex starts at $14 per user per month, billed annually, and there's a two-user minimum. CRM Plus starts at $57 per user per month with an annual contract.
With the CRM Flex plan, you're just hand-selecting additional Zoho apps for your CRM suite. So it's on you to decide which tools you want, and the price adjusts accordingly with each new app that you add.
While this is a convenient way to build your own Zoho license, you're not actually getting a deal. The add-on rates shown above are the same prices you'd pay if you purchased these apps separately.
The real value comes with the CRM Plus suite. It comes with:
Zoho CRM
Zoho Desk
Zoho Campaigns
Zoho Analytics
Zoho Social
Zoho SalesIQ
Zoho Projects
Zoho Survey
CRM Plus gives you access to all eight of these apps for just $57 per user per month. If you purchased each one separately, it would cost more than $100. So you're saving over 40% by getting the bundle.
This is well worth it if you're actually planning to use these other apps in addition to the CRM.
Expanding Your Knowledge: Zoho CRM
Reviews of the Best CRM Software
Though Zoho CRM is high on the list of Crazy Egg's best customer relationship management software, it was not our top overall pick. Read full reviews of the best CRM software to see how Zoho CRM compares to our top recommendations.
Zoho is one of the best options for customer relationship management software in the market. The lower tiers of the pricing plans are ideal for small to medium-sized businesses, and the upper tiers such as Ultimate work well for larger companies that have more needs and a bigger budget. 
Zoho's versatility is another reason it made one of the top choices on our list. It works for a variety of companies in a variety of industries. In addition to that, Zoho is user-friendly, thanks in part to the design that highlights the most important features on the main screen. This makes it easier to access the data you're after. 
Pricing is another benefit of Zoho—it is priced lower than other CRM competitors, thus is more accessible for small to medium-sized businesses. If you find that Zoho is not the best fit for your company, check out the other CRM software options that made our top list.