13 Best Social Sharing Plugins for WordPress to Boost Engagement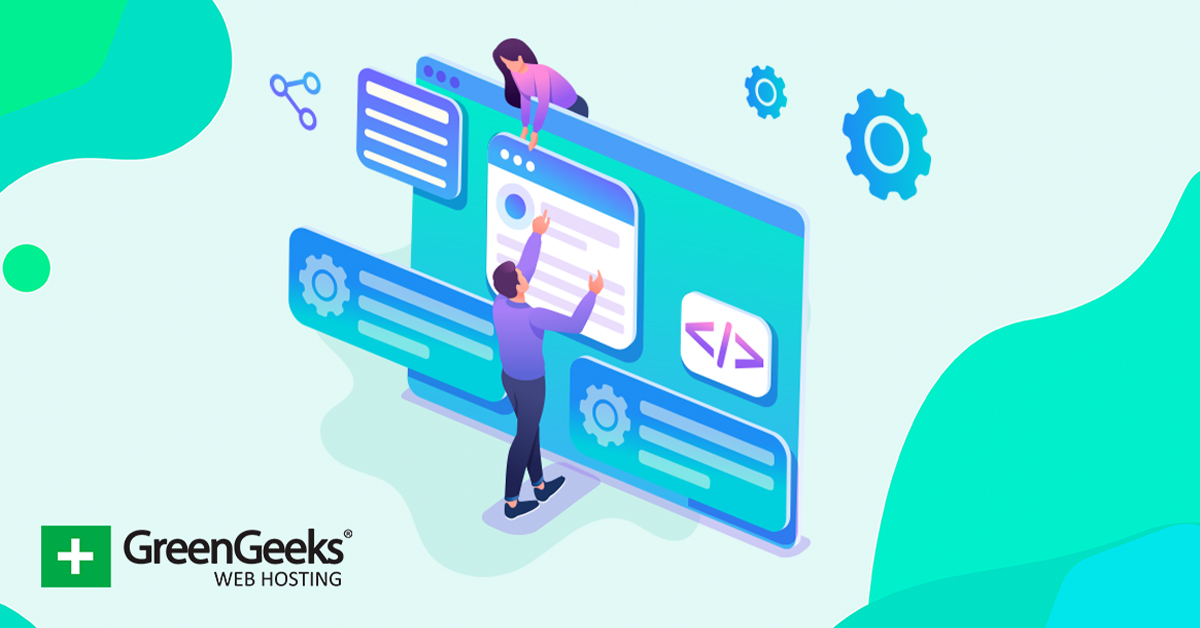 For better or worse, social media is one of the most important aspects of a business's marketing strategy. For this reason, you are going to need the right tools for the job. And that's where social sharing plugins for WordPress come in.
These plugins offer websites the toolsets they need to help get visitors to interact with their social media pages and share content with friends. They range from tools that focus on a specific medium to ones that cover most major platforms.
However, due to how essential social media has become, there is no shortage of plugins to choose from. This has made selecting one for your website very difficult, but this list can help you find the best ones.
Today, I will share the best 13 social sharing plugins you can use with WordPress.
Why Use Social Sharing Plugins with WordPress?
Social media is arguably one of the major cornerstones of the Internet. More people are sharing their Snapchat or Instagram accounts more often than their phone numbers.
Because of the prevalence of these sites, you want to make sure your content is available and ready to consume by those people.
Using social sharing plugins can contribute to:
Boosting traffic by reaching a larger audience.
Increasing your online presence and reputation.
The potential to make more money.
Increasing engagement from your visitors, which may improve on-page time.
However, there is a downside to overloading your website with a social presence. Some tools can greatly affect your site's performance, which could cause it to lose page ranking on Google.
This is because some of them will use external, third-party data. The result is a slow loading time as the visitor has to wait for your website to collect the data from other sources.
Luckily, not all social sharing plugins will affect WordPress in such a negative way. Some will simply provide a button necessary for people to share your content on their social feeds.
Like any other plugin you install, make sure you test it to make sure it's not having an incredibly adverse effect on performance.
1. Simple Social Icons
Without a doubt, the most helpful feature when it comes to sharing your content on social media are social icons. And no one does it better or easier than the Simple Social Icons plugin.
Social icons make it easier for visitors to find your social media pages and share your content with friends.
This plugin offers support for all of the major platforms like Facebook, Twitter, Instagram, LinkedIn, YouTube, and many more. And as the name implies, it is incredibly simple to use.
All you'll need to do is choose which social media platforms to use with the Simple Social Icons widget in WordPress. Simply enter a URL link to your social media account in the appropriate space and the icon will appear in the sidebar.
Benefits of Using Simple Social Icons
Since you only need a URL, you can link to any social media account, not just your own
You can upload your own social media icons in WordPress
You can choose what order the icons appear in (requires code)
Supports over 20 social platforms
Works in any widget area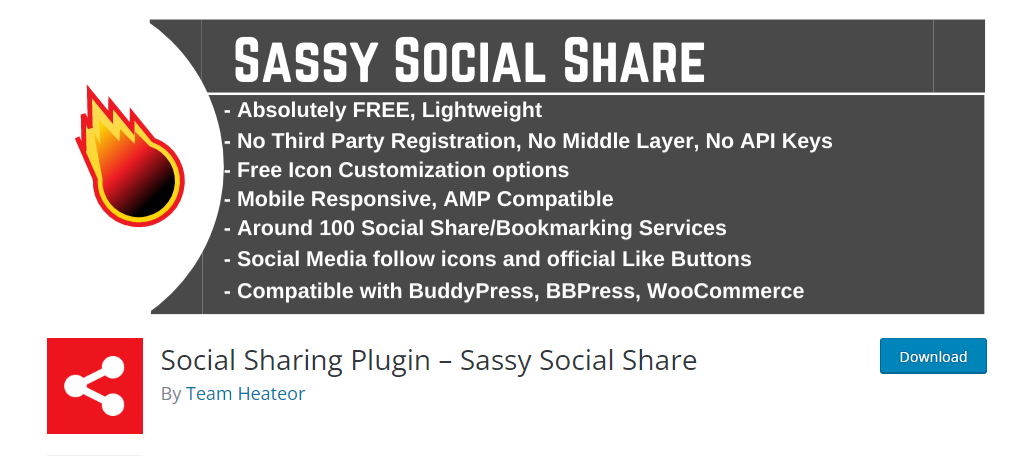 If you are looking for a highly customizable way to share social icons in WordPress, look no further than the Sassy Social Share plugin. This is a lightweight social icons plugin that offers several design options for sites.
Not only do the buttons have multiple designs, but the plugin also supports multiple layouts.
These include multiple horizontal and vertical design patterns to display your favorite social accounts. And this plugin sports the most social icons with over 100 platforms to select from.
Everything about the icons is customizable from the size to the color. This can help match the design of your website or even add a festive touch like making all of the icons orange for Halloween.
Benefits of using Sassy Social Share
Full customization from design to layout of each social icon
You can display the number of times visitors shared your content
Compatible with BuddyPress, BBPress, and WooCommerce
GDPR compliant
Can toggle social icons on or off for certain posts and pages
3. Jetpack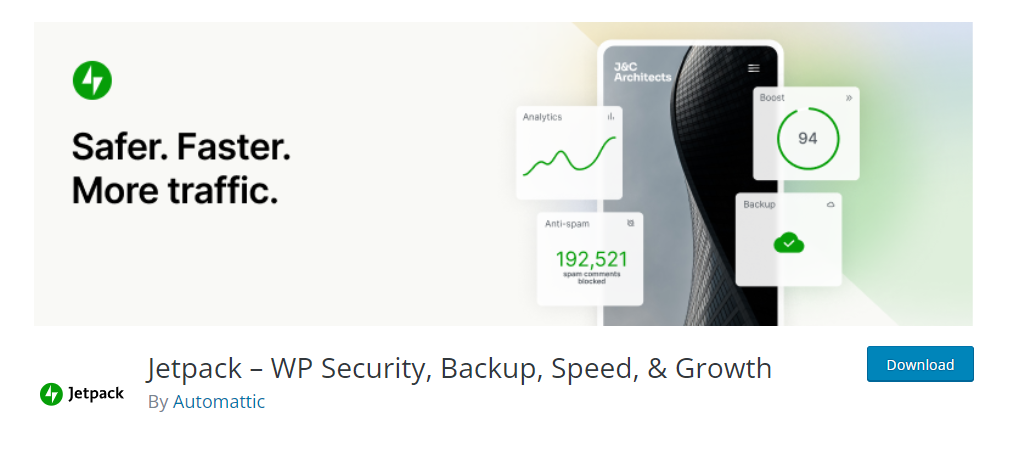 Jetpack does just about everything with its huge selection of modules to choose from. Most websites just use it as an anti-spam tool, but it has a great selection of social sharing tools as well.
The Sharing module allows you to display social icons at the bottom of any post or page in WordPress.
It supports all of the major sites and many smaller platforms as well. You'll also have options to customize each icon. For instance, you could choose to only display the platform symbol instead of the full name.
You can choose what devices the buttons will appear on. For example, if you need to save room, you could choose to not display the icons on mobile devices, although, I wouldn't recommend this as mobile sharing is huge.
Benefits of Using Jetpack
It does way more than just social sharing
Icons are highly customizable
This is a free module that just needs to be toggled on
The icons look very professional
It's very easy to choose which icons to display
4. Smash Balloon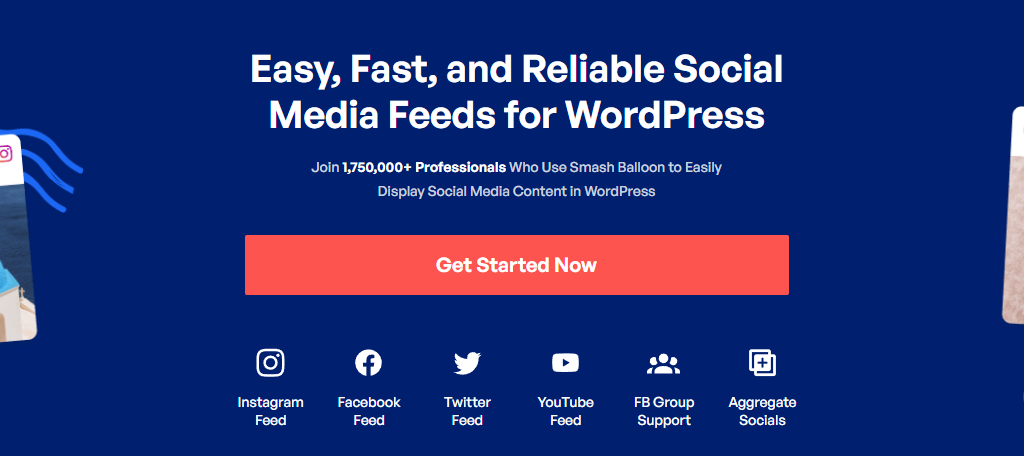 Smash Balloon isn't merely a single plugin as it actually offers plugins for each of the major social networks including Instagram, Facebook, Twitter, and YouTube. Each plugin is tailored to that specific platform, and the quality really shows.
Honestly, if I were to rank them individually, each plugin by Smash Balloon would make the list.
There is even a plugin to help you combine the feeds from different platforms into a single social wall. Each plugin offers features for the specific platform and optimizes them for a WordPress environment.
For instance, the Smash Balloon YouTube Feed, allows you to display the latest videos from your channel, display live streams, and even showcase playlists. It even provides multiple layouts for you to take advantage of.
Each of the social plugins is similar to this, but the feature differs on a platform basis.
Benefits of Using Smash Balloon
Link Instagram Stories and photos in WordPress
Display live Facebook broadcasts
Display tweets that mention your account
Offers an incredible amount of customization
All elements are mobile responsive
5. Uncanny Automator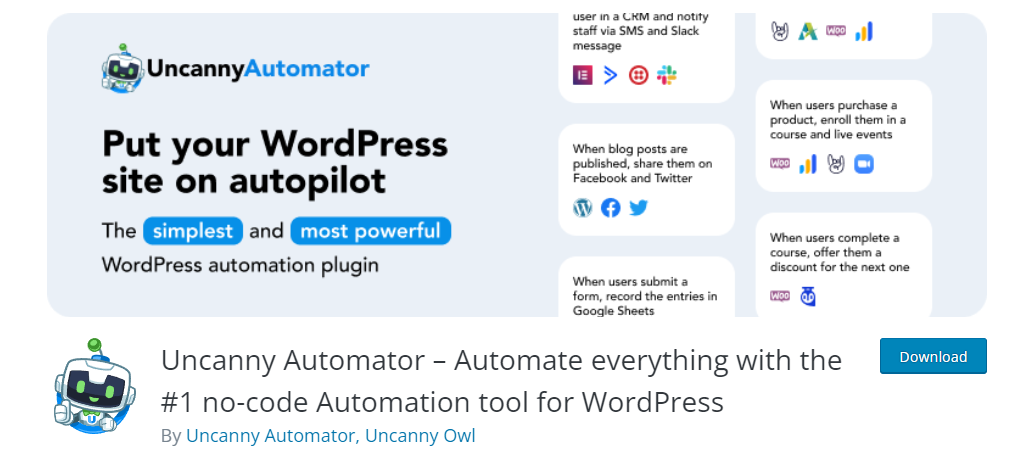 Managing your social networks is a lot of work, but what if it didn't have to be? While this may sound like wishful thinking, the Uncanny Automator plugin can help you achieve this by automating much of the process.
In short, this plugin allows you to integrate your WordPress site and your favorite social network together seamlessly.
What you can do depends entirely on what platform you are connecting. For instance, when you publish a new blog, you probably want to post that on Facebook and Twitter. You can set that up to happen automatically with this tool.
This plugin isn't exclusively just for social networks. You can also set it up to connect your site with popular apps like MailChimp or Slack.
Of course, while the free version exists, to really make the most of this, you will need to purchase the premium version.
Benefits of Using Uncanny Automator
Automate asking users to leave a reviewer testimonial after purchase
Automates most routine tasks
Customize all automatic messages
Share job opportunities on LinkedIn
Post content to your Facebook Groups
6. Better Click to Tweet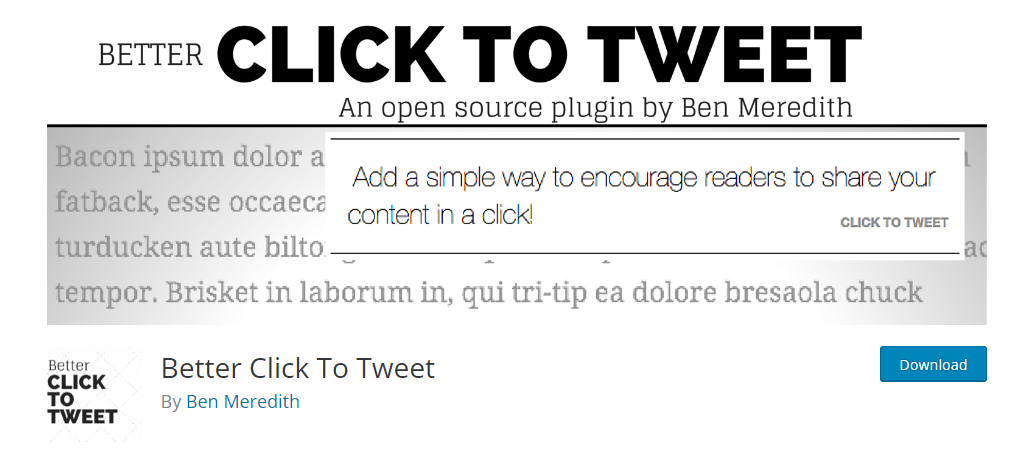 Do you create great content that is worth tweeting? If so, you should install the Better Click To Tweet plugin for WordPress today. With it, you can surround some of your content with a Twitter card and make it easier for visitors to share.
Not only does this help you highlight certain quotes, it actually looks really nice in a blog post.
How does it work? Well, you just place the quote you want to place in the Twitter card into the block and that's it. There's nothing really fancy about this, but it's incredibly effective at promoting your website.
I would say the best use of this is when dealing with statistics, definitions, or just amazing quotes or jokes. You can also change the style of the quote box by buying the premium add-on.
Benefits of Using Better Click To Tweet
Supports the classic editor by using shortcodes
The tweet includes a link back to your content
It's a great way to highlight content on a post or page
Works really well with deals and sales for eCommerce shops
Supports short links to give you the most room in your tweet
7. WordPress Social Sharing Plugin – Social Warfare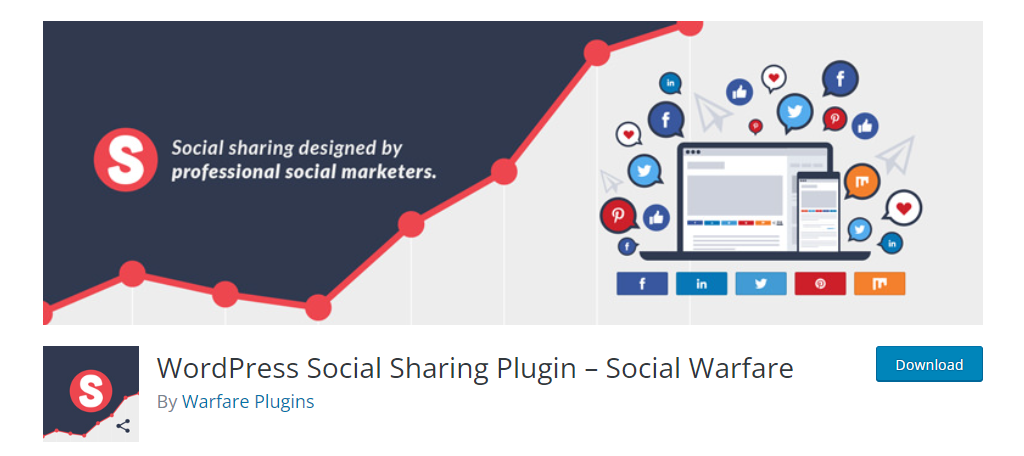 Social media marketing is a warzone, and if you want a chance at winning, you are going to need the Social Warfare plugin. It's a comprehensive lightweight plugin that makes it easy to add share buttons in WordPress.
It offers support for Facebook, Twitter, Pinterest, LinkedIn, and more.
Each of the social icons is customizable in appearance, and you can also choose the layout of where they appear on your posts and pages.
All you'll need to do is place the shortcode in the desired location and you are good to go.
It also has a slew of features for specific platforms. For instance, there is a Click-to-Tweet feature that makes it easy for visitors to share quotes from your website. You can also show the number of times something has been shared by upgrading to the Pro version.
Benefits of Using Social Warfare
Includes a popular posts widget
Image hover pin available for Pinterest users
Display total shares once a minimum number of shares is achieved
Twitter card support
Link shortening available
8. Instagram Theatre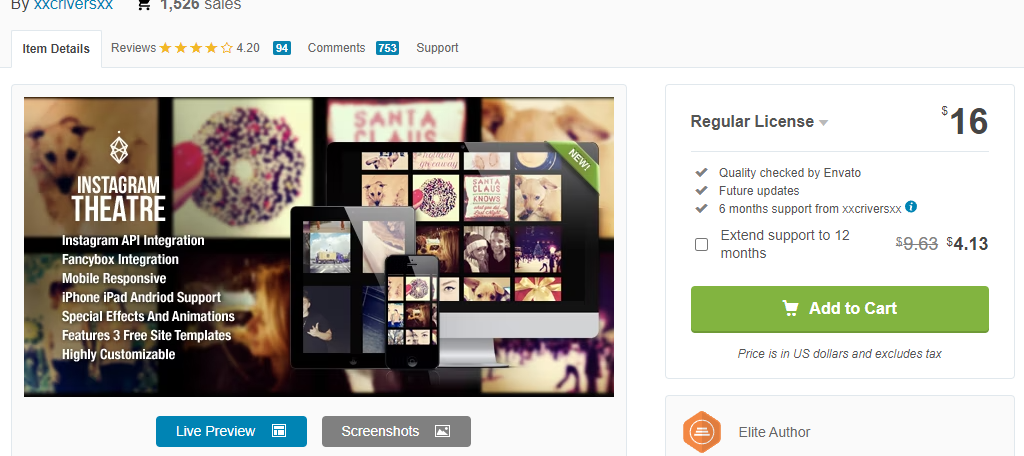 Many influencers may only focus on a single platform. If your platform of choice happens to be Instagram, the Instagram Theatre plugin is the perfect plugin to install today.
Just keep in mind that this is a premium plugin without a free version.
So what does it include?
As you might expect, it allows you to pull images from your Instagram account and place them directly on your WordPress site. However, what makes this tool unique is the level of customization available.
With it, you'll be able to turn your site into a full-screen gallery, utilize a thumbnail grid layout, display photos from Instagram that use a specific tag, and far more. It's the ultimate plugin for everything Instagram.
Benefits of Using Instagram Theatre
Mobile responsive so images always look good
Lightweight design ensures your website doesn't slow down
Display photos based on the location they were taken
Supports multiple Instagram users
Access to a support team to aid you in using the plugin
9. Blog2Social: Social Media Auto Post & Scheduler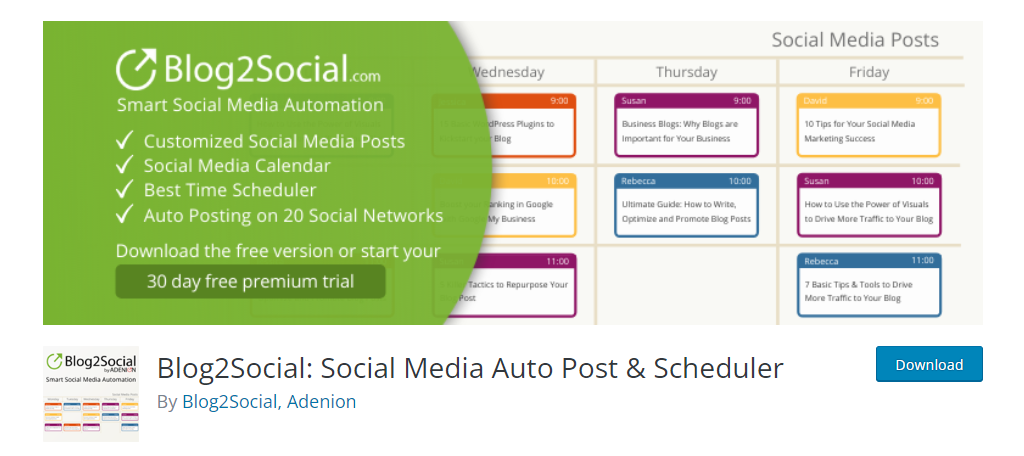 Blog2Social is another excellent social networking plugin that can help automate your workflow in WordPress. It supports a lot of social networks with some of the major ones including Facebook, Twitter, and Instagram.
While the plugin is free, there is a premium version that you can try for 30 days with a free trial.
This plugin allows you to auto-post content on the various social networks that you choose. The options you have available to you depend on which version of the plugin you have.
For instance, free users can post on their Facebook page while premium users also have the option to post to Facebook groups. Overall, the plugin is very simple to use and can really reduce the amount of time you spend managing social media accounts.
Benefits of Using Bog2Social
Repost old posts to help them get views (great for evergreen content)
The social media calendar makes it easy to schedule content
Creates a backlink to help bring traffic to your site
Supports multiple languages
Compatible with WooCommerce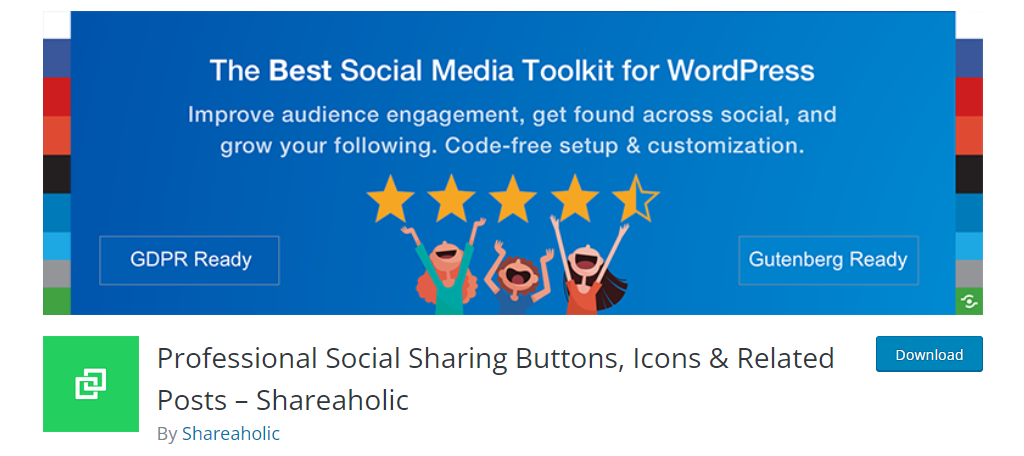 When it comes to growing your audience one of the best WordPress plugins for social media is Shareaholic. However, it goes way past just social media as it includes a host of engagement tools to take advantage of.
These include things like ad monetization, content analytics, displaying related posts, and much more. With that said, let's just focus on the social media aspects.
The plugin supports multiple social networks like Facebook, Twitter, Pinterest, WhatsApp, and much more. This includes dedicated sharing platforms.
You can add share buttons for your favorite medium and even include the number of times it was shared. You can also take advantage of URL shortening tools like Bitly to make your links as friendly as possible on these social venues.
Benefits of Using Shareaholic
Multiple social icon designs to choose from
If your URL changes, you don't have to worry about your share count resetting
Vector share buttons are available
Supports HTML5
Integrates with Google Analytics
11. Monarch Social Sharing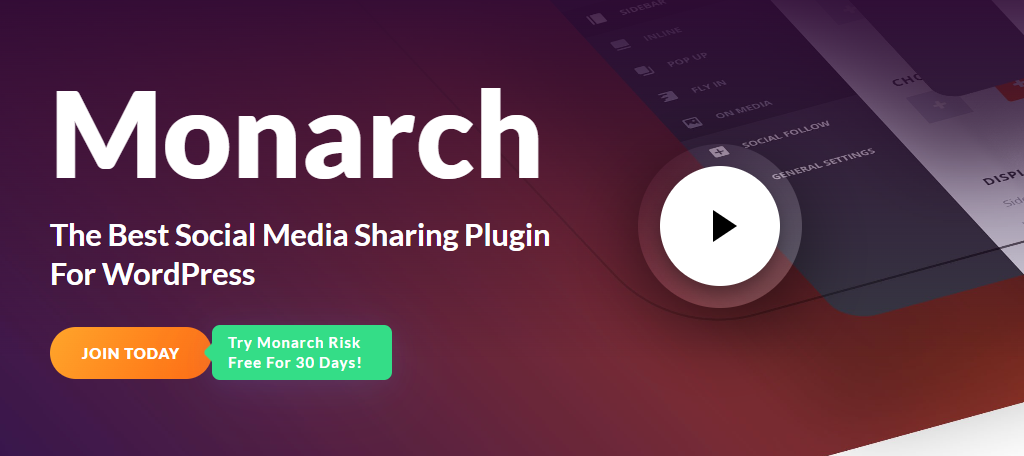 When it comes to social media plugins, you really need to check out the Monarch Social Sharing plugin. This plugin is made by ElegeantThemes, and the design quality really shows.
Of course, this quality isn't free. It is a premium-only plugin but has a 30-day money-back guarantee.
This plugin provides high-quality share buttons that fit into any theme. It supports pop-ups, fly-ins, share buttons for images and video content, and much more. And all of this is available on over 30 social networks.
Everything about the social icons is adjustable. This includes the color, icon placement, number of followers, the ability to just include the icon, and more. It's an extremely robust tool that can benefit any website.
Benefits of Using Monarch Social Sharing
View social statistics on your dashboard at anytime
Supports multiple sites with exports and imports
Access to 24/7 customer support
Place these social icons anywhere with a shortcode
Buttons support multiple shapes
When it comes to integrating your WordPress website with your favorite social media platform, ARSocial should be one of the first choices. It's a comprehensive social media plugin that can handle just about anything.
It is a premium plugin, but since the price tag is quite small, it shouldn't scare anyone away.
Users will have access to over 42 social networks, and a variety of customizable social share buttons, and all of this is accomplished through a very simple interface. As a result, it's perfect for beginners.
One of the most unique aspects is the social locker feature. This will make it so that visitors must share the content to be able to view it. On one hand, this can help boost conversion. On the other, it could scare visitors away, so be sure to see how visitors respond.
Benefits of Using ARScoial
Supports custom position for share buttons on mobile devices
Get access to analytics to see how each social platform performs
The plugin is optimized for speed
Supports multiple languages
Includes a variety of templates to choose from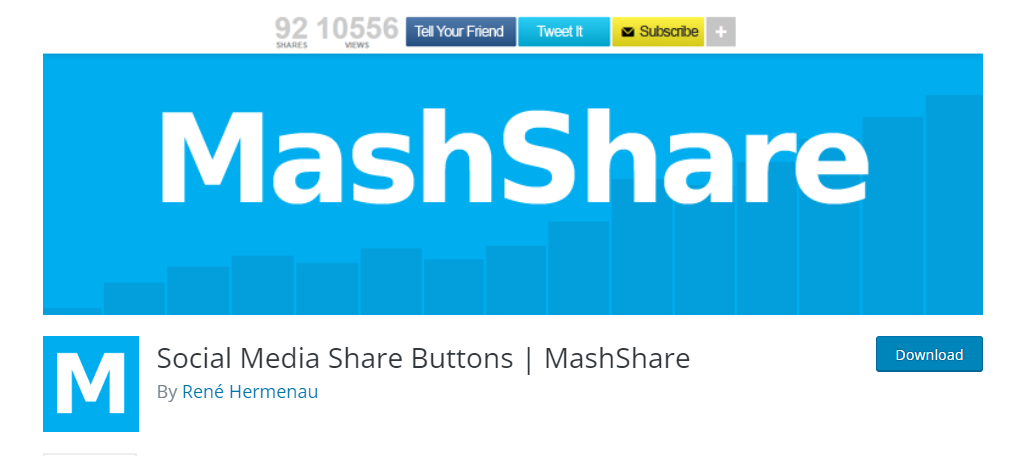 Closing out this list of the social sharing plugins for WordPress is MashShare, but don't let its placement fool you. MashShare is a terrific plugin with high levels of customization available.
And it's completely free to use, so, there's nothing stopping you from giving it a try.
You'll find the social share buttons highly customizable, short link support to help make your links more attractive, analytics on your dashboard to see how each platform performs, and much more.
You can also take your social media game further by taking advantage of some of the free add-ons this plugin offers. For instance, you can set specific Twitter hashtags for your images to make sharing more effective.
Benefits of Using MashShare
Access to a Most Shared Posts widget
Support AMP to ensure the best performance possible
Swap the colors of share buttons at any time from the settings
Sort your share buttons with a drop-and-drag interface
Supports shortcodes so you can place share buttons anywhere
Is Auto Posting Enough to Build A Social Media Presence?
One of the biggest mistakes businesses make is only auto-posting on their social profiles when they release new content on their site.
This just isn't enough to wow visitors in 2022.
Instead, you need to start creating original content on your social media platforms. Most people use social media to have fun and relax or to receive promotional offers. What they don't want is a wall of content updates.
Now, this doesn't mean these types of posts are bad. What it does mean, however, is you need to do so responsibly.
For instance, let's say you cover new stories. Well, in a single day, you could potentially cover several news stories. Creating a Tweet about each one may be far too much. Try to use moderation when it comes to frequency.
You also need to make sure the automated messages are not too generic. With the same example in mind, it's much more effective to include a short blurb about the event you are covering. An excerpt can work wonders to get their attention.
It's much more effective than just telling someone you have a new article.
When it comes to social media, or any marketing in general, you really need to get feedback quickly. This allows you to identify what is working and what isn't. But don't get discouraged if your first attempt doesn't work.
This is normal and it usually takes a few to get it right.
Are Premium Social Plugins Worth It?
As you might have noticed, this list includes a blend of free and premium plugins. This raises the question, are premium tools worth it?
This is a debate that will need to be discussed on a case-by-case basis. Generally speaking, premium plugins are often worth the price tag as they offer more customization options and higher levels of support.
Now, with that said, the support may not be necessary for experts. Thus, it can easily be disregarded. However, for beginners, sometimes the support alone is worth the amount you'll pay.
In this specific case, almost all of the plugins we have looked at are pretty cheap. Almost all of them are $20 and under.
If you're looking for higher levels of customization, I'd definitely say that premium plugins are worth the expense. That said, the free plugins stand up very well, and with some creativity, can rival the premium plugins.
In either case, you will be able to increase your shares without much trouble or spending a lot of money.
Start Growing Your Social Media Presence Today
As you can see, there are a lot of amazing social sharing plugins to choose from on the WordPress platform. Making that choice is hard, but the longer you take, the longer it takes to begin building a presence.
While social media is touted as a fast way to increase traffic, it's more of a relative sense. Truthfully, it is much like SEO where it could take months before you build a sizable following.
However, don't let that discourage you from starting ASAP.
Once your social media accounts grow in size, you are going to find success. You just need to make sure you are delivering high-quality content to your followers. Otherwise, they won't stay as a follower.
What are your favorite social sharing plugins for WordPress? Do you create original content on your social account?