17 Clever Domain Name Generators
Typically, the best websites have the catchiest domain names. They're short, memorable, and fresh. However, it can be challenging to generate a unique domain name that matches your goals (and hasn't already been taken).
The good news is, you're able to use domain generators to come up with clever domain names for your site. These tools are simple to use and make it easy to pick a domain name that checks off all the boxes for your site.
In this post, we'll take a closer look at domain names and some best practices to follow when choosing one. Then, we'll explore some innovative domain generators to help you get inspired. Let's get started!
How to Choose a Unique Domain Name
A domain name refers to the URL where visitors can find your website. Typically, you have to pay for a unique domain name. The cost of a domain name will usually fall between $10 and $20, but .com website addresses can be more expensive since they tend to be the most popular. Still, you can also opt for less common Top-Level Domains (TLDs) such as .org, .shop, .info, .net, and more.
Either way, there are some important factors to consider when choosing your domain name. Here's a bit of advice:
Stick with domain extensions like .org, .com, and .net to establish credibility
Make your domain as short as possible so it's easy to remember
Keep it simple, avoiding numbers and special characters
Use relevant keywords to attract organic traffic
Make it easy to pronounce and spell
Check that it isn't the same/similar to trademarked names
You can usually get a free domain name (for some limited time) by choosing a quality web host that provides it as part of their hosting services. For example, at DreamHost, all of our WordPress hosting plans come with a free domain name for the first year.
17 Clever Domain Name Generators Guaranteed to Inspire You
Now that you know how to choose your website URL, let's take a look at some popular domain name generators to help inspire you.
1. NameStudio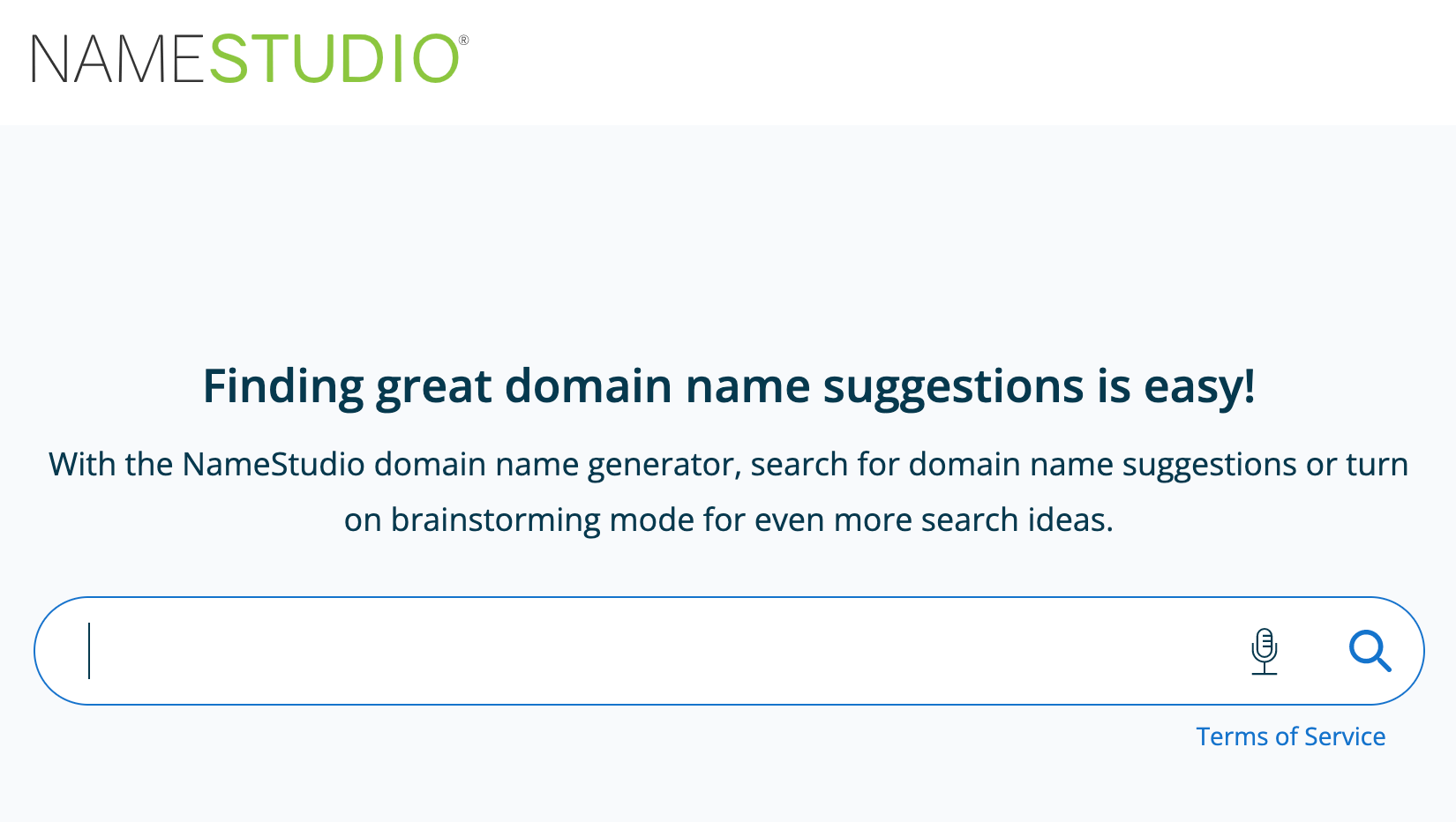 NameStudio offers two simple and innovative ways to help you find the perfect domain name. First, you're presented with a simple domain search field. From here, you can see which domains are or are not available based on your entry.
But what sets NameStudio apart is its neat "Brainstorming" function, which allows you to further explore your options by offering additional lists of prefixes, suffixes, and extensions.
2. Lean Domain Search

Lean Domain Search streamlines the process of domain name generation. It's an efficient and powerful tool that shows only .com domain options, trimming away less popular alternatives. A unique feature of this tool is that it also analyzes the domain name to see if you would also be able to use it as a Twitter handle.
3. Panabee

Panabee stands out thanks to its fun and engaging user experience (UX). To get started with this domain generator, simply enter a few keywords into the search box to view a list of available and taken domain names.
These are clearly marked, so that you know which names have potential. However, keep in mind that even viewing taken domains may spark inspiration.
4. Business Name Generator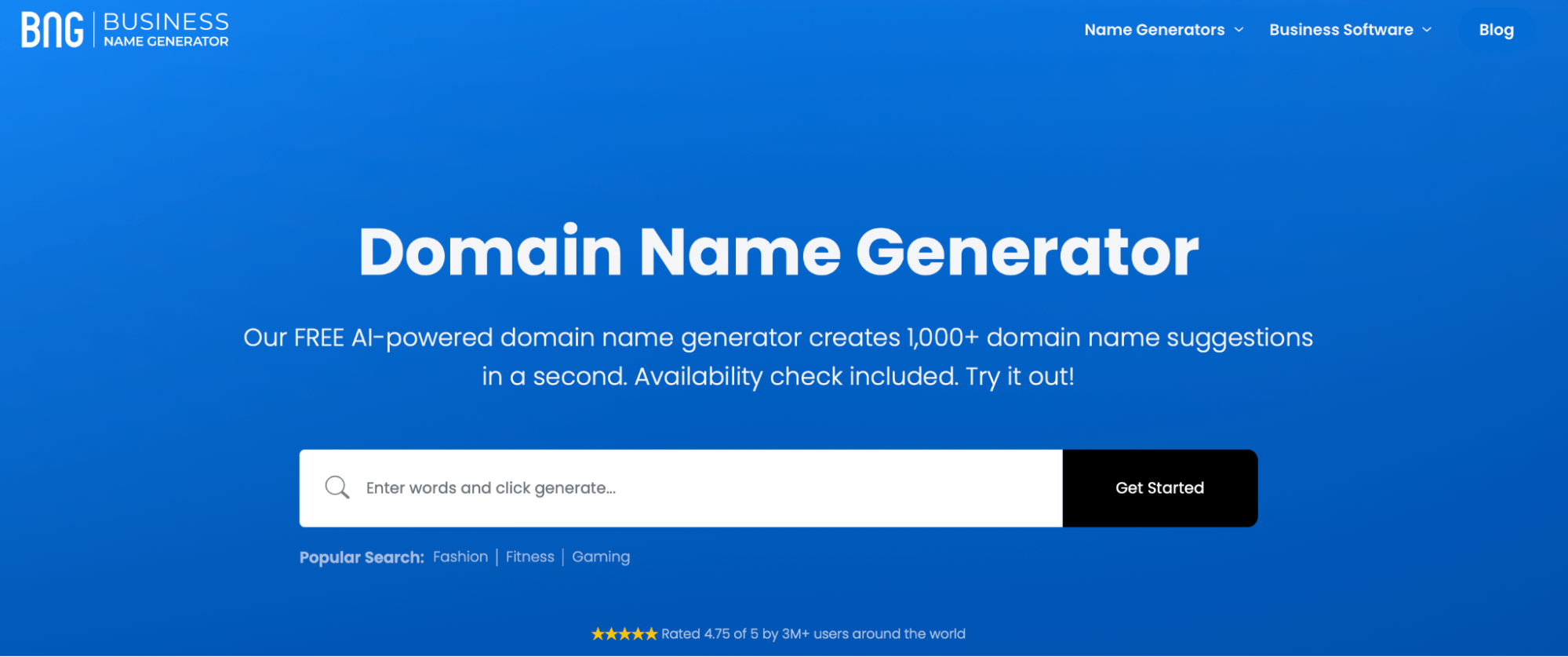 Business Name Generator produces a list of potential business names that haven't yet been taken. This helps you avoid infringing on trademarks or unknowingly copying other business names.
One of the best parts about this domain name generator is that it also comes up with business names (not just domain names). This is a great bonus if you haven't settled on a company name yet.
5. Nameboy

Nameboy is a domain generator that also offers other services. For example, you can utilize a business name generator, a podcast name generator, and a store name generator. That means you can cover all your bases with one convenient tool.
Better yet, you won't get bombarded with domain suggestions. Instead, there's a heavy emphasis on .com URLs since these are most recognized by users. When you choose this type of URL, it may be easier to build trust with a digital audience.
6. Bust a Name

Bust a Name is a useful platform that includes multiple ways of finding a domain name. The Domain Maker enables you to set parameters for your URL. For instance, you can choose a certain word to start/end your domain and set a specific character length.
However, its Domain Search tool is also plenty sufficient, laying out options for .com, .net, .info, and .biz addresses. What's more, you can save your domain search to return to later. Or, simply save the names you'd like to compare against one another when you've made your way through the list.
7. DomainWheel

DomainWheel is an AI-powered tool that places an emphasis on producing usable domain names. It combines the search results with random ideas that sound similar to your search or rhyme with your search.
This can be useful for finding outside-the-box domain ideas that you wouldn't have thought of yourself. It also provides a handy list of domain registrars so that you can register your domain once you've chosen the perfect URL.
Get Content Delivered Straight to Your Inbox
Subscribe to our blog and receive great content just like this delivered straight to your inbox.
8. NameMesh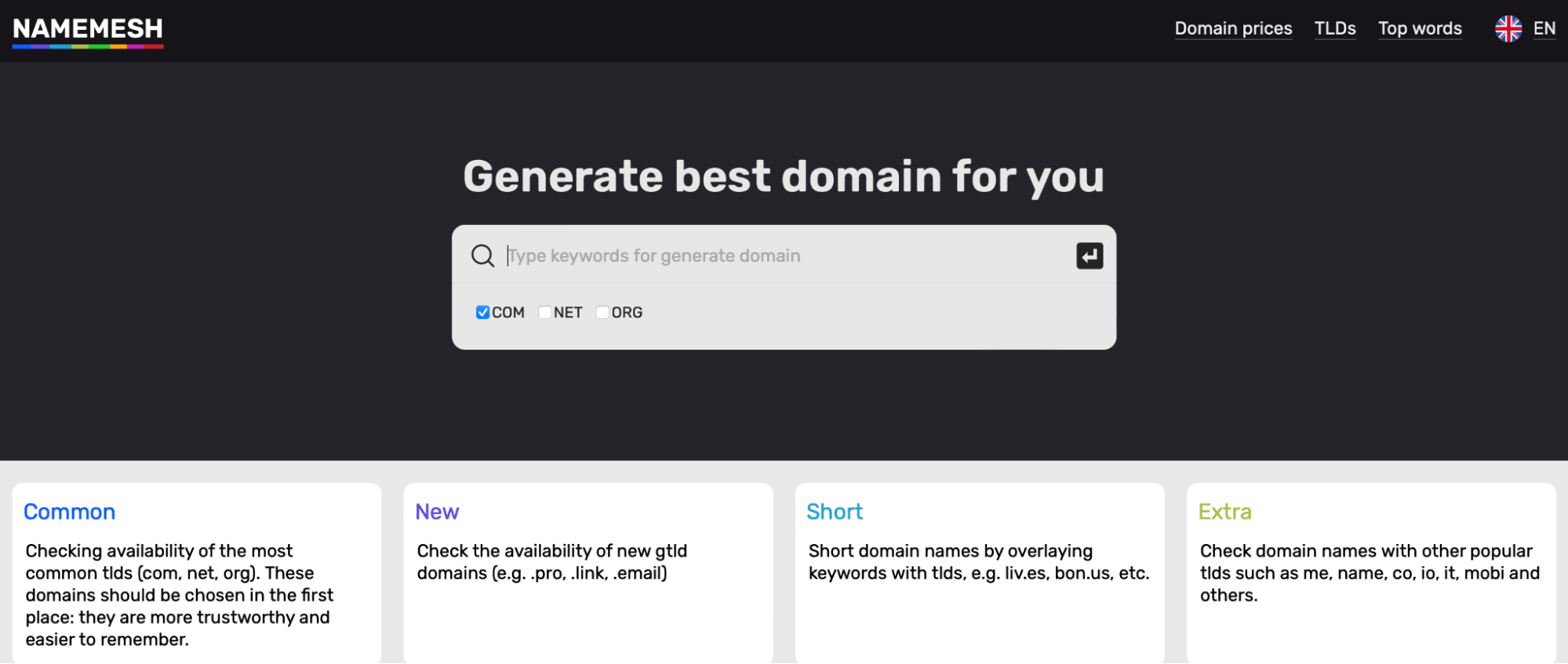 NameMesh is a unique, flexible tool that offers lots of ways to generate domain name ideas. You can use it to check the availability of popular extensions, determining whether you'd prefer a .com, .net, or .org address. Meanwhile, you can also tweak the arrangement of words and add words/suffixes.
A great feature of NameMesh is that it presents domain ideas in neat categories. For example, you can view common names, fun domains, SEO-friendly ideas, and more. Plus, with a huge list of options, your chances of finding the right domain name are much higher.
9. Name Ideas Generator

Name Ideas Generator outputs a huge list of options including multiple extensions. This gives you plenty of choice. For some, this may be ideal. However, it could be a bit overwhelming for others. Regardless, this tool is very flexible, allowing you to switch vowels, remove letters, and change the order of words.
Additionally, you can use search engine generated keywords in coming up with domain names. For example, you can choose to use YouTube, Google, Bing, and Amazon keyword suggestions. This can help you drive more organic traffic to your site from your preferred platform.
10. IsItWP

With IsItWP, you can get instant results simply by entering a few keywords or your business name. This is a speedy tool with a clean and straightforward interface. It's also powered by Nameboy.
Using this domain name generator, you get a seemingly endless stream of options including slight variations and synonyms. You can also refine your search to find more specific ideas.
11. Blog Tyrant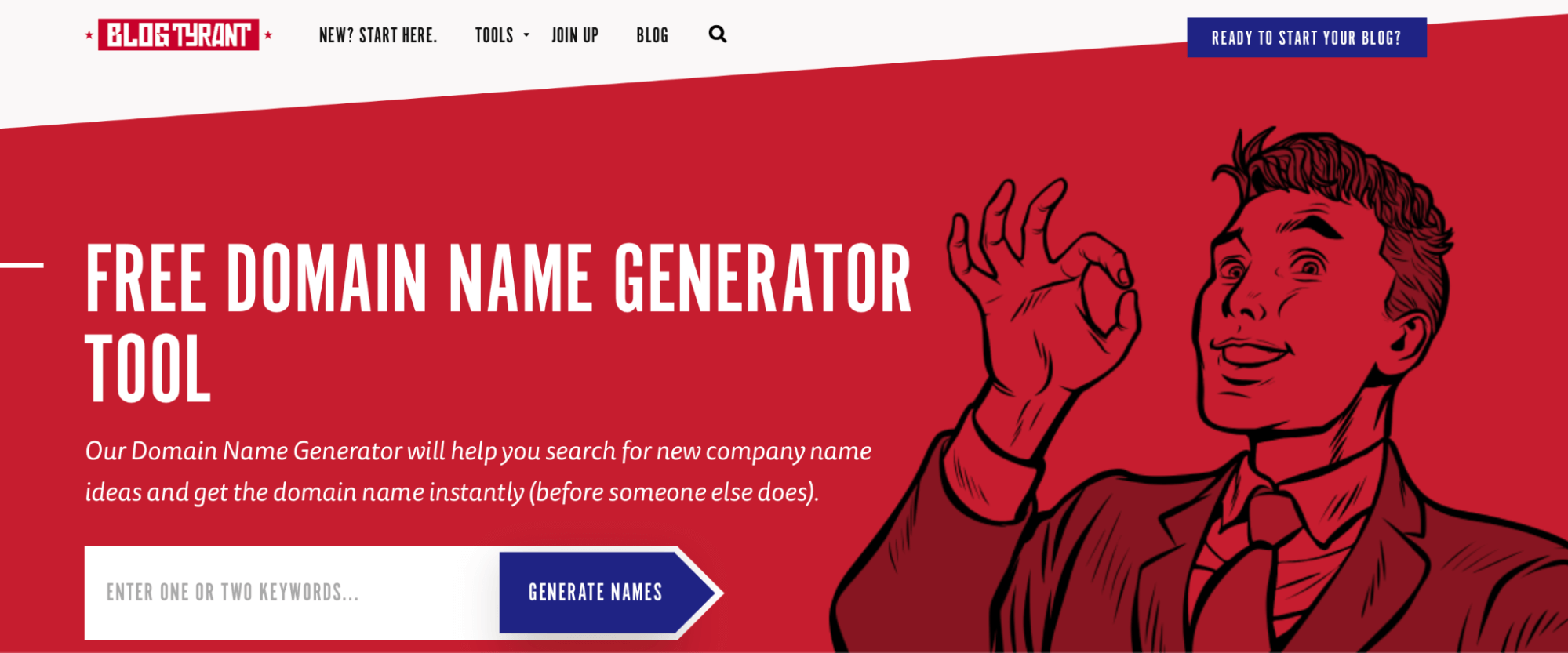 Blog Tyrant is a free domain generator focused specifically on coming up with domain names for blogs. The output is large so you're sure to find a suitable option.
Additionally, Blog Tyrant offers other helpful tools if you're considering starting a blog. For instance, you can find an uptime checker, a password generator, and a security scanner. However, it does not offer web hosting services.
12. Nameming

Nameming is one of the easiest domain generators to use. Simply type two or three keywords into the search bar to find many options. Perhaps the most unique thing about this domain name generator is that it creates convenient sublists for your domain name results.
These sublists include domain options that are categorized as short, fun, common, tech, SEO, and more. Additionally, you can access specific name generators to come up with ideas for brand names, app names, and social names.
13. NameStation

For a domain generator that also offers a lot more, NameStation is an excellent choice. With this tool, you can access a whole community where you can host a contest and crowdsource name suggestions to help make your decision.
This can help you pick a catchy domain name. However, the downside is that it's less user-friendly than others on the list since you have to create an account to view domain ideas.
14. Domainr

Domainr is designed for you to access and use within seconds, providing a clean, slick UX. It offers a super quick, streamlined experience to find your perfect domain name.
It's a great choice if you don't want to be overwhelmed with suggestions since it provides only a handful of available domain names. Better yet, it ranks the best options according to name, features, and price.
15. Instant Domain Search

Instant Domain Search starts showing results as you start typing. It provides different variations and combinations, including all extensions and domains for sale. It's one of the quickest tools on the market, so if you're in a hurry to secure your domain name, Instant Domain Search is a great choice.
16. Namestall

Namestall is an ideal tool for finding domain names, business names, and blog names. You can refine your search, focusing only on popular keywords, or certain word types such as nouns or adjectives.
Beyond that, you can search for domains according to your particular industry, whether that be real estate, finance, or fashion. You can also view brandable domain names.
17. iwantmyname

iwantmyname is a great tool if you already have a few domain ideas of your own. Simply enter the address you're considering, and this handy tool will let you know if it's available. If it isn't, iwantmyname will deliver a large list of similar alternatives and their prices. You can also choose to hide unavailable domains, so that you only view ideas with potential.
Frequently Asked Questions 
Even with tons of domain name generator options at your fingertips, you might still have some doubts about domains. Let's go over some frequently asked questions!
How Do I Get a Domain Name for Free?
The best way to secure a free domain name is to purchase a hosting plan for your website. As long as you choose a quality web hosting provider like DreamHost, you can often take advantage of many other useful features such as free SSL certificates and free subdomains.
How Can I Create a Catchy Domain Name?
Using the suggestions made by the domain generators in this post, you're more likely to find a catchy domain name. Plus, you can usually find out whether it's already taken. Then, you can follow our best practices such as keeping your domain short, avoiding numbers and special characters, and including keywords.
How Can I Find Rare, Valuable Domain Names?
A domain name generator will produce a list of domain ideas, showing available options. In particular, a tool like Nameming organizes suggestions according to specific categories. Therefore, if you look under the "new" category, you're more likely to find fresh, rare domain names.
Use a Domain Name Generator to Optimize Your Search
When choosing a domain name, you should aim for something unique and highly relevant to your business. You'll want to secure a fresh, catchy URL that suits your brand. However, you also need to pick a name that is available (or isn't trademarked). This can be challenging to do.
Luckily, with a domain name generator, you can get some creative inspiration when choosing your website name.
Once you've landed on an available domain name, you'll need to purchase it ASAP! At DreamHost, you can opt for a variety of extensions and benefit from free subdomains, simple domain management, and easy domain transfers. Find your perfect domain name today!
Your Great Idea Starts with a Domain Name
Don't let someone else register your URL. Search DreamHost's 400+ TLDs to find the perfect fit for your website.