21 Best Personal Websites (Examples) 2022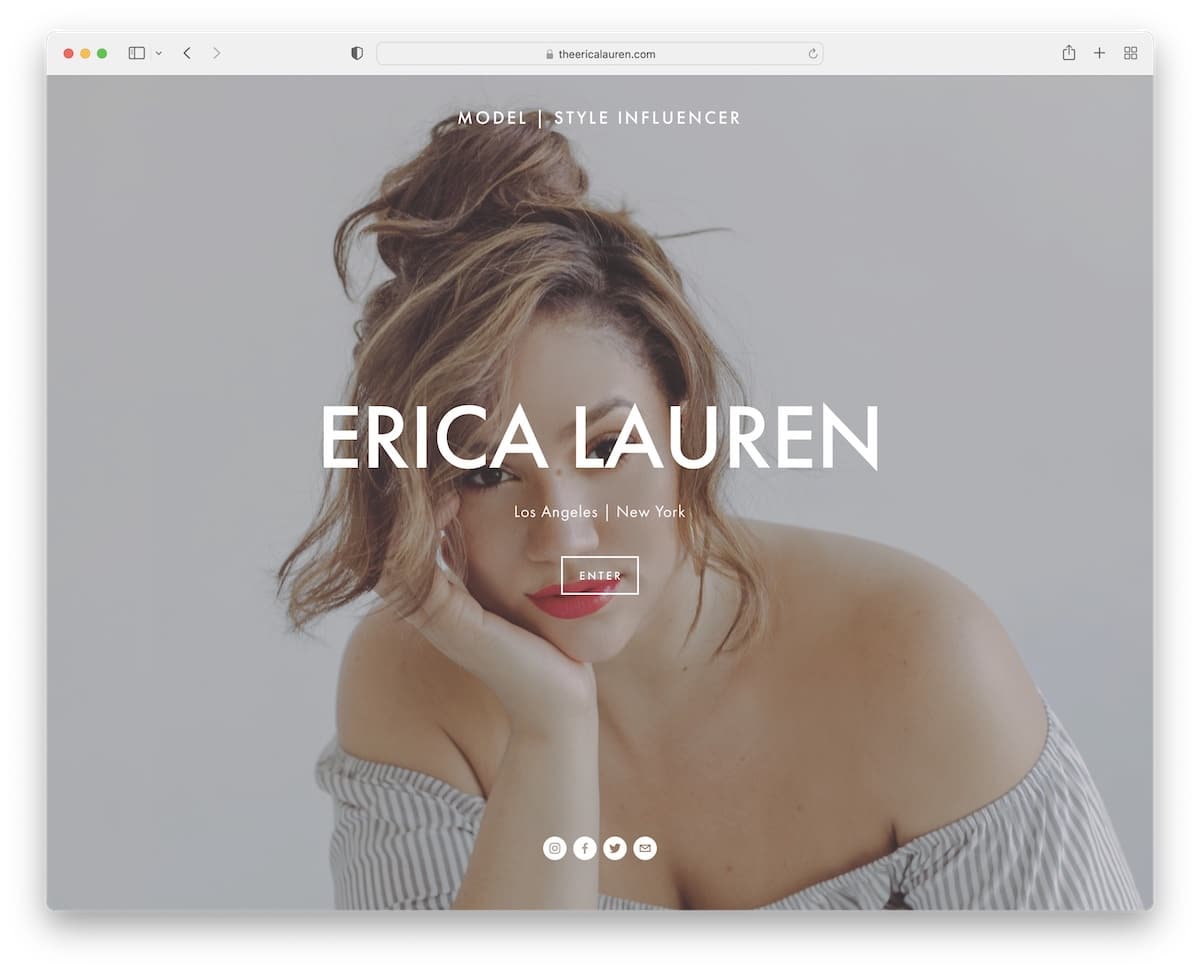 Do you want to gain inspiration from the best personal websites?
That's when this collection comes into play.
From simple and minimalist layouts to creative and colorful ones, we included something for everyone.
We also added the platform the website was built on, so you can use the same one for yours.
However, you can also pick any other personal website builder alternative or even opt for a personal WordPress theme.
With all the options available and ready to go, check these beautiful responsive web designs first and take action in building your site second.
Best Personal Websites & Design Ideas
1. Anthony Wiktor

Built with: Gatsby
Anthony Wiktor creates a strong and lasting first impression with its minimalist design that starts light but turns dark once you start to scroll.
His resume site features only two pages, home and about, with a smooth transition between the two of them.
What's also unique is the client profile grid that changes the layout's color and highlights the grid item on hover.
Note: A dark and simple design creates a more premium feel.
2. Sean Halpin

Built with: GitHub Pages
Sean Halpin's page is cool and creative, with a clean composition and creative elements to spice things up.
It has a minimalist sticky header with a drop-down menu but doesn't use a footer. There's also a live chat widget that, even though it's a bot, still provides great answers.
Note: Use a "live chat" function so potential clients can quickly find additional information about you.
3. Elizabeth Carroll

Built with: Kalium Theme
Elizabeth Carroll's catchy typewriter effect below the header triggers curiosity immediately.
She also does a good job at using a filterable portfolio, so you can check only specific projects and not get lost in all of them.
Moreover, the header might be sticky, but it's semi-transparent, keeping the scrolling experience more pleasant.
Note: A simple animation, like a typewriter effect, can trigger visitors' attention (so they don't leave early).
4. Amanda Rache Lee

Built with: Squarespace
Amanda Rache Lee has a modern and responsive personal website with a simple floating header and footer.
She uses different sections to promote her social links, video content and newsletter subscription form. She also showcases some of the bigger clients she worked with, which is a great strategy for building trust.
Note: Add client logos to your website as a reference.
Hey, we also have a list of the best Squarespace website examples to enjoy more stunning pages.
5. Leo Edwards Photography

Built with: Weebly
The large image on the right and the left (sticky) sidebar /header menu make Leo Edwards Photography special right from the get-go.
This personal website keeps the layout clean, without any header and footer elements. When it comes to the portfolio, Leo uses the lightbox effect to view images without leaving the current page.
Note: Use a lightbox gallery, so the user doesn't have to leave the current page.
You can also check these best Weebly websites if you need some more ideas.
6. Devon Stank

Built with: Squarespace
Devon Stank gives a strong first impression with the video background hero section. The header is transparent, and the simple but impactful title text tells you everything you need to know about Devon.
The call-to-action (CTA) buttons take you straight to hiring or watching a presentational video first.
We also like the dark design choice because it gives it a more premium look.
Note: Use a video background and add a layer of engagement to your resume website.
7. Jen Carrington

Built with: Squarespace
Jen Carrington's page is modern, with a feminine touch and great storytelling. The header is basic, and the footer only includes a few links, keeping things minimalist.
Jen does a good job expressing herself through her clean website, giving you the feeling you know her. Another unique feature is the quiz which increases the likelihood of scoring more high-quality leads.
Note: Instead of using a simple subscription form, make it more engaging with a quiz.
8. Kantwon

Built with: Squarespace
There's one main thing about Kantwon that makes it different than any other personal website on this list: It's FUN!
From the headshot above the fold to using a lot of emojis, cool images and vibrant colors, Kantwon's page has a lot of life in it.
And while the page is very long, it doesn't feel boring at all when you scroll it. Moreover, the header and the footer only have social media icons, no links, no menu, no search bar.
Note: Make a one-page website that's fun, exciting and scrollable.
You can also use any of these best one-page website builders to create your online presence.
9. Lin-Manuel Miranda

Built with: Avada Theme
Lin-Manuel Miranda's site has a lot of image content with a full-screen hero image of himself.
This resume page uses a slider, hover effects, animations and a back-to-top button to ensure a great user experience.
Note: Save visitors' time with a back-to-top button, so they don't need to scroll.
You will also enjoy these Avada theme examples to understand the power of this theme.
10. Peter McKinnon

Built with: Squarespace
Like Lin-Manuel, Peter McKinnon also uses an image of himself above the fold but keeps things even more minimalist.
His entire home page is a beautiful collage of images with a parallax effect that enhances the viewing experience.
Finally, the clean footer only features social icons to stick to the minimalist formatting.
Note: If you're a content creator, use your website to showcase some of your works.
11. Arlen McCluskey

Built with: Webflow
Arlen McCluskey has a unique Webflow website layout that's clean and creative at the same time. The page is broken down into eight "sections," showcasing work examples with and without mobile screen animation.
Like the header, the footer is also very basic, with only essential links.
Note: Arlen McCluskey is a great resume website example to gain inspiration in doing things differently.
12. Michael Mannucci

Built with: Webflow
Michael Mannucci has a landing page-style resume website with a navigation that takes you to the desired section without the need to scroll.
The content loads smoothly when you scroll, making it much more pleasant to view. The Trustpilot reviews are also an excellent addition for social proof.
Note: Build trust and raise your potential with testimonials/reviews.
13. Scott Lacy

Built with: Squarespace
Scott Lacy runs a top-notch personal website with a blog, showing love to his sponsors and updating fans on what's going on in his life and training.
The header is transparent and disappears on a scroll but reappears (with a black background) on a back scroll.
On the other hand, the footer doesn't really have anything, only "Made with Squarespace." (Room for improvement.)
Note: If you have a very active lifestyle, add a blog to your page.
14. RyuCreative

Built with: Squarespace
While some use large images, a slider or a video background in the hero section, RyuCreative uses a collage of images/thumbnails with a lot of white space.
The header is simple, with a logo on the left and three menu links and an IG icon on the right. The site's last element is an Instagram feed that opens posts on a new page.
Note: Instead of only linking to your Instagram profile, integrate a feed to get more eyeballs on it.
15. Samantha Alice

Built with: Squarespace
Samantha Alice knows how to create a clean and responsive web design with readability in mind. What's cool about this resume website is that it starts with text on a solid background; image content comes second.
Also, the choice of red color for some of the text and CTA buttons calls for awesome detailing.
Note: If everyone uses the hero section for visual content, go against the grain with text only.
16. Kelsey O'Halloran

Built with: Squarespace
Kelsey O'Halloran's page has a great layout and an enjoyable color scheme, with small details that make browsing it a fun experience.
She strategically included client testimonials with her services and a short bio of who she is.
Moreover, we could say Kelsey's page has a two-part footer section with links, CTAs and an IG feed.
Note: Choose images and site colors wisely, so they work together, not fight.
17. Mindy Nguyen

Built with: Squarespace
If you think Samantha's text-heavy above-the-fold section is boring, enhance it with catchy GIFs and images, like Mindy Nguyen.
After the text part, Mindy's website goes straight to showcasing some of the works with links to live projects.
The only other page is the About page, which shares some more about Mindy, services, experience, etc.
Note: Add links to your portfolio projects so that potential clients can review your works first-hand.
18. Olga Miljko

Built with: Squarespace
Olga Miljko's home page is a long portfolio of stunning images that load on scroll but aren't clickable. The header disappears when you start scrolling the page but reappears when you wish to go back to the top.
Olga uses the header for menu links, IG and a CTA button to get in touch with her for a quote.
What's pretty interesting is that she also uses Google Maps with her exact location.
Note: Use Google Maps to showcase your location, so clients can find you easier.
19. Mike Kelley

Built with: Squarespace
Mike Kelley uses a sticky left header/navigation and a portfolio slider on the left. The look of this resume website is minimalist to emphasize the content more.
Furthermore, the menu has a drop-down functionality for some elements to find specific works and info faster.
What's cool about Mike's site is the business and the fun "about me" version. But I think we'd need to throw the latter on the bad websites list. (Go check it yourself.)
Note: Does everyone use a top header? Try adding it to the left sidebar.
20. Erica Lauren

Built with: Squarespace
Erica Lauren's page starts with a full-screen image background slider, text and a CTA button to enter the site.
The page keeps a simple scheme and uses a newsletter popup which isn't too common amongst resume websites.
The header and footer are unfussy, with links and social media icons.
Note: If you write a blog or regularly update your website some other way, build an email list with a popup to keep your fans and clients "in the know."
21. Lisa Maltby

Built with: Squarespace
Lisa Maltby's portfolio grid consists of static and animated elements that make viewing and reviewing her works much more exciting (too bad they aren't clickable).
The header features an animated logo on the left (so cool!) and a drop-down menu on the right with a cart. And the footer equips you with additional contact details and category links to her works.
Note: Use animated elements to add life to a grid-style portfolio.
Let us know if you liked the post.