22 Best Nonprofit Websites (Examples) 2022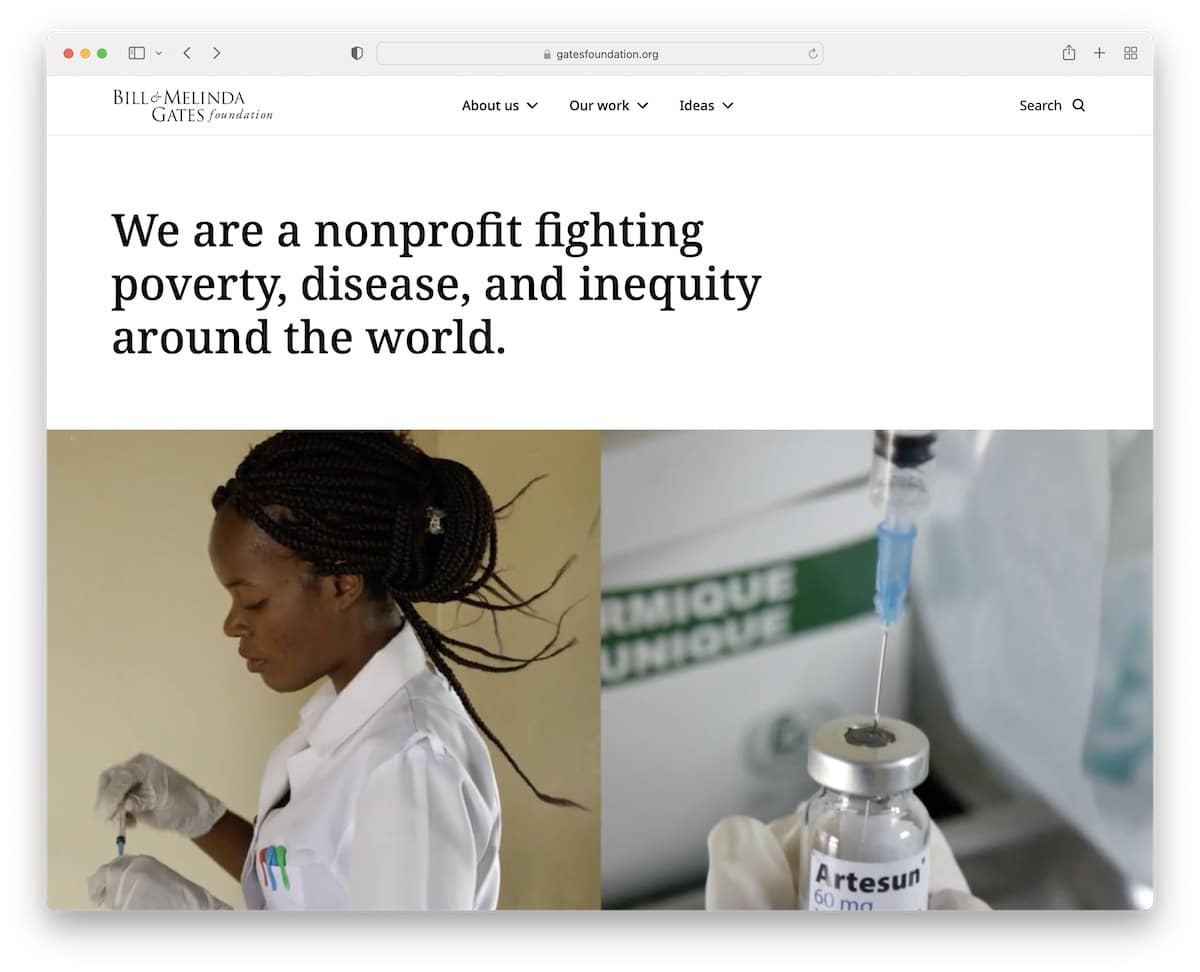 Do you want to see the best nonprofit websites to fill your creativity with new ideas for building your organization's website successfully?
While we found many responsive web designs that differ from each other quite a bit, most of them have one thing in common: Online donation form.
We picked these 22 as the best-of-the-best out of 100+ that we reviewed and studied in great detail.
Take the opportunity to check some really nice page layouts if you're building a charity website.
Note: You can comfortably create yours with any of these WordPress themes for nonprofits. But you can also use a website builder for nonprofit organizations.
Best Nonprofit Websites For Inspiration
1. Charity: Water

Built with: Contentful
Charity: Water has a very actionable above-the-fold section, promoting the latest cause with a donation form that allows one-time payments or monthly.
The website also has a top bar notification with a countdown timer for urgency, a mega menu for easy navigation and a currency switcher (from USD to GBP).
There's also an embedded video that showcases the "journey of your donation."
Note: Ensure a donation form is as easily accessible as possible.
2. World Wild Life

Built with: Ruby On Rails
World Wild Life is a nonprofit website example with a unique hero section that features a split-screen design, with an advanced donation form on the left and a sticky image on the right.
The home page is constructed from multiple sections with links and call-to-action (CTA) buttons to learn more about the organization.
Moreover, World Wild Life has a newsletter subscription form with extra fields, which isn't too common. Also, the footer area is dissected into two parts so that they could include more information and links.
Note: Keep your supporters updated about news, causes and more by letting them sign up for your email newsletter.
3. Habitat

Built with: Drupal
Habitat has a somewhat basic boxed page design with a two-part header that contains a search bar, social media icons, a mega menu and a donation CTA.
What's handy is that they added news on the home page with a load more button to find the latest articles easily.
Note: Adding a news section to your nonprofit site can be highly rewarding (even from an SEO point of view).
4. Gates Foundation

Built with: Sitecore
Gates Foundation's page starts with a clean header, mega menu, and search bar. You'll then find a simple sentence describing the Gates Foundation, followed by a promotional video.
The overall responsive web design is on the minimalist side, with black and white backgrounds. Also, they have an exclusive section dedicated to sharing their foundation facts.
Note: Use numbers to show the world how much funds you raised, how many program strategies you have, and more.
5. Rescue

Built with: Drupal
Because Rescue's main branding colors are black and yellow, they use the color scheme strategically across their website.
They use a donation form in the hero section, so potential donors don't need to scroll to take action.
And because Rescue works globally, the top bar location selector (or in the footer) is very practical.
Note: Use the header or top bar to integrate a location switcher if you run multiple location-based websites.
6. The ALS Association

Built with: Drupal
Similar to the Gates Foundation website, The ALS Association also starts with a strong sentence that lets the visitor know what they're trying to achieve.
The website uses cool scrolling animations that better the browsing experience with links and CTAs to more information and donation.
The top bar has a search bar and a simple widget to find a local chapter.
Note: Use a solid-color background and a strong message above the fold instead of an image or a video.
7. National Geographic Society

Built with: Fundor Theme
National Geographic Society's page has a stunning dark and light design with gorgeous images and videos, enough white space for readability and a donation popup.
This nonprofit website also uses a floating header with a hamburger menu with a multi-level drop-down that slides from the left.
Note: A sticky header/menu contributes to a better user experience (no more scrolling back to the top).
8. Girls Who Code

Built with: Craft CMS
Girls Who Code page has a nice and modern look with a gradient background in the hero area and header. By the way, the header is a sticky one with a drop-down menu to find other internal pages faster.
Girls Who Code also uses a link to donations and a newsletter subscription button in the header and a top bar notification.
Note: Use header and footer sections to capture more leads and grow your email list.
9. Doctors Without Borders

Built with: Drupal
Doctors Without Borders uses a full-width banner that promotes their latest update but also has a donation button.
What's unique about this nonprofit website is the search that opens as a popup with links answering the most common questions.
The design is light, with great typography and plenty of white space to make viewing content a more pleasant experience.
Note: Use a banner to promote the latest news, causes, donations, etc.
10. Malala

Built with: Contentful
Malala's video background above-the-fold triggers everyone's interest and makes visitors stay on the website longer (contributes to bounce rate).
Following is a single sentence with large text and a link to learn more about the cause. Malala uses a donation form on the home page, but they also try to grab your attention with a popup.
The header floats on top of the screen, giving you access to the mega menu, search and a donation button.
Note: Use a popup to promote donations.
11. World Help

Built with: Divi Theme
World Help uses a popup window with a question and a "give now" button that opens a form in a new tab.
But their home page uses multiple CTA buttons for donations with a large red top bar promoting their recent fundraiser. Both the top bar and the header float (but you can close the top bar by pressing "x").
Another useful addition is the live chat function in the bottom right corner.
Note: Provide quick answers to all your (potential) supports through a live chat widget.
Lastly, these websites using the Divi theme provide more proof of how powerful this WordPress theme is.
12. Neverthirst

Built with: Shopify
Neverthirst uses a minimalist and transparent header with a hamburger icon that makes the navigation appear on the right.
The hero image features text, a CTA button and a donation form with an option to choose one-time or monthly payments. Below the banner is sliding text with facts and above the banner/header top bar notification with a link
Neverthirst uses a live chat widget, a testimonials slider and a subscription form in the footer.
Note: Include sponsor, donor and volunteer testimonials.
13. BeLoved Atlanta

Built with: Squarespace
BeLoved Atlanta has a full-screen image background above-the-fold with a transparent header for a clean website look. The header has a drop-down function and a donation button. Also, it disappears on a scroll and reappears on a back scroll.
This nonprofit website's overall look is simple, broken down into multiple sections with different backgrounds.
And the Instagram feed is a great addition of extra content.
Note: Do you want to add more content to your page? Integrate an IG feed.
Don't miss our best Squarespace website examples collection.
14. GlamourGals

Built with: Squarespace
GlamourGals site uses a header and top bar that disappears and reappears depending on scrolling down or up. This gives visitors a better experience while still ensuring they have everything at their fingertips.
Furthermore, they raise their potential with donation buttons in the header and scattered around the website.
GlamourGals also runs an online store, which contributes to their fundraising.
Note: Feel free to use donation buttons more than once (or at least in the header or hero section and footer).
15. FutureMap

Built with: Squarespace
FutureMap has a professional yet modern design with a sticky header that includes a CTA button for donations.
Their hero image features a title, text and four CTA buttons, which isn't something many do.
FutureMap also has a logo slider that showcases some of the nonprofits, universities and companies they partner with.
Note: Use your partners' logos (in a slider) to show who you work with.
16. Global Health Innovations

Built with: Squarespace
What's unique about Global Health Innovations is the framed website layout, which we don't come across too often.
Another original feature is that their website appears like a vertical slider that you can scroll through or use the sidebar navigation to jump from "slide" to "slide."
Lastly, the donation is easy to access above the fold with preset donations and an option for a custom donation.
Note: Give your nonprofit website a distinct look with a framed layout.
17. Beauty Foundation For Cancer Care

Built with: Squarespace
Powerful statements and messages are welcome in the hero section, and Beauty Foundation For Cancer Care does a good job at it. They use two donation buttons, one in the header and one under the text.
Beauty Foundation For Cancer Care adds more depth to its website with a parallax image and ensures great readability with a lot of white space.
Note: If you like a minimalist website look, spice things up with a parallax effect.
18. Single Parent Project

Built with: Squarespace
Single Parent Project website has a beautiful light design with a sticky top bar and header. The header uses simple navigation, social media icons and a "take action" button for donations, volunteers, and more.
We really like the massive carousel slider (but there's also a hero slider) with tons of additional information and CTAs for donations.
Note: Use a slider to display more content without using too much real estate.
19. Dressember Foundation

Built with: Squarespace
Dressember Foundation has a tidy above-the-fold section featuring a transparent header with three CTAs and a hero image with a text overlay.
When you press the scroll-down button, you immediately notice the beautiful parallax effect that adds life to this nonprofit site.
And because many authorities mention Dressember Foundation, they added a slider with clickable logos to articles.
Note: Create a logo slider with notable media companies/websites talking about you.
20. Ping Pong For Good

Built with: Squarespace
Ping Pong For Good has a full-screen video background with text explaining what the organization is all about and no CTA button.
But they strategically use a donation button in the floating header, so it's always at their visitors' disposal.
Ping Pong For Good reveals content while you scroll, making it much more enjoyable.
Note: Simple animations can make your website feel more lively.
21. East West Food Rescue

Built with: Squarespace
East West Food Rescue also uses a video background in the hero section with text and a donation button.
They use the sticky header as the second CTA location, which is always visible so potential donors can donate whenever they want.
The three-column footer contains additional business information, social icons, a link to the newsletter subscription form, and more.
Note: Use a short (or a long) hero video to make your nonprofit website more engaging.
22. HomeAid

Built with: Squarespace
HomeAid is a terrific website example of a nonprofit that runs a modern online presence, following the latest trends.
The disappearing/reappearing header and top bar, video background, sticky elements, video lightbox and parallax effect are just some of the great features worth checking out.
The footer is clean and simple but provides a lot of useful information. And the header features a drop-down menu to find the necessary information quickly, plus a donation button.
Note: Use the footer to include additional links, business information, contact details, and more.
Let us know if you liked the post.