A Beginner's Guide to M-Commerce
Online shopping is hardly a new concept. However, mobile shopping or "m-commerce" has grown drastically during the past few years. By 2025, mobile commerce is projected to account for 44.2% of all online retail operations, reaching a projected $728 billion in sales.
Moreover, mobile shopping just keeps expanding year after year. That means if you're a business owner with an online store, improving the experience for mobile consumers is essential. When you provide a positive mobile User Experience (UX), you'll be able to tap into a massive and continuously growing market.
In this article, we're going to take a look at the different types of m-commerce and how they've grown in recent years. Then, we'll show you four ways you can use m-commerce to expand your reach. Let's get to it!
What Are the Different Types of M-Commerce?
When we talk about mobile commerce, it's important to understand that we're not just referring to e-commerce or online retail. Instead, M-commerce is a broad term that encompasses multiple types of industries and operations.
Any type of operation that involves transacting money over a mobile device (smartphones, tablets, etc.) falls under the umbrella of m-commerce. Now, let's talk about the most common types of mobile commerce.
Mobile Banking
Usually, banks enable you to operate through mobile devices using standalone apps on top of their existing websites or online banking platforms. Mobile banking is the primary way they conduct transactions for a large segment of users in the US.
95% of Gen Z and 91% of millennials use mobile banking due to how convenient it is.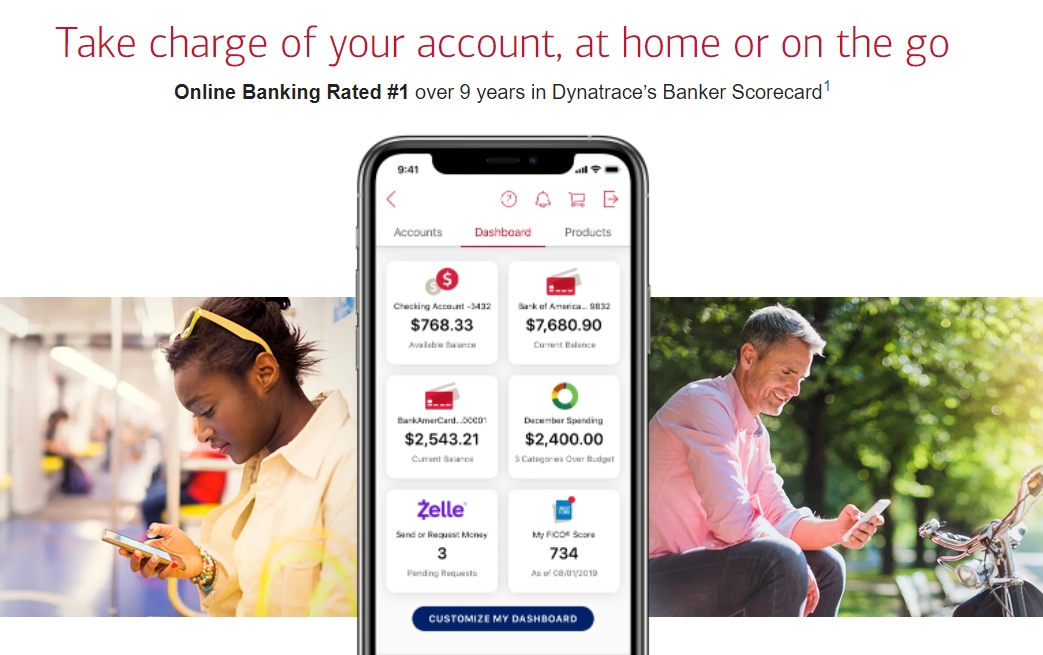 Some banks and standalone service providers also enable you to invest using mobile applications. That means users can manage both their standard accounts as well as their portfolios through mobile devices – at any time. Arguably, mobile investing applications can account for the growing share of Gen Z and Millennial customers joining the investment markets.
Mobile Payments
There is a lot of overlap between mobile payments and mobile e-commerce apps. When we talk about mobile payments, we're referring to platforms and services that enable you to send and receive money and process sales transactions.
One great example of a mobile payment service is Venmo. Since 2017, Venmo's annual revenue has grown from $160 to $850 million, and its user base has skyrocketed to over 80 million users.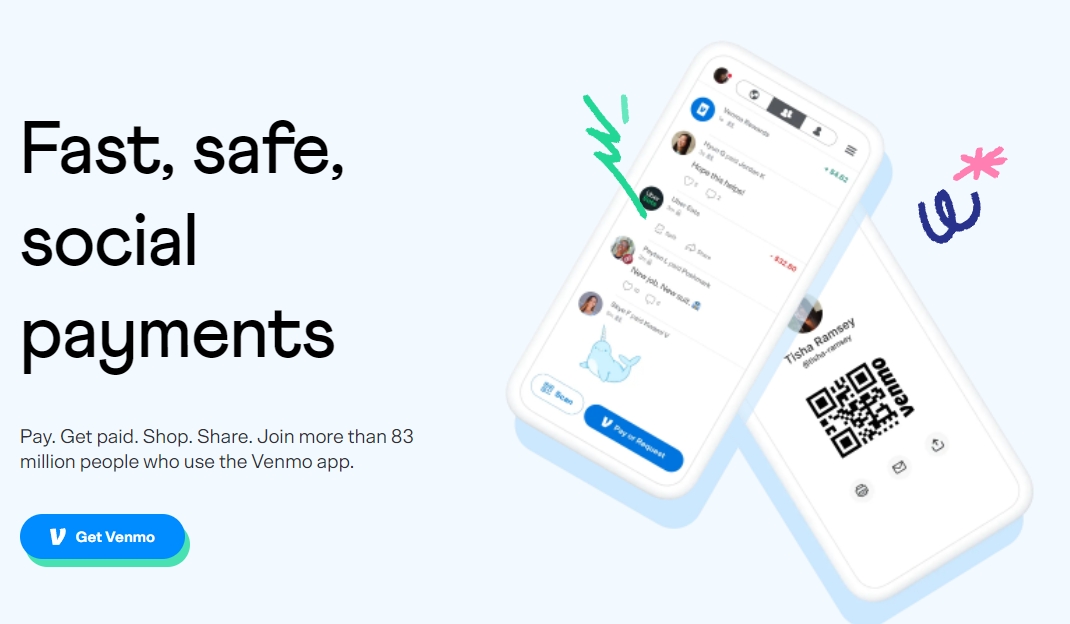 With Venmo, users can send payments to each other using a simple mobile app. Other similar mobile payment apps enable customers to store money, request loans, and keep comprehensive transaction logs.
Get Content Delivered Straight to Your Inbox
Subscribe to our blog and receive great content just like this delivered straight to your inbox.
Mobile E-Commerce
Most users interact with the web mainly through mobile devices. We know this because 54.4% of all web traffic in quarter four of 2021 came from mobile devices. With that number in mind, it's only logical that many consumers also make online purchases through mobile phones.
From 2016 to 2021, the share of mobile e-commerce operations grew from 52.4% to 72.9%. In case you were wondering, these mobile operations include:
Online purchases through online stores and social media ('social commerce')
Subscriptions through services such as Google and Apple Pay
Microtransactions
The rise of mobile shopping is a boon for online stores that offer a great mobile experience. But, on the other hand, if your online store is a pain to use on smartphones and other mobile devices, you're likely to lose tons of potential sales.
How to Boost Your Online Business with M-Commerce (4 Ways)
Adapting to new markets is always a challenge. That's why many online stores are stuck in the past, not interested in offering a better experience for their mobile users. However, adapting your online store to m-commerce trends can greatly expand your audience.
Here are four ways to leverage mobile commerce to boost your online business.
1. Prioritize the Mobile Shopping Experience
An online store should offer an amazing user experience on mobile and desktop devices. One mistake that many stores make is that they design pages with large screens in mind. In today's world, you need to adopt a mobile-first design approach to maximize your potential audience.
Statistically speaking, most of your users will come from mobile devices. If you use WordPress, one great way to adapt to that reality is to utilize the Block Editor's Preview functionality to see how your pages will look on smaller screens:
Alt text: Previewing a page in WordPress using the Mobile setting.
Ideally, you'll test how every page looks on mobile before publishing it. That means testing your shop, product, and checkout pages on your own devices. During those tests, you want to keep an eye out for:
How the design looks on mobile
Whether pages are easy to navigate and interact with
If you can see images and read the text without zooming in
How the checkout process works on mobile
Ideally, you'll let other people test your shop as well to avoid any bias. Third-party users are much more likely to spot problems with your store's UX as they're not familiar with how it works. To make your life easier, you might want to work with a mobile-responsive WordPress theme.
2. Integrate Your Online Store With Mobile Payment Options
One of the best parts of shopping online using a mobile device is that making payments tends to be a lot easier. Take Google Pay or Apple Pay, for example. If you shop at a store that supports either payment gateway, you can simply select what card to charge, confirm the transaction, and that's it.

When you're shopping online with your smartphone, you can usually get away without entering payment details. That's because most gateways integrate with multiple payment methods and apps.
Plus, if you have the corresponding mobile payment app on your phone, the store will simply redirect you to it. This ease of use may make customers spend more freely, as they have fewer opportunities to change their minds about a purchase.
Therefore, if you're an e-commerce website owner, we recommend including payment methods that offer a streamlined mobile experience. Google Pay and Apple Pay are the two most popular options.
However, other major payment gateways include:
PayPal
Stripe
Braintree
WePay
PaySafe
Furthermore, if you use WooCommerce, the plugin offers built-in integrations with PayPal and Stripe. You can also find extensions for most payment gateways, including all of the options listed above. With every payment gateway you offer your customers, you widen your audience, so we'd recommend including as many as possible.
However, when running an online store, there are few things more important than your customers' safety and security. With that in mind, it's a smart idea to only work with trusted payment gateways and make sure you are taking the proper cybersecurity measures to protect your customers' data.
3. Launch a Mobile E-Commerce App
A significant percentage of online retail sales happen through mobile apps. Instead of visiting your website through a browser, the entire customer journey occurs within an application.
Creating a mobile application for your store offers a broad range of benefits. For starters, once customers install your store's app, you get to send them e-commerce marketing notifications, which have an astounding open rate.
Moreover, having an app on customers' phones means they're more likely to return to you for further purchases. The app serves as a constant reminder of your store's existence, which is invaluable in terms of marketing and branding.
To be fair, developing an e-commerce app is no small feat. On average, if done from scratch, it can cost anywhere between $30,000 and $170,000. That is, at least if you hire an experienced team of developers.
Developing a mobile app from zero may require a considerable investment that a modest online store can't afford. However, there are plenty of services that enable you to create e-commerce apps using pre-built systems, such as AppyPie: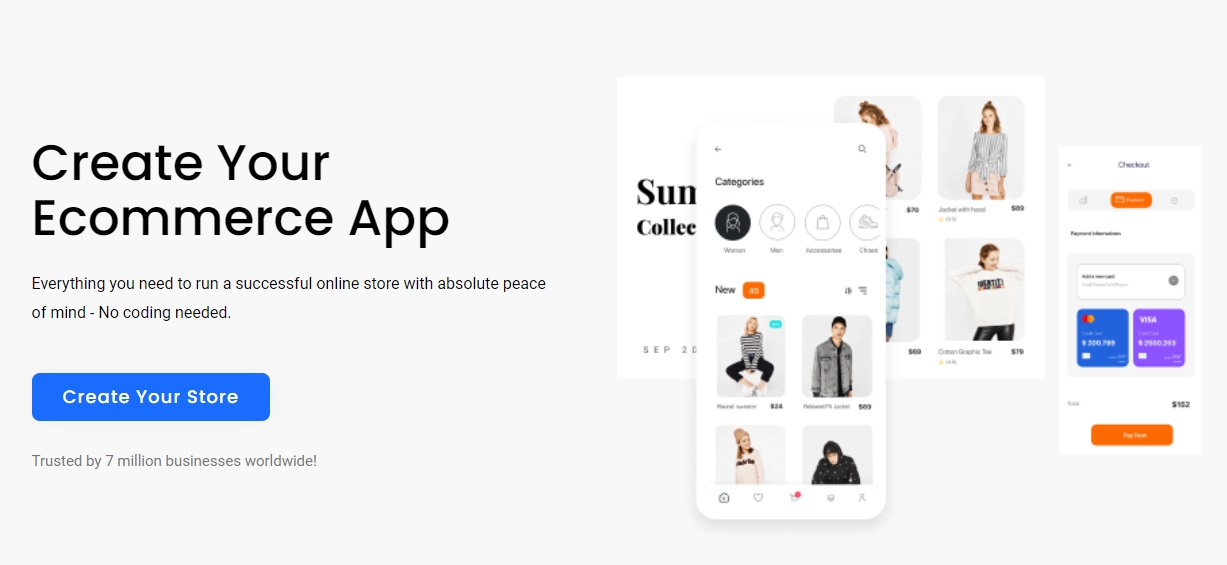 A custom e-commerce app will almost always be a superior option. However, launching an app on a budget can benefit almost any online store. Even if it's not completely custom, it will still likely help you win new customers.
4. Break Into Social Commerce
Social commerce is perhaps the most significant m-commerce trend of the moment. For the first time, consumers can purchase a large portion of what they see in their social feeds.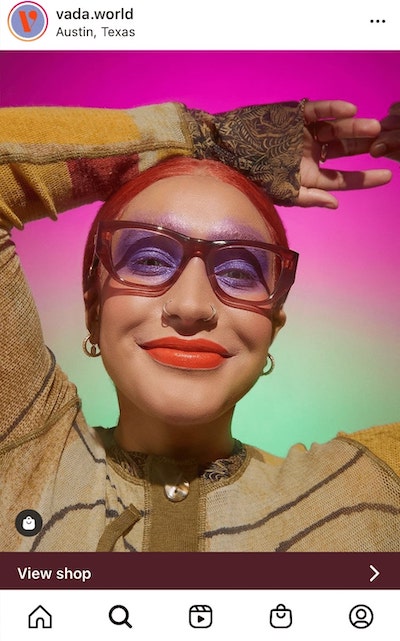 For instance, on Instagram, mobile users can go to a post and simply click on View Shop to  browse a store: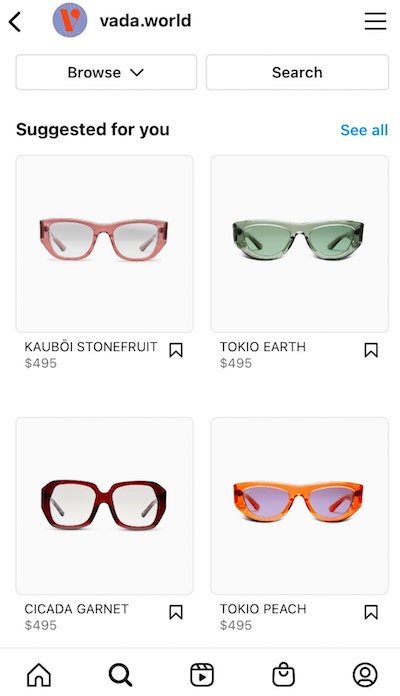 Whether you're offering luxury sunglasses or piano lessons, it's relatively simple to get started with social commerce.
For Instagram, you just need a creator or business account. Then you can set up your shop. Depending on your target audience, you may also want to have complementary social shops on TikTok and Facebook Marketplace.
However, we'd recommend choosing just one or two social channels to focus on. It's best not to spread yourself too thin, especially since your target demographic probably doesn't use every social platform.
Once you've established any social stores, you can further boost your sales by collaborating with influencers or hosting live shopping events. On the whole, breaking into the social commerce market may be a good idea if you want to reach more mobile customers but don't have the means to create your own app.
Use M-Commerce to Grow Your Online Shop
If you have an online shop, but you're not working on optimizing the customer journey for mobile users, you're likely missing out on massive growth opportunities. The vast majority of e-commerce retail sales take place on mobile devices. So, if customers don't enjoy the mobile experience your shop offers, they might look for alternatives.
Every field of m-commerce has expanded dramatically over the past few years. However, none of them come close to matching the growth of mobile shopping. If you're not sure how to optimize your store's mobile shopping experience, here are four ways to do it:
Prioritize the mobile shopping experience.
Integrate your store with mobile payment options.
Launch a mobile e-commerce app.
Break into social commerce.
If you're looking for the perfect hosting platform to launch an online store, DreamHost offers a broad range of plans to suit any type of e-commerce project. Our Virtual Private Servers for WordPress offer a highly scalable option for growing WooCommerce stores!
Start Growing with VPS Hosting
Here's how DreamHost's VPS offering stands apart: 24/7 customer support, an intuitive panel, scalable RAM, unlimited bandwidth, unlimited hosting domains, and SSD storage.