Benefits and Top Software for Field Service Automation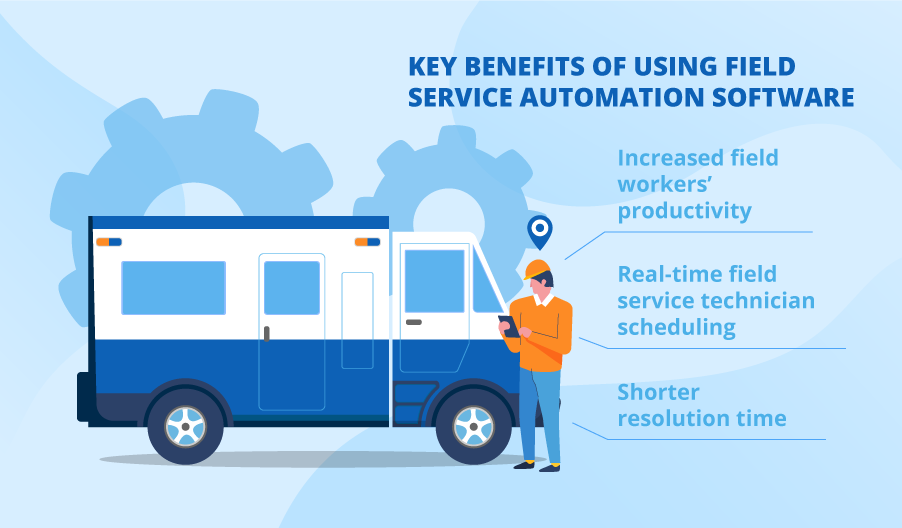 Editor's note: Learn how field service automation helps minimize manual efforts in managing field service processes and consider ScienceSoft's customer service consulting offering to build a successful field service strategy and support it with fitting field service automation software.
Nowadays, field service management solutions enjoy growing popularity. They allow service providers to streamline every step of field service operations, including work order assigning and scheduling, and provide field service technicians with all the necessary details on the assigned tasks. According to the recent stats, the field service management market is estimated to be worth $5.1 billion by 2025.
Why implementing field service automation software is worth considering
Field service software enables the automation of such processes as creating a task to perform maintenance services, scheduling and assigning field service technicians, monitoring technicians' location, etc. The key benefits of using field service automation software include:
Increased field workers' productivity. All the customer-related and service-related information is stored in one place for technicians to conveniently access it, for example, to review work orders and service-level agreements.
Real-time field service technician scheduling. Automated intelligent scheduling allows dispatchers to assign the most suitable workers to the job based on their skills, work schedules, and GPS location. Technicians, in their turn, will receive real-time notifications as soon as the new work order is assigned to them.
Shorter resolution time. Workers can remotely monitor an asset, access information on similar work orders, knowledge articles, and video tutorials to resolve the issue faster.
Top 3 platforms for field service automation
Dynamics 365 Field Service
Dynamics 365 Field Service automatically identifies the nearest available technician with the right skills to carry out the work order. Then it sends the chosen specialist a notification and all the necessary data to successfully fulfill the task, including similar cases and 3D models of assets to deal with.
To facilitate asset management, Dynamics 365 Field Service enables the connectivity with asset sensors. It allows a field service team to track signals from assets and monitor assets' health remotely to resolve issues proactively.
Limitations:
The limited number of integrations with third-party services.
Pricing:
As the first Dynamics 365 app – $95/user/month.
As a subsequent qualifying Dynamics 365 app – $20/user/month.
More about Dynamics 365 Field Service
Oracle Field Service Cloud
Due to machine learning capabilities, Oracle Field Service Cloud enable the matching of employees with specific tasks, taking into account how much time will be needed to drive to the asset's location, complete the task, etc. In case of emergency, the system automatically locates the nearest technician and routes them to the location.
The platform helps field workers conveniently review customer, product, agreement information. Additionally, when a specialist completes their task and fills in the information on the performed work (parts used, labor, etc.), the system automatically calculates the charges for a completed work order.
Limitations:
Lack of agreement management capabilities.
Limited customization capabilities.
Pricing: contact the vendor to find out the pricing plans.
More about Oracle Field Service
Freshdesk
Freshdesk has a Field Service Management add-on that supports all the necessary field service management features. It automatically creates new work orders and captures all the task-related information, including that captured from a customer portal. You can also use automated workflows to assign the work orders to specific technicians.
With Freshdesk's mobile app, your technicians can receive notifications containing their task details, map their route, give the task progress updates, take photos when the task is complete, and get a customer's signature.
Limitations:
Lack of agreement management capabilities.
Lack of invoicing management capabilities.
Pricing:
Blossom Edition – $15/user/month (billed annually).
Garden Edition – $35/user/month (billed annually).
Estate Edition – $49/user/month (billed annually).
Forest Edition – $99/user/month (billed annually).
Field Service Management add-on – $29/user/month.
More about Freshdesk
Make your field services provision more productive
The capabilities of major field service automation platforms will save time spent on filling out paper work orders and enable your technicians to accomplish their service tasks quickly and efficiently. If you are interested in improving your field service, feel free to reach out to ScienceSoft's team.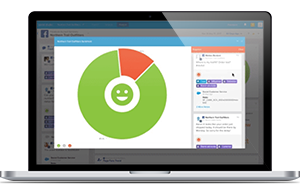 Customer Service Consulting
Looking for a way to improve your customer service? Our specialists in customer service management provide a full cycle of consulting and optimization.