Best Practices and Top Software to Optimize a Call Center
Editor's note: In this article, Andrew shares his experience in improving call or contact center KPIs and overviews best software for call center optimization. If you are interested in improving your call center performance, you are welcome to consider ScienceSoft's call center consulting services.
Call centers and contact centers are aimed at resolving customers' issues and delivering a high-quality customer experience by phone (in case of a traditional call center), or by multiple channels, such as emails, social media, live web-based chats, etc. (in case of a contact center). According to stats, 88% of companies think that customer experience is a top priority for their contact centers.
Best practices for an effective call center
Track and measure important call center metrics and KPIs. Establish a KPI system for measuring the effectiveness of call center workflows and agents (First Call Resolution. Customer Satisfaction Score, Call Handling Time, etc.).
Perform A/B tests. A/B testing is important, for example, in identifying the most efficient call center scripts to improve customer experience.
Provide training to the call center agents. As customer behavior is changing and your company's products and services are developing, you should deliver call center training that will comprise soft skills training, product knowledge, and proper documentation.
Use modern call center software. Implementing the right technologies proved to be a necessary solution to provide a better customer experience. The company will benefit from using such technologies as interactive voice response, computer-telephony integration (CTI), chatbots, AI, etc., to allow your agents to focus on more important tasks and deliver better customer service.
Top 3 call center optimization software
Microsoft Dynamics 365 Customer Service
Overview
Dynamics 365 Customer Service empowers your agents with features, including automatically suggesting a similar case or a knowledge article, creating self-service portals, etc. that will not only help your agents resolve a customer's issue faster, but also give your clients a possibility to solve their problems on their own.
Hallmark features:
Omni-channel – empowering agents to connect and engage with customers via multiple channels like email, SMS, social networks, etc. with a tool to redirect them to a relevant manager.
Self-service portals – creating a self-service portal for customers to search for the solution to their problems or request assistance.
Dashboards and reports (Average Resolve Time, Customer Satisfaction Score, etc.) to monitor your agents' performance.
Power Virtual Agent – creating, testing, and launching chatbots based on natural language processing and voice recognition capabilities that can resolve customer issues.
Limitations: Limited number of integrations with third-party services.
Pricing:
Professional Edition – $50 user/month
Enterprise Edition – $95 user/month
Virtual Agent – $1,100 tenant/month
More about Dynamics 365 Customer Service
Salesforce Service Cloud
Overview
Salesforce Service Cloud offers advanced tools for call/contact center optimization like CTI, call recording and transcribing, AI-powered service analytics, etc. to boost your agents' productivity.
Hallmark features:
Interactive voice response system for gathering information on customers' issues and routing it to a suitable agent.
Recording and transcribing a call automatically.
AI-powered system for listening to a customer-agent dialog and suggesting the best solution for the agent to provide.
Dashboards for analyzing call/contact center KPIs and agent's performance.
Omni-channel – routing a customer's issue from various channels such as web, email, phone, chat, social media, etc. to the right agent based on skills and availability.
Self-service portals and communities – creating self-service portals and communities with a drag-and-drop editor, integrating a knowledge base into them and adding a chat, so that your customers can find solutions by themselves or ask for help.
Einstein Bot – creating, testing, and launching a chatbot with built-in natural language processing and voice recognition capabilities to resolve the most common questions without human-agent interaction.
Limitations: No possibility of on-premises implementation.
Pricing:
Essentials Edition – $25 user/month (billed annually)
Professional Edition – $75 user/month (billed annually)
Enterprise Edition – $150 user/month (billed annually)
Unlimited Edition – $300 user/month (billed annually)
More about Salesforce Service Cloud
Five9
Overview
The Five 9 cloud contact center platform provides your agents with AI-powered tools like Virtual Assistant, Power Dialer, Predictive Dialer, etc., as well as features to create personalized omnichannel customer experiences over the phone, email, chat, and social networks.
Hallmark features:
Workforce management – using six forecasting models to understand how many agents are needed to handle the center's call volume, producing accurate agents' schedules taking into account lunch breaks, training, etc.
Quality monitoring – providing advanced analytics, monitoring, interaction recording, and agent quality performance management.
Virtual Assistant – creating a virtual assistant with embedded natural language processing, speech recognition, customer tone analysis, natural language generating to provide quick answers to the most common questions of the clients.
Limitations:
No possibility of on-premises implementation.
No free trial period.
No mobile app.
Pricing: Not provided by the vendor.
More about Five9
What is the key factor of transforming a call center into a competitive advantage?
To improve your call/contact center KPIs, you need to adopt the practices like monitoring and evaluating agent performance and analyzing customer feedback to improve both employee engagement and customer satisfaction. The key to successful call center or contact center performance optimization is choosing the right software. If you are looking for a way to enhance your call center or contact center's performance, feel free to contact ScienceSoft's team.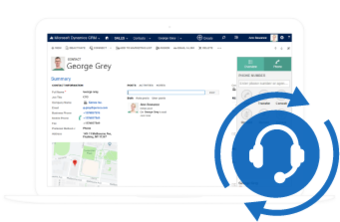 Get your call center processes automated to increase agents' efficiency.