Enrich Intercom Customer Profiles With Data From ChartMogul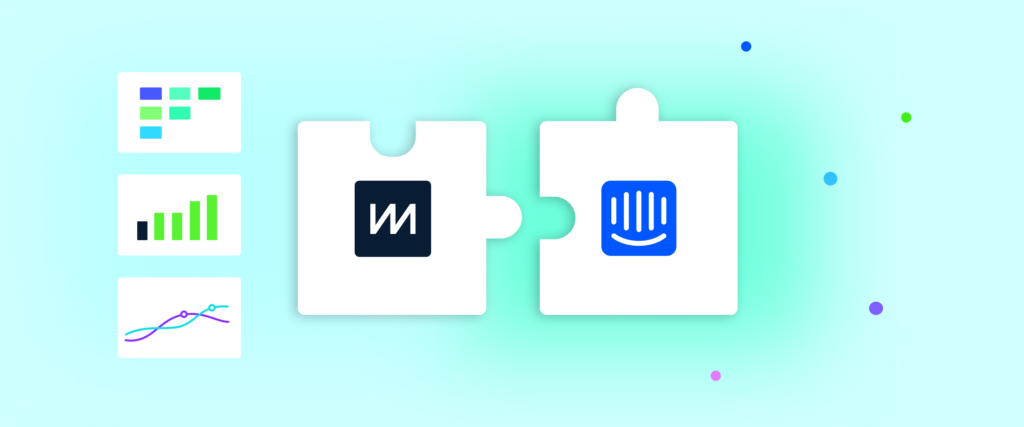 Customer data is spread across multiple platforms: CRM, communication, billing, and subscription analytics. Now you can send revenue and subscription data associated with your customer in ChartMogul directly to Intercom. Avoid data silos by consolidating your data into one place and elevate your campaigns in Intercom.
To connect ChartMogul to Intercom go to Data Platform > Destinations. 
No development required. 
As you grow your business, your customer count increases significantly and it becomes impossible to know all your customers. That's why, when reaching out to your customer base, you need to tailor your messaging to each customer segment. If you're using a tool like Intercom as your communication platform, your marketing team filters and segments users to build campaigns on a regular basis.
Once you connect ChartMogul and Intercom, you will be able to build segments in Intercom based on customer data exported from ChartMogul. Customer profiles in Intercom will be populated with data like MRR, ARR, Net payments, subscriber since, subscription status, plan, email, currency, and company.
Using those data points as filters in Intercom will enable your marketing team to provide personalized messaging via Intercom. 
Looking for inspiration? Below are examples of how you can use ChartMogul data to build segments in Intercom.
Send MRR-based marketing campaigns and more
Run personalized lead nurture campaigns to improve conversions
All your lead generation efforts are fruitless if leads don't convert. That's why marketers build lead nurture campaigns to help leads along their journey from lead to advocate. But, the most successful nurture campaigns are highly personalized. Enriching your Intercom customer profiles with ChartMogul data allows your team to send targeted messages to your leads easily. 
Improve retention with MRR-based onboarding 
If you segment your customers by MRR or ARR, you can build a specific group that you can target during onboarding. This way, new low-tier customers can get a "self-serve" onboarding flow, while new high-tier customers are offered different messaging and an introduction to your sales team. Educating new customers on your product is important either way, but how you guide them needs to be personalized.  
Build a segment of long-standing customers with `subscriber since` filter
To identify the most loyal, long-standing customers in Intercom, ​​create a segment based on how long a customer has been a subscriber. Build a segment with the `subscribers since` filter and send them a message to get their feedback on how to serve them better, invite them to an advocacy program, or share a link to a gift box.
Reactivation campaigns to bring back past customers
Create a segment of customers that canceled or became inactive in the past in Intercom and build a reactivation campaign. You can use the `subscription status` from ChartMogul to build a segment in Intercom. Later, email them to share all the updates to your product since they canceled their subscription. They might not know what they are missing out on.
Build a segment with currency to target a region
Do you have customers in different countries making payments in different currencies? Customize your messaging based on the currency your customers use with the `currency` filter from ChartMogul. Customers paying in US dollars might have different concerns and needs that the ones paying in euros. 
To send customer data and events into Intercom directly, you'll need admin access and follow a few easy steps. Go to Data Platform > Destinations and choose Intercom.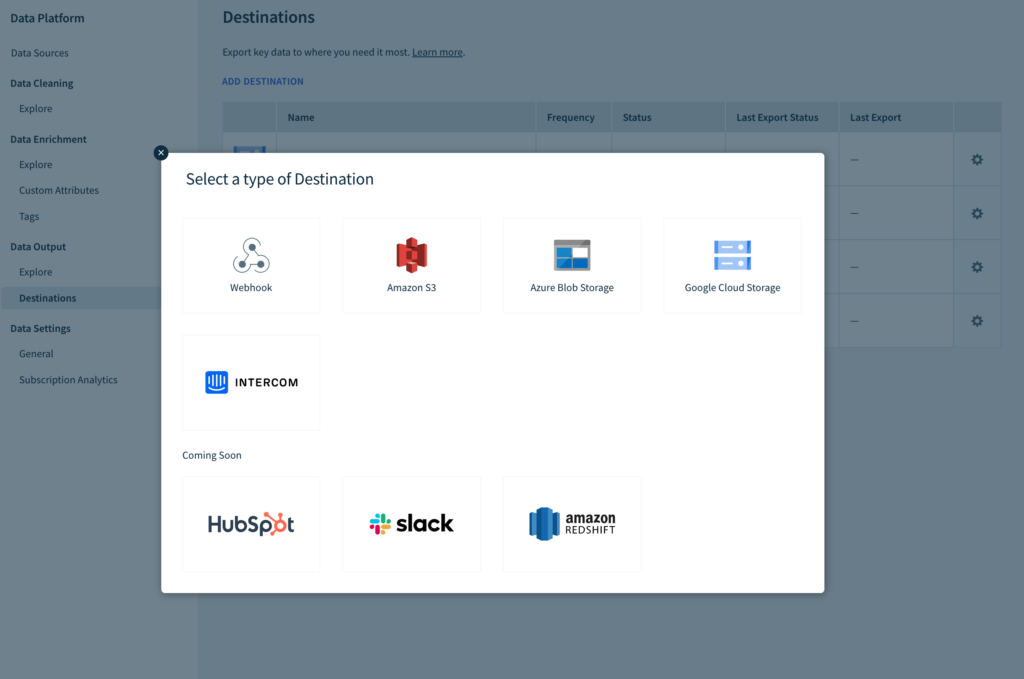 Next, authenticate the destination and select fields you'd like to map between ChartMogul and Intercom. Pick all fields that you'd like to export to Intercom:
MRR
ARR
Net payments
Subscriber since
Subscription status
Plan name
Plan external id
External id 
Email
Currency
Currency symbol
Company
Timestamp
Customer URL
When mapping your data, things can get tricky e.g. email is often not enough to map your customers between two platforms. That's why we use a fallback logic that will allow you two different mapping options. You can have confidence that your customer data got mapped correctly.
Learn more about setting up Intercom as a data destination in our Help Center.
Destinations allow you to quickly export data out of ChartMogul 
In ChartMogul, customer profiles feature core billing and contact details, MRR, ARR, subscriptions, transactions, MRR movements, and other data points. This information about your customers can be used beyond making analyses in the ChartMogul UI. 
Now, you can use that information to build marketing campaigns and send targeted messages to your user base within Intercom. Supercharge your marketing messaging with your subscription data.
Destinations help you to export your subscription and revenue data out of ChartMogul with only a few clicks. For more on Destinations, check out our latest release, Amazon S3, Google Cloud Storage, or Azure Blob Storage as a destination. You can configure your Amazon S3, Google Cloud Storage, or Azure Blob Storage as a destination in ChartMogul and export your MRR movements, customers, custom attributes, and tags for further analysis.