Features, Pricing, Security & More – All That SaaS



Today, we are going to review Fyle, an online expense management software for modern businesses.
There is a problem if you and your business are still relying on paper trails and old-school bookkeeping to manage your expenses. Don't trust technology with your finance expenses? Think that only certain employees can be trained to submit their expense reports?
Well, in 2022, Fyle has you covered! Let's face it, even the top-notch expense management software can fail your employees if they don't use it, but it also has to be easy and simple to use.
The beauty of using Fyle is that you don't have to be a professional to use it. There is no need to separately learn how to use a particular software, it's that easy! The purpose of Fyle is to enable the user to work with simple and everyday apps for all employees.
We decided to check out this expense management software and give its readers a detailed Fyle review.
Fyle Review (2022) – Expense Management Software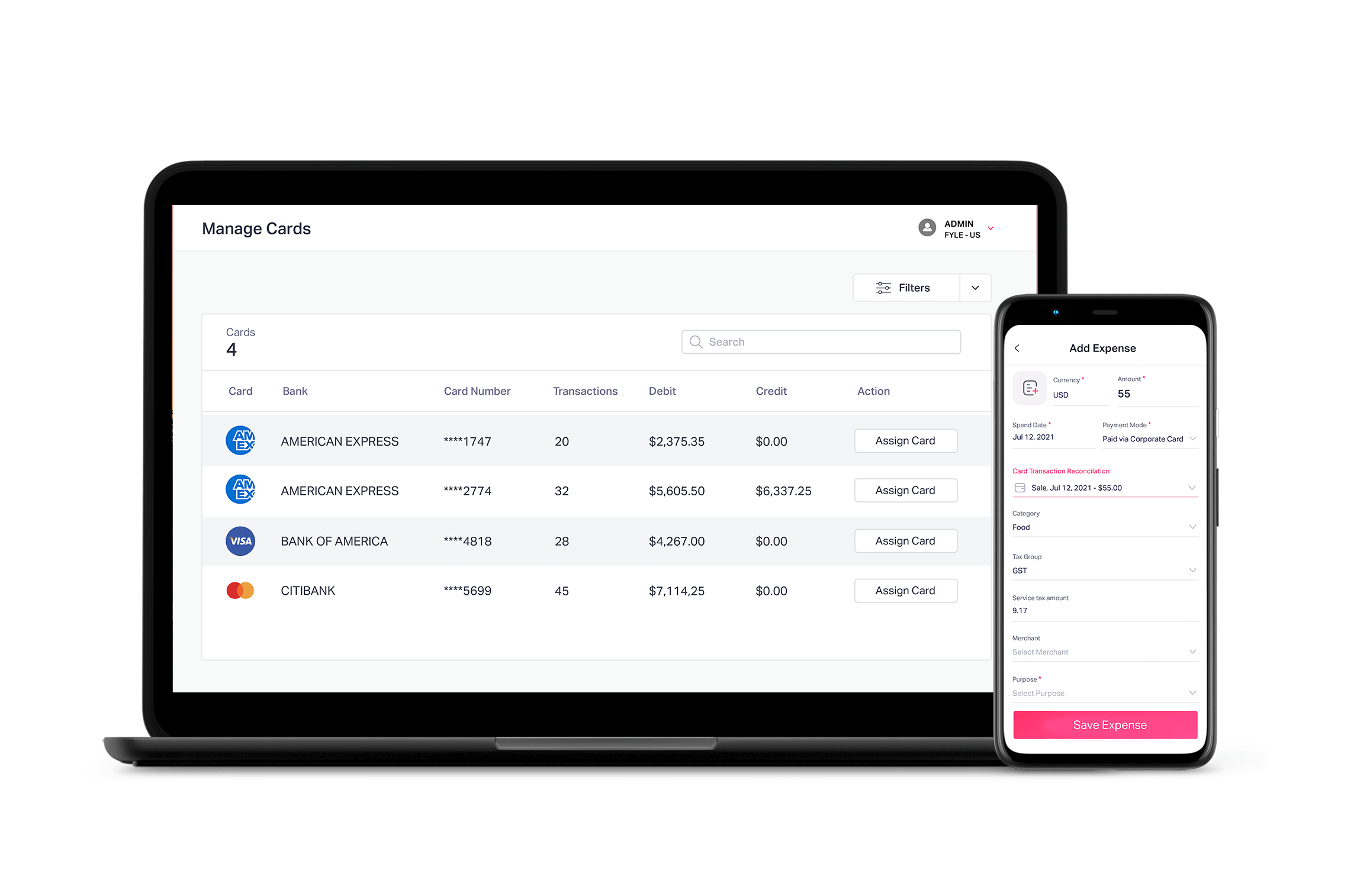 Pricing
StandardBusinessEnterprisePriceBilled monthly: $6.99/active user*
Annual: $4.99/active user*
Billed monthly: $11.99/active user*
Annual: $8.99/active user*
Customized pricing based on volume and usage.Recommended forStartups with 1-25 employees or less than 30 expense reports per month.
Minimum 5 active users.
For fast-growing businesses with 25-200 employees or more than 50 expense reports per month.
Minimum 10 active users.
For multi-country enterprises with 200+ employees or more than 250 expense reports per month.Features
Unlimited receipt scanning with automated data extraction
Unlimited expense tracking and reporting from Gmail, Outlook, mobile app, Slack, phone gallery, mileage, and Per Diem
Personal card management
Universal statement parser to import statements for reconciliations
Single-stage approvals
Custom employee categories and expense fields
Employee access delegation
Fyle branded expense reports, emails, and interfaces
QBO self-serve integration
Email and knowledge base support
Unlimited receipt scanning with automated data extraction
Unlimited expense tracking and reporting from Gmail, Outlook, mobile app, Slack, phone gallery, mileage, and Per Diem
Personal card management
Universal statement parser to import statements for reconciliations
Single-stage approvals
Custom employee categories and expense fields
Employee access delegation
Fyle branded expense reports, emails, and interfaces
QBO self-serve integration
Email and knowledge base support
All the benefits of Business, plus
IP whitelisting of admin accounts
Single sign-on (SSO) with AD and Okta
Branded account and emails
Dedicated Enterprise Account Manager
Half-yearly business reviews to optimize cost and compliance
Customer Advisory Group for feature suggestions and direct facetime with the Product and Engineering teams with priority access to features and planned deployments.
In-app live chat support
 Note: Active user creates minimum 1 expense report a month.
Fyle only charges for users who generate a minimum of one expense report per month, which are called active users. All employees can be taken on board but the owner only gets charged only for active users.
2. Features and Functionality
We decided to give its readers a detailed Fyle review of all of its features and functionality. Not only were we happy that we did, but we hope the details of each feature help you in understanding the product.
2.1. Expenses
The Fyle expense management software or the Fyle expense tracking software is known for its optimized expense reconciliation.  Below are some of the sub-features of the Expenses feature.
2.1.1. Receipt Scanning
The user no longer has to worry about maintaining a paper trail to track their receipts. Now, with a single click, they can extract valuable information from any paper receipts to expense forms.
The receipt scanning feature takes a load off when it comes to expense maintenance and receipt tracking.
2.1.2. Mileage Tracking
There is a mileage tracking feature, which is powered by Google Maps and it tracks recurring mileage rates for different vehicles. This way your road travel expense is not only tracked also maintained and can be budgeted for future expenses.
2.1..3. Per Diem
The Fyle expense tracking software has an advanced Per Diem for several rates, currencies, and employee groups, and this feature is great for companies of all sizes.
2.1.4. Split Expenses
The Fyle expense management software can also split an expense based on Project, Cost Center, or category.
This allows the user to see how much they need to set aside for a particular setup, and no one does any over or under- budgeting.
2.1.5. Bulkfyle
We love the fact that Fyle is becoming a pro on not leaving a paper trail behind but pushing an e-trail instead. The bulkfyle sub-feature generates expenses by uploading unlimited receipts from the user's mobile/computer.
2.1.6. Phone Gallery
The user can now upload images stored in their phone gallery to create expenses, and this gives immediate action for expense management.
2.1.7. Offline Mode
The Fyle expense management software has an offline mode, which creates and stores expenses even when the user does not have an internet connection.
2.1.8. Fylemail
The Fylemail sub-feature makes it easy for the user to automatically submit recurring expenses from daily ride apps like Uber, Lyft, etc.
2.1.9. Additional Email
We liked the fact that we could add our email to the Fyle expense tracking software to keep the business expenses updated.
2.1.10. Slack
This software also integrates well with Slack and submits the user's expenses directly to the business communication platform.
2.1.11. Microsoft Outlook 365
If the user wants they can immediately integrate Track expenses automatically from their Microsoft Outlook inbox.
2.1.12. G Suite
You can now use the Gmail mobile app or browser and turn in the expenses with just a click. We found this to be super convenient because particularly everyone uses Gmail.
2.1.13. Mobile Reporting
The mobile reporting feature is great for those who are constantly on the go and need to create and turn in expenses and expense reports but don't have the time.
2.1.14. Expense Reminders
The expense reminder sub-feature is great for those who sometimes forget to submit their expenses. It allows the calendar and email reminders to create, submit and get the expenses approved.
2.1.15. Draft Reports
Users can even create reports in a draft state and then keep adding expenses if they are on the go before they submit them.
2.1.16. Trip Reports
There is even a 360-degree view feature of the amount spent on a trip in a single report.
2.1.17. Automatic Reporting
To save time, there is an automatic reporting feature, which means it can schedule the automatic creation of expense reports and submit them.
2.1.18. Expense Delegation
If the user has to create or assign an expense report for someone else, they can do so with ease.
2.1.19. Currency Conversions
If the user needs to change the default or home currency to match the current currency they are spending, they can do so with ease.
2.1.20. Expense Policy
The expense policy has been pushed by a comprehensive engine to enforce them on any expense or employee factors.
2.1.21. Real-time Violations
If for any reason the user wants to give warnings, flag with comments, flag as critical or add additional approvals, they can configure the settings accordingly.
2.1.22. Manual Upload
There is a feature that allows the user to manually upload receipts directly from the Computer, Dropbox, or Google Drive.
2.2. Cards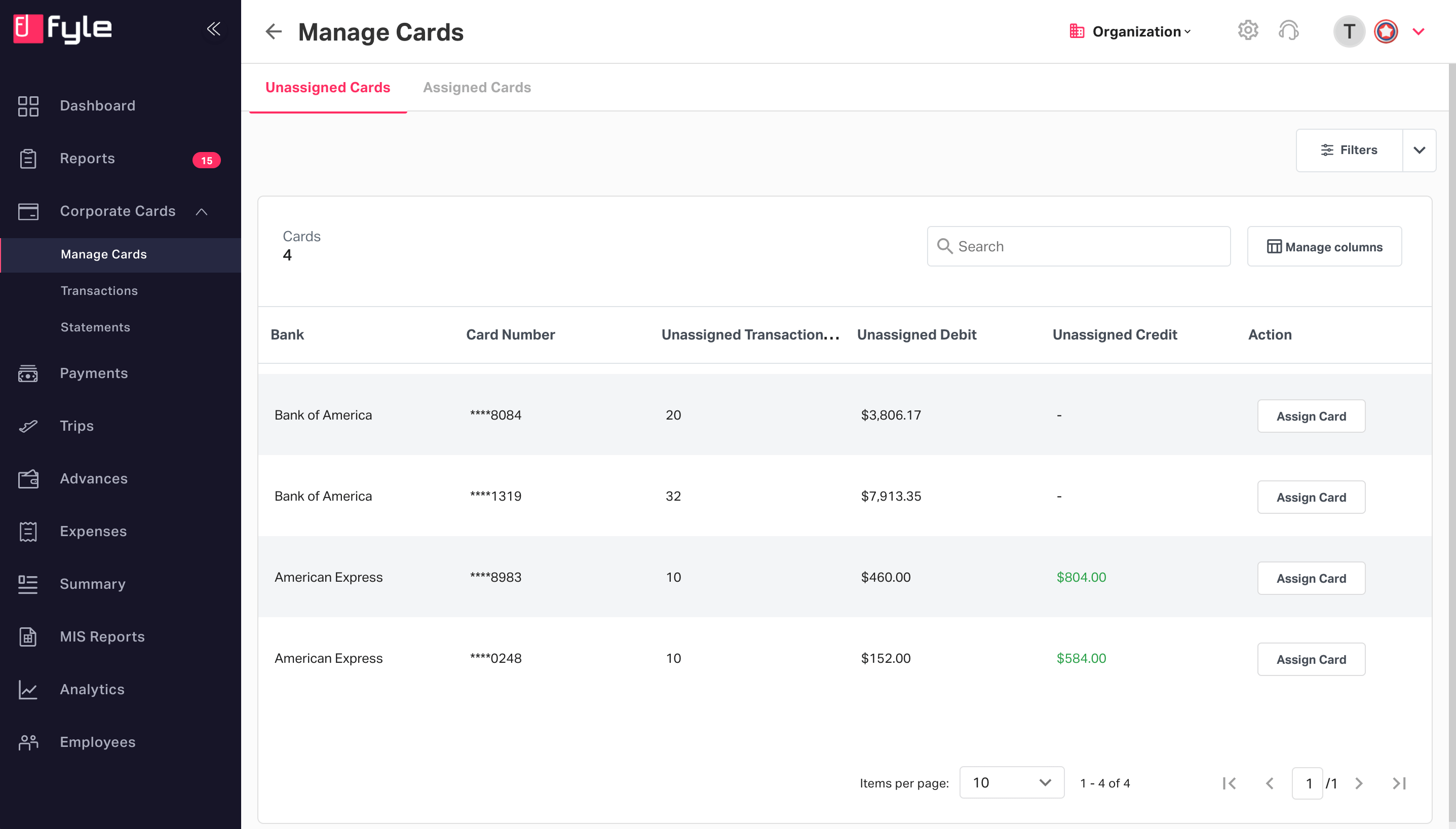 This is a special feature for debit and credit cards.
2.2.1. Automatic Card Expense Reconciliations
For those who are bad at reconciling their expenses, there is a feature for automatic reconciliation of corporate card transactions, expenses, and receipts.
2.2.2. Automatic Card Expense Creation
The user can also create an automatic expense-based creation on the card transaction that is assigned to the software.
2.2.3. Direct Bank Feeds
The user can configure and integrate the software with the bank directly, this will ensure real-time and clean transaction feeds from the card provider.
2.2.4. Universal Statement Parser
The user can reconcile all the expenses with their bank statement in CSV, XLS, or XLSX format for immediate expense verifying.
2.2.5. Card Spend Visibility
We loved the fact that we could track all of our business and personal card spending, transactions, and reconciliations. It allowed us to have immediate card expense visibility.
2.2.6. Multi-card Programs
Users can now manage numerous card programs from VISA, MasterCard, Amex, or Diner's Club. They don't have to worry about any card expenses being missed.
2.2.7. Reconciliation Reminders
There are times when users forget to reconcile their expenses for various reasons. Reminders to turn in receipts for card spend within a specific timeline.
2.2.8. Card Assignment
Cards can be assigned for individual transactions or expenses to certain employees. This helps keep track of the expenses that are assigned to employees for certain projects as well.
2.2.9. Bulk Actions on Cards
Fyle allows the user to use the single click to delete transaction entries from numerous cards.
2.2.10. Personal Card Management
The user can configure the settings to be able to manage the business expense reconciliations with the personal cards.
2.3. Approvals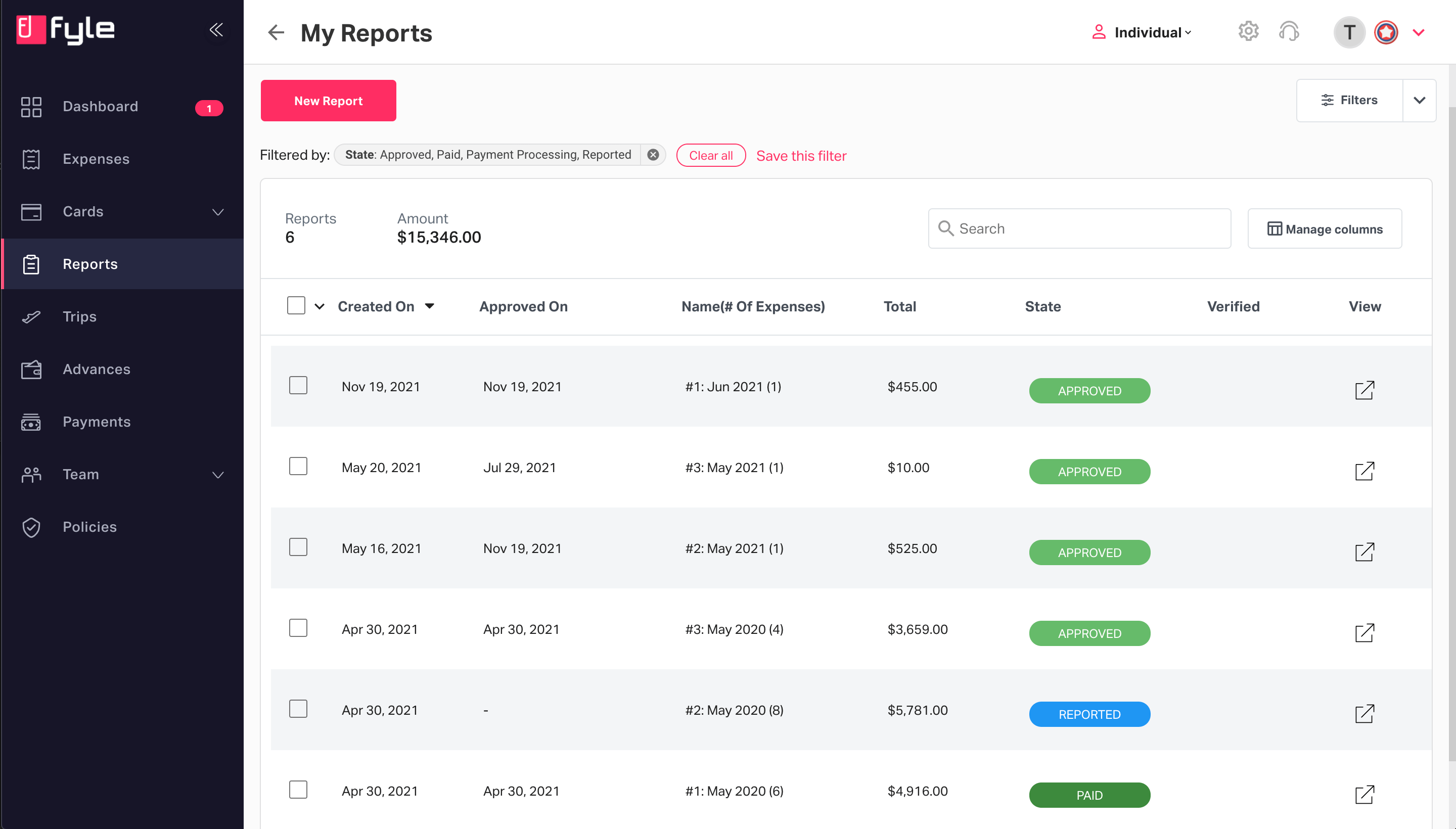 Users can use the approvals sub-feature to pre-approve any expenses before the project is implemented.
2.3.1. Pre-spend Approvals for Trips
The approval settings can be activated to allow trip requests with all travel plans and employment information before the trips take place.
2.3.2. Parallel Workflow
The parallel workflow feature allows multiple approvers to approve the expense report at the same time, which is a great time-saver.
2.3.3. Sequential Workflow
There is also a sequential workflow setting, which allows the expense report to be approved by various people one after another.
2.3.4. Policy-driven Approvals
Approvals can now be created for workflows based on the level of violations to enable the policy.
2.3.5. Mobile Approvals
There is even an approval feature for mobile. This can come in handy for those who are traveling and need expense approval on the go.
2.3.6. Multi-org Approvals
The expense report can be approved by someone that is in a different location.
2.3.7. Multi-stage Approvals
The expense report can now be approved simultaneously by employees who are in other departments.
2.3.8. Project-led Approvals
The person who is a part of the same project has to approve the expense report.
2.3.9. Custom Workflow
We loved the fact that we could create and automate an expense approval workflow that could be complex.
2.3.10. HRMS Integrations
Fyle allows the user to directly sync their internal HRMS for updated employee records to flow directly into the process.
2.3.11. Approval Delegation
This sub-feature allows any account to be given permission or delegate the authority to give approvals during vacations, emergencies, and much more.
2.3.12. Approval Reminders
The user can schedule automated reminders, which can be sent to approve pending expense reports.
2.3.13. Email Approvals
The user's Gmail inbox can be configured as such to directly approve, reject or send back expense reports from their inbox.
2.3.14. Automatic Approvals
The sub-feature allows the user to configure the settings to their preferences to approve expense reports automatically.
2.3.15. Receiptless Approvals
This feature allows the user to set an amount that limits different types of expenses to be submitted without receipts.
2.3.16. Approval Cycle Visibility
This sub-feature gives the users a real-time view of when expenses can be blocked during the whole approval process
2.3.17. Pre-approval Policies
The pre-approval policies only approve a particular set of employees that can give a trip request and ask for certain travel requirements.
2.4. Compliance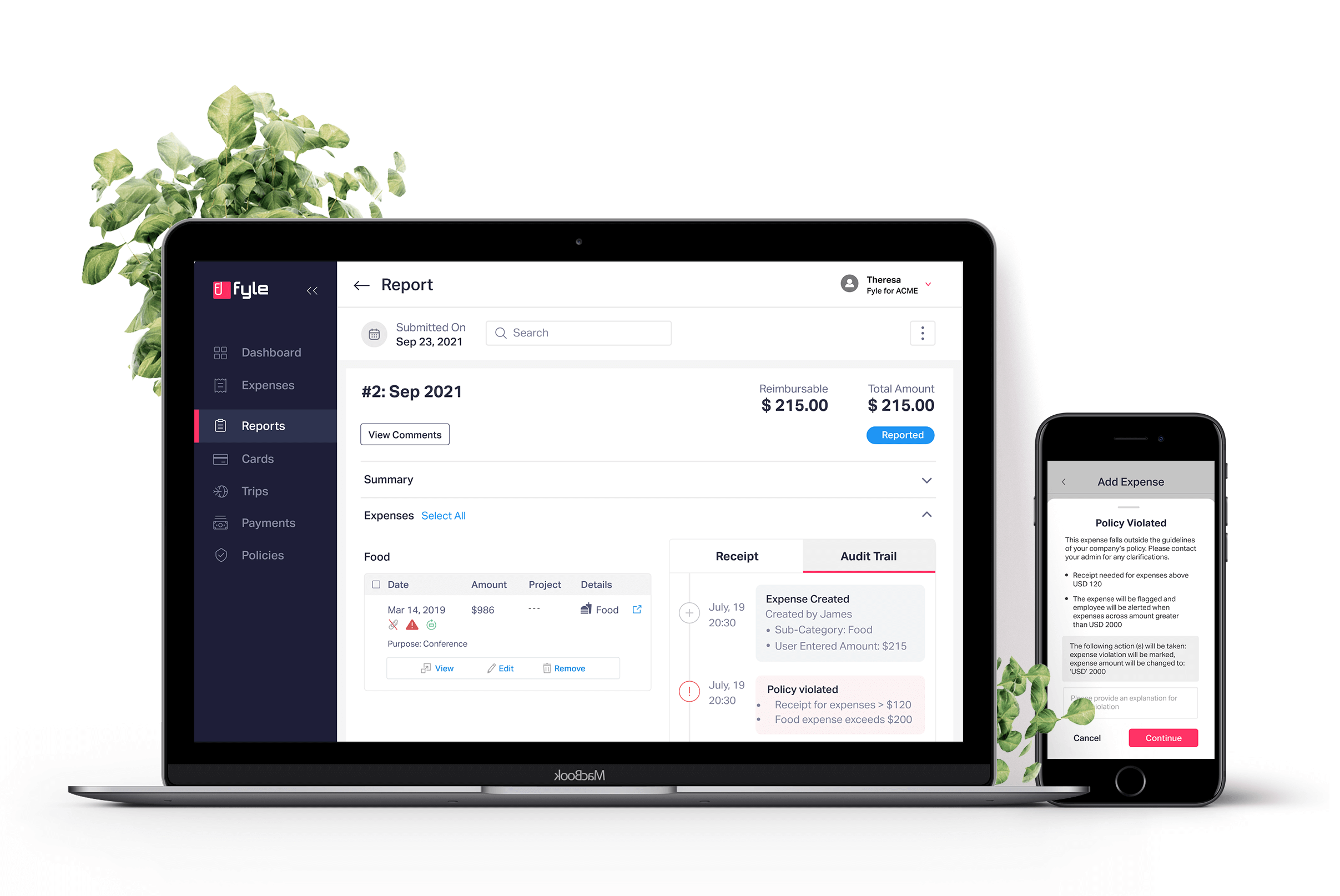 The compliance feature is great for not only expense tracking but also to keep the user accountable for all of the spendings that occurred.
2.4.1. Audit Trails
There is a detailed audit log that is kept that has all the data to all the changes made in the report, and users have access to it.
2.4.2. Receipt Compliance
There is a receipt compliance system, which has automatic bill attachment, searchable, central, unlimited, and ready-to-account receipt data storage.
2.4.3. Real-time Expenses Visibility
The user can always see the process of every expense and its reimbursement cycle in real-time. This way they know everything that is going on with the expenses.
2.4.4. Auditor Role
An account can be created for the auditors, which gives them control and access to all expense and payment records.
2.4.5. Fraud Detection
Fraud detection can be done with ease because these sub-feature tracks duplicate expenses and expenses with suspicious merchants or holidays/weekend receipts.
2.4.6. Billable and Non-reimbursable Expenses
It is now easy to pinpoint an account for billable to clients and non-reimbursable expenses, this feature separates these two accordingly.
2.4.7. Physical Bills
Fyle has a system, which makes it easy to mark collections of physical bills right within it to ease accounting.
2.4.8. Mileage Rates
For on-road traveling, several mileage rates can be created based on vehicle types.
2.4.9. Per Diem Rates
The Per Diem rates can be configured with multiple rates, which are based on employee level and location.
2.4.10. Currency Exchange Rates
The organization's currency exchange rates can be updated for a particular time.
2.4.11. Tax Groups
Several tax groups can be added, which allows them to be automatically accounted for within the expense forms.
2.5. Budgets
Budgeting can be done seamlessly with multiple sub-features, which are set up according to user preference.
2.5.1. Budget Types
Budgets can be planned and configured for different types of projects, departments, and cost centers.
2.5.2. Budget Limits
Limits can be set to various budgets, which can be weekly, monthly, quarterly or annual budgets.
2.5.3. Budget Controls
Budget limit reminders can be set to notify certain employees when budgets cross the configured limit that has been set.
2.5.4. Budget-to-Spend Visibility
Fyle allows budgets to be visible with real-time visibility of the spending against budgets happening in the system.
2.5.5. Project or Department Dashboard
There is a dashboard that allows real-time viewing of budgets and their spending with the head of the project or department.
2.6. Payments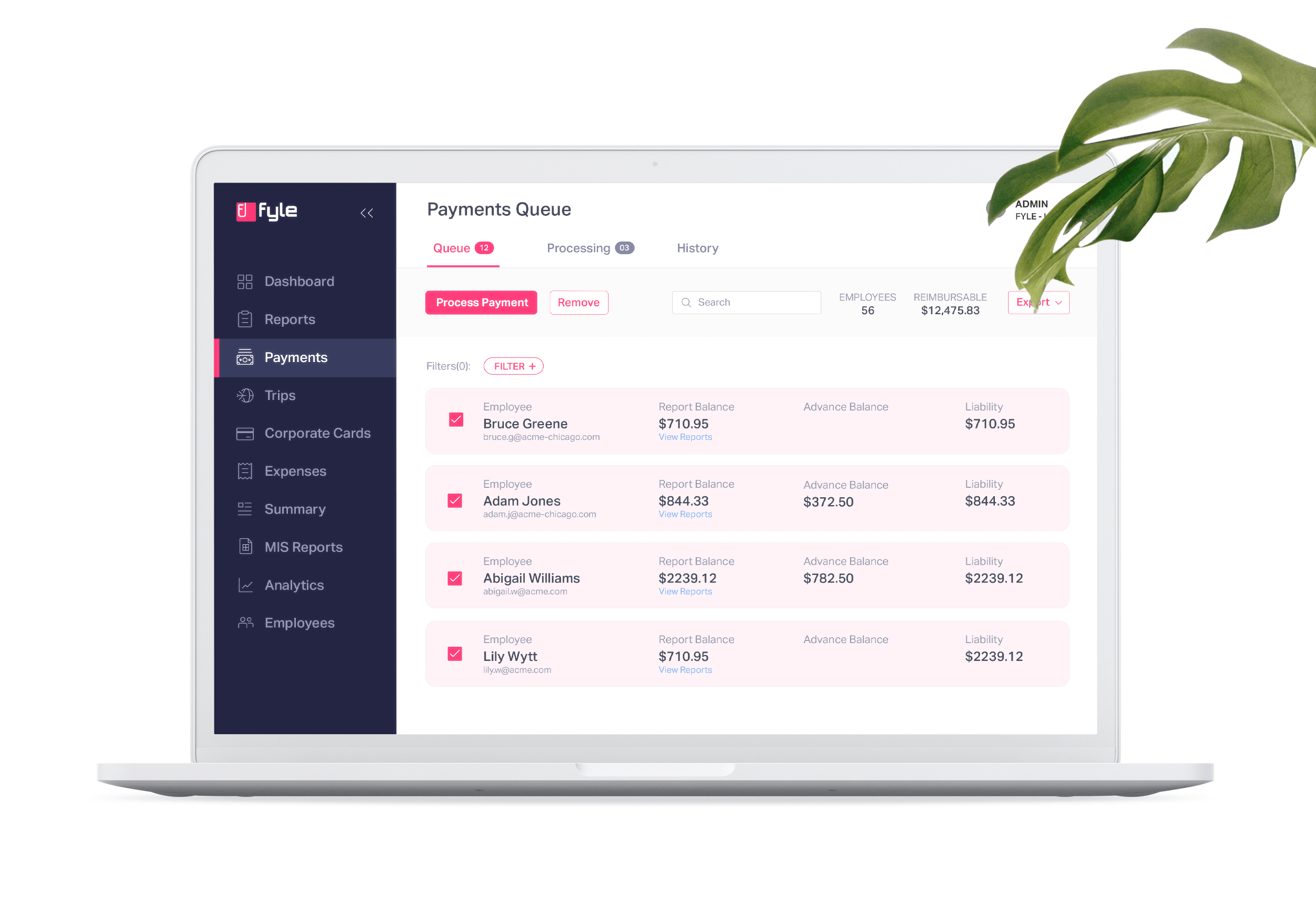 Fyle has devised a system for payments, which our whole team found very helpful.  Not only does it make the payments easier, but it helps keep track of the whole payment process.
2.6.1. ACH Payments (the US only)
Even though this option is only for US residents, they can use Fyle directly to reimburse expenses or pay your employees.
2.6.2. Micro-deposit Verification
The user's bank account can be verified quickly through a small deposited amount with the ACH provider.
2.6.3. Bulk Payments
Several employee accounts can have bulk deposits made simultaneously.
2.6.4. Transaction Status
Users can now see the real-time status of their ACH transactions.
2.6.5. Bank-friendly Export
It is easier for users to maintain all their financial statements because they can use a bank-friendly format to export all reimbursement-related information.
2.7. Analytics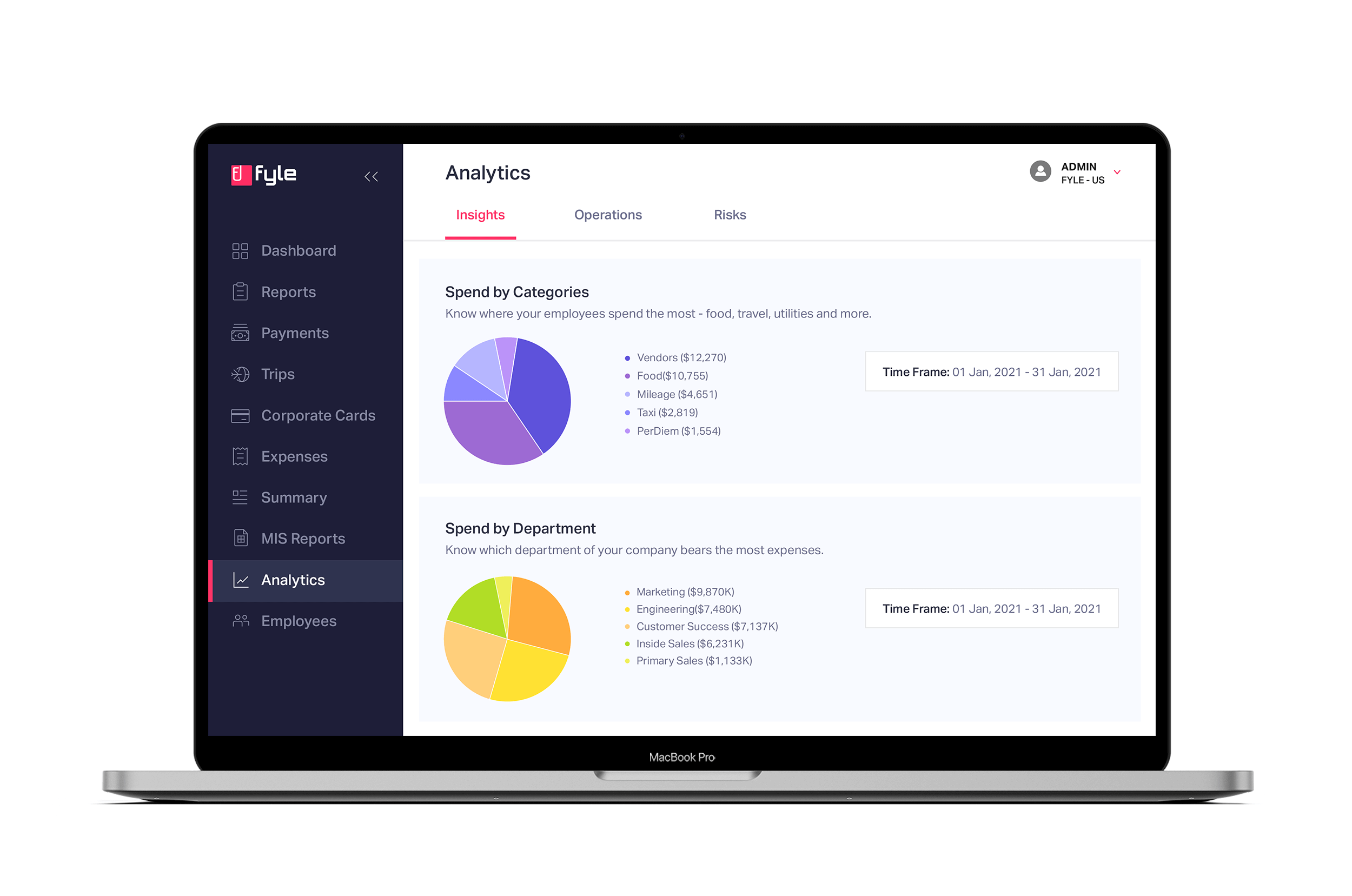 We all know that insights and planning are direly needed for financial planning, and are especially needed for expense management.
2.7.1. Spending insights
Users can receive data based on departments, projects, categories, cost centers, and business units.
2.7.2. Trip Planning Patterns
This sub-feature allows the user to understand any patterns that are developed due to last-minute bookings for hotels, flights, and transport.
2.7.3. Travel Booking Sources
This is a great way to find out if employees are booking for travel on their own, via a travel desk or digital travel platform.
2.7.4. Employee Behavior
This gives a good understanding of what an employee's preferences are to make a booking for hotels and flights.
2.7.5. Reimbursement Cycle
The user gets to visualize the reimbursement cycle for every expense.
2.7.6. Turnaround Time
The user receives real-time visibility for every step of the reimbursement cycle.
2.7.7. Risk Insights
The immediate risk insights let the user know about how to create a change in spending, top policy violators, and top spenders.
2.7.8. Card Spends
It is easy to receive real-time visibility into transactions, card spending, expenses, and reconciliations.
2.7.9. MIS Reports
To improve the expense management process, users can receive a concise view of information.
2.7.10. CFO Dashboard
The CFO can now monitor every expense data from all organizations on a unified dashboard.
2.7.11. Project Dashboard
The project dashboard is great to get real-time, detailed expense data that has been incurred during a particular project.
2.7.12. Budgets
Even if there are different budgets the user can get a centralized view of the expenses against them.
2.7.13. Detailed Data
All the data that is within a graph can be exported with one click.
2.8. Finance Operations
There is absolutely no way a person can use expense management software, and not have the finance operations included in them. Below are some of the sub-features in the finance operations feature for Fyle.
Account Configurations: The account configurations are done seamlessly since they create multiple entities/organizations with different currencies.
Organization Settings: There is a customization process that can be created to streamline categories, projects, and cost centers.
Employee Data: To capture the correct employee information, the user can create custom fields, levels, and departments.
Expense Data: Filling in the expense data fields can be customized from fields, mileage, and Per Diem rates.
Custom Data Exports: The user can also customize data exports of any expense and employee parameters.
Reminders and Notifications: Reminders and notifications can be configured according to the different expense or employee reminders, by using calendars and emails.
Policy Controls: There is added policy control, by being able to customize policies on any expense, employee, and trip request parameters.
Saved Filters: Advanced search filters can be created and saved for future result findings.
Branding: Branding for the user's Fyle account can be done with ease, which includes expense report exports and notification emails.
Knowledge Base: This gives the user access to the whole knowledge base for any role within Fyle.
3. User Experience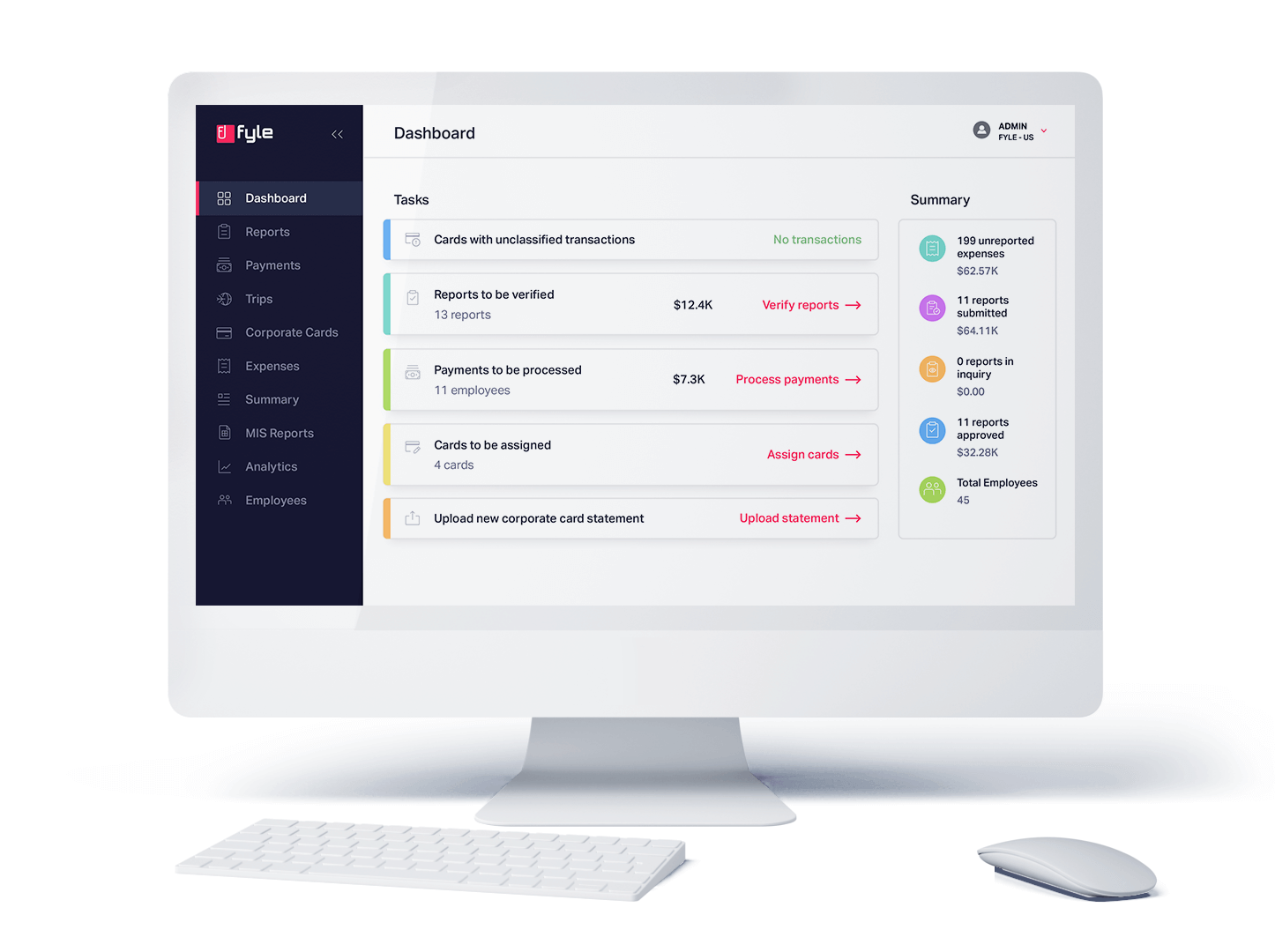 The user experience is a huge deal when handling software, especially when it comes to handling expense management software. We tried to give this Fyle review justice, please read the details below.
3.1. Design
We felt that in terms of the user interface design aesthetics, Fyle is good for business expense management. It is easy to use, simple to understand, and it makes operations run seamlessly. That can only be done if the overall design of the software is easy to understand and aesthetically pleasing.
3.2. Mobile Apps
There are mobile apps available for Fyle on both iOS and Android.
3.3. Integrations
When it comes to integrations, Fyle already has existing integrations with many accounting and productivity software like Quickbooks, NetSuite, Sage, Xero, G Suite, Outlook, Slack, and WhatsApp. However, in this Fyle review, we looked at the integrations in detail.
Accounting: As mentioned before, Fyle has direct integrations with Quickbooks Online, Xero, Oracle Netsuite, Sage Intacct.
Travel: For traveling and the expenses that come with it, Fyle has direct integrations with Upside Travel and Lola.com.
APIs: We were happy to see that the API-based integrations with any software of the users' choice.
Fyle Apps: We were so thrilled to see that a user can create apps to move any employee data or expense in and out of Fyle.
Slack: Since Slack is made for business communication, the integration Fyle is great to enable employees to turn in expenses.
G Suite: We mentioned this much earlier, G Suite integration, or that Gmail is allowed to submit expenses and get them approved. to enable expense submission and approvals.
Microsoft Outlook 365: Fyle is also integrated with Outlook inbox so employees can submit expenses.
Cards: There is automated card feeds integration from American Express, VISA, Mastercard, and Diner's Club. This is great to track employee travel expenses.
Banks: In the features section above we mentioned in great detail that users can receive direct transaction feeds from banks and automate card expense reconciliations.
4. Customer Support
Fyle takes their customer support services very seriously, below are some of the services that they offer their users.
5. Security
Below are some of the security details that Fyle has gone to great lengths to protect its customers' data.
Fyle is GDPR compliant. Details can be found here.

Google SSO is available

SAML is available for secure login

Users can create local backups

Dedicated servers are available

Data export & data deletion options are available

On-premise installation is not available

2-factor authentication is not available
5.1. Other Security Certifications/Accreditations
SOC 2 in the works (ETA June 2022)
Fyle uses JWT to access all expense data. This is a compact, URL-safe means of representing claims (encoded as a JSON object) to be transferred between 2 parties.
Fyle runs on AWS. All employees have extremely restricted access to the IAM role. Only the CTO has admin access.
Fyle also maintains a warm alternate Kubernetes cluster in a secondary region for disaster recovery, which can be activated in ~2 hours.
6. Customer Testimonials
The customer testimonials convinced us that need to give a Fyle review.  We read when we asked around the industry about Fyle. We thought we would share them with you!
Fyle transformed our employee expense reimbursement process. We've reduced turnaround time and errors caused by paper-based expense processes. Expense fraud is unheard of since all expenses are automatically compliant with our corporate expense policies. –Zinaida Ellidou, Accounts Administrator
My main focus was to make the end-user experience easy and efficient – and that was made possible with Fyle. –Brad Salter, Chief Financial Officer
Expense reporting kind of sucks. We know this. However, we don't need to resign ourselves to tools that violate our privacy and security and then don't even work well or have good customer support under the umbrellas of "well expense reporting is never fun." Fyle was everything we needed. –Sylvia Jennings, Account Manager
Conclusion
We think Fyle's expense management software is a decent tool for modern-day businesses looking to intelligently manage expenses. After giving a detailed Fyle review you can see why. It happens to be one of the best expense management software in the industry.