Firestick Downloader Not Connecting Fix "Unknown Error Has Occurred"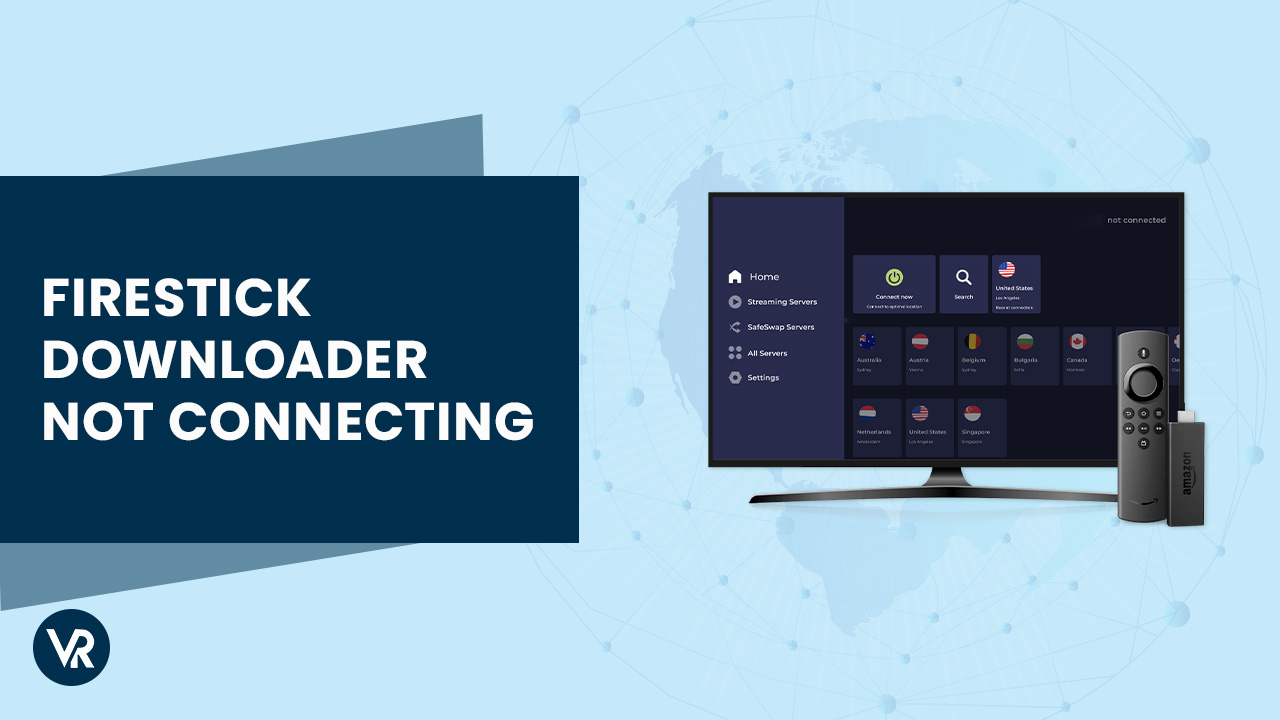 If your Firestick Downloader not connecting, start by checking your WiFi network, storage space, and your Fire TV Settings. It comes as no surprise that Firestick Downloader is your best option to sideload apps onto a Firestick. Sideloading allows you to put programs on your FireStick that aren't sold in the Amazon App Store.
Although Firestick Downloader is the most reliable means of sideloading apps onto a Fire TV Stick, errors sometimes occur. The purpose of today's discussion is to identify the causes of problems and propose solutions. Some solutions are available on your device with just a few clicks.
However, this Firestick Downloader not connecting or the "unknown error has occurred" error may sometimes have deeper roots. The error may happen due to security breaches and malware infiltration. If this unfortunate event happens, it's best to sign up for a premium VPN. A VPN has various use cases to cater to online freedom. Specifically, in this case, it offers powerful encryption that allows you to sideload apps anonymously.
With the best VPN for Firestick, you can regain access to your Firestick Downloader without any errors and backlogs. You may also try your luck with the best free VPN for FireStick as well. You don't have to waste time fixing any connection issues as the best VPN prevents them from happening in the first place.
Firestick Downloader Not connecting on Fire TV Stick – 5 Quick Fixes
There are quick fixes you can do if your Fire TV Stick downloader not connecting or is having error issues. First, start by tweaking some aspects of your Developer Settings. Read on.
Check Developer Settings
Note that Fire OS, the operating system that powers Fire TV Stick, is built on Android. APK is the primary method by which Android apps are downloaded and installed. Hence, it is essential that APK is compatible with the system. If you're facing issues while trying to watch Hulu on FireStick, perhaps it needs a bit of tweaking.
If Amazon FireStick won't download apps, you must modify your Fire TV Stick settings to allow it to be APK-ready. This is how.
On the home screen, navigate to Settings (represented by a gear icon on the right of the navigation menu).
Select "My Fire TV" if using a Fire TV Cube or Fire TV Stick, or "Device & Software" if your device is a Fire TV Smart TV.
Select "Developer options" from the menu. If "Developer options" not yet visible, see the instructions to display the menu before proceeding.
If the bottom choice is labeled "Apps from Unknown Sources," tap it to enable it, and you're finished. If the bottom choice is not labeled "Install unknown apps," proceed to the next step.
Select "Install unknown apps" from the menu.
Select the name of the program, like Downloader, to allow it to install APK files.
You are now set and ready to install APKs downloaded via the Downloader app. By this time, you can no longer encounter the Downloader not connecting on FireStick problem. We'd suggest you only use a premium VPN like ExpressVPN on FireStick or NordVPN with FireStick so you don't run into any issues.
Use Relevant Websites to Download APK Files
When a website is unstable, you may encounter certain issues. This may be one reason why your FireStick Downloader app not working.
Given the fact that APK files install apps on your system, the websites you are using offer severe vulnerabilities. A user with bad intent could alter the APK before installation and turn it into a Trojan horse and run malware.
Amazon Downloader has stopped working due to this security breach. You must guarantee that the website you use to download APK is dependable. You should only opt for a site that has a record for reliability. Don't just click whatever you see online.
Based on our research, APKMirror is the most excellent Android APK download website. APKMirror is owned and maintained by the same group that developed the popular Android news website, Android Police, which should comfort you that you're in good hands.
After using a relevant website for this use case, you can use your Firestick Downloader smoothly.
Check Fire TV Stick Storage
Won't Amazon FireStick download apps? If your Amazon Downloader has stopped working, check your Fire TV Stick storage.
Based on Amazon specs, the storage capacity of the Firestick and the Fire TV is 8 GB. Just under half of that total (8 GB) can be used for onboard data storage. Depending on how many programs you download from the App Store, you may well be left with only a few megabytes of free space.
There isn't enough space on your Fire TV Stick to install any APKs, therefore "Downloader not connecting on Firestick" happens. Let's see how much room you have left on the Fire TV Stick and delete some things if needed. Follow these steps:
To begin, open Applications in the Fire TV Stick's Settings menu.
Go to Applications –> Manage Installed Applications. Here you may view the amount of available internal storage space.
Select the unnecessary programs by clicking on them, and then selecting "Uninstall" from the drop-down menu.
Once you've made some room, Downloader will install programs with no trouble.
Clear Downloader Cache
Your Downloader may swell with cached information if you use it frequently. Downloader on Fire TV Stick may stop functioning if too much data is stored in the cache.
Be sure to delete your browser's cache because doing so: blocks access to previously used forms, safeguards your private data, and helps software function more smoothly on your system.
To clear the cache follow these steps:
The first step is to go to the Applications menu in the Fire TV Stick's settings.
After that, select Manage Installed Applications and navigate to Downloader from the list.
Third, click the "Clear cache" and try reloading.
Restart Fire TV Stick
You may also run into an error while using Surfshark on FireStick and fixing an issue with Fire TV Stick apps is sometimes as easy as restarting the device. With just a restart, the entire system's memory registers are reset and made ready for use again. Your computer will last longer and perform better if it is restarted often.
To restart your FireStick, and get rid of the downloader not connecting to the Firestick issue, follow these steps:
First, pick My Fire TV from your Fire TV Stick's Settings menu.
Just hit the Restart button and give it another go.
FAQs
Check your network connection if you're having trouble downloading apps to your FireStick. You could also check the available storage space on your device's internal storage. Restarting your device might help if none of the other suggestions works.
Due to Wi-Fi technical issues, such as a wrong password, router limits, or service degradation your FireStick may be unable to connect. A poor signal could be the root of all Wi-Fi problems. The strength of your signal becomes limited if it encounters simultaneous interference from other devices.
Firestick Downloader not connecting can be fixed in just a few steps. Follow these:
How to Set Up Your FireStick for the Downloader and Sideloading Apps
Find the Settings icon on FireStick's home screen.
Select "My Fire TV."
Go to the "Developer" menu item.
Then, click on Install Unknown Apps.
Find Downloader in the menu and click it to activate it.
Conclusion
Hopefully, our guide should help you resolve the issue of the Firestick downloader not connecting. We also have guides to help you with FireStick Remote not working issues as well. You may also want to update your FireStick in case that leads to any problems. All in all, we'd suggest you use a reliable VPN with FireStick.