Five Things to do with a Windows VPN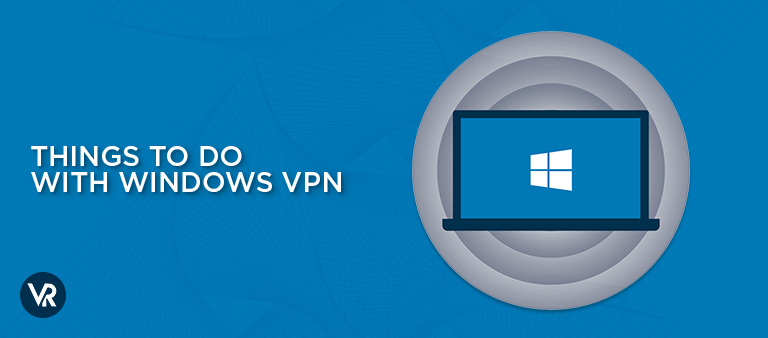 Believe it or not, virtual private networks (VPNs) have become quite popular across the globe, and are one of the most secure ways to be safe on any operating system you own.
However, it's funny how they're only considered tools for encrypting your connection and keeping you safe. The best Windows VPN services can be beneficial in more ways than that.
In this guide today, we'll cover five things to do with a Windows VPN. Older OS versions or Windows 10, these things can be enjoyed on any, until your VPN has a compatible app for it.
Please keep in mind that even if you're not too concerned about your security, the following uses of a VPN are the ones that wouldn't have even crossed your mind.
So, without any further delays, let's get into it!
Access geo-restricted streaming sites
One of the most common ways to use a VPN is to circumvent geo-restrictions and access streaming services unavailable in your country. This way, if you live anywhere abroad, you can watch Hulu, Amazon Prime, HBO Max, and more easily on Windows.
Even if you're travelling abroad and taking your laptop with you, then you can change your Netflix region and unblock regional Netflix on Windows in a matter of seconds.
However, please ensure getting the best streaming VPNs for this as they're the only ones that would offer optimized streaming servers for an uninterrupted streaming experience.
Enjoy safe torrenting
Even though torrenting activities themselves are not illegal, they can get you in trouble if you accidentally torrent copyrighted movies, shows, audio files, games, and more. It gets worse when Internet Service Providers (ISPs) throttle the traffic of any user who's torrenting.
This is why one needs a VPN to stay secure. A torrenting VPN would encrypt your entire connection and hide your activities from your ISP, keeping you absolutely safe.
Save money
Even though a VPN will cost you a few bucks, it will also save some of your cash when purchasing different products. Various items including software cost different in multiple countries.
Taking advantage of this situation, you can always utilize the server network of your best VPN service and optimize various purchases by accessing the website from the right country. You can even get cheap air tickets using a VPN. How cool is that?
Bypass ISP throttling
When you're using too much bandwidth for any activity, you're bound to get noticed by your ISP. As a response, your ISP will throttle your connection to offer stable bandwidth and speeds to everyone across the network.
However, bypassing ISP throttling is only possible with a VPN. A VPN will restrict your ISP from tracking your activities. This way, whether you're streaming, gaming or torrenting, your ISP wouldn't know and wouldn't be able to throttle your connection.
Avoid censorship by the government
Various countries have strict internet regulations and keep an eye on what users are doing over the internet. Russia, UAE, Turkey, and China are just a few countries, to begin with, that offer a restrictive internet.
However, you can always avoid government censorship on your connection using a VPN. Countries like these may have deemed VPN usage illegal, so it's always better to go through the local laws to make an informed decision.
Our VPN recommendation for Windows users
When it comes to Windows, we only have one recommendation for our users – ExpressVPN! Even though we installed a bunch of VPNs to test on our Windows PC, nothing came close to ExpressVPN's speeds, unblocking capabilities, security, and server network.
Not only that, but the VPN also allowed us to use our single subscription on 5 devices simultaneously and helped us solve our problems through its 24/7 live chat support.
ExpressVPN supports Windows 7 and all the later versions. In fact, it's also the best VPN for Windows phones if you want to enjoy all the things listed above on them.
Get ExpressVPN for Windows
FAQs – Windows VPN
A Windows VPN can offer you a secure connection for accessing the internet as well as your company's network if you're working from any public place, like a coffee shop. It can also allow you to enjoy safe torrenting, streaming, and browsing on your PC.
Yes, Windows 10 has its own VPN that can be utilized to create VPN profiles and connect to it for remotely accessing a computer on the internet. But, there are a few caveats there. This is why we recommend ExpressVPN as the superior choice for Windows.
The built-in Windows VPN isn't actually a VPN. In fact, it's a client for desktops that allow you to connect separately to a third-party VPN network. To take advantage of this, you'd require a proper VPN service like ExpressVPN.
Final Words
Now that we've jotted down all the things to do with a Windows VPN, it's time to take your laptops out, get a VPN on your Windows, and started enjoying all the activities mentioned above.
While being secure on the device, you can enjoy geo-restricted content, download torrents, play games, and do a lot more with the most reliable VPN service.
Out of all our tested VPN services, our top recommendation is ExpressVPN. Even though the VPN offers a fantastic discount, you can always use its risk-free 30-day money-back guarantee and test the VPN out as per your needs.