How to Change Your IP Address on Omegle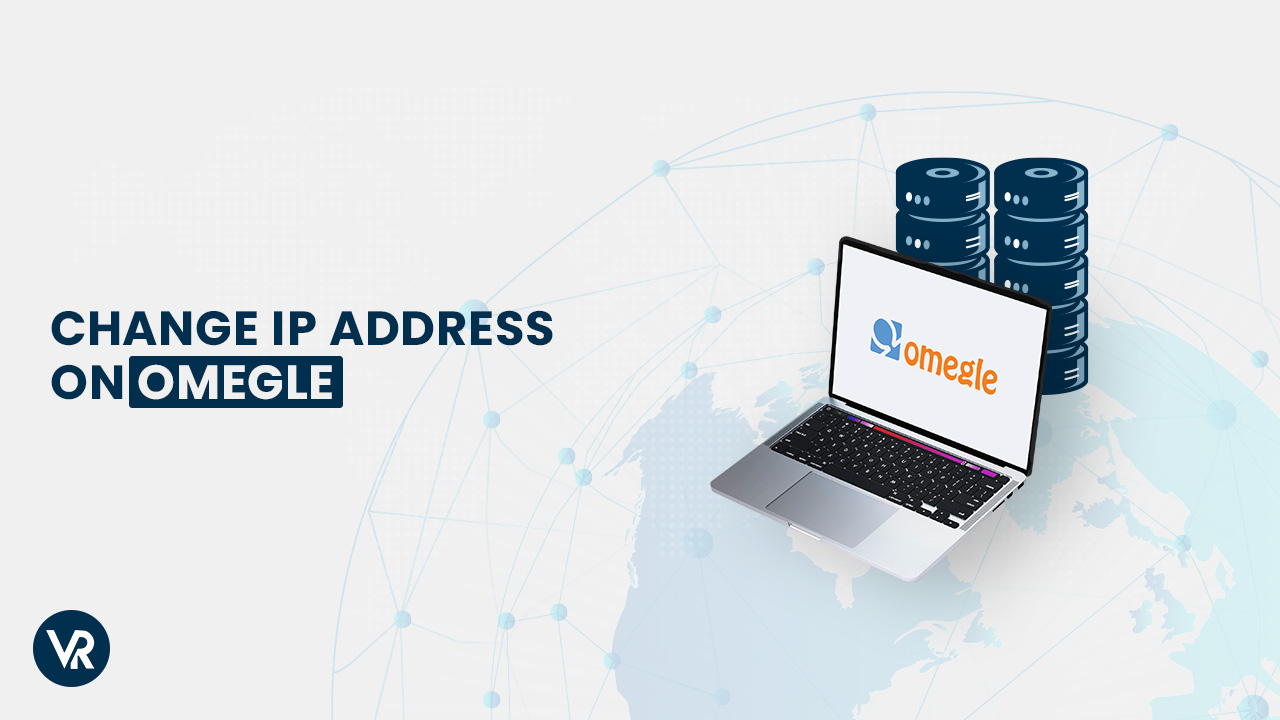 Omegle is an online chatting website that connects random strangers from around the globe. While using Omegle, it assigns you an IP address randomly. The ISP and government authorities can monitor your online activities and location with this address.
Can you keep your identity private on the platform? Do you want to change your IP address on Omegle?
Virtual Private Networks (VPNs) help you stay private by changing your IP address while using the site. It encrypts your traffic and forwards it via a server in a different location, making your internet connection appear to be from that particular region. Is Omegle safe to use? Which is the best VPN for Omegle?
Check out our best-picked VPNs to access Omegle in banned countries and protect your presence on this unsafe site.
In this post, we will learn the method to change IP address on Omegle when accessing it from different platforms.
How to change your IP address on Omegle
The best technique to change your IP address on Omegle is by using a reliable and secure VPN. It masks your original IP address to connect to the perfect servers in different geographical regions.
However, many VPNs suffer from slow internet speeds, which limits users from using the video chat mode on Omegle.
To set up a VPN on different devices, we present a detailed guide covering all the essential steps ahead:
On Desktop
Omegle bans users by blacklisting their IP addresses on the network. To enjoy unrestricted access to Omegle using Desktops or laptops, follow these simple steps given ahead:
Open the VPN website. Select the right app from the different options available and download it on your device. We will show ExpressVPN for this section.
After completing the installation, create your account with the VPN.
Connect to ExpressVPN's best server to experience great performance. During testing, its Seoul server provided incredible results.
Enjoy fast and secure access to Omegle without any restrictions.
On Mobile Phone
You can use a VPN on your smartphone or tablet to access Omegle freely. To set the VPN on these devices, follow the given steps:
Download the ExpressVPN app that seems suitable for your device and complements its requirements.
Create your account to use the ExpressVPN mobile app.
Connect to the best ExpressVPN server available. You can consider the Paris -1 server, which worked well while testing.
Launch the Omegle app and enjoy safe access to its features.
Why Do You Need A VPN To Change Your IP Address on Omegle?
A good VPN provides security protection and ease of access. You need a VPN to change Omegle IP for the following reasons:
Avoid Geo-restriction: Countries with strict internet censorship, like Oman, United Arab Emirates, China, and Qatar, block websites that don't satisfy their cyber standards or pass the content screening. Therefore, you may not be able to use Omegle easily in such regions.
With a VPN, you can get a new IP address to make you appear using the site from a different region. Your ISPs can't locate your access and hence can't stop you from using Omegle.
Data Protection: Omegle is a platform that connects random users worldwide involved in different activities. Predators and snoopers use smart tacts to gather personal and sensitive details about a user, such as a name, age, credit card even precise location.
You can protect your data from falling into the wrong hands with the help of a VPN. It ensures security around the clock, shielding your data and activity on nearly all online platforms.
Anonymity: Omegle doesn't openly restrict users from disclosing their identities. In fact, users are primarily anonymous on the platform. However, it stores chat data for some period, putting sensitive information at risk. Moreover, hackers can use your IP address to reveal your true identity.
VPNs shield your IPs by masking your original addresses on Omegle. This prevents theft and fraud attempts. Online identity protection is important for Omegle to completely anonymous usage.
ExpressVPN is the best option for Omegle, which has over 3000 ultra-fast servers in different countries. This fastest VPN can connect you with a high-speed server to change your IP for secured website usage.
Get ExpressVPN30-day money-back guarantee
How To Change IP Address Without VPN
Despite several advantages of VPN, there are some reasons why one may not prefer using a VPN to change their IP address on the network. Using VPNs is not legal in some countries. Additionally, Some poor-quality VPNs don't follow a strict no-logs policy, due to which they largely collect and sell user data to advertisers and third parties.
There are some techniques to change your IP address without a VPN, such as using a proxy server to direct your traffic via a different server and change your IP address. Another option is to use Smart DNS for the same purpose, rerouting traffic to a different DNS server.
To change your IP address without a VPN, you can use a public Wi-Fi network and get a new IP address. You can also disconnect your ISP modem, which will make your device request your ISP to get a new IP address. You may be assigned the same old IP if your ISP reuses IP addresses. To obtain a new IP, you must use a VPN that will encrypt your traffic and hide your activities from the ISP.
Which is the Best Way to protect your IP address on Omegle?
A VPN service is the best way to protect your IP address on Omegle. It is the most effective method for preventing your IP address from being monitored by Omegle or your own ISP.
Reliable and efficient VPNs come with several benefits and features to enhance your performance. VPNs offer many different services, including advanced security and numerous servers worldwide, which you can connect to avail of full protection on the internet.
Popular and major VPNs have a kill-switch, no-logs policy, split tunnelling, and military-grade AES 256-bit encryption. Other than these basic features, the VPNs include advanced level online protection.
FAQs
Yes, someone can get your IP address from Omegle, but they can't use it to track you to your actual location. They can only find your city and country as your IP doesn't reveal your actual physical location but rather shows a location around you.
In the worst-case scenario, he can make your internet down, but anything more than that can happen. Install antivirus and anti-malware programs for system protection. Additionally, use a VPN for Omegle to mask your original IP address and experience a better and safer platform.
No, changing your IP address on Omegle is not illegal. In fact, it is recommended to change the IP for personal data security and privacy reservations on the platform. The weak security standards of Omegle are disturbing. Therefore, users must opt for additional safety protection.
Yes, Omegle can ban your IP address if you are found violating its rules and policies. Expressing racism, sending inappropriate or nude images, and displaying abusive behaviour on the platform can lead to banning your IP address or even a permanent ban in some cases.
Depending upon the reason behind the ban, the restriction may last from a few days to several weeks. Usually, a first-time offender is banned for a shorter duration, such as up to 1 week. In contrast, regular offenders are dealt with a longer ban which may last up to 120 days.
In some cases, users get banned for no apparent reason. It is recommended to go through Omegle policy to stay vigilant in the future.
According to Omegle's policy, it keeps your IP address for 120 days. The information it records includes your IP address, other participant's IP, the time the chat started, the random ID tag assigned to your device, and the random ID tag assigned to your partner.
Omegle claims to collect these attributes for enforcing the law, controlling inappropriate activities, and preventing spammers on the network. These details are clearly stated in Omegle's privacy policy.
Wrapping Up
Omegle is an unsafe platform, inviting random strangers to exchange explicit content on the network. As it requires no registration and verification, hackers and predators are commonly found on the site. While using the website, your IP can be tracked by hackers, leading to the extraction of other personal details.
Therefore, it is recommended to change your IP address on Omegle for a safe experience. There are some ways of changing IP addresses, but VPNs are most effective in protecting your activities on Omegle by assigning a new IP address. They preserve your privacy and shield your data traffic.
ExpressVPN is the ideal option for connecting Omegle. It has a large server network that ensures quality service and timely delivery. Moreover, its servers are the fastest powered with the lightway protocol.