How to Create a Winning Social Media Strategy
Social media can help you reach new audiences, promote your content, and ultimately grow your brand or business. However, it isn't as simple as just posting links to your blog posts across Facebook and Instagram. To succeed on social media, you'll need to create a detailed strategy and establish a plan of attack.
The good news is that you can begin your social media marketing journey by following a few best practices. Plus, there are plenty of third-party tools that can help streamline the process of publishing content and fostering social engagement.
In this guide, we'll explore the characteristics of a social media strategy and why it's so vital to your business. Then, we'll explain how to create a winning social media plan, with tips and tools to help you along the way. Let's get started!
Why You Need a Social Media Strategy
A social media marketing strategy is an overarching plan for how you will create content, share it on social platforms, and engage with your audience. It covers every step of the process, from performing market research to posting content and evaluating your results.
Without a clear strategy, you'll likely struggle to see results. Randomly posting links to your blog posts is unlikely to truly engage your audience and attract them to your website. Plus, if you don't have clear social media goals in mind, you won't know if your efforts are paying off.
With that in mind, let's examine some key benefits of using social media to engage with your followers.
Increase Your Reach
You probably already know how popular social media is. As of July 2022, approximately 59% of people worldwide use social platforms. That's around 4.7 billion users, and the numbers keep growing!
Plus, the average person uses social media for almost 2.5 hours every day: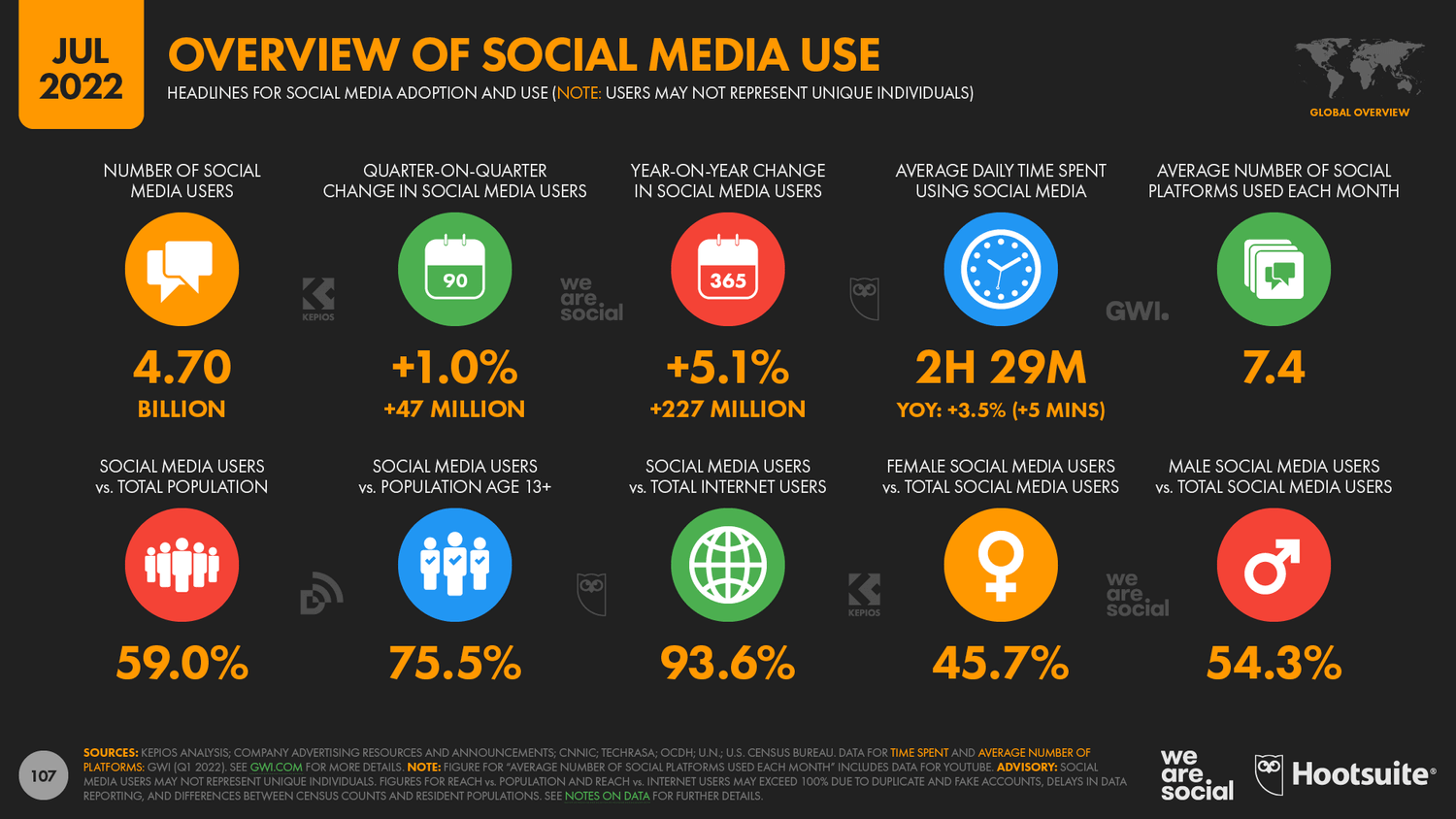 Image source: DataReportal
The statistics are even more encouraging if you're paying for ads on social networks. Advertisements for Youtube and Instagram have a potential reach of 2.4 billion and 1.4 billion, respectively.
As you can see, social media offers a great opportunity to get your business' name out there and display your content in front of fresh eyes. You just need to choose the right platforms for your blog!
Build Brand Awareness
Brand awareness is simply how familiar people are with your brand, as well as with your products and/or services. It's a step beyond brand recognition because it measures the extent to which the public can recall specific information and impressions of your company.
Twitter is especially helpful on this front. Many brands have become well-known through their personas on this platform.
Consider Wendy's, for example. This brand is known on social media for its witty tweets and sarcastic responses: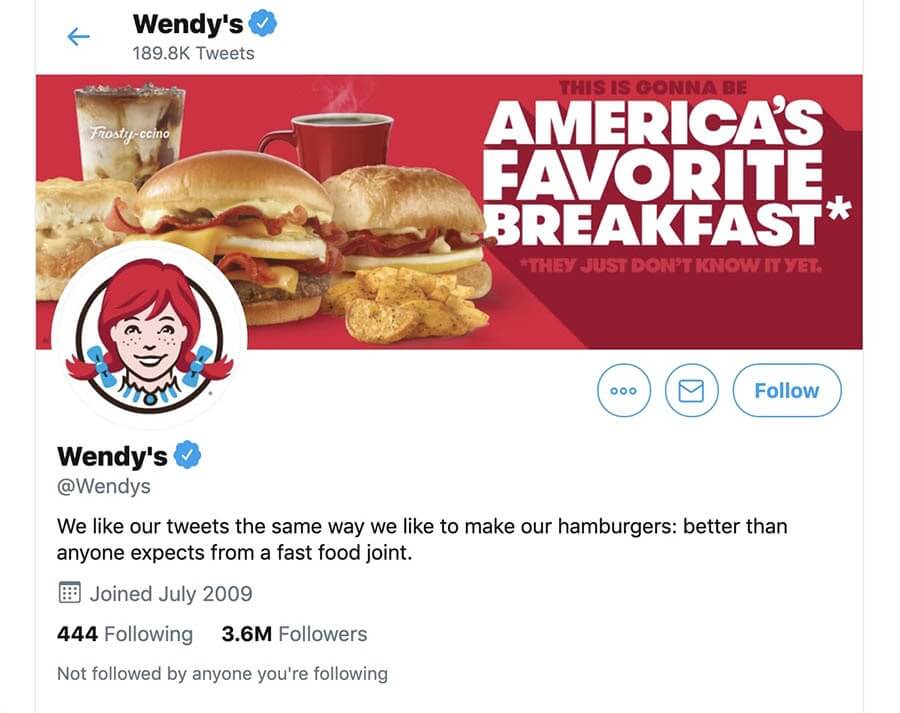 Increasing your brand awareness is the key to gaining leads and retaining current customers. If your products or services are the first that come to people's minds when they need something you can provide, they're more likely to choose you over your competitors.
While Twitter provides ample opportunities to refine your brand identity and build awareness, posting across multiple networks is ideal. This will help you reach various demographics and expand your audience more quickly.
Establish Authority Online
Since consumers have access to so much information via the internet, becoming an authority in your industry is crucial for driving conversions. Shoppers want to feel confident that they're purchasing quality products. Proving that you know what you're talking about is one way to reassure them that your brand provides the most bang for their buck.
The best route for accomplishing this will depend somewhat on your target audience. For example, LinkedIn commands a certain amount of authority by default because it's a network for professionals to connect.
Publishing articles on LinkedIn is a prime opportunity for your brand to demonstrate extensive knowledge of subjects relevant to your industry: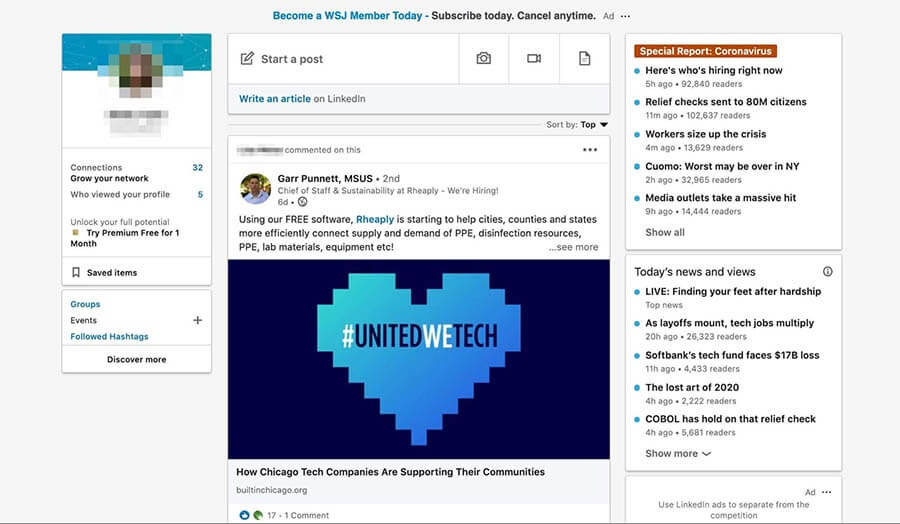 However, this is only helpful if your target audience tends to be highly active on LinkedIn. Another option is to share articles related to your brand or industry on Facebook. It's still the most popular social media site and is better suited to posting long-form content than Twitter or Instagram.
Boost Engagement
Engagement — loosely defined as any direct interaction between consumers and your brand — can help boost your business' success in various ways. It increases brand awareness, solidifies customer loyalty, and can even improve your overall visibility online.
Social media is an ideal venue for engagement. For starters, it provides a variety of ways for users to interact with your brand, including:
Following your accounts
Commenting on your posts
Re-posting your content
"Liking" or "reacting to" your content
Using branded hashtags
Several of these modes of engagement are highly interactive, too, allowing you to respond to users' comments or posts and drive further brand exposure and awareness: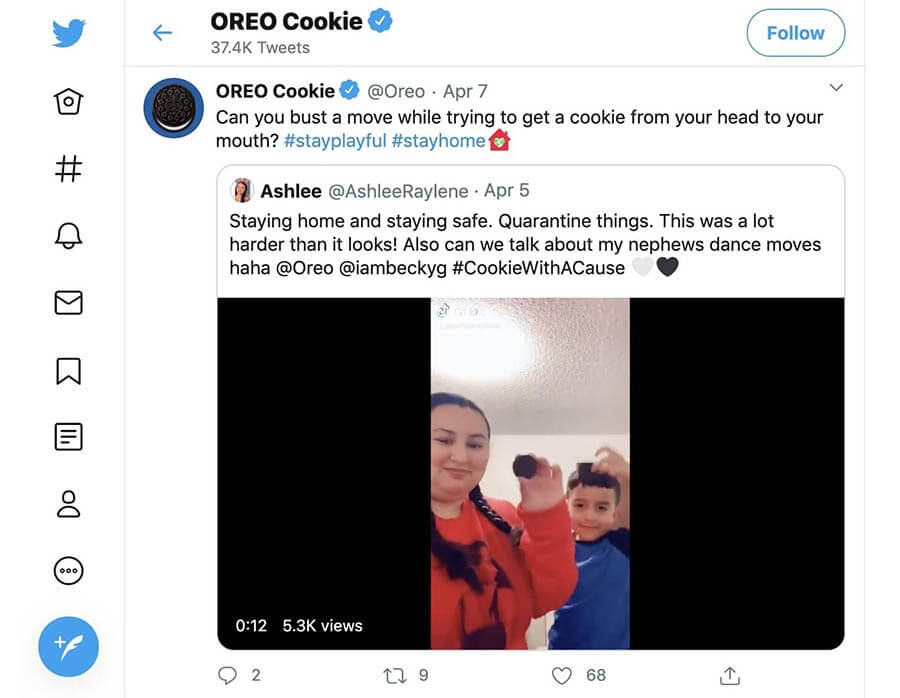 Additionally, social media engagement is usually public and, therefore, can help your brand by providing word-of-mouth marketing. Users may incorporate branded hashtags or even post about products they love to promote your company of their own volition: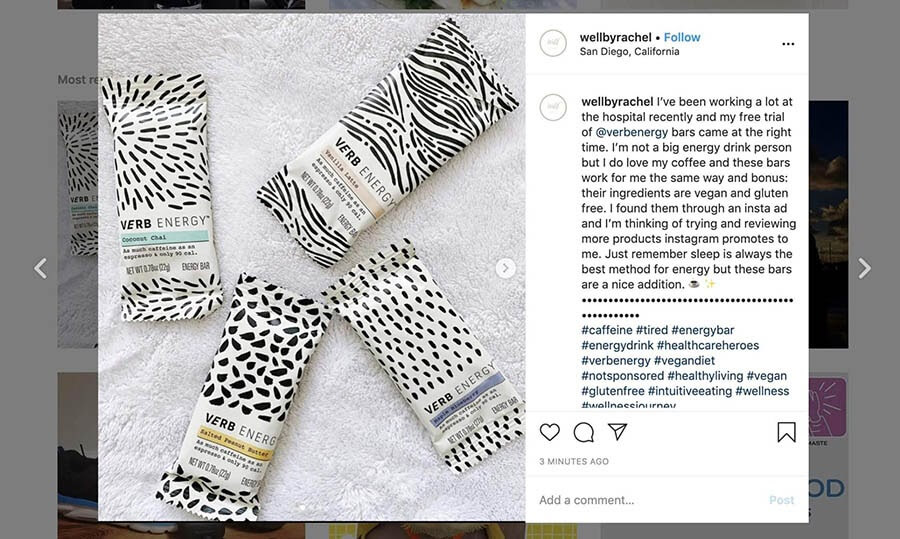 Responding to posts like these can instill more loyalty to your brand on the part of your supporters.
Provide Customer Support
Customer support is integral to helping your buyers have a positive experience with your products and/or services. What's more, it is also essential for building brand loyalty. Prompt and thorough responses to customer problems or complaints demonstrate that you value their business and encourage them to purchase from you again.
While there are many ways to provide customer service, social media is a simple way for people to get in touch with you fast. Some may find messaging or simply tagging your brand in a post more straightforward than navigating your knowledge base, chatting with a bot, or tracking down your contact information and waiting for a response.
In some ways, social media support is a chance to improve your image further. Publicly responding to customers can showcase your attentiveness and timely service (although it's wise to take the conversation private after an initial response to keep customer information safe).
Amazon is particularly well known for its Twitter support account. By dedicating an entire profile to helping customers, it can deliver answers to users' questions quickly. For instance, this particular response was given nine minutes after the customer's initial tweet: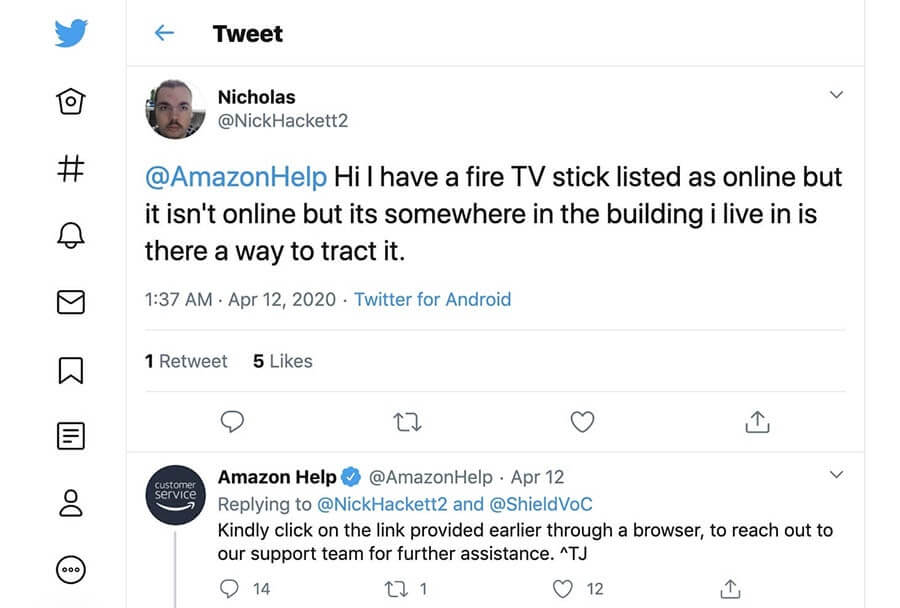 Your brand may not be large enough to warrant a separate account for your support team. However, it's wise to devise a system for tracking support messages and ensuring that someone responds to them promptly. Later in this post, we'll explore some tools that can help you automate this process.
How to Create a Winning Social Media Strategy (In 9 Steps)
By now, you should hopefully understand why creating a social media strategy can benefit your brand. So, let's look at how to create an effective plan in nine easy steps!
Step 1: Learn More About Your Audience
The first step in creating a social media marketing plan is getting to know your target audience.  This means identifying your users' demographics, interests, desires, and problems, so you can develop content that meets their needs.
Creating generic social media posts might seem like a decent approach because you won't alienate anyone. However, you're unlikely to fully capture the attention of those who are most likely to engage with your brand or purchase your products.
You can start by researching your target market and creating a customer profile (if you don't already have one). You'll want to identify their age, location, profession, preferred social media platform, and pain points.
When identifying your target audience, we also recommend keeping in mind the "four Ps" of marketing:
Product: How is your product different from the competition, and which unique problems can it solve?
Price: What price is too high or low for your target market?
Place: Where does your target market shop?
Promotion: Which marketing strategies will be most effective for your ideal customer?
A social media tool such as Audiense can help you build a high-quality customer profile. It uses social intelligence to help you learn more about your audience, what they're looking for, and how to appeal to them.
Get Content Delivered Straight to Your Inbox
Subscribe to our blog and receive great content just like this delivered straight to your inbox.
Step 2: Investigate the Competition
It's also worth researching what similar companies are doing on social media. While we don't advocate copying another brand's approach, there's almost always something to learn from your competitors.
You can start by looking up other brands on different social media platforms. Here you can evaluate metrics such as:
How frequently they post
What kind of content they post
How much they engage with followers through comments, retweets, etc
How many followers they have, and how many accounts they follow
If they work with influencers (and which ones)
It could be worth jotting down this information to have a general baseline for your social media marketing strategy. You can then adapt your approach according to the metrics and goals you identify in the next few steps.
Step 3: Learn About Metrics
If you use an analytics tool for your website, then you should already be familiar with standard metrics such as hits, click-through and conversion rates, and more. When you shift your focus over to social media, a lot of the same metrics still apply.
For example, you will pay close attention to click-through rates from social media platforms to your website. However, some metrics are unique to social media, and you'll need to know what they are so you can set practical goals.
Some of those metrics include:
Likes, comments, retweets, and other engagement measures. On social media, you measure engagement using metrics such as likes, comments, shares, retweets, and more. The specific metrics available vary from platform to platform.
Post engagement. The percentage of people who engage with your posts as compared to overall impressions (views) determines your engagement rate.
Mentions. When other social media accounts mention you, this can work as a referral and convey trust from one brand to another.
Reach. Some platforms give you an idea of how many people your posts can reach, which varies depending on your follower count.
Social media platforms understand the value they provide to businesses. That's why most of the big names in social media include built-in analytics tools out of the box, so you can measure individual metrics without third-party tools.
Twitter, for example, enables any account to access analytics data:

On other platforms, such as Instagram and Pinterest, you'll need business accounts to access their metrics (or "Insights," as Instagram calls them). Fortunately, these accounts are generally free to create.
If you want, there are also a lot of third-party tools that enable you to access more in-depth analytics and peruse data from multiple platforms. We'll talk about tools later on — for now, let's explore how to choose the best social platform(s) for your strategy.
Step 4: Choose Your Social Platforms
It might feel tempting to target every social media platform so that you can reach as many people as possible. However, this approach can quickly become overwhelming, unless you have an enormous marketing team at your disposal. Plus, if you're rushing to create content, then you're likely compromising on quality.
Therefore, we recommend focusing your efforts on just a few social media platforms. The right sites for your business will depend on several factors, including:
The age of your target audience. If you're aiming for a younger crowd, then TikTok could be the way to go, with the majority of its users aged under 24. By contrast, Facebook is more popular with people aged 25-34.
The gender of your target audience. If you've been running your blog or business for any substantial period, think about what a typical member of your tribe looks like. Male, female, non-binary? Then, think about where your customers and readers are hanging out online. For instance, women tend to hang out on Pinterest: 76% of its users are women.
The nature of your business (and its products). If your products are highly visual, such as clothing or home decor, it could be worth focusing your efforts on Instagram. Alternatively, YouTube could be an excellent option for demonstrating complex products, such as gadgets and software. You'll need to consider which platform will best show off your items and incentivize users to click on your links.
Keep in mind that some social media platforms are linked. For instance, you can run simultaneous advertisements across Facebook and Instagram since they both belong to Meta.
Step 5: Set Specific Goals
Once you know where you want to focus your efforts and what metrics you care about, it's time to set actionable goals. Using social media to "grow your website" is fine, but that's not the kind of thing you can measure.
When it comes to marketing campaigns, the smart move is to set incremental goals that you can easily track to see how you're progressing. You can do this by using the SMART framework (Specific, Measurable, Attainable, Relevant, and Time-Based):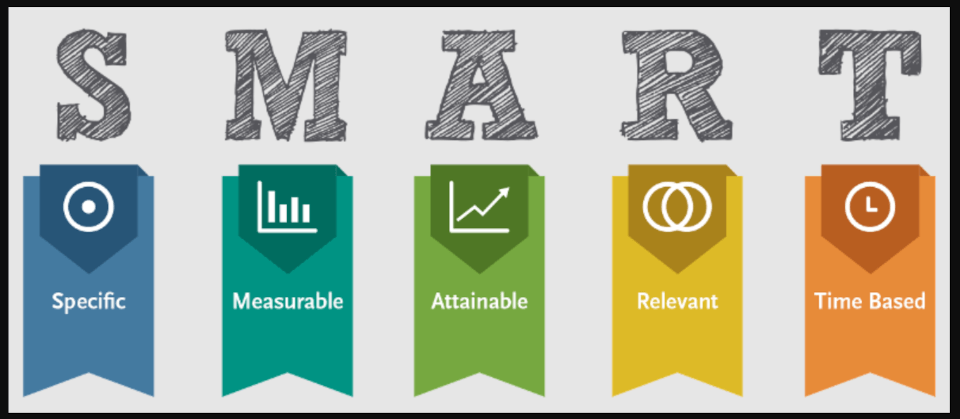 Image source: Wikimedia Commons
Let's say, for example, that you decide to focus on Facebook as the heart of your social media marketing efforts. Some of the different goals you might want to set include:
Aiming for a specific number of followers for your business page
Increasing your engagement rate to X percent
Publishing a set number of posts during a specific period
Increasing the click-through rate to your website by X percent
For most websites, the underlying marketing goal of social media is to get more traffic and conversions. That means you can either direct traffic back to your website or use social media to promote specific offers.
The approach you take will depend on what your endgame is. However, it's necessary to set realistic and measurable goals. That way, you can look back on your progress after a few months and see whether your approach to meeting those goals is working.
Step 6: Create a Social Media Calendar
By now, you should have a good idea of which platforms you're going to use in your social media strategy and the goals you're aiming for. However, before creating your content, it's worth setting up a social media content calendar.
During this step, you'll want to decide how frequently you'll post on each platform. You'll also need to determine what time of day is most likely to generate engagement from your target audience.
Posting too frequently could annoy your followers, whereas not publishing enough content means your brand could get buried in newsfeeds. Overall, studies suggest that posting just once or twice per day hits the sweet spot.
Furthermore, many marketers report that posting between 6 and 9 PM on Fridays and Saturdays yields the highest engagement. This is consistent across various platforms, including Facebook, Instagram, and Twitter.
You can use a content scheduling tool such as CoSchedule to plan your social media posts: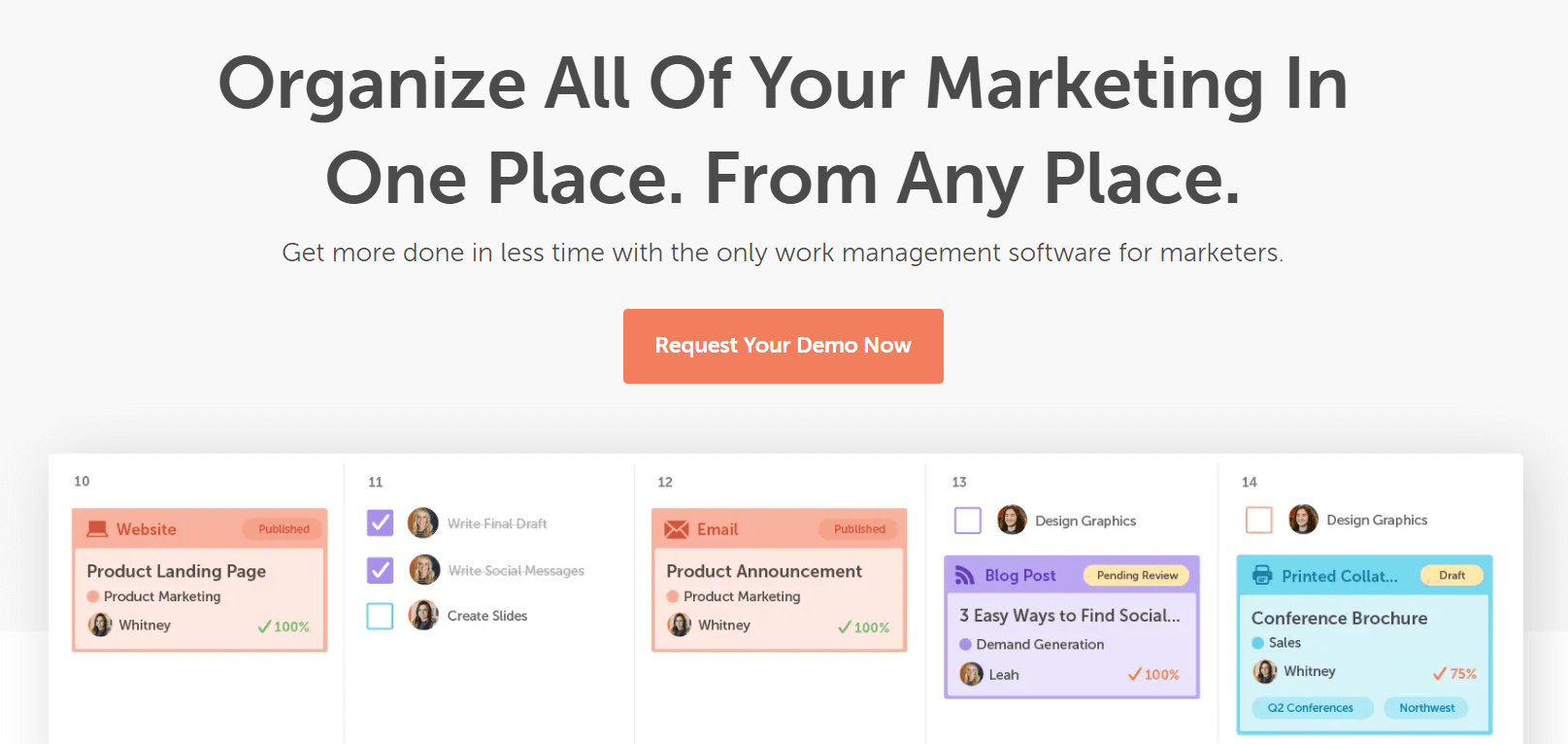 CoSchedule uses a visual layout so that you can easily organize your marketing materials. It can also automate your posting schedule and keep creative assets on file to speed up your workflow.
Step 7: Create Engaging Content
So far, we've talked a lot about planning and the tools you can use to make your life easier. However, whether you're growing a website or a social media presence, what matters most is the content you publish.
You can have a rock-solid strategy based on data and an impressive array of measurable, achievable goals. However, if you don't publish engaging content regularly, your social media presence isn't likely to grow.
Your mission, therefore, is to create and curate content that your audience cares about. Fortunately, content marketing and creation is something you already have experience in if you've been running your website for a while.
However, social media is all about easily-digestible content: images, short videos, on-the-mark tweets, and more.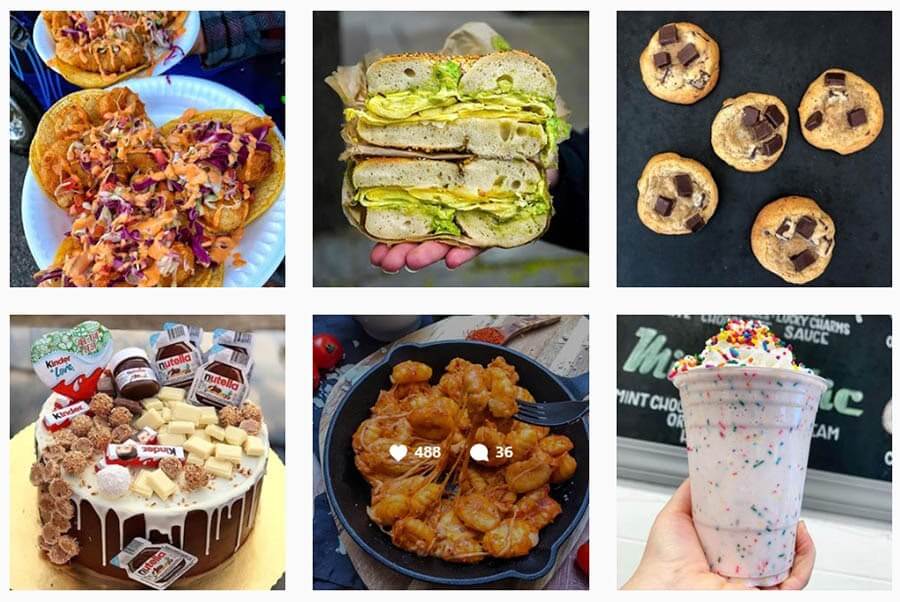 Regardless of the content medium you choose, it's all about quality. This means taking high-definition photos and videos, writing engaging (and accurate) copy, and editing everything before publishing. You'll also want to try telling a story with your content so that you can make a lasting impression on readers.
Additionally, hashtags can help increase your reach, particularly on Instagram, Twitter, and LinkedIn. You'll want to start by exploring popular and trending hashtags within your niche. Then, you can tailor your content accordingly.  You may also want to include your company name as a hashtag so that users can find you easily.
Step 8: Engage With Your Audience
Publishing content on social media isn't a "set and forget" approach. Simply posting content is unlikely to deliver the engagement and results you're looking for. Instead, we recommend dedicating time to engaging with your followers.
This engagement can take various forms, such as:
Responding to comments
"Liking" or reacting to comments
Sharing content from your followers and customers
For instance, the fashion brand Zappos frequently uses Twitter to answer customer questions and respond to feedback:
Engaging with your followers shows them that you care about their feedback and opinions. This can foster better brand loyalty and even encourage customer testimonials.
You don't need to like or respond to every single comment or tweet on social media. However, making an effort to do this for an hour or so every day can make a big difference.
Step 9: Track Your Results and Adjust Your Strategy
Since you're working towards very specific goals, it makes sense to pause from time to time and see if what you're doing is working.
Let's say, for example, that your goal is to increase your Instagram following to 10,000 within a three-month period. To get there, you've been publishing new content with a focus on infographics: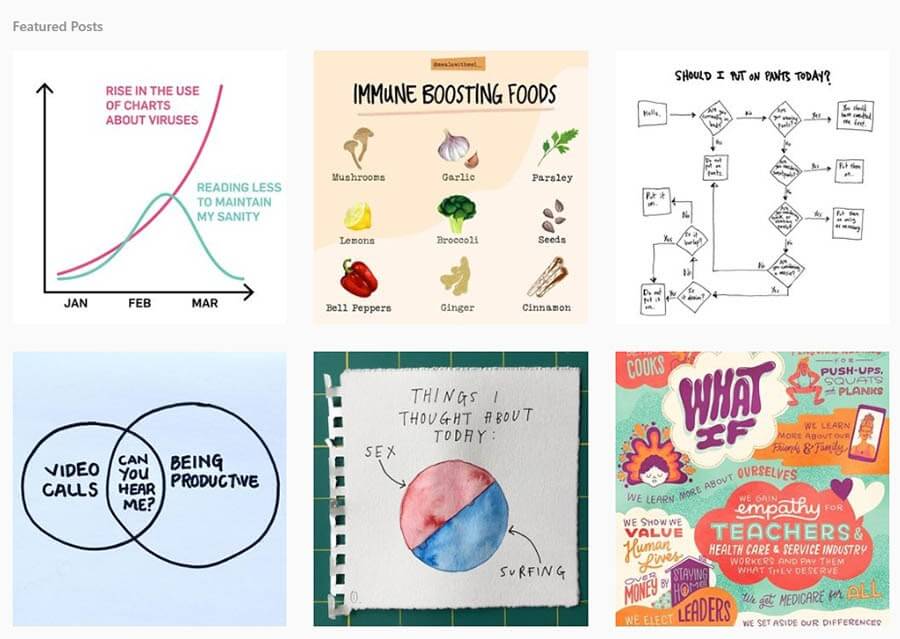 At the end of those three months, if you hit your goal, then you'll know you're doing something right. That means you can double down on the strategy you've been using by increasing your posting frequency, spending more time and money on better infographics, and so on.
If you didn't hit your goal, it could be due to any of the following reasons:
The type of content you're publishing doesn't resonate with your audience.
You haven't been using hashtags effectively to expand your content's reach.
You've been posting at the wrong times, which caps your potential reach.
At this point, it wouldn't make much sense to double down on the same strategy. That means you can either a) try a different content strategy or b) switch gears when it comes to the times you post and the hashtags you use. You could also try something new entirely, such as using influencer marketing.
In a nutshell, what you're doing is running experiments in social media marketing. You'll make a hypothesis and test it as thoroughly as possible. If it turns out to be false, then you return to the drawing board to brainstorm with your team. Failure is part of the process, so don't get discouraged.
Outside of the built-in social media analytics tools, it could be worth using a third-party platform to analyze your success further. For instance, Agorapulse breaks down various key performance indicators, including customer engagement and audience growth. Plus, it uses one-click reporting to simplify the process.
4 Bonus Pro Tips
By now, you should have a general idea of how to develop your own social media strategy. Here are some tips to help you get the most out of your approach!
1. Link Everything
Users are unlikely to spend time digging around and looking for links to your content. Therefore, we recommend setting up accessible links between your social media content and your blog (and vice versa).
On your website, you can include social media icons that link directly to your profiles: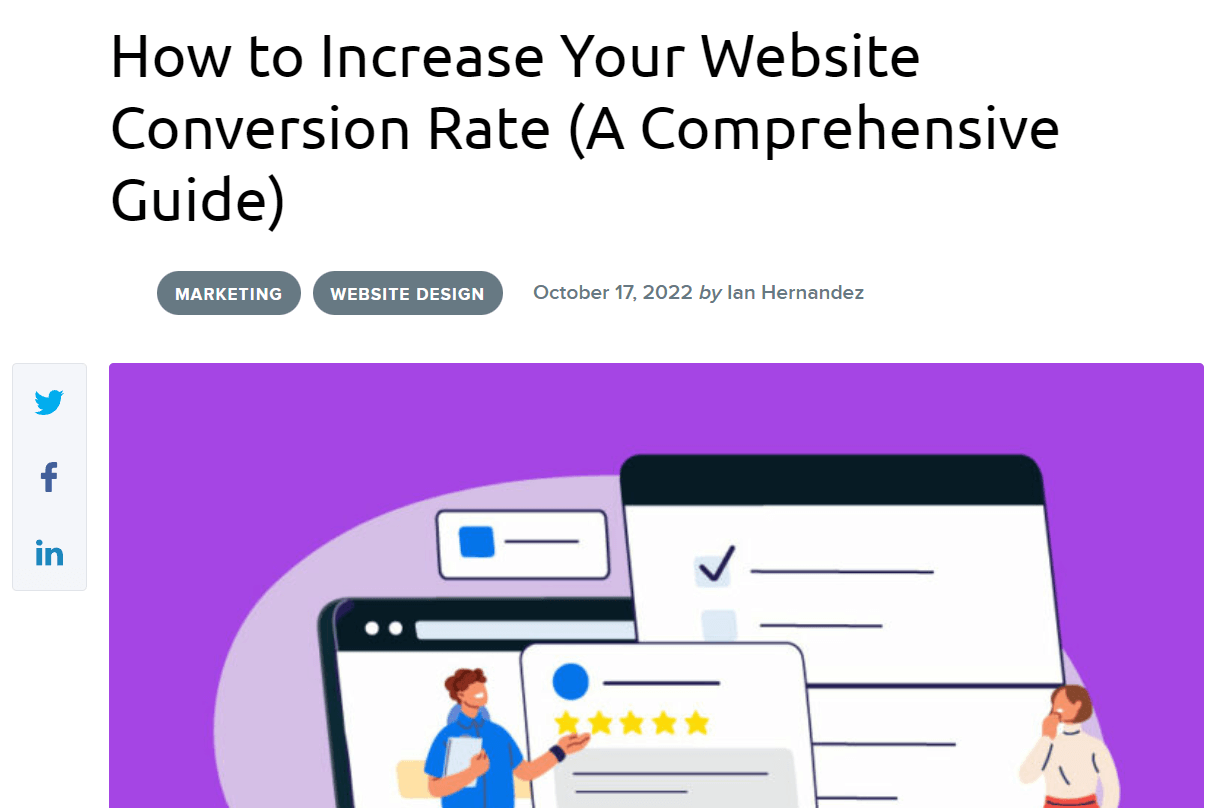 Many social media platforms enable you to link prominently to your blog or website within your profile: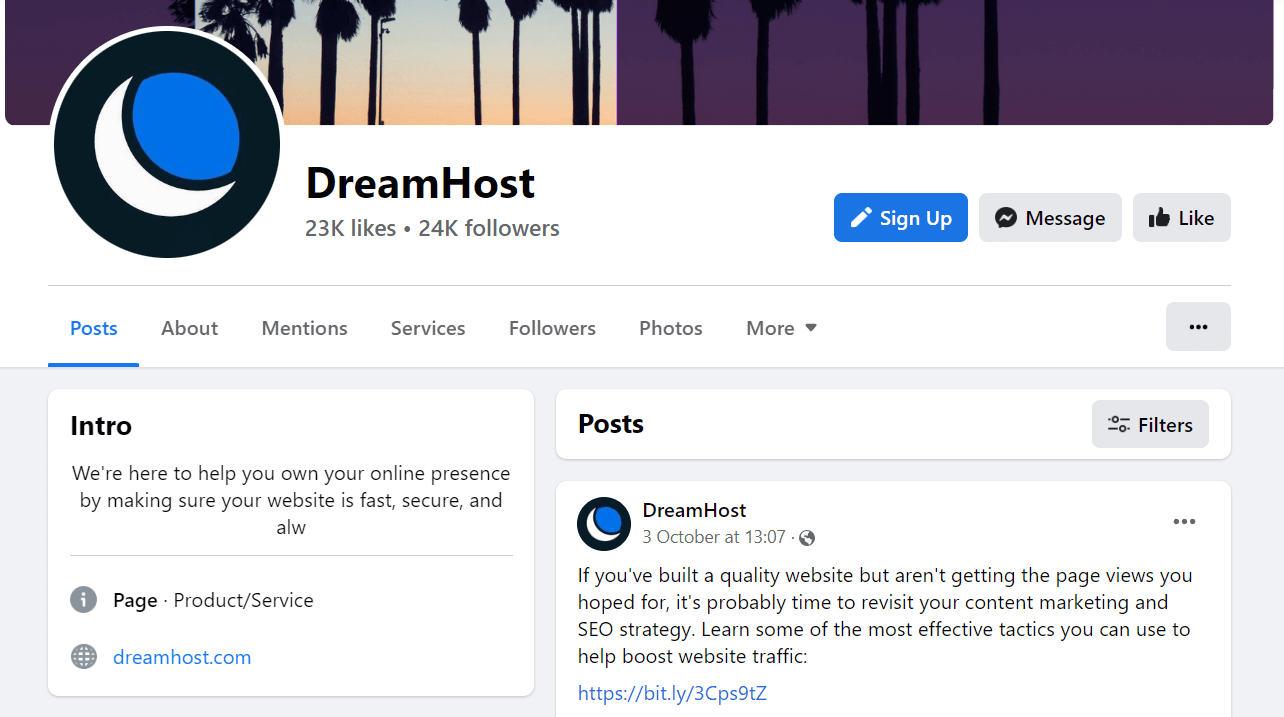 We also recommend including links directly to your blog posts and pages within your social media content. That way, users can navigate to your site with a single click. Here, you can use a link-shortening tool such as Bitly to create shorter and more attractive URLs for your posts.
2. Create Campaigns
You could create a long content schedule of engaging but separate posts across various social media channels. This approach could help you reach a wide audience and generate engagement.
However, why not take things one step further and create a campaign? This is a collection of curated posts that follow a specific theme. The campaign might even have its own hashtag: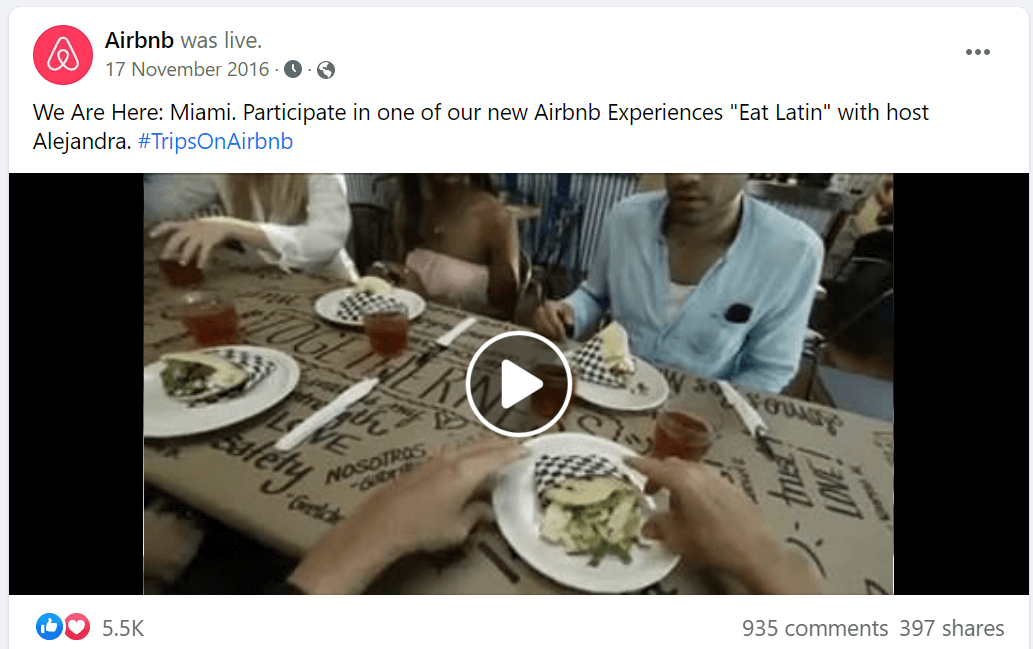 Campaigns can catch the momentum from popular movements or social issues. Additionally, creating a cohesive campaign can help cement your message and further communicate your brand's core values.
As with all social media strategies, we recommend creating specific goals for your campaign. For instance, you might direct visitors toward one of your products or aim for more comments on your social channels.
3. Keep Up With the Trends
Creating original content can help your brand stand out from the crowd. That being said, following trends on social media is one of the best ways to show that you're tuned in to the current moment. Furthermore, using trending hashtags can help you attract users who might not otherwise see your content.
This approach can work even better if the trends are directly related to your industry or niche: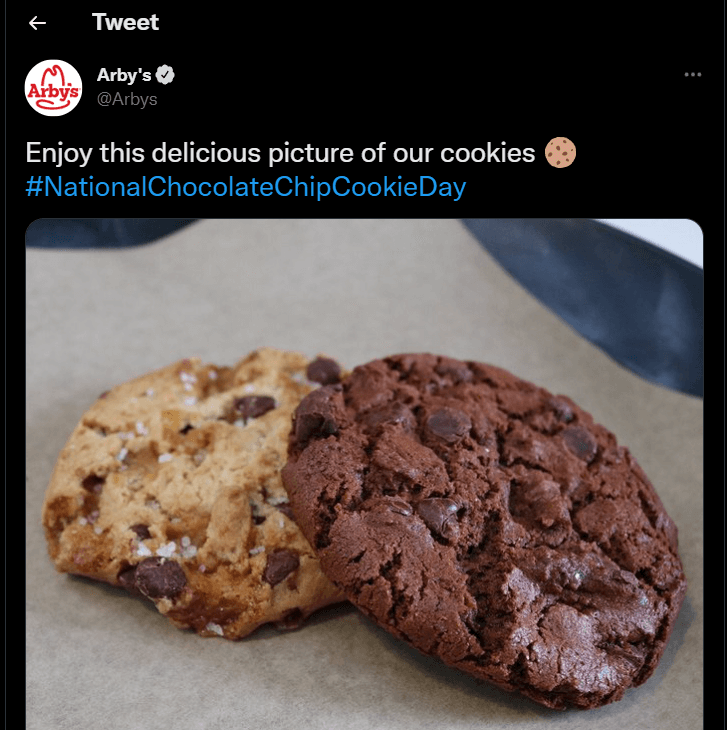 You can easily identify trending hashtags on Twitter or TikTok by navigating to the Explore tab of each social platform. For other social networks, it can pay to use the sites frequently and see which themes pop up in the accounts you follow.
Additionally, exploring hashtags in your niche can help you connect with potential customers. Even if the hashtags aren't trending, using them can make your content more visible to your target audience.
4. Use Your Brand Voice
Social media is, by its nature, more conversational than a traditional website. It enables you to speak directly to your followers and engage with them on a more personal level. That's why it's a good idea to zone in on your brand voice and use it to better connect with your audience.
For example, if you have a fashion or food blog, you can use humor and casual language to engage your audience: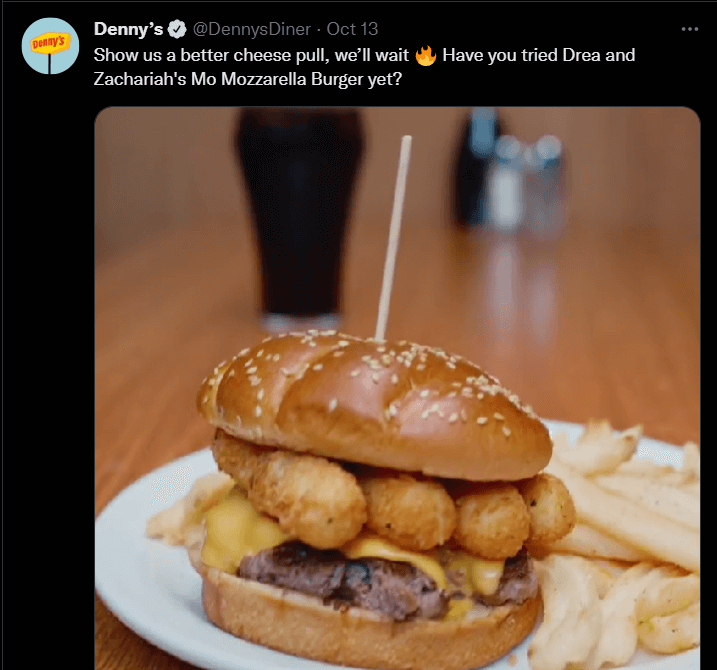 This approach, along with sharing memes and jokes, can be beneficial if your target customer belongs to a younger demographic.
However, if you work in a serious and professional industry, it's worth maintaining a formal tone within your social media posts. After all, you'll be targeting a completely different type of customer. Just keep your target audience in mind when you're writing your copy, and that should reflect in your tone.
5 Time-Saving Social Media Tools
Creating and maintaining your social media marketing strategy can require a lot of time and effort. Fortunately, you can use some tools to streamline the process. Here are five of the best social media tools!
1. Revive Old Posts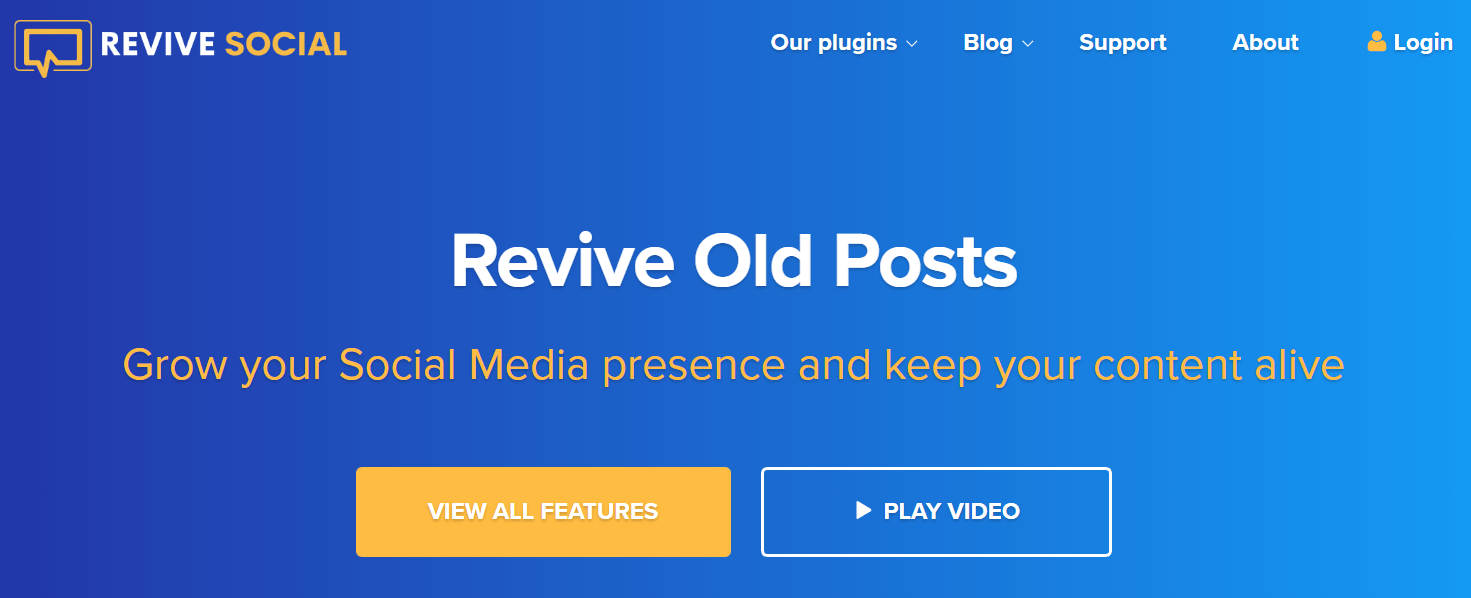 Creating fresh and relevant blog content is essential to your content marketing strategy, and it also provides you with plenty of posts to share on social media. However, with Revive Old Posts, you can get the most out of your older content, too.
Revive Old Posts can schedule your content on rotation and share it automatically to various networks. Furthermore, it can add optimized hashtags to your content to expand its reach.
Pricing: The core plugin is free. Revive Old Posts premium plans start at $75 per year.
2. BuzzSumo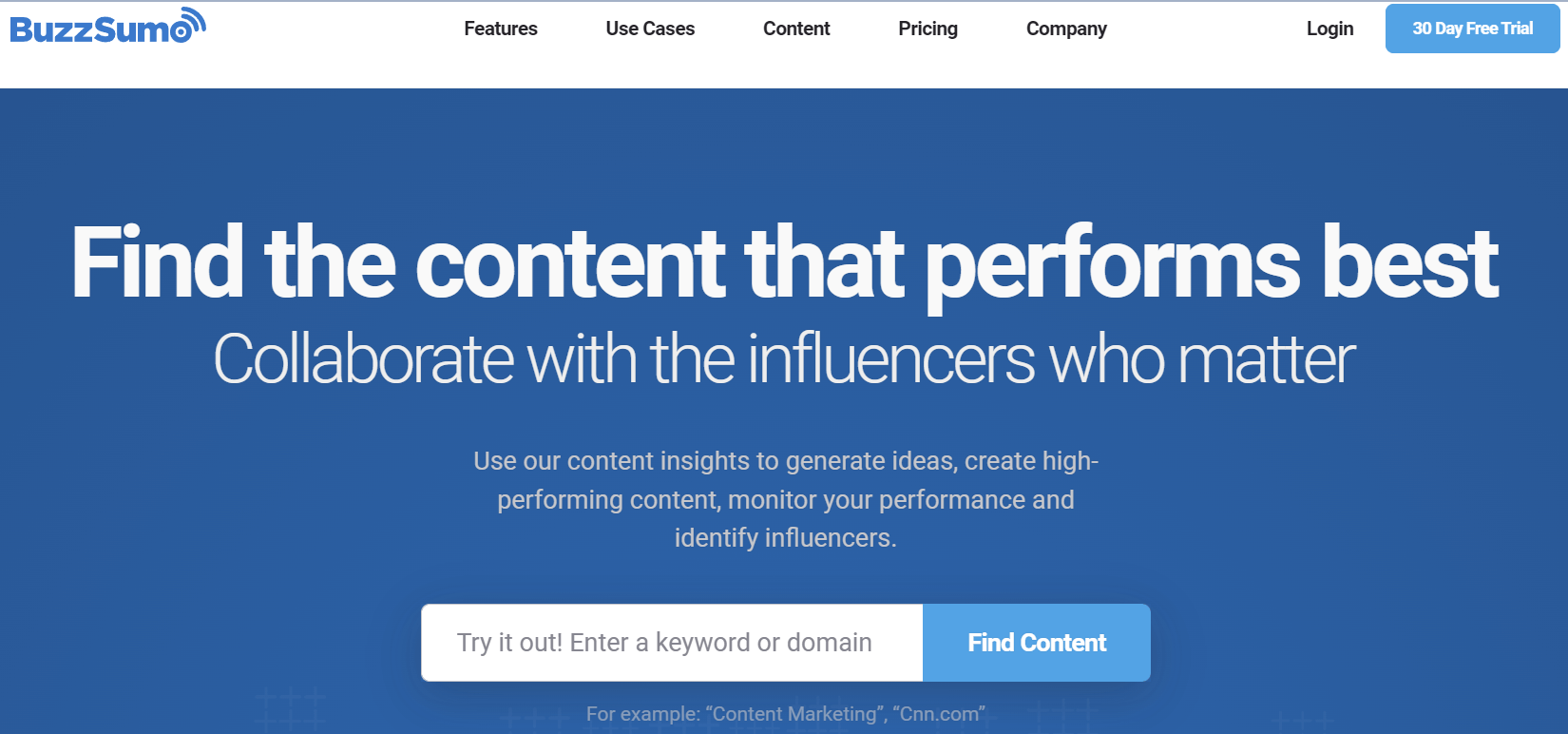 If you're looking for new content ideas or insight into current trends, BuzzSumo could be the way to go. This all-in-one tool can help you with various parts of your social media marketing plan, from learning about your competitors to content research.
BuzzSumo is also an excellent monitoring tool since it tracks your brand mentions across the web and alerts you to any issues. Additionally, it can help you identify and connect with influencers in your niche.
Pricing: BuzzSumo has a free plan. Paid plans start at $99 per month.
3. Canva

Part of social media success is having beautiful graphics in your content. With Canva, you can access a wealth of social media templates and design tools, including stock photography, color schemes, and layouts.
Canva comes with a drag-and-drop editor, so you can quickly put together attractive posts. It also includes social media guidelines for all the major platforms, helping you create more engaging content.
Pricing: Canva has a free plan. Paid plans start at $12.99 per month.
4. Brand24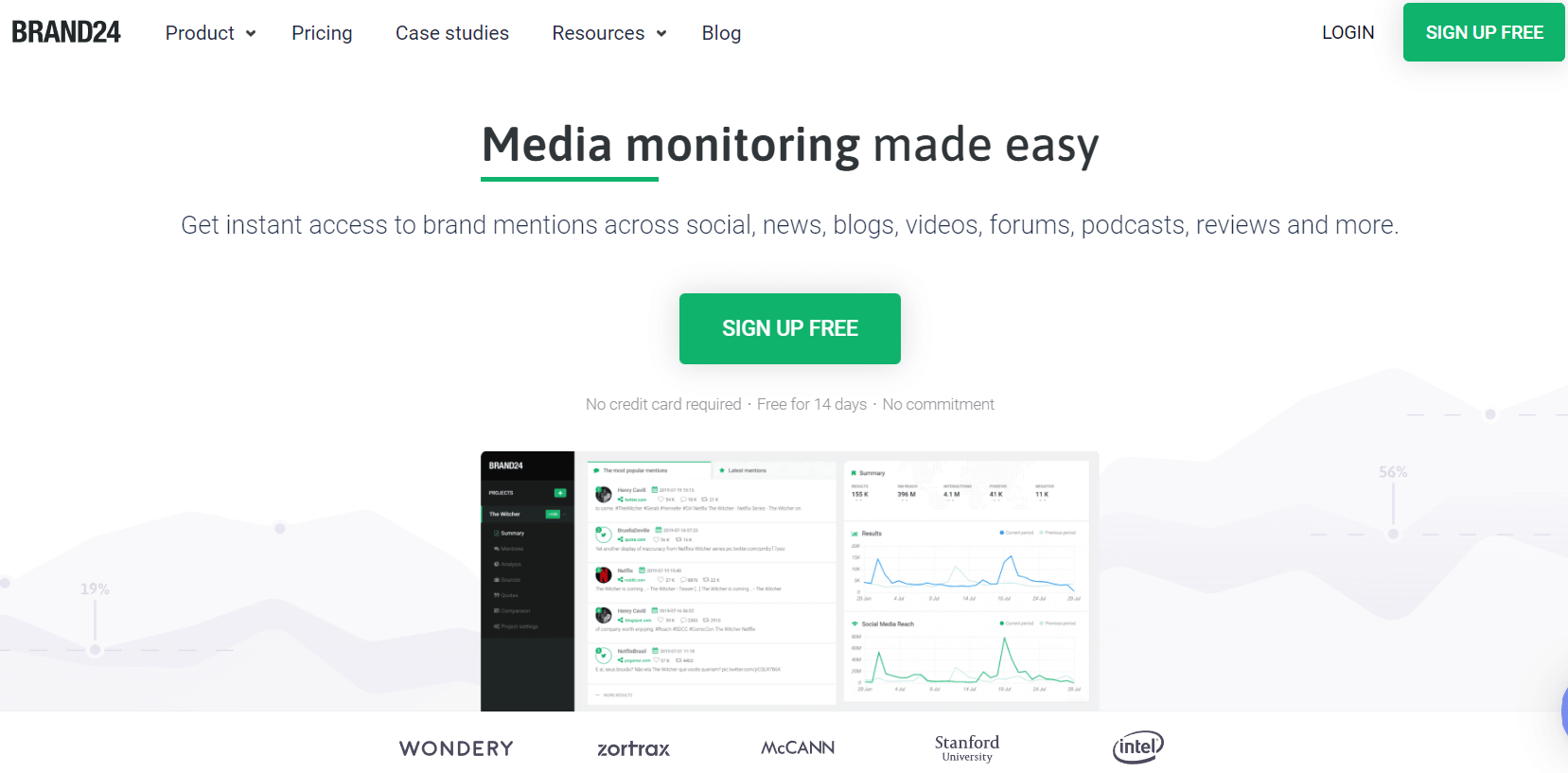 Keeping track of all your brand mentions across social networks can be highly time-consuming. Fortunately, Brand24 can automate the process and send updates when users talk about your company.
Brand24 can also calculate the "sentiment" surrounding your brand. This is how customers generally feel about your business, from positive to negative. Then, you can learn more about your audience and adjust your approach accordingly.
Pricing: Brand24 plans start at $39 per month.
5. Influential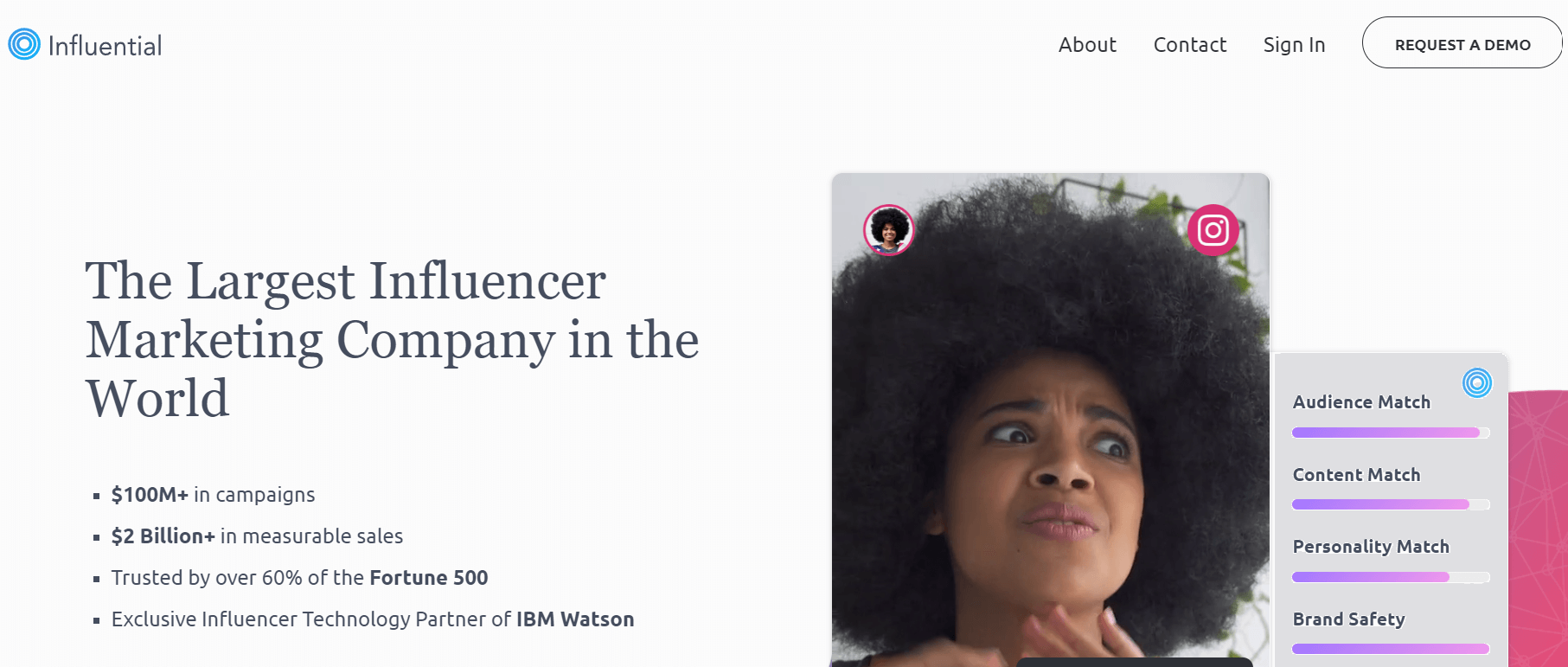 Working with influencers can increase your reach on social media and solidify your brand as a trusted authority. With Influential, you can easily find and connect with influencers within your niche.
Influential uses machine learning and transparent data to determine which influencers are most relevant to your business. Therefore, it can quickly streamline the process of finding social media stars.
Pricing: You can request a quote directly from Influential.
Expand Your Reach on Social Media
Social media platforms have billions of users who could potentially become your customers. However, you'll need to create a plan if you want to succeed on social networks.
To create a winning social media strategy, you'll first need to research your target audience and competitors. Setting goals and choosing social media platforms is the logical next step. Once you've spent some time creating your content and engaging with your audience, you can track your metrics to see if your approach is working.
Do you need a little help with your social media strategy? At Dreamhost, we offer Pro services for social media marketing. Our team of professionals can create engaging content for your brand, optimize your online profiles, and track your progress. Check out our plans today!
Get Social and Grow Your Business with DreamHost
Our experts will help create a powerful social media strategy and level up your execution so you can focus on running your business.