How to Fix Hulu Proxy Error in 2023 [Tried & Tested Fix]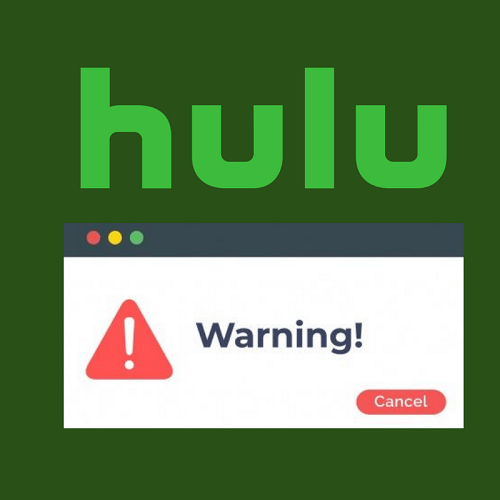 Nothing is more frustrating than receiving the Hulu proxy error when you least expect it. When you're all set for starting your binge session for the weekend and this error screen pops out of nowhere, you have every right to utter a few bad words if you feel so inclined:
But don't lose your cool altogether because it is possible to fix this issue. How?
Well, this error only occurs if you are using a VPN or a proxy. So the easiest way to stop this error is to turn off your VPN or proxy. The problem is, you won't be able to bypass geo-restrictions on Hulu with your VPN turned off.
But it is possible to use a VPN to access Hulu without getting this error at all. It's only a matter of choosing the right VPN for the right job, and in this case, a Hulu VPN is what you need.
A bit of context about the Hulu proxy error
Before I discuss how to solve this annoying issue, I think a bit of a context about this error is due.
The reason why you're even getting this error message in the first place is that you're not in the US. Since Hulu is the United States only service, it doesn't allow outsiders to view its content.
Even if you get their subscription you still won't be able to watch any of their content outside of the US.
It's not even hard to understand why. The company has made huge deals with major media outlets within the US which restricts it from releasing its content elsewhere.
If it did, it'll pretty much get sued straight away.
Similar to Netflix, Hulu runs cunning algorithms that can easily detect if you're using any sort of anonymous proxy tool.
You can get the infamous Hulu proxy error if:
You've got Hulu anonymous proxy installed on your device.
If you're using a third-party application to access Hulu.
If you're using a shared IP that's blacklisted by Hulu.
And finally, if you're using a VPN that's not compatible with Hulu or other streaming services.
Having said that, there are VPN services that are smart and cunning enough to bypass any geo-restriction Hulu might throw at them.
Just for your convenience, ill list some of the best VPN for Hulu down below.
How to bypass Hulu Proxy Error with a VPN
Like I said earlier, the only way to get rid of the infamous is to use a VPN service that actually supports Hulu and other streaming services.
That said, finding VPNs that work with Hulu isn't as easy as it sounds. In fact, it's probably why you're even here in the first place.
Don't sweat though, I've done the cumbersome research for you guys. I've tested around 30 VPN services time and again and filtered out only 5 premium services that actually bypass Hulu proxy error.
So without further ado, here are my top picks for Hulu VPN.
These services worked flawlessly for me and I didn't encounter any trouble on the majority of their anonymous servers.
P.S, even if you do get the proxy error, just switch to a different server. After all, you do get to choose from thousands of anonymous servers.
List of known Hulu proxy errors
As if Hulu's proxy error wasn't enough, you get a bunch of different confusing errors for basically the same thing.
This makes it quite difficult to figure out the actual problem.
No worries, I'll list some of the know errors down below.
HU deejay Error Domain 1
Deejay Error Domain Error 4
"We're sorry, currently our video library can only be streamed within the United States."There are two cases in which you might receive a Hulu location error.
"Your Account is not valid in this region." Hulu Error 16
"Based on your IP address, we noticed you are trying to access Hulu through an anonymous proxy tool. Hulu is not currently available outside the US. If you're in the US, you'll need to disable your anonymizer to access videos on Hulu."
What makes Hulu so popular?
If you're here reading this blog right now, you probably know a thing or two about Hulu yourself. After all, it is the biggest media streaming service in the US and an arch rival to global behemoth Netflix.
The brainchild of Disney, Fox, Comcast, and Nippon TV, Hulu offers live TV from around 50 mainstream media channels along with an endless library of new and classic movies.
Aside from having one of the largest content libraries in the world, the thing that makes Hulu so popular is its portability. No matter where you go, you have an infinite world of entertainment all within the palm of your hands.
That said, as cool as it sounds, you can't access it outside the country and you do need to have a premium VPN service by your side.
Luckily, the VPNs I mentioned above are not only extremely affordable but are also capable of unblocking Hulu.
Wrapping up!
The Hulu proxy error isn't an isolated issue. In fact, ever since 2017, this has become a major pain in the neck for people just looking to consume quality content.
Having said that, the proxy error is easily avoidable with a robust VPN service. Luckily for you guys, I have listed some of the tried and tested VPN providers for unblocking Hulu above.
Just use any of them to experience endless entertainment without any roadblocks or hurdles.
Hope you guys found this blog informative, do let me know if the VPNs mentioned in this blog worked for you.