How to Hire FinTech Software Developers in Poland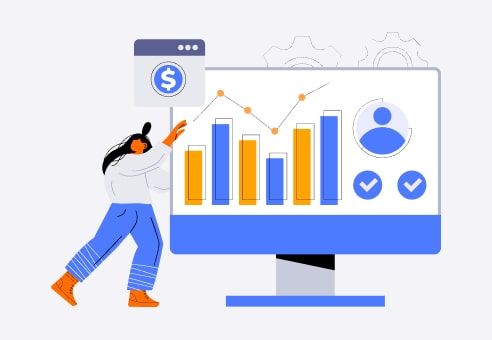 Today, to stay on top of the market, banks and financial organizations have to adapt and offer their customers viable FinTech solutions. FinTech apps allow companies to effectively improve their customer experiences, provide more service options, and keep afloat during global crises. Meanwhile, the downside of FinTech is that it never comes cheap. Therefore, financial organizations search for an optimal price-quality ratio for developing their FinTech apps and many find it in Poland.
The Polish FinTech industry has been actively developing for a number of years and represents one of the most successful examples – the FinTech startups are quickly growing. Meanwhile, the Polish IT development rates are considered to be relatively moderate, even for FinTech.
So, why develop FinTech solutions in Poland? In this article, we've shared the main reasons for that and explained how to effectively hire FinTech developers in this country.
Why Hire Fintech Developers in Poland
FinTech in Poland is one of the leading industries in the CEE region with a wide range of firms that deliver solutions for banking services, finance management, electronic payments, insurtech, and many other areas. According to Statista, the number of FinTech companies in Poland has grown almost twice in 5 years, reaching the number of 299 companies in 2022 from 167 in 2018.

The estimated value of the sector reaches 856 mln euros ($848 mln) with Warsaw being the largest Tech spot in the country, making home to almost 45% of all tech startups in the country. Moreover, the Global Financial Centres Index (GFCI) ranked Warsaw the 59th most competitive major Financial Centre in the world.
Being the leader in FinTech development, Poland has a well-digitized banking sector and many FinTech companies closely cooperate with the banks and large governmental institutions. For example, one of the most popular in-country innovations is the "Blik" payment system that allows transferring quick payments online. In 2021, the number of transactions performed in Blik reached 763 mln whereas in 2016 it handled only 2 million.
The government actively supports the development of the FinTech industry and adopts positive policies to motivate FinTech start-ups to grow and develop faster. For example, many international companies launch FinTech businesses in Poland as they can use R&D tax relief which allows them to additionally deduct a portion of expenses connected with R&D activity from their tax bases. Some other Polish government initiatives include foreign tax credit, Polish investment zone, Innovation Box, and others. We've already covered the most prominent Polish taxation initiatives in this article.
Taking into consideration everything outlined above, Poland is also among the world outsourcing leaders and many outsourcing IT companies there provide FinTech development services. The country has more than 400,000 IT specialists available on the IT market, 66% of which are employed by foreign capital. Read more about outsourcing software development, including FinTech solutions, to Poland.
Tips for Hiring Fintech Experts From Poland
Finding and hiring proper FinTech experts that meet your requirements is always a challenge, especially for companies that have never done it before. Here are some useful tips that will help you to get better prepared for hiring FinTech software developers.
Choose Your Business Strategy
Before searching for any FinTech developers it's important to define your business strategy. Usually, when hiring tech specialists, companies consider hiring in-house, searching for freelancers, or outsourcing. Let's have a closer look at the three strategies and find out when to hire each:
In-house software developers are a great option for large companies that can afford to hire local specialists as their software development rates can be rather high. This option also works great if you create a unique product and you want your tech employees to know everything about the project and be deeply involved in it. On the other hand, finding the right development talents for a non-conventional project locally can also be a problem.
Freelancers are a viable option for companies with short-term projects that don't involve any complexity and, therefore, can be developed by one or two programmers. When hiring freelancers, remember that although these specialists can have much development experience they usually work on several projects for various companies.
Outsourcing is a popular option for big and small companies that strive to save up on their development costs and obtain decent-quality products. Of course, to assure that your product has decent quality, you need to put some effort into finding a reputable and reliable company. Nevertheless, if you find one and hire a dedicated team, you'll be able to cut down your project costs while receiving a full-fledged team of high-quality specialists. Moreover, you won't find much difference between an outsourced team and an in-house team.
Consider Your Cooperation Terms
If you opt for an outsourcing business strategy then it's essential to consider the cooperation model. These models determine how effective your cooperation will be with your outsourcing partner. There are various cooperation models, the most common are outsourcing, hiring a dedicated team, and augmenting your team with certain software specialists.
Outsourcing is a conventional cooperation model with IT outsourcing companies used by many businesses. This model involves handing over your project to the outsourcing partner and obtaining the final product. It means that the outsource provider is responsible for team gathering and management as well as for all the processes and results of the project.
Hiring a dedicated team means that you obtain a team of professionals chosen to match the project requirements. This team works only on your project and gets a deep understanding of all the business processes concerning the developed product. With a dedicated team, you have full management control over the project and the team. However, if you don't have much tech management experience you can always add a project manager to the team to ensure the team's effective management and communication.
Staff augmentation involves hiring single or several specialists with narrow tech expertise to an in-house team. Many companies choose to augment their departments with employees who have much development expertise and who could enhance the developed product with digital innovations such as AI, Blockchain, AR/VR, and others or build complex features.
Investigate the Polish Cities
If you outsource your FinTech development to Poland, the first thing you need to do is to find out more about the locations you can outsource to. You already know that the Polish capital – Warsaw accounts for 45% of all tech startups in the country. However, there are many other great cities in Poland that provide solid tech support and expertise. Some of them are Wroclaw, Krakow, Katowice, and many others.In one of our articles we've made a detailed analysis of top Polish IT cities, check it out here.

Outline Your Fintech Solution
The last but not least important element to pay attention to before hiring FinTech programmers is the developed solution objectives and features to include in it. To find them out, you need to carefully investigate the market and the audience you're planning to target.
For this, you could search through your market niche and find existing solutions. Consider their audiences, the services they provide, and the most important and second important features they use to provide their services. Now, think about how your FinTech app can differ from them and how you can make it unique.
Now, as you've got your FinTech solution draft, you're ready for the final step – hiring FinTech programmers for your project.
Steps to How to Hire FinTech Developers in Poland
The hiring process of FinTech programmers in a foreign country is always paired with risks. Therefore, to ensure that you contract a reliable company that can deliver robust and performant products, you need to follow some hiring steps.
Find a FinTech Company
Cooperating with a FinTech outsourcing development company is the most credible approach when it comes to hiring abroad. There are far fewer risks that the hired IT company will put your project on halt, deliver poor quality, or break copyright rules. That's because they care about their reputation.
There are many resources where you can search for the company that suits your business requirements. For example, you can look for FinTech Polish companies on specialized platforms such as Clutch, professional job search sites such as LinkedIn, or social media networks such as Facebook.
The main points to research when looking for potential candidates are:
High ratings – professional websites that have lists of various companies rate them by clients' feedback and rating on their profile pages. Find several FinTech companies that match your requirements, compare them, and select the most successful ones.
Completed portfolio – reputable companies always share the case studies they've worked with in their portfolio on their business sites. The portfolio should contain a general description of the projects and the technologies the company implemented to deliver the product. Check out if there are any cases similar to your project. If there's one then this company is a great candidate.
Customer feedback – although companies are usually reluctant to publish negative reviews, you can always find their customers and ask them. Think of the questions you could ask about the product and the general workflow in the company. For example, if it's easy to communicate with software developers and managers in the company, if the final product quality was satisfactory, etc.
Conduct an Interview With Fintech Engineers
Surely, you need FinTech developers who know their work well and who will quickly understand the specifics of the developed product. Therefore, you need to meet with your team face-to-face and discuss the project workflow, the tech stack they will use to build your FinTech solution, and much more.
Prepare yourself for the interview and compose a set of questions to find out if the software developers you'll work with are the right fit for your project. These can be general questions such as:
How long have you been working in FinTech development?
Which projects have you worked on?
What programming languages and frameworks do you use the most in your work? Why?
Tell me about the last FinTech project you worked on.
Which FinTech problems did you encounter on your previous project? How did you solve them?
Are you comfortable working in a team? How do you communicate with other developers?
Remote Management
After deciding on the company to cooperate with and holding all the interviews, the very last aspect to define is the remote management process. Successful remote management relies on effective communication. Therefore, your FinTech team members should possess great soft skills and be able to effectively work in a team. You can figure out these points during the face-to-face interview.
Another essential point to determine is how the communication process between the team and the customer is organized. The questions that you could clarify with your FinTech outsourcing provider are:
Which project management apps do they use to track project development?
Which apps will they use to keep in touch with you and update you on the latest project changes?
How often will they hold the project meetings?
Conclusion
FinTech is a competitive and actively-developing industry today. Many banks and financial organizations strive to create their own FinTech solutions to provide the best service to their customers. However, FinTech apps can be quite complicated and expensive to develop. Therefore, companies search for ways to cut down development costs.
A viable option to minimize the costs and obtain high-quality FinTech products is to outsource to Poland. Poland is a major IT outsourcing provider in the Eastern European region and in Europe. The country has a wide pool of IT talents and a thriving FinTech industry. As a result, it's not difficult for businesses from all over the world to find and hire reliable and experienced FinTech developers there.