How to Unblock SoundCloud in China in 2022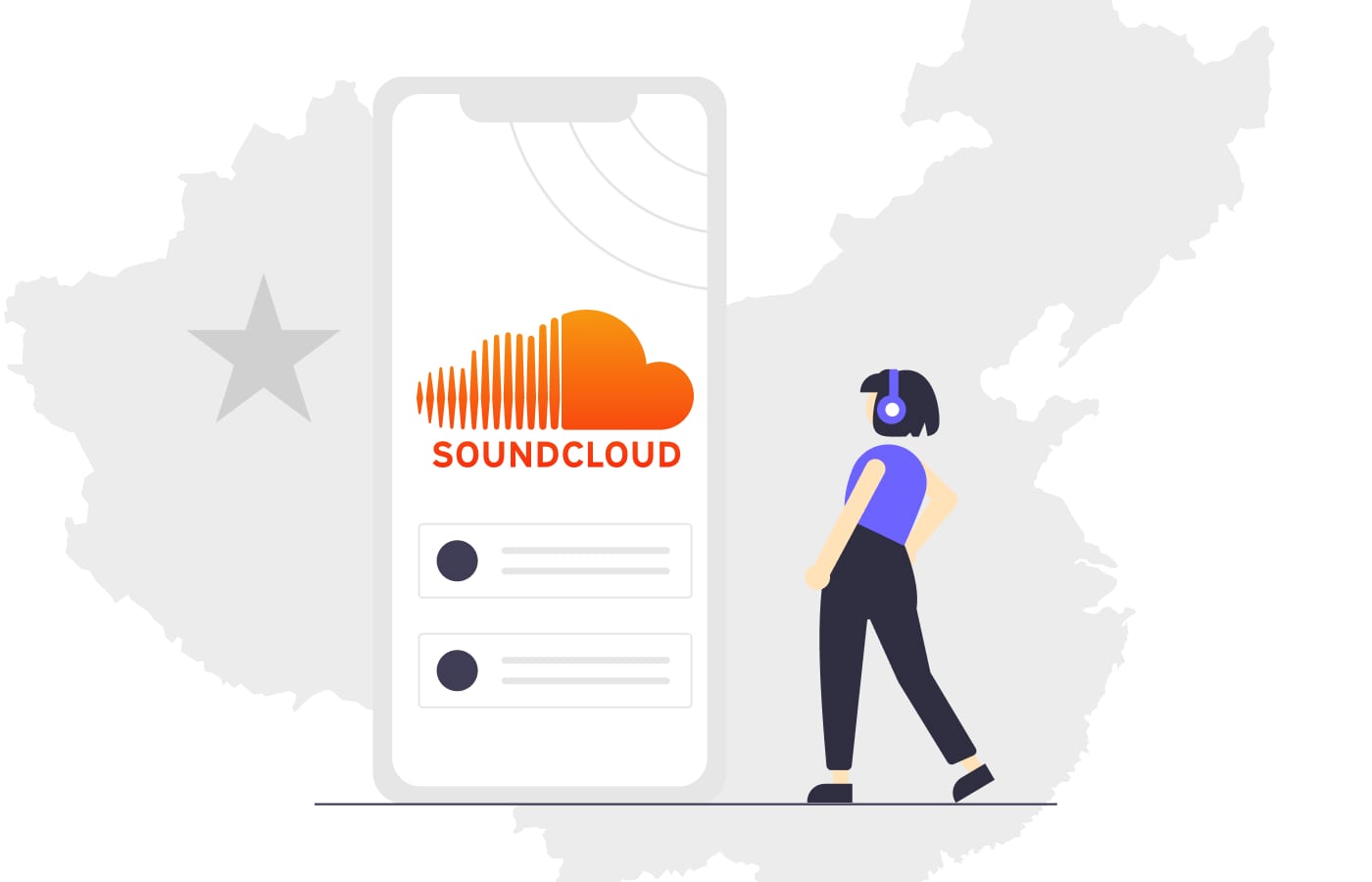 Whether you're an artist looking to upload, share or promote your audio content, or a listener who wants to stream great tracks, SoundCloud is a great app for you.
Using SoundCloud, Internet users can both share music and listen to a large array of songs and audio listening content from around the world.
To use this platform, you can easily download SoundCloud from the official site, from the Apple Store or Google Play Store, or from your Xbox One, Sonos, or Chromecast — all for free.
But what if you want to unblock SoundCloud in China?
Keep on reading to find out how to get past China's IP blocking to access your listening content on SoundCloud today!
Is SoundCloud Blocked in China?
Yes. China's Golden Shield Project and Great Firewall have made it nearly impossible to access a huge array of restricted websites from within Chinese borders.
So, not surprisingly, due to restrictions imposed by the Chinese government, SoundCloud music and audio are blocked in China.
This website, along with many others —  like YouTube, Facebook, Twitter, Instagram, and other music and video streaming platforms — is inaccessible for anyone trying to access them from mainland China.
In order to access SoundCloud music for free from China, you will need to use a reputable VPN connection.
How to Access SoundCloud from China with a VPN
If you want to access SoundCloud while you are in China, you will find that, due to Chinese internet censorship, the SoundCloud music platform is blocked.
Unfortunately, the SoundCloud website block has been active since 2014, and we do not see any signs of this changing any time soon.
In fact, even if you are from a country that permits SoundCloud access, the Great Firewall will block access to this music platform — whether you are a Chinese native or a visitor to the country.
The Chinese government uses its strong Firewall that censors many websites, including Google, Facebook, YouTube, Instagram, SoundCloud, and many other music and media sites.
If it is deemed that a website is not aligned with the government's politics or values, it is blocked, either through URL filtering DNS or IP blocking, packet filtering, or other methods.
SoundCloud fans living in or traveling to mainland China will need to use a simple yet powerful hack to bypass this Firewall and access SoundCloud from within China: a VPN (Virtual Private Network).
When you connect to a VPN network, you can slip under the radar of the Chinese government to listen to music and audio and share new songs on SoundCloud — even in a blocked country.
When accessing SoundCloud with a VPN, your address and location in China are hidden and replaced by an address corresponding to your VPN server country, bypassing any firewall that keeps you from accessing your favorite blocked platform.
How to Choose the Best VPN Network for Accessing SoundCloud from China
If you want to pick the best VPN for accessing SoundCloud from China, make sure to choose one that has been vetted for use in Asia and has been proven reliable at getting past China's strict censorship.
In addition, a good China VPN for SoundCloud should have great speeds so you can stream with good quality and no interruptions; as well as servers in a location that permits access to your desired site.
Perhaps most importantly, a good VPN service to use in Asia to bypass China's blocks should offer users a money-back guarantee so that you can test this tool out for yourself before committing to a long-term plan.
SwitchVPN is great when it comes to unblocking SoundCloud from abroad, with a reputation for getting past China's restrictions, a 30-day money-back guarantee, $1 trial, good speeds, and servers in the USA, where you can access this platform easily.
How to Unblock SoundCloud in China With SwitchVPN (Step-by-step Guide)
Subscribe to a reliable VPN provider, like SwitchVPN.
Download your VPN app from the VPN service website or from the Apple App Store or Google Play Store.
Pick the country where you want to establish a VPN connection. Our default server is a US VPN server address for the most reliable access to SoundCloud content.
When you have connected to your VPN, go ahead and stream SoundCloud audio!
What Else You Can Do With a VPN Connection
A VPN is a great tool to use if you are looking to browse the web privately and securely in Asia, or anywhere else in the world.
When you connect to a VPN server, your traffic is sent through an encrypted tunnel, making your activity and information impossible to decipher if it is accessed by prying eyes.
A VPN also helps you access websites that are geo-restricted in your region, so you can watch US Hulu from Asia, or BBC iPlayer if you are in the USA.
On top of this, a VPN can help you gain access to better prices for services by connecting to a server in a country that has a different cost for the same service that you are searching for.
A VPN can also protect your privacy and anonymity, keeping your identity and location hidden and protecting you from hackers and cyber-spies.
You can use SwitchVPN to achieve any of these results.
Other Websites Blocked in China
Some of the other websites that are blocked by the Firewall in China are:
By using a Virtual Private Network, you can access all of the blocked sites and platforms simply by connecting to a server in a permitted location, so it will look like you are browsing the web from outside of China instead of from within.
Use a VPN Service for SoundCloud in China
If you want to bypass blocks while you are in Asia — or any blocked country in the world — to stream the music you are craving on SoundCloud, all you have to do is sign up for a reputable China VPN, like SwitchVPN.
SwitchVPN is consistently and reliably able to get past restrictions in China to help access restricted content from all over the world.
If you would like a loophole to this block, it does appear that users can access the SoundCloud site without using any VPN just by using the mobile SoundCloud version on a phone.
To do this, type in "m.soundcloud.com" to your URL search bar without adding the "www." (Remember not to use the "www"!)
Since loopholes don't work for all blocked websites, using a VPN in Asia is your best bet to access many popular websites that users may find blocked otherwise.
Sign up for SwitchVPN today and get a 30-day money-back guarantee, so you can test it out in Asia with no strings attached!