How To Unblock Vimeo In China in 2022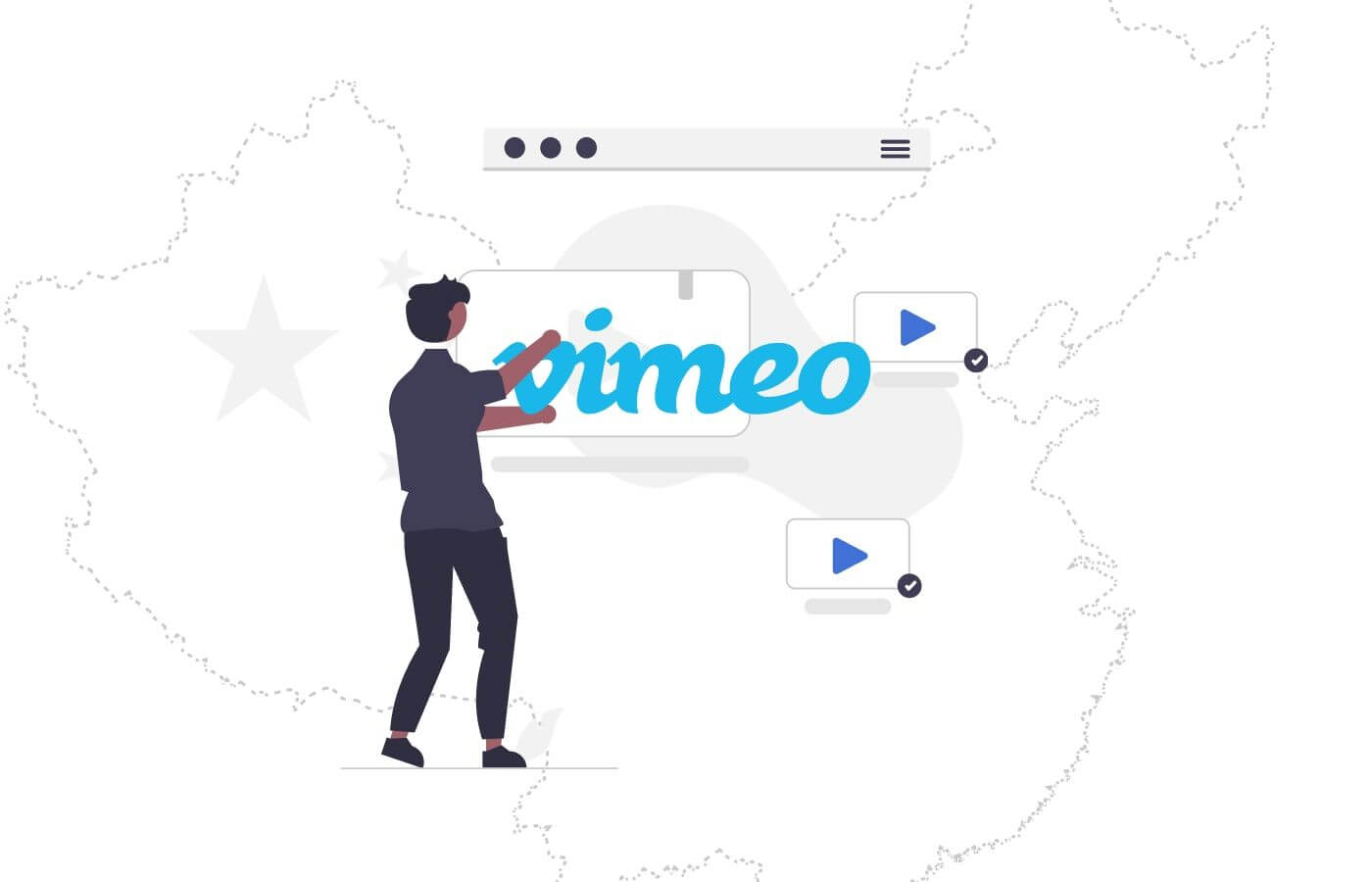 Vimeo is a popular video-sharing and hosting platform that offers subscribers tools to edit, create, and broadcast their videos online.
If you are planning a trip to China, you may be frustrated (but probably not surprised) to find that Video is blocked.
To unblock Vimeo in China, you will first have to find a way to bypass the Great Firewall of China.
The best way to access the Vimeo site from China and bypass the restrictions imposed by the Chinese government is to use a reputable China VPN (Virtual Private Network).
Is Vimeo Banned In China?
Yes, the Vimeo site is banned, and it has been since 2009.
This does not surprise us, since YouTube has been banned since 2007 in China, and this platform is similar to YouTube. The difference is that Vimeo's platform has no ads and is mostly comprised of independent video creators and their followers.
Why Does The Chinese Government Block Vimeo?
The reason that Vimeo is blocked in China is the same reason many other websites and platforms on the internet are blocked in this country.
The main reason is that China's government has the need to control any information from the outside world that influences their population, and to narrate how information exits their country and is presented to outsiders, safeguarding their version of the narrative of their culture, as well as their national, political and social views.
How to Use Vimeo In China With A Virtual Private Network
While most people have accepted defeat, accepting that they are simply not going to be able to use many of their go-to platforms from within China, we urge you not to give up just yet! There is definitely a way to avoid this censorship and create a link to your favorite go-to platforms from anywhere!
The way that a VPN works is that it helps users establish a secure connection between their computer or device and one of the encrypted VPN servers in a country outside China's borders.
When this secure connection is established, your IP address will no longer reflect your Chinese internet location, but instead will reflect your VPN server location outside, allowing you to access outside sites as if you are accessing your restricted website from abroad.
Since not every VPN works at getting past China's internet blocks, it is important to make sure to use one of the reputable services, like SwitchVPN, that have been vetted for efficiency in heavily censored countries like China.
What Makes A Good VPN For Vimeo
Not all VPNs on the market are good choices for accessing Vimeo to help you edit and share your videos. Here are some of the features that are important to look for when trying to unblock your website from within China's borders:
Good Speed: If you want to use your video service with good speeds and no buffering and glitches, you will need a VPN with good speed on both local and long-distance servers.
Good privacy and Security: Choose one of the VPNs that offer military-grade data encryption, a no-logs policy, and a Kill Switch to ensure your connections and information are always completely protected. This will keep you safe from hackers, and keep your activity and identity out of reach of China's authorities, so you never have to worry about winding up in trouble for outsmarting their blocks.
Guarantee: If you want to see for yourself that you can use your desired website from anywhere, test it out yourself from anywhere in the world using your VPN's money-back guarantee.
Live Chat Support: Since it is annoying to have to navigate troubleshooting on a VPN's site, it is a good idea to choose a service that offers live chat support so that you can easily speak to a customer support representative any time you want, getting answers on any billing, connectivity, app, or issues with servers.
Reputation: The best VPNs for breaking through China's blocks are the ones that have reputably and consistently have success at doing so. Many VPNs will actually admit that they do not work in this heavily restricted location, so make sure to pick on that dedicates its resources to staying ahead of China's blocks, like SwitchVPN.
How To Unblock Vimeo From China With SwitchVPN
To use SwitchVPN to unblock Vimeo's site from within China's borders, follow these simple steps:
Subscribe to SwitchVPN and create an account.
Download SwitchVPN to your device using the appropriate link.
Establish a VPN server connection in a region that permits Vimeo, like the US.
Open up Vimeo service and enjoy!
Remember: Users who want to bypass the Great Firewall to use restricted services will have to download a VPN from outside of China's borders (before arriving). The reason for this is that, for the same reason a site like Vimeo is restricted in China, so, too, are VPN websites.
Other Uses For VPNs
VPNs have lots of other uses in addition to unblocking your restricted video site. Some of the popular reasons people use a VPN are to give them an encrypted connection that can help bypass geo-blocks to unblock streaming services that are inaccessible from certain locations, such as Netflix, Hulu, Amazon Prime Video, YouTube, and more.
VPNs are also excellent at protecting users online when establishing connections on public wi-fi that could expose them to hackers, or when torrenting or visiting any peer-to-peer website. Because a VPN encrypts your traffic, none of it is decipherable even if someone manages to get their hands on your activity.
Another reason for using VPNs is for accessing resources and better prices in different countries by connecting to servers in those specific regions, making it look like you are browsing as a local.
Other Sites And Services Banned In China
There are many popular services and website content that is blocked in China. Here are some of them:
Facebook
WhatsApp
Wikipedia
Twitch
Twitter
YouTube
Google (Hangouts, Docs, Maps, Calendar, etc.)
Instagram
Pinterest
Snapchat
New York Times
CNN
BBC
Reuters
Wall Street Journal
and many more
FAQs
Can I use Vimeo from China?
No. You will only be able to create, edit, and share videos on Vimeo if you are using one of the reputable VPNs, like SwitchVPN. Using one of these providers, you can pretend you are in a different location, slipping past China's Firewall to unblock this platform.
Conclusion
The best way to bypass China's block to access your restricted website from anywhere in the world, whether you are using your computer or other devices, is to establish a VPN connection.
Of all the VPNs on the market, not many are able to bypass China's heavy censorship. Our top choice for accessing internet services restricted in China's heavily censored location is SwitchVPN. SwitchVPN offers military-grade data encryption, so users are always protected when accessing the web from anywhere in the world.
You can also use SwitchVPN risk-free with its 30-day money-back guarantee! This way, you can test it out, see for yourself how it works, and cancel at any point to get all of your subscription fee back.
Click this link to get the latest deals on SwitchVPN today!