See Future Changes to Your Recurring Revenue with CMRR
Wouldn't it be great to see how the deals your sales team has just closed will impact your MRR? Or see how scheduled cancellations will impact your end of quarter results? 
We have got good news. And no, you will not need to rev your Delorean up to 88mph to see your upcoming MRR movements. It's now possible to get a glimpse of your future MRR with ChartMogul's new Committed Monthly Recurring Revenue (CMRR) reporting features. 
Committed Monthly Recurring Revenue, is a projection of MRR in the future. It considers any committed revenue addition (including new business, expansion, reactivation) or scheduled churn/contraction. You might also see it written as Contracted Monthly Recurring Revenue.
CMRR allows you to get the complete picture of your SaaS business – to see if you're on target to reach your monthly, quarterly, or yearly goals. That kind of information is really powerful; you can take action to mitigate upcoming churn, allocate marketing spend, or just give you the motivation you need to push a bit harder to hit that target.
Awesome feature. Really important to track CMRR as well as MRR to present the full value of your subscription base when valuing SaaS companies.

Shane Greenan, ActivePipe
MRR versus CMRR 
MRR gives you insight about what has already happened. It is primarily derived from the subscription service periods that appear on your invoice data; the amount being billed for a given service period. But MRR doesn't tell the whole story about what's happening in your business. There are events that are already scheduled to occur that will have an impact on your revenue. Your MRR doesn't take into account these committed and anticipated future movements, and is thus only painting part of the picture. 
CMRR is based on movements from scheduled changes to your subscriptions. When you make changes to a customer's subscription in your billing platform, those changes will automatically appear in ChartMogul even before an invoice is generated. In this sense, CMRR will show you what your MRR will be in the future. 
When you combine MRR and CMRR you'll have the most up-to-the-minute information about your business. 
What's changing in ChartMogul? 
In the Charts section of the app, you'll see the brand new CMRR Forecast report. You'll be able to see the most complete picture of your company's financial health with a breakdown of all scheduled monthly MRR movements from now into the future, and how they will impact your MRR and ARR.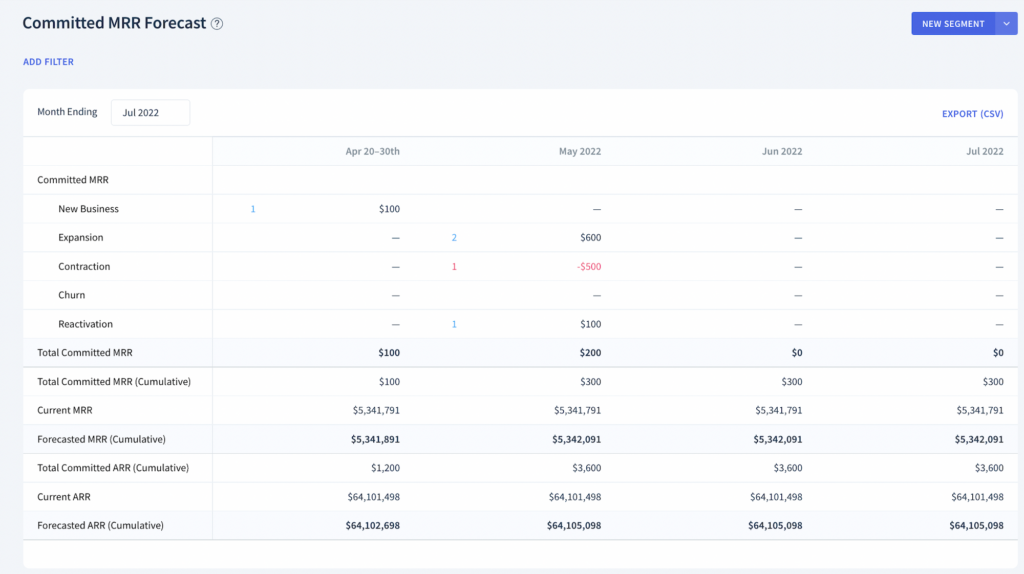 We've also updated the MRR Breakdown dashboard tile. When you login to ChartMogul, you'll see a quick overview of scheduled MRR movements for the month, quarter, or year right on your dashboard.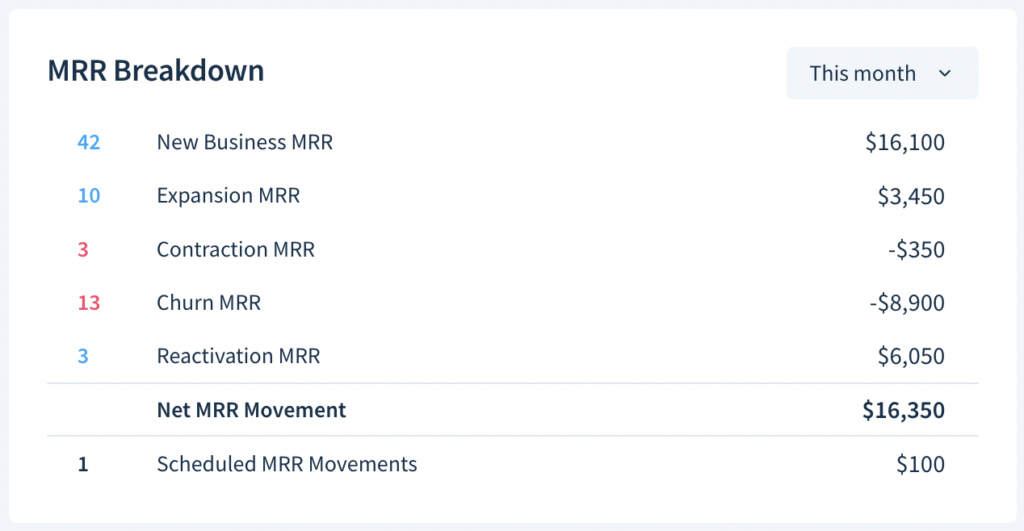 You can also see scheduled movements on customer profiles. Subscription event-based movements like upgrades, downgrades and cancellations will appear above past MRR movements on each customer's profile. You'll be able to see when the event occurred, and when the anticipated movement will take effect, giving you an up-to-date record of each customer. 

What's next for CMRR? 
Currently, CMRR is available for users with the latest version of our Stripe integration, Recurly, or a Custom Data Source. We're working on adding other billing systems, like Chargebee, for the next version. We're also adding support for historical reporting of CMRR for those who prefer to report on CMRR over MRR to their investors and other stakeholders. 
Curious to see how CMRR can help your business? Sign up for a 14-day free trial today.