Ten Mobile App Development Trends to Follow in 2023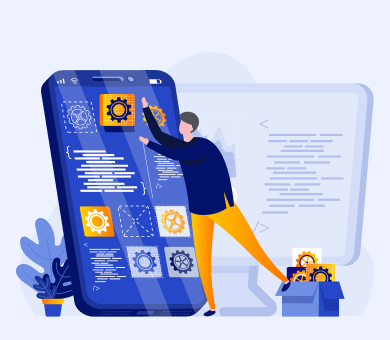 Due to the rapid advancements and changes in mobile application development trends, many companies prefer to continuously monitor the appearance of new technologies in the mobile app development world. Effective implementation of the latest innovations in custom mobile solutions allows businesses to ensure that their mobile apps remain up-to-date and can fully satisfy their business and customer needs.
In this article, we share an overview of the top 10 mobile app development trends companies should pay attention to ensure that their mobile solutions are relevant in 2023.
AI & ML
2023 has become the year of Artificial Intelligence and Machine Learning transformation. Having been used by many businesses as a tool for analysis and prediction for a long time, AI and ML technologies have changed their development direction in the current year, moving toward content generation.
The "generative AI" that produces various types of content such as texts, images, audio, and other data was introduced at the end of 2022 and is booming now. This has become possible due to the public release of such innovations as ChatGPT, DALL-E, and many others. The impact of the new AI/ML is so massive that Microsoft has already invested $10 bln into the development of ChatGPT to integrate it into the Bing search engine. Meanwhile, Google is trying to quickly improve its own AI technology in an attempt to remain a major competitor in the market.
While generative AI technology is only at the beginning of its development, it's already disrupting the way companies do their business and create content. According to Markets and Markets, the generative AI market is expected to increase from $11.3 bln in 2023 to $51.8 bln in 2028, growing at a CAGR of 35.6% in the forecasted period. Meanwhile, in its IBM Global AI Adoption Index 2022, IBM states that 35% of companies already use AI in their business and 42% of respondents are exploring ways to implement AI for their business.
Definitely, the implementation of AI/ML in mobile apps isn't limited only to content generation. There are many more ways to use the technology for mobile app performance enhancement. It can be used for:
Learning customer behavior patterns to provide more user-focused experiences, e.g. personalized services recommendations;
Use of conversational UI when users can interact with a mobile app via voice commands;
Automated reasoning for enhanced planning or building better routes for car services;
Automation of routine tasks, e.g. automated invoicing, payments, document processing, and more;
Predictive intelligence and reporting when AI helps companies find better solutions for emerging issues, and more.
IoT
From air-conditioners to smart cars and cities, the Internet of Things (IoT) improves our way of living. It makes the world's fabric more intelligent and responsive, connecting both digital and physical in real time.
IoT devices can keep track of key business processes, level up efficiency, improve productivity, provide insights, and encourage companies to render enlightened decisions.
The major tech companies that provide IoT technology software and hardware include Amazon with its Echo line of smart speakers connecting to Alexa, Google Home Voice controller with speakers that connect to Google Assistant, and Siri by Apple that connects to any Apple device. Apart from these three major market players, Samsung, Xiaomi, Bosch, and Honeywell also have their own IoT brands. As a result, there is a wide range of technologies that can be selected for implementation in mobile solutions.
IoT gadgets and systems are quickly growing in demand. Statista states that the number of IoT devices used worldwide is forecasted to almost triple from 9.7 bln gadgets in 2020 to over 29 bln IoT devices in 2023. Provided that, Market and Markets expects the IoT market size to increase from $300.3 bln in 2021 to $650.5 bln in 2026, presenting a CAGR of 16.7% in the forecasted period.
Cloud Apps
Integration of advanced technologies into a mobile app requires much storage and increased device memory. However, even if there is enough space and processing power, it doesn't mean that users are ready to install mobile apps estimated in gigabytes. Cloud computing technology can simply solve this issue. By using remote services, companies remove the concerns of internal memory shortage on mobile devices, heavy computational processes, or even back-end infrastructure support.

Another reason why companies prefer building their mobile apps cloud-based is multiplatform support. It means that the mobile apps built for the cloud often run on several mobile platforms, the most popular ones are Android and iOS. Cloud is a perfect solution for cross-platform mobile development as software developers can build one back-end codebase for various mobile platforms, put it on the cloud, and provide access to the app via a web browser.
Other cloud technology benefits for mobile apps include:
Enhanced security and privacy
Saved expenses on app hosting
Improved loading capacity
Support of streaming operations
Seamless scalability, depending on the current business needs, and much more.
Wearables
Being a part of IoT technology, wearables require a separate mention when it comes to mobile app development. That's because the technology has penetrated deeply into people's everyday routines. Medical appliances, fitness trackers, fitness rings, and smartwatches are just some examples of wearables used daily by millions. That's why this trend can't be ignored by companies developing mobile apps. Customer service, IT, medicine, marketing, and sales are the key spheres where wearable technology is used now.
Today, there is a wide range of companies that manufacture wearable gadgets, including the renowned Fitbit, Apple, Google, more medical-focused Philips and Omron Healthcare, and many others. The technology keeps developing and is growing in demand, this is evidenced by the Insider Intelligence stats. It shows that in the US wearable technology market, users exhibit interest in the technology and it has grown from 23.3% of YoY in 2021 to 25.5% in 2023 and is expected to reach 27.2% of YoY in 2025.
AR & VR
Augmented reality (AR) and virtual reality (VR) blur the line between physical and digital. Both technologies provide full immersion into a digital environment, while AR overlays virtual objects over real ones. The interest in VR and AR is growing as they are reshaping business operations.
In 2023, virtual and augmented realities will continue to grow. Statista highlights that the revenue in the AR/VR market is expected to show a CAGR of 13.72% between 2023-2027, resulting in $52.05 bln by 2027. The user penetration will increase from 28.8% in 2023 to 32.6% in 2027.
Beacon Technology
Beason technology is a simple mobile app feature that has been used by many businesses to improve their advertising strategies. The operating principle of beacon technology is closer to that of a lighthouse. It transmits a signal that other Bluetooth devices can "see" once it is within their reach. This way, beacons help physical shops better detect their potential customers by sending notifications to the smartphones of nearby users.
The most widespread Beacon technology uses include:
Proximity marketing, e.g. Walmart widely uses Wi-Fi beacons to send personalized recommendations to customers.
Beacon-based payments are when a customer enables payments via s smartphone initiated by beacons.
Event management – beacons can be used for festivals and events to arrange quick visitor registrations, local navigation, marketing surveys, providing information, etc.
Transportation – with beacons, users can quickly obtain passenger information, buy and manage tickets, and much more. The technology is widely used in airports, e.g. Frankfurt, New York's JFK, Londons Heathrow, etc.
With beacons, it's easy to improve user experience, streamline business operations, and simplify workflows. Therefore, many businesses use beacons in their work. According to Statista, the beacon technology market valued at $529.6 mln is expected to grow to $56,554 mln, increasing at a CAGR of 59.8% in the forecast period.
Blockchain
Although blockchain is mainly associated with cryptocurrencies and crypto trading, the technology is widely implemented for improving software in various industry spheres. It's used across diverse financial services, global supply chains, healthcare, and many others.

Some use cases of effective technology use include:
Banco Santander with its blockchain-based money transfer service.
Nestle with its "Chain of Origin" coffee. Users can scan a QR code on the pack and track the product supply chain from the farm to where the beans were roasted.
Pfizer also uses blockchain managed by the Clinical Supply Blockchain Working Group to track its supply chain
Unilever utilizes blockchain for its GreenToken project to improve the traceability of its palm oil in supply chains, and many others.
The reasons why so many companies upgrade their software, including custom-built mobile apps, with blockchain are numerous. Blockchain can help businesses increase their data security, decrease silos among business partners and inner company departments, improve data traceability to its source, perform faster transactions, reduce operational spending, implement automated data processing and task automation, and much more.
Markets and Markets states that the global blockchain market reached $7.4 bln in 2022 and is to amount to over $94.0 bln by 2027, growing at a CAGR of 66.2%.
M-Commerce
Mobile commerce has been present as an e-commerce option for quite some time but it really started gaining popularity during the Covid-19 pandemic. That's because the number of online purchases grew significantly at that time and mobile devices appeared to be a more convenient way to perform purchases than laptops or stationary computers, let alone brick-and-mortar facilities.

With m-commerce, customers can search for products/services and buy them on the go. Fast transactions don't require any cards or cash, reduce purchase efforts, save time, and, therefore, improve customer retention for companies.
Mobile commerce isn't limited to brand mobile apps for purchasing goods or services only. It can also include:
Mobile payments via payment gateways and with digital wallets.
Contactless payments in brick-and-mortar stores with the help of Apple Pay or Google Pay.
Various FinTech solutions for money transfers or exchange.
Mobile shopping in mobile apps, websites, social media networks, etc.
Mobile banking and investing.
Statista states that mobile retail e-commerce sales in the US reached $362.11 bln in 2021 and the amount is expected to reach $710.42 bln by 2025. Moreover, the US is predicted to account for a growing proportion of retail sales in the world. This is happening due to persistently growing visits to e-commerce sites such as Amazon and eBay and because the traditional brick-and-mortar retailers in the US such as Costco, Walmart, and Target are moving to online retail sales.
Chatbots
One of the effective ways to make a mobile app more appealing to the end-users is to integrate a chatbot into it. Chatbots have taken up multiple communication channels and components in the mobile app world. By adding a chatbot to their apps, companies can save up time and money on customer service and customer support. Moreover, they can send important notifications and suggest the latest products and services to consumers.

Meanwhile, app users who are accustomed to interacting with brands in real-time won't spend much effort on reaching customer support or searching for answers across the platform. According to 99 firms, the average satisfaction rate of communication with chatbots reaches 87.58%. If to consider the upcoming changes that Microsoft brings with its generative AI chatbot, the satisfaction rate is expected to rise even higher.
Even though chatbots eliminate any human-to-human interaction, they boost efficiency and customer engagement, reduce time spent on feedback or answers, gain insights, and provide better lead generation. GlobeNewswire predicts that the chatbot market size estimated at 0.84 bln in 2022 is predicted to reach $4.9 bln by 2023, registering a CAGR of 19.29% in the forecasted period.
EMM & APM
More and more companies today switch to performing work remotely via mobile gadgets and apps. This brings up new issues – app security and its stable performance. To address these issues effectively, many companies opt for using Enterprise Mobility Management (EMM) and Application Performance Management (APM) tools.
Enterprise Mobility Management (EMM) is a set of various technologies, processes, and policies that help businesses ensure the secure use and management of mobile gadgets within the organization.
Application Performance Management (APM) is a set of software tools aimed at ensuring the stable work of critical applications, providing their expected performance, availability, and high-quality user experience.
Combined together, APM and EMM make up the basics of enterprise app building. They help businesses to fight the issues of slowed-down app performance and arrange secure mobile data and document exchange between the employees' personal and company-owned devices.
Key Takeaways
Every year is replete with innovations for custom mobile application development companies, and 2023 is no exception. Notwithstanding the above-mentioned ones, it also entails the introduction of 5G technology, the rise of enterprise, on-demand and instant app development, XR, PWA, low code development, and more.
However, there's no need to act on every impulse of modern mobile application development trends but be aware of their core pros and cons, customer demands transformations, and the way your business can benefit from each of them.