The Complete Dedicated Hosting Buyer's Guide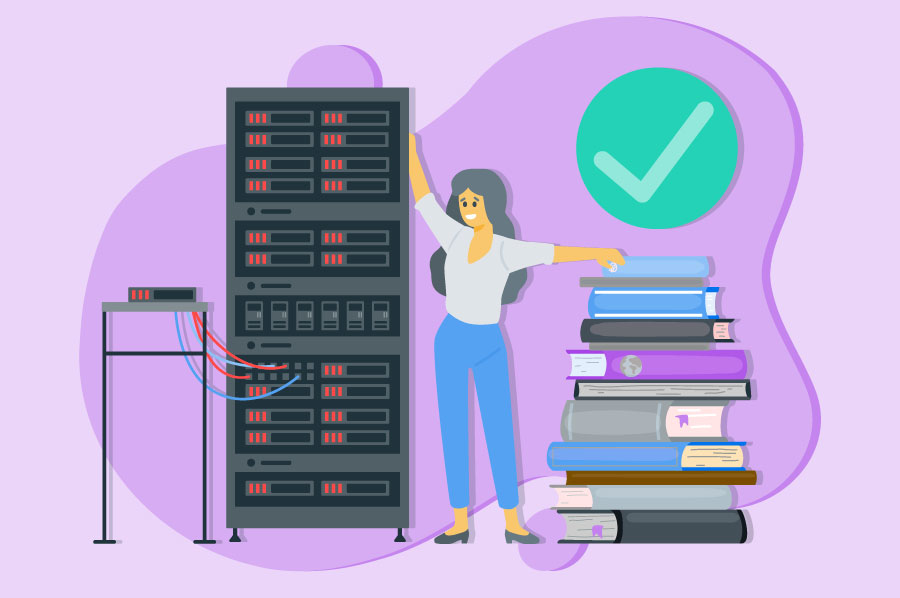 Choosing the right type of web hosting is one of the most important considerations for your website. While shared hosting and VPS are great options, they provide limited control over your server, and the shared server environment isn't always the best option for websites that expect consistently high levels of traffic.
Fortunately, dedicated hosting boasts several important advantages over shared hosting since your site has room to roam on its own physical (dedicated) server. This means that you can expect speedy, reliable performance. Plus, you get more control over your server configuration, enabling you to create a highly customized, highly secure environment.
In this post, we'll look closely at dedicated hosting — we'll discuss its pros and cons as a hosting solution before showing you how to get started. Let's jump right in!
An Introduction to Dedicated Hosting
With dedicated hosting, you get a physical server that's exclusively available to you. This setup contrasts with other hosting solutions like VPS and shared hosting that require you to share resources with other websites on the server: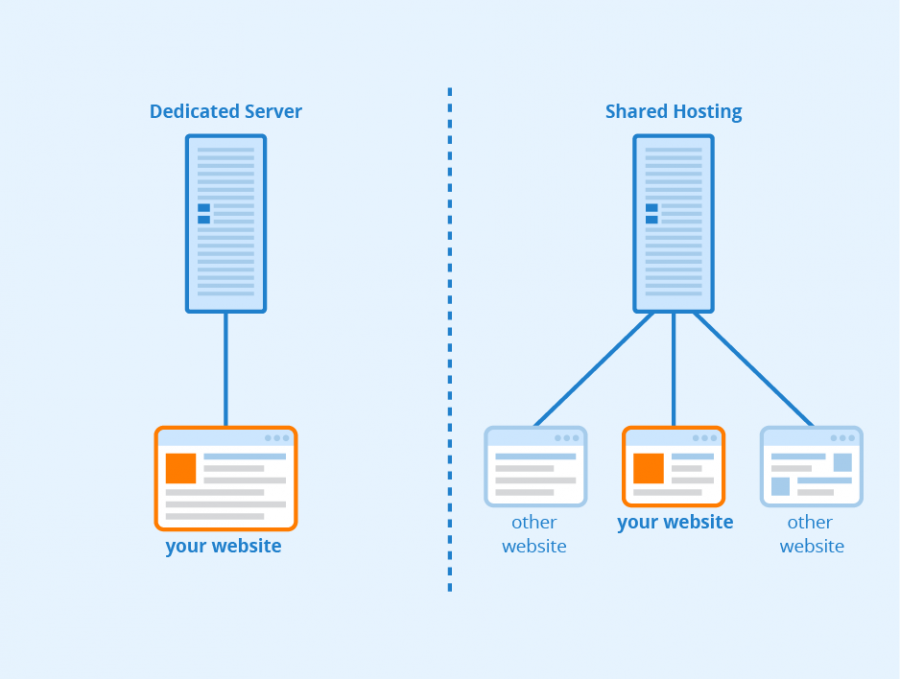 Image Credit: Seobility
Since the server hosts only your website, it can deliver your web pages much faster than one that has to process requests for multiple websites. Plus, you will be free to configure your server exactly how you want it.
Better yet, you can create a more stable, secure environment for your website since you have your own server. There's less risk of downtime and cross-site infection since your site is the only one hosted on that hardware.
Also, because you have plenty of resources at your disposal, your server is in a better position to handle even the sharpest traffic spikes. This means that dedicated hosting is an excellent option for large websites or businesses that want to scale up.
When to Consider Dedicated Hosting
Now that you know more about dedicated hosting, let's consider whether it could be a good match for your website.
You Have a Large, High Traffic Website
Dedicated hosting is an excellent choice for large websites. The server is fully equipped to handle many simultaneous requests, such as those from high-traffic websites or large e-commerce stores. This way, you get consistently speedy site performance.
With alternatives such as shared hosting, other websites on the server can compete with your site for bandwidth, causing pages to load slowly during periods of particularly heavy traffic. With dedicated hosting, your bandwidth is your own, and you can expect reliable, fast response times for your applications operating in real-time.
Your Focus Is on Security
When you're the only one with access to your server, you have full control to deal with online threats and attacks. This factor is crucial if your website handles sensitive user data like payment details or personal information that can be the target of hacking attempts.
Conversely, on a shared server, if one website is the victim of a targeted attack, your site can also suffer the consequences. When sites are on the same server without proper barriers, it's easy for one website's vulnerabilities to spread across to yours. Since dedicated hosting provides an isolated server, you are effectively quarantined from anyone else.
You Can Stretch Your Budget
While there are many benefits of dedicated hosting, the perks come at an additional cost. It's nearly always more expensive than other options like shared hosting or VPS. Therefore, if you're on a tight budget, you may not be able to afford a dedicated server.
However, at least with dedicated hosting, you know that you're getting enormous value for your money. No other hosting option can come close to dedicated hosting in terms of performance, control, and versatility. These factors can make it worth the cost if you have room in your budget.
You Want Experienced Management Options
Dedicated hosting is a great choice if you'd rather focus on growing your business and don't want to spend time monitoring how well your server is performing. You can rest assured that your hardware is functioning at full capacity. Plus, hosts manage your server 24/7, so you don't need to worry about whether your site is up or down.
You're Anticipating Major Growth
If you're expecting a period of growth, it can be a good idea to start out with the hosting you will need rather than a plan that's just sufficient for the time being. This way, you can avoid the hassle of having to migrate servers at a later date.
Then, everything is already in place when growth occurs. While other hosting options enable you to scale up, there can be upper limits to the amount of resources you can access. Plus, this transition can involve a sharp price increase.
Get Content Delivered Straight to Your Inbox
Subscribe to our blog and receive great content just like this delivered straight to your inbox.
The Advantages of Using Dedicated Hosting
Before you decide whether dedicated hosting is right for you, let's take a look at some key benefits of using it:
Security
You can manage your own security and software updates. Plus, there's no risk of sharing a server with malicious or infected websites.
Traffic
Since you have plenty of resources at your disposal, the server can handle traffic spikes while maintaining smooth performance.
Performance
Resources are abundant, so performance is speedy. This is important since visitor abandon rate has been shown to increase by 32% when page load time goes from one to three seconds.
Customization
You'll have complete control over your server and hosting environment. Therefore, you can configure it exactly how you like.
Root Access
This feature gives you control over all ports. Plus, it enables you to access any file on the server, modify any file, and install/delete server-wide applications.
To sum up, dedicated hosting can be an excellent option if you want more control over your server. This hosting solution can boost speeds, tighten security, and provide full access to ports and files.
The Drawbacks of Dedicated Hosting
While there are many benefits to using dedicated hosting, it's also important to be aware of its limitations:
Cost
Dedicated hosting is one of the most expensive options, especially when compared to shared hosting. If you don't think you'll use all the resources, you'll probably be able to find a more cost-effective solution.
Responsibility
While hosts can provide guidance, you're typically the one responsible for the security and maintenance of your site. Therefore, an unmanaged dedicated server isn't the greatest option if you don't have the time or expertise to set up and maintain a server.
Resource types
Dedicated hosting may not always be suitable (or may just be overkill) depending on the type of resources that your site needs. For instance, dedicated hosting is beneficial for serving large media files, running many scripts, and accommodating high levels of web traffic.
If you decide that dedicated hosting isn't suitable for your website, you might consider other solutions. VPS hosting offers a moderate degree of server customization, along with adequate security and resource isolation at a fraction of the cost.
What to Consider Before Choosing a Dedicated Web Host
Every host will offer different options to customize your server. However, when dealing with dedicated hosting, here are some of the most critical factors.
Server Type
You can use dedicated servers for emails, websites, and gaming. Additionally, you can find standard servers for small to medium-sized businesses or choose an enterprise solution.
Storage Solutions
Since additional storage is a perk of dedicated hosting, you'll want to verify that the server suits your requirements. At DreamHost, you'll get access to 2 TB of file storage and RAID storage. Plus, with multiple hard drives and RAID 1 redundancy, if one fails, there's another available to pick up the slack with no unexpected downtime.
The Number of Cores
A Central Processing Unit (CPU) that offers multiple cores enables you to run multiple processes simultaneously. Therefore, the server delivers excellent performance even with the demands of powerful applications.
Random Access Memory (RAM)
RAM determines how your site functions. The amount you'll need depends on various factors, such as how many transactions you process, how much traffic you have, and how many applications you run.
However, you'll also need to decide whether you want to opt for managed or unmanaged hosting. For example, with managed hosting, your host will take care of the technical aspects of maintaining your server. Sometimes, these processes may even include backing up your site and monitoring for security risks.
At DreamHost, we provide managed dedicated server hosting. This plan is the ideal gateway to dedicated hosting. You can still benefit from having your own server with root access, greater memory, faster speeds, and 100% uptime:

Furthermore, with a managed solution, you can rest easy with DDoS protection, constant monitoring, and 24/7 support.
By contrast, unmanaged hosting providers require that you handle monitoring and maintenance tasks yourself. This often includes administrative work, backups, and security. As a result, unmanaged hosting is best suited for users with advanced knowledge and time to spend on website maintenance.
Your Dedicated Hosting Solution
There are many hosting options available for your website. Shared and VPS hosting are both popular choices. However, they're not always the best for a growing site. With dedicated hosting, you will enjoy smooth, stable website performance. Plus, you can configure your server exactly how you want it.
While dedicated hosting costs can be a little higher, having access to your own server can reduce security vulnerabilities and better handle sharp traffic spikes. Unlike other hosting plans, dedicated servers provide root access, which gives you full control over your server files.
If you lack the technical expertise or simply aren't ready for the work involved in running your own server, managed dedicated hosting is a great option. You can enjoy plenty of storage space, DDoS protection, and full administrative access at DreamHost. What's more, you can count on our team of experts to handle maintenance tasks like security and backups. Check out our plans today!
Get DreamHost's Most Powerful Hosting
Our dedicated hosting plans are the ideal solution for high-traffic sites that require fast speeds and consistent uptime.