Transform Skilled Nursing Homes with Telemedicine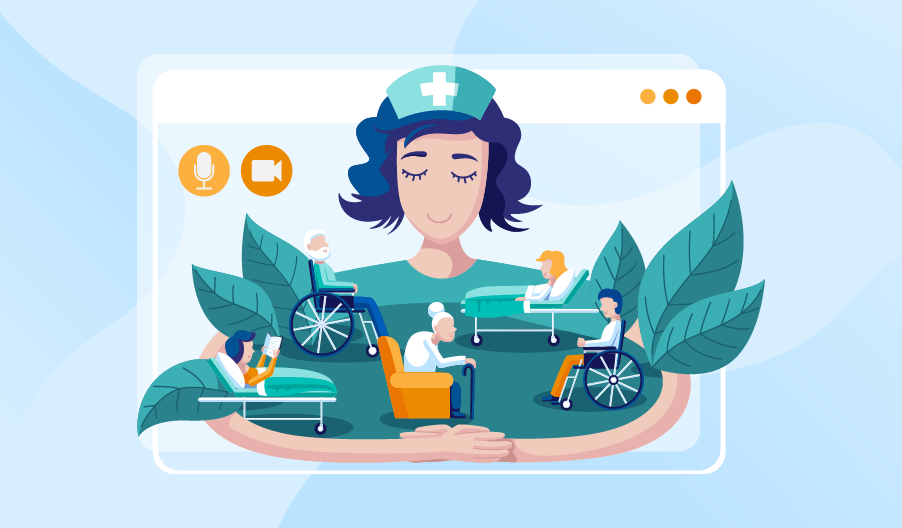 Editor's note: Alena talks about the advantages of using telemedicine in nursing homes and outlines the key factors for the successful implementation of telemedicine software. If you consider leveraging telemedicine technology in your company, you are welcome to turn to ScienceSoft's team for healthcare IT consulting.
The number of people aged 80 and over is projected to grow to 202 million in 2030 and 434 million in 2050. During the COVID-19 pandemic, older people are the most vulnerable part of the society. Epidemiological and clinical data show that the elderly are more likely to develop severe forms of COVID-19, and the presence of multiple concomitant chronic diseases also worsens the prognosis and leads to an increase in mortality.
In the United States, approximately 85.1% of nursing homes residents are 65 years and older. They are one of the risk groups and therefore should be especially careful to observe social distancing. However, even in the conditions of forced isolation, elderly people in nursing homes need regular monitoring and timely treatment of their chronic diseases.
The use of telemedicine helps to adopt a person-centered approach to healthcare, deliver patient care more effectively, mitigate geographic and access-related limitations that can be critical for nursing homes. The following telemedicine technologies can be successfully used in nursing homes: remote patient monitoring, online videoconferencing, and store-and-forward doctor-patient communication.
Remote patient monitoring (RPM) is real-time health condition monitoring supported by smart wearable devices that collect residents' data (heart rate, oxygen level, blood pressure, etc.) and transfer it to a doctor's app online 24/7, anywhere in the world. RPM helps doctors customize the treatment process quickly by detecting the slightest deviations in the well-being of a senior resident.
Online videoconferencing (synchronous communication) makes remote communication between patients and doctors possible thanks to audiovisual technology. Healthcare specialists can diagnose, consult, prescribe and adjust treatment for older residents, avoiding in-person visits to nursing facilities. Among practitioners who can offer telehealth services are physicians, nurse practitioners, clinical psychologists, physical therapists, etc.
Via store-and-forward technology (asynchronous communication), patients' data (e.g., test results) is recorded, stored, and transmitted to medical professionals, who analyze it to support diagnosing or treatment without real-time interaction.
HIPAA compliance
In view of the COVID-19 pandemic, HIPAA-related penalties were temporarily withdrawn for providers delivering telehealth. Nevertheless, ScienceSoft recommends implementing HIPAA-compliant telehealth software from the start, to avoid costly modifications later on.
Full support for software and users
Your in-house team or a telehealth solution provider should continuously monitor the app, troubleshoot any emerging issues, investigate and eliminate their root causes, as well as perform regular security checks to safeguard the safety of PHI. You will also likely need human user support, as some nursing home residents may be unwilling or unable to use the app's self-service functionality.
The benefits of using telemedicine in nursing homes
For patients
Senior residents willingly agree to teleconsultations with the attending doctor for a number of reasons, including the possibility of online consultation with a doctor at the patient's request around the clock to get access to a wide variety of medical expertise. Seniors appreciate the opportunity of consulting the doctor immediately, especially at night in emergency situations (e.g., an accidental fall). In general, it improves the quality of care and wellness of residents.
For nursing care facilities
The use of telemedicine gives a nursing home a competitive advantage over other nursing facilities. It supports care continuity, decreases travel expenses, and also reduces the risk of Medicare penalties, increases the chances of receiving value-based care bonuses* by decreasing unnecessary hospitalizations and hospital readmissions.
*Value-based bonuses are the incentive payments by which the SNF VBP Program rewards skilled nursing facilities (SNFs), focusing on the quality of care SNFs provide to Medicare beneficiaries, evaluated by performance on a measure of hospital readmissions.
For example, in traditional senior care provision, a nurse can assess the situation with a nursing home resident's condition more seriously than it really is, which may lead to unnecessary hospitalization entailing the risk of penalties and reducing the nursing care facility's chances of receiving value-based care bonuses. This will not happen if the nursing home has the ability to remotely communicate with the healthcare professional via audio and video for an urgent examination of the patient's condition.
The global telehealth and telemedicine market will reach $ 191.7 billion by 2025, making these areas promising for investment. Telemedicine gives nursing homes a competitive edge and increases their residents' level of satisfaction with healthcare. If you want to create telemedicine software for nursing homes and need help at any stage of the development cycle, you're welcome to turn to ScienceSoft's healthcare IT team.
Get A Consultation
Not Sure What Functionality Will Benefit Your Telemedicine App?
ScienceSoft's healthcare IT experts will advise you on the best ways of developing a high-quality telehealth solution with the feature set just right for your healthcare organization.