Use Router VPN For IoT Devices In 2023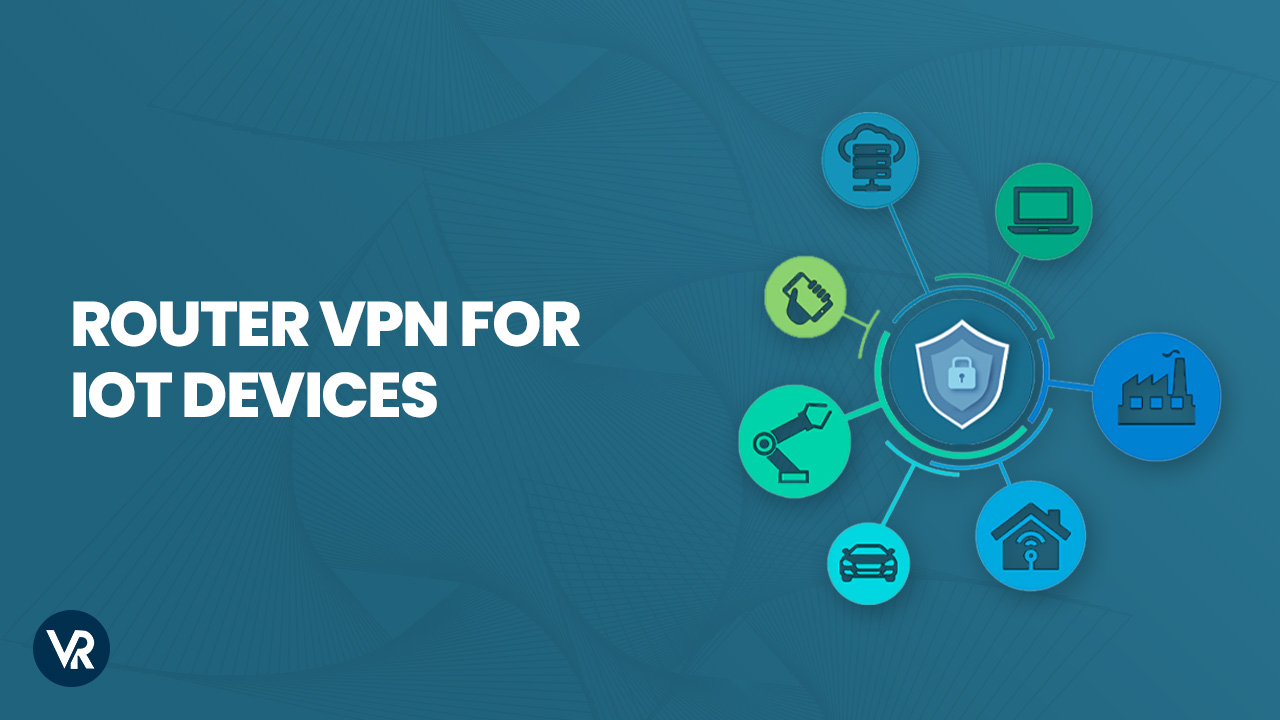 Should I use a VPN with IoT devices? In the modern interconnected world, securing IoT devices has become crucial, and one way to achieve this is by using a router VPN. When you configure a VPN on your Wi-Fi router, an extra layer of protection is added against cyber threats that also ensure the data privacy of your IoT devices. In this article, we will discuss the significance of using a router VPN for IoT devices and provide some top recommendations for ensuring a secure IoT network.
A VPN is primarily used to enhance online security and data privacy. It also masks your local IP address, enabling you to bypass location-based content restrictions and censorship, and preventing your ISP from throttling your bandwidth.
ExpressVPN is one of the best VPNs in the market that offers a one-stop solution for all major devices as it's compatible with Android, iOS, Linux, macOS, and Windows. But, what about the sundry internet-enabled devices in your home that don't operate with a major OS? These devices include Amazon Alexa, Google Home, smart lighting systems, security cameras, kitchen appliances, etc.
The best solution is to use the best VPN router for securing smart home IoT devices. In this way, you can not only secure all of your IoT devices but also enhance the online security of each device connected to your Wi-Fi home network.
Step-by-step setup guide for configuring a router VPN for IoT device
Below are the step-by-step guide for setting a router VPN for IoT devices:
How to Use a VPN with Internet-connected Appliances
To set up a VPN on your router using ExpressVPN, follow these steps:
Sign up and create an account on ExpressVPN if you don't have it already.
Log in and go to your Client Control Panel and get the unique ExpressVPN username and password listed under the section that says PPTP/L2TP/SOCKS.
Access your router's login page (ASUS users will open router.asus.com  in their browser, while others can try 192.168.1.1).
Navigate to Advanced Settings, then click VPN and VPN Client.
Add a new profile and click on the PPTP tab.
Enter your login information in the provided fields.
For the VPN Server, choose the default server or select a server from the network page on ExpressVPN's website.
Choose MPPE 128 for PPTP Options (setting this to Auto beforehand may cause connection problems).
Click OK, then Activate your profile in the VPN Client tab.
Wait a few moments for the connection to establish, then check your IP address by opening the app or website of ExpressVPN to confirm that the VPN is working.
Best Router VPN for IOT Devices – Detail Analysis in 2023 | FAQs
Get ExpressVPN for IoT device30-day money-back guarantee
Benefits of securing IoT devices with a router VPN
Most IoT devices typically lack the built-in antivirus software and firewalls that we can commonly find in PCs and smartphones, and even those that have these features are mostly inadequate and simply not enough. This makes a VPN a valuable tool for blocking outsiders from attacking the traffic and ensuring that network traffic and data are secure. This gives peace of mind to companies that they have a reliable encryption system, privacy, authentication, and security of network data and traffic.
Deploying a VPN can be a great solution as it is done quickly and these VPNs are specifically designed to build a security wall for IoT networks by connecting with mobile devices without relying on public IP addresses. ExpressVPN solutions offer multi-path protection and high reliability, which shifts end-to-end encryption to the network and optimizes the computer power of IoT devices.
What are the common VPN routing issues that may occur?
There are a few common issues users often face in VPN routing, such as poor connectivity, IP & DNS leaks, and unstable connections. However, these common issues can be fixed by reconfiguring the internet connection, rebooting the VPN app, changing the VPN server, or switching to a different VPN routing protocol.
Some of the most common VPN routing issues that may occur are as under:
The VPN server fails to respond.
The internet service you are using is blocking your VPN.
Outdated VPN packages can interfere with new ones.
The VPN connection is frequently disconnected.
Despite the VPN indicating a successful connection, your IP address remains visible.
Overly protective firewalls may prevent your VPN from connecting.
Below are some of the most effective methods to troubleshoot VPN problems like the ones mentioned above:
Verify your internet connection
Restart the VPN application
Remove any old VPN software from your device
Utilize the VPN's help feature
Ensure your VPN is up to date
Switch to a different VPN server
Use a different VPN protocol to connect
Check your firewall settings
Try using the OpenVPN client
Confirm that your VPN is compatible with the website or service you're trying to access
Clear your computer's DNS cache
Best Router VPN for IOT Devices – Detail Analysis in 2023
Here's a detailed analysis of the best VPN for IoT devices:
1. ExpressVPN – Best VPN for IoT Devices
Key features:
Offers VPN router setup guides

3000

+ servers in

94

countries, including 25+ server locations in the US
Speed: 89.42 Mbps (downloading)
Price: $6.67/mo
Encryption: AES 256-Bit, Lightway Protocol, OpenVPN, IKEv2, IPSec
ExpressVPN is the best Router VPN for IOT Devices in 2023. This VPN is known for its high performance and provides user-friendly setup guides for routers that you can access on its official website. It boasts fast connection speeds, exceptional security features, state-of-the-art encryption features, and advanced privacy options to secure your IoT devices.
It hosts a vast network of more than 3000 servers located in 94 countries, with over 25 server locations in the US. You can easily set up ExpressVPN on a Wi-Fi router and add a protection layer to your IoT devices containing sensitive data, such as smart security systems.
The exceptional speed of ExpressVPN is apparent in the results of its speed test. We conducted the ExpressVPN speed test on a 100 Mbps connection and it delivered a fast downloading speed of 89.42 Mbps and an uploading speed of 84.64 Mbps.
ExpressVPN is highly versatile and compatible with various operating systems and smart devices such as macOS, Android, iOS, Linux, and Windows. It can also be set up on Wi-Fi routers if you are looking to secure every device in your home or office network which has internet connectivity.
In fact, ExpressVPN is the best VPN to secure IoT devices with router VPN setups, such as security cameras, smart appliances, security alarms, smart wearable gadgets, Alexa, and Google Home.
As we are talking about the security of your IoT devices, it's pertinent to mention that advanced security features are provided by ExpressVPN, including AES 256-bit encryption, Kill Switch, a No-logs policy, Threat Manager, Obfuscated servers, and many more. These features work together to ensure a secure internet experience for users.
ExpressVPN is currently available for $6.67/mo (Get 49% Off + 3 Months FREE on its 12-Month Plan) with its long-term plan. The 30-day money-back guarantee, allows you to cancel your ExpressVPN subscription. Moreover, a 7-day ExpressVPN free trial is also available for mobile users.
Check out our in-depth ExpressVPN review for more details.
Pros
Simple setup guides for popular routers
Provides reliable and secure VPN access for your entire network
Compatible with a variety of devices and operating systems
Does not limit your bandwidth
Advanced security and features for all of your devices
Cons
Slightly costlier than most of its competitors
Get ExpressVPN for IoT devices30-day money-back guarantee
FAQs – Router VPN for IoT Devices
Yes, a router VPN does help in preventing unauthorized access to your IoT devices. When you install a VPN on your Wi-Fi router, it provides an extra layer of security for data sent by your IoT devices. The VPN encrypts all data traffic over the internet, not just within your Wi-Fi network.
This ensures that hackers cannot trace your data and reduces the risk of data breaches and malware attacks.
Yes, a VPN on your router will protect all of your connected devices. By setting up VPN for IoT devices on router, all the traffic going through these devices is routed through the VPN. As a result, it will enhance your privacy.
This also provides protection for your entire home network, including your IoT and smart home devices, as any device that connects to your network can utilize the VPN without requiring individual configuration.
Yes, you can use a VPN on both your routers and individual devices. When you configure a VPN on a network router, it encrypts the entire internet traffic of devices using that particular network. On the contrary, you can also use a VPN on different devices separately if you don't want to use VPN on all devices.
Conclusion
In the modern digital age, securing all of your internet-connected devices has become a necessity and a challenge. IoT device security with router VPN is one of the safest and most convenient ways to secure your IoT devices.
Choosing the right VPN service among the numerous options available can be overwhelming. This article has highlighted the advantages of using a VPN on your router and recommended the best VPN service provider for this purpose.
Additionally, we have included a straightforward guide on how to set up a VPN router to secure your IoT devices.
ExpressVPN is the best router VPN for IoT devices as it offers comprehensive security coverage, advanced privacy features, and fast speeds.