WordCamp San Jose, Costa Rica 2022 Recap
Years of waiting were finally over: WordCamp San Jose was a go and took place on November 5 and 6. Two and a half years ago, it was being planned, and high hopes were placed as this was by far the largest WordCamp in Latin America.
Like many communities worldwide, we were dismayed by what went on with the world as COVID unraveled and changed our lives. Back then, as with many difficulties, we asked ourselves when we would be back again after everything was gone.
Time and life will always answer this for you.
The WordCamp was planned around 6 months before it took place. The wonderful team of organizers are dear friends of ours, as Ericka, Rita, Irene, and I are from Costa Rica.
We had dinner earlier this year which marked the first time many of us met and encouraged people to come back in any way possible. To speak, volunteer, organize, or whatever.
After that, the crew got started and slowly but surely, they went back at it. I have tremendous admiration for all of them.
Some are friends I have known for years, and I admire their tenacity to do this. Because it is a lot of work that goes unnoticed so that people have a good time.
But as always, those that do know (the amount of work it takes) have nothing but gratitude towards them.
This WordCamp was planned smaller and in a different venue, which is about a mile from where the old one was. The spirit or goal was to get things back, smaller, and take it from there.
Everybody was excited. And in the end, the event was sold out. Good!
Speaker and Sponsor Dinner
This WordCamp Speaker and Sponsor dinner was a bit away. And I am mean, AWAY. Like almost two hours with traffic and one hour without. It was at the Restaurant Agnus, which is in the far east of where I live.
Costa Rica is made up of the Central Valley, which is the economical heart of the country. So, going there was going to take a huge crossing. But I did, and we had a great time.
It was great to see some fellow speakers who I had seen in previous years, as well as the dinner we had hosted earlier this year, alongside new faces.
I got to see William and Aida again, and Moncho this time, who is from Spain, Canarias, and is part of the sponsors too (SiteGround). I had seen him briefly at Porto, and this time, it was more relaxing to speak and have a good time.
Also, I met up with Ana Garcia, a fellow organizer out of Valencia, Spain, at a talk that I attended during WordCamp Porto.
After a few hours, the party was over. Tomorrow was Camp day and you gotta be sharp as a razor to be there all day and speak to tons of people and do tons of things at once.
So, home by midnight and on to rest for a few hours.
The Venue
The Camp was at the University of Fidelitas, which thanks to Rita, we were able to get.
There were no complaints about the venue. It was suitable for a smaller camp (about 400) and the job went well. The weather wasn't nice though, which is ironic considering we had our San Jose WordCamp during September when the weather is worse than it is now.
But, oh well. We can't have it all.
Getting there was a breeze since it was Saturday morning. I have been to many WordCamps, and have a lot of experiences to share. However, there is no feeling like having the Camp "at home".
Everything goes slower, you have more energy (since traveling is a lot less), and you have a sense of familiarity.
Needless to say, I got there with half of the swag. The other half was in Ericka's hand, as she was the one who set our booth up.
Our Booth at WordCamp
Top class. I have to give a huge shoutout to Ericka, since she did, by far, one of the best booths we've had at any WordCamp.
It was FANTASTIC.
We had tables, chairs, a coffee machine, and of course, the swag that killed it. We had to actually slow down with the swag because at the rhythm we were going, we were definitely going to run out of it in less than a day.
Shirts were being asked for by attendees as soon as we placed them on the table. Shoot, pretty much all of our swag was. We eventually ran out over the course of two days.
It was also great to have Rita and Irene on board. It was their first time at a WordCamp attending as sponsors. Whilst I have done camps with different people here at GreenGeeks, it was a nice change to see the four of us work together.
Great people. Like all of us here :-).
Ericka also had a surprise for us: she brought a professional barista to make coffee for people! It was great. So great, the queues were extremely long and we ran out.
It was a fact waiting to happen. This was such a nice detail that I hadn't seen before!
Day One
So, with our WordCamp booming, we once again went back to all the magic.
The networking, the people, the talks. The human interaction. I had a great time, and on the first day, I attended one talk, which surprises no one.
It was a techie talk given by Damian Suarez, a fellow Automattician out of Argentina. It was about Gutenberg and building blocks. Needless to say, tech topics were discussed such as APIs, React, and whatnot. It was a good talk.
On the first day, we took our group picture. This one was solid.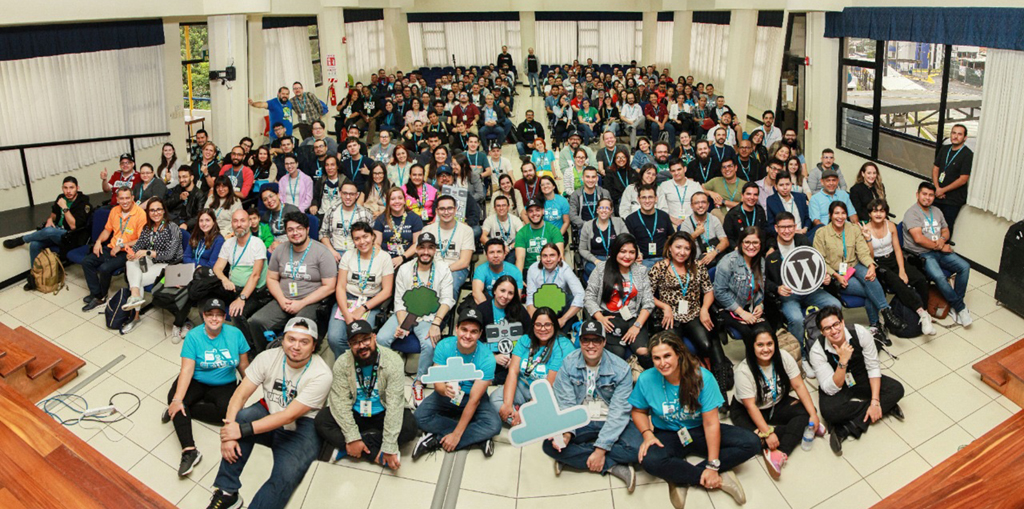 Day One Afterparty
The afterparty was held at PubRock, which is the same place we had it three years ago, but they moved locations. So, it was the same place but at the same time, it wasn't?
I know. Needless to say, the party was smaller, way smaller, than three years ago. This was due to three things: the first one is a bit obvious: fewer people this WordCamp than three years ago.
The second reason had to do with the weather. We had very bad weather this weekend in Costa Rica. Typically, every year, there is a tropical storm before the dry season comes in. Think of it as the "last stand" by the rainy season before the dry season.
The last reason had to do with the fact that there was a football (soccer) final that night. And thus, most people were glued to that and didn't attend.
So, the party was relaxed, and after a few hours, it was time to call it a day. Exhausted, happy, and with one more day to go.
Day Two
As always is the case with WordCamps, the following day saw a decrease in the number of people that made it. So on Sunday, it was a bit calmer but that doesn't mean it was less fun.
It was time to talk to the other sponsors, and I had a great word with Moncho and Ana from SiteGround. They are flat-out, fantastic WordPress people. It was so great to see people.
Moncho and the SiteGround crew had to fly back early, so they left around noon. We shared hugs of goodbye with an "I hope to see you again in the future."
Always bittersweet when it comes to WordCamps.
After that, I was able to see some talks, specifically my friend Rommel Castro, from Costa Rica, who gave a talk about design patterns.
They are basically patterns of code that are meant to be reusable throughout your codebase, and it's always refreshing to see them in action.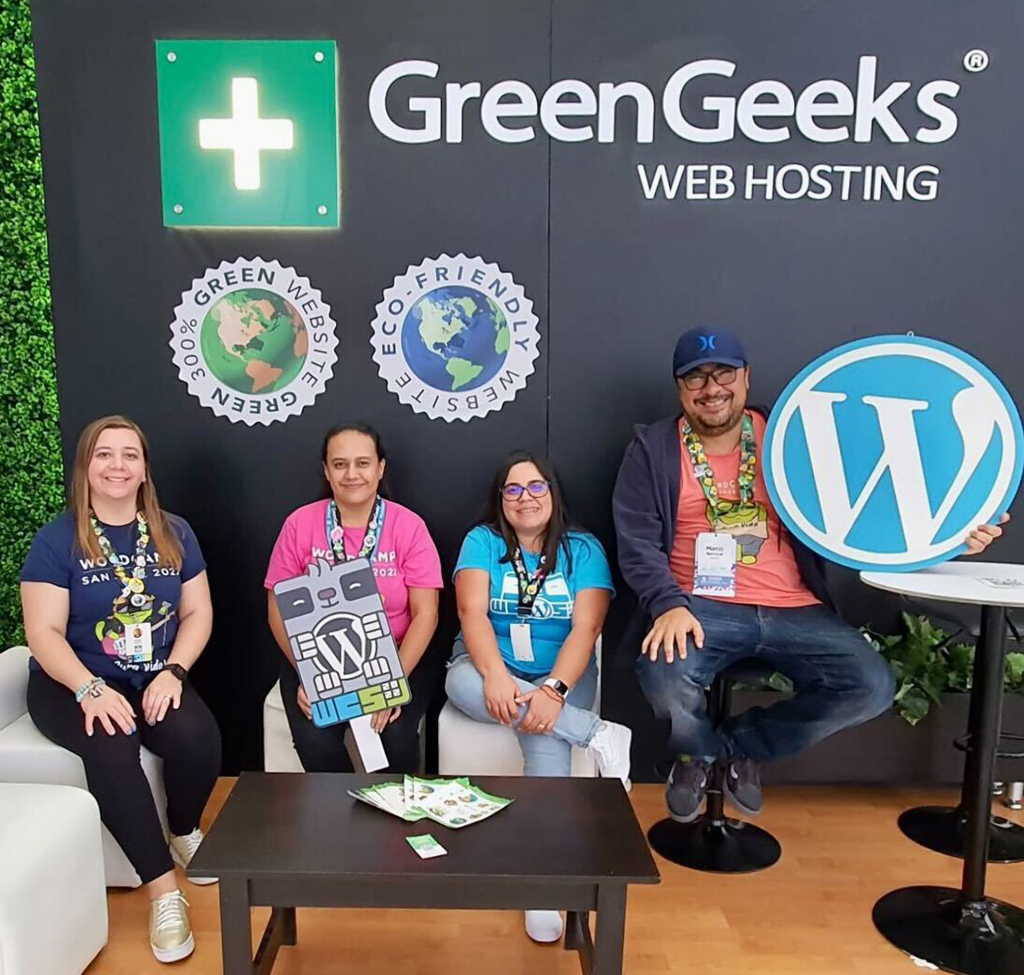 And just like that, WordCamp San Jose was over. Exhausted, happy, and with next year to look forward to.
Til next year!