10 Best WordPress Accessibility Plugins for 2022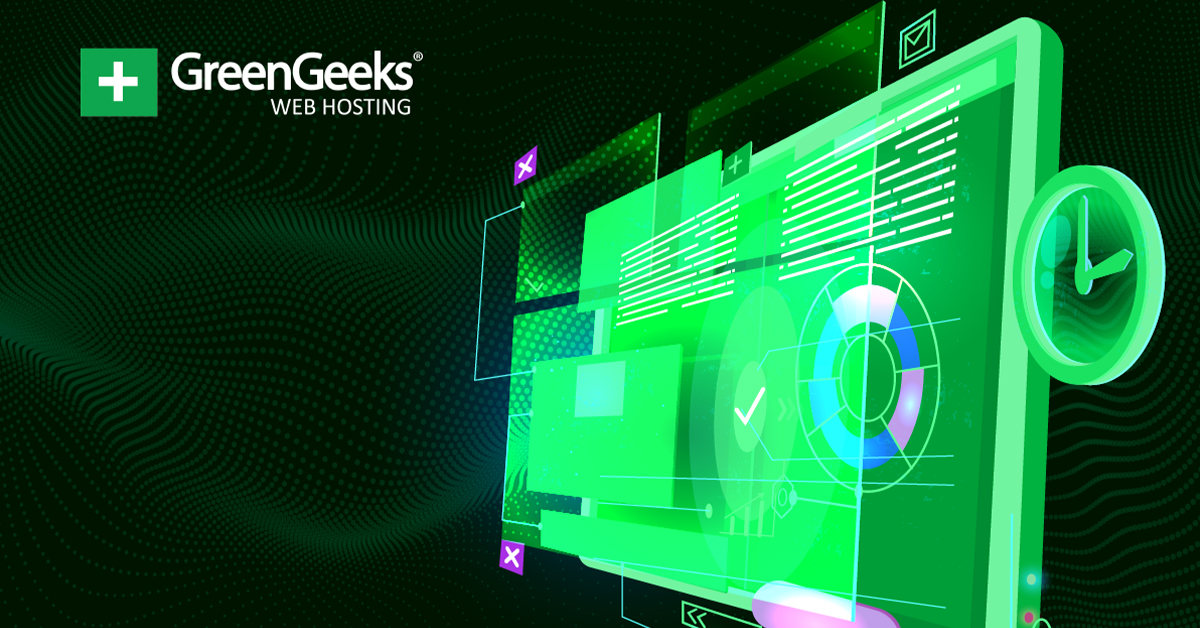 According to the CDC, 26% of Americans suffer from a disability, which means they may not interact with websites like normal visitors. Luckily, WordPress is home to a variety of accessibility plugins that can help you make your website accommodate anyone.
This is known as making your website more accessible. While it may sound difficult, it's actually rather simple, at least with the right tool. That said, some of these additions can take a lot of time and troubleshooting to get right.
Today, I will share the 10 best accessibility plugins WordPress has to offer.
What Does it Mean for WordPress to be ADA Compliant?
The ADA is the Americans with Disabilities Act, which was introduced as law in 1990. Simply put, this law gives people with disabilities protection and requires businesses to provide certain accommodations.
When it was first introduced, the internet was still in its infancy, thus it gets no direct mention in this bill. However, Title III of the act states that businesses must provide accommodations for people with disabilities.
At this time, it meant things like providing a wheelchair ramp. However, that line is beginning to become blurry, and new interpretations of the Act are beginning to also look at the digital services businesses provide.
Thus, your website must meet the bare minimum for accessibility to avoid any legal trouble.
So what does that entail?
Well, to be perfectly honest, there is no list you can refer to. Instead, most websites try to ensure their WordPress site utilizes smart design and visibility options.
For example, adding alt text to images can help those with visual impairments as text readers understand what the image is about. It's also an SEO benefit to do so, thus, there's no reason you shouldn't do it already.
If you need a specific accessibility option, you can install a particular plugin to help add it.
The Best WordPress Accessibility Plugins
1. One Click Accessibility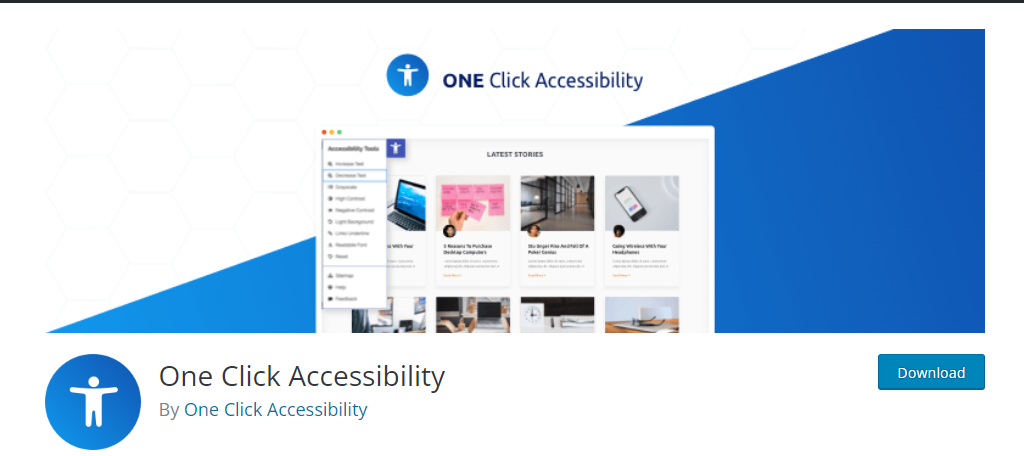 When it comes to making your website accessible, you probably want to do it with as little work as possible, and that's where the One Click Accessibility plugin comes into play. And yes, the name is very accurate.
That said, you will have to modify your content to suit some accommodations better.
Essentially, when you install the plugin, users will gain access to an accessibility toolbar. It is available on all of the content they can view on your website and can be located in the top left corner by default.
It allows users to increase or decrease text, enable grayscale, enable high or negative contrast, underline links, light the background, or replace the font with a more readable one. Essentially, it gives a lot of layout options to the users themselves.
Pros of One Click Accessibility
Requires no setup, just install it and it's good to go
Gives users control over the accessibility options they use
Doesn't interfere with the normal website experience
Cons of One Click Accessibility
Doesn't make any changes to your actual content
Doesn't highlight accessibility problems
2. WP ADA Compliance Check Basic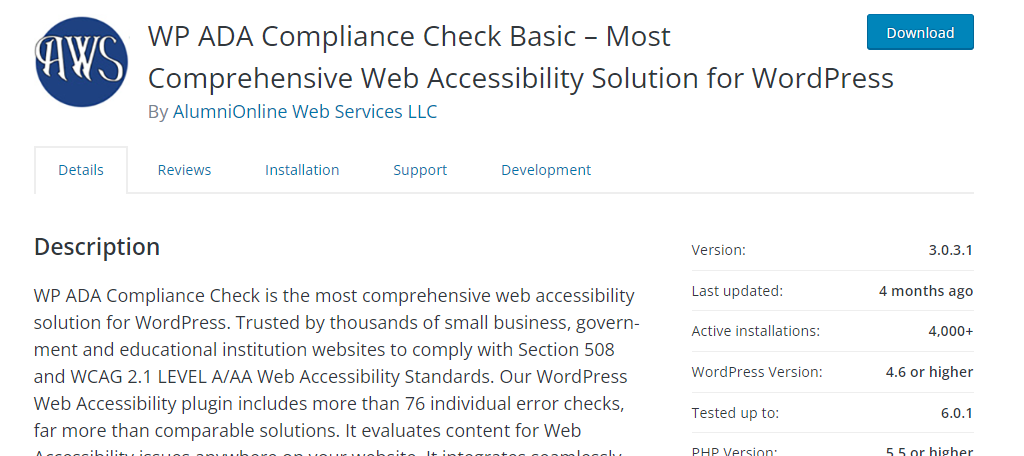 If you want to know if your WordPress website is ADA compliant, look no further than the WP ADA Compliance Check Basic plugin. This tool will scan your website for accessibility compatibility issues.
In fact, it has over 76 individual error checks built in.
Now, when you run it the first time, there is a very high chance it will give you a huge list of errors that may make you think you are doomed. But the plugin provides detailed explanations for each error it identifies.
This could be something as simple as a duplicate page or post title, or more severe like a video automatically playing on a page but lacking volume control.
In any event, you will be able to identify where the error occurs and an explanation.
Pros of WP ADA Compliance Check Basic
Details precisely what is wrong with every element of your website
Allows you to filter content errors to help prioritize more popular content
Provides warnings when editing a page that contains an error
Cons of WP ADA Compliance Check Basic
The error list is very long and can be discouraging for beginners
The warning messages are quite large and could be annoying when creating new content
3. Accessibility by UserWay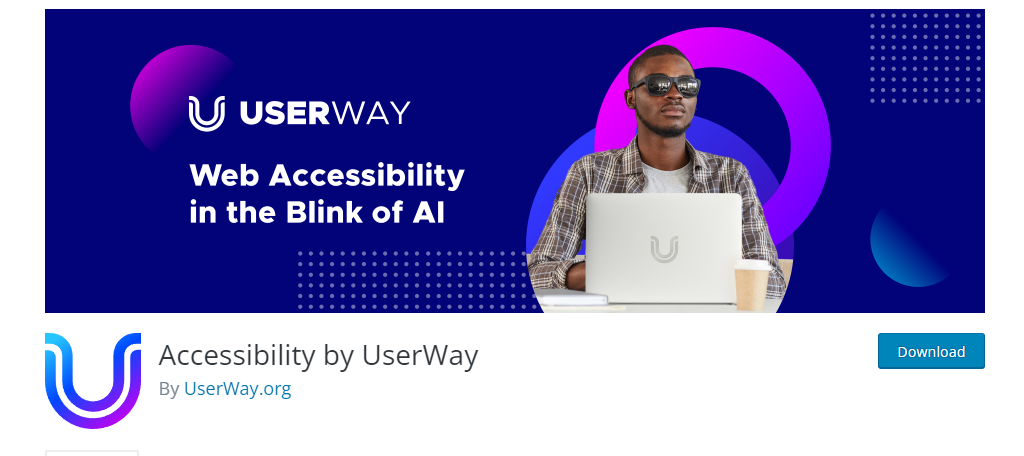 Do you want a full accessibility plugin powered by AI? If so, then the premium plugin Accessibility by UserWay is exactly what you should try. This plugin utilizes artificial intelligence to scan your website and offer advice.
And thanks to that AI, the entire process is streamlined, which makes it easy for businesses of all sizes.
Just a few of the main features include automatic Alt text generation, color contrast correction, resolution options for page and post content, enlarged cursor, screen reader, and much more.
It can even help prevent you from using colors that are hard to read by users that suffer from visual impairments like color blindness. It's really a terrific solution that covers just about everything at an affordable price.
Pros of Accessibility by UserWay
Users can try it for free with a 10-day trial
The plugin is simple to use
Users have access to additional support if needed
Cons of Accessibility by UserWay
It is a paid subscription
You must sign up on their website and not from the plugin
4. WP Accessibility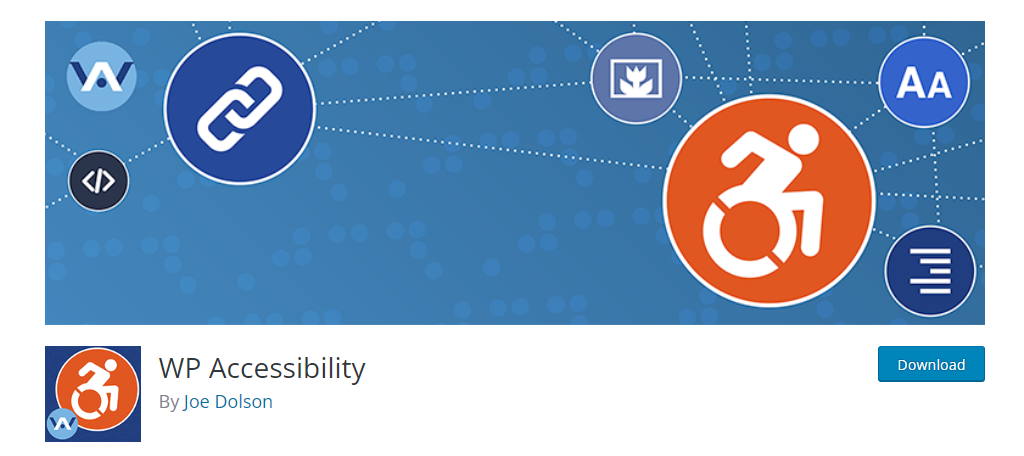 Another easy, but highly effective solution is to install the WP Accessibility plugin. It makes it easy to make simple changes to improve accessibility in WordPress, and most importantly, it does it in bulk.
Many of the plugins will simply highlight what is wrong instead of fixing it, but this one does the opposite.
By accessing the plugin's settings, you will see a series of checkboxes that you can configure. Basically, check the box of the feature or action you want the plugin to do and it will do it.
One thing it does very well is to put noticeable outlines around certain website elements. This helps users identify what is important on the page. Overall, it's a pretty simple plugin, but keep in mind that it really only covers some basic changes.
Pros of WP Accessibility
Easy to use, setup just consists of checkboxes
The stylesheets are customizable, which gives advanced users more customization options
100% free, no pro version
Cons of WP Accessibility
It lacks colorblind options
Bulk changes could result in unintended issues
5. WP Accessibility Helper (WAH)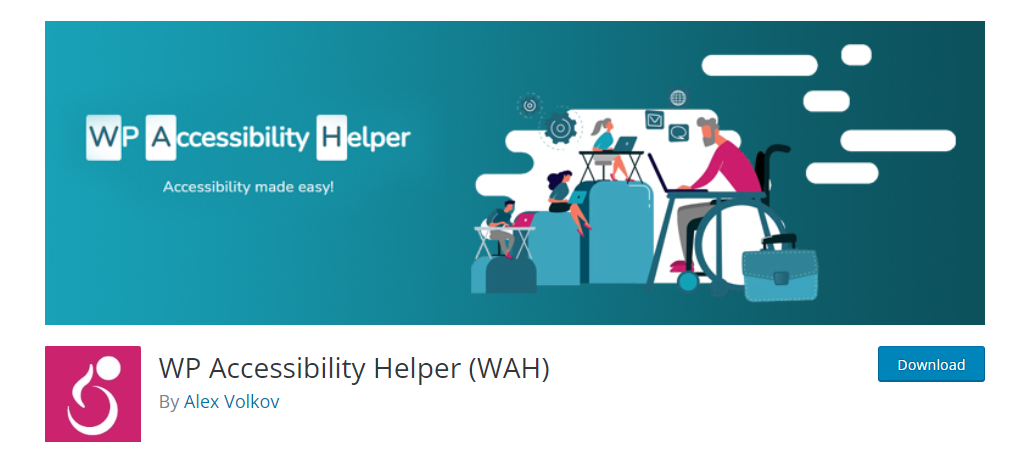 When it comes to amazing accessibility plugins in WordPress, WP Accessibility Helper is easily one of the best options. And on top of it, all of the options it provides are easy to configure, which makes it great for beginners.
While the plugin is free to use, there is a Pro version that has additional features.
Users configure contrast values, and the plugin will utilize cookies to make sure those choices are saved for each visitor. Just remember to have a notification for cookies to be GDPR compliant.
Everything in the plugin is configured using a series of toggle switches and text entry fields. Once configured, users will be able to access a button on the website so they can choose which options to use.
Pros of WP Accessibility Helper
The plugin is easy to setup
Remembers user's options to make it easier to use
Color contrast options are robust
Cons of WP Accessibility Helper
The Accessibility button for users is hard to see
The use of cookies makes it necessary to be GDPR compliant
6. Enable Accessibility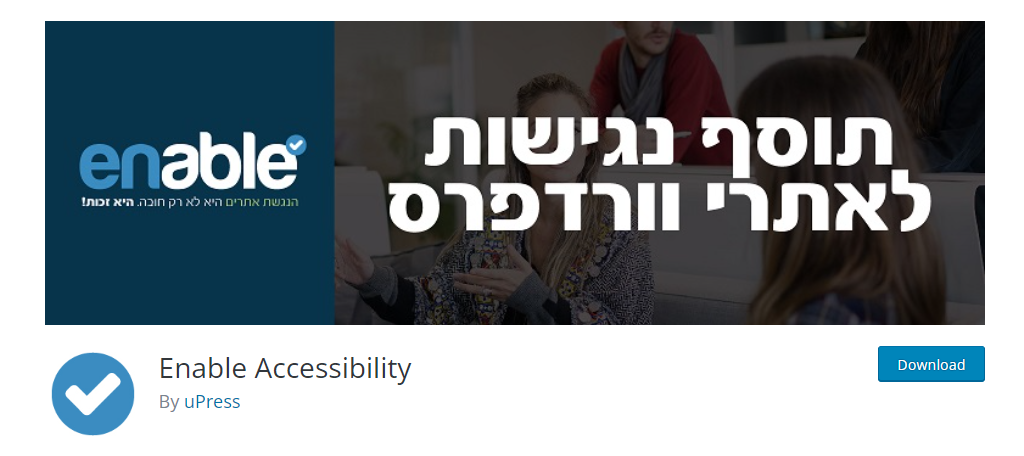 The Enable Accessibility plugin for WordPress is another excellent choice. However, it does require a paid license to fully utilize, thus, it's not for everyone. But for those who do use it, you will be happy.
And that's because the plugin offers a lot of useful tools while also being easy to use.
It includes the more standard feature most of these plugins include like font size control, enhanced keyboard navigation options, contrast control, the ability to stop all page animations, and much more.
The toolbar will be placed directly on your website, which gives power to the user. However, if you try to use this plugin without the license, barely anything will work, so be aware that the license is not optional.
Pros of Enable Accessibility
Gives users control over accessibility options
Compatible with all web browsers
Easy to add the accessibility toolbar in WordPress
Cons of Enable Accessibility
7. Web Accessibility By accessiBe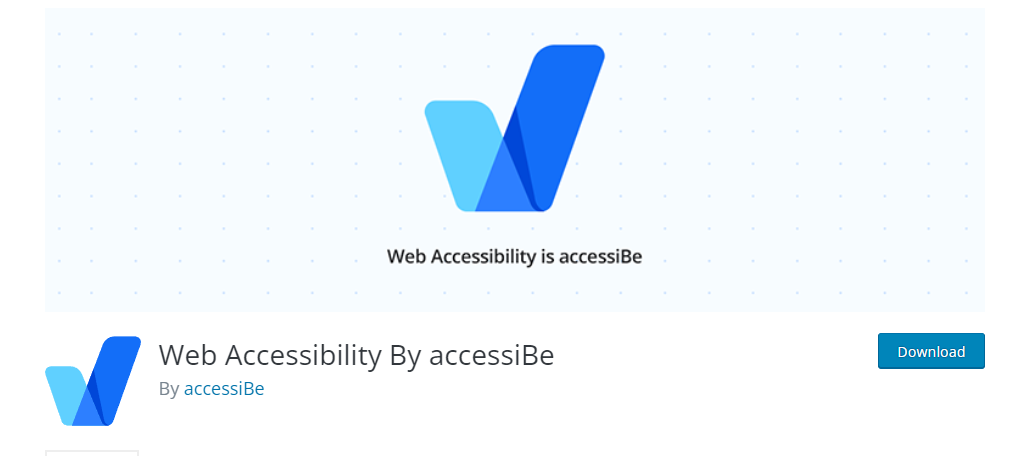 Web accessibility By accessiBe is another AI-powered accessibility plugin for WordPress. The plugin will utilize its AI to scan your site for accessibility issues and helps solve any problems that arise.
Be aware that accessiBe is a software-as-a-service (SaaS), which means it is a paid service that operates through the plugin.
That means without paying for the service, the plugin is essentially useless. However, you won't be disappointed if you purchase this service. It provides users with all of the tools they will need to enjoy your website.
Some of the key features include alt tags scanning, keyboard navigation support (using arrows for dropdowns, forms, etc.), icon and button enhancements, and much more. It's a robust collection of accessibility tools.
Pros of Web Accessibility By accessiBe
7-day free trial is available (no credit card required)
Scans all new and revised content every 24 hours
Easy to adjust accessibility options
Cons of Web Accessibility By accessiBe
Requires a subscription to accessiBe
8. The Accessibility Toolbar by Online ADA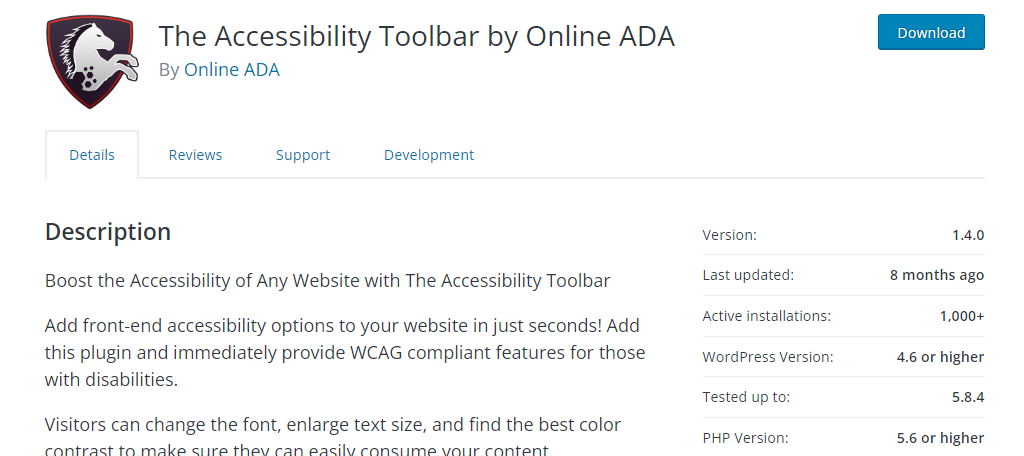 If you are looking for an extremely easy way to make your website accessible, look no further than The Accessibility Toolbar by Online ADA plugin.
It doesn't require any setup whatsoever! Thus, all you need to do is install it on your WordPress website.
So, how can it be this easy? Well, the plugin simply adds a toolbar to your website. Users merely need to click on the icon and they will have access to a variety of accessibility options that they can configure.
While it's simple, it does cover the most essential options, which include font size, contrast, cursor enlargement, and more. While it lacks some of the customizations that others provide, its simplicity makes it a great choice.
Pros of The Accessibility Toolbar by Online ADA
All you have to do is install the plugin
The toolbar is well designed and will look natural on most sites
Cons of The Accessibility Toolbar by Online ADA
Limited options available
9. Accessibility Lite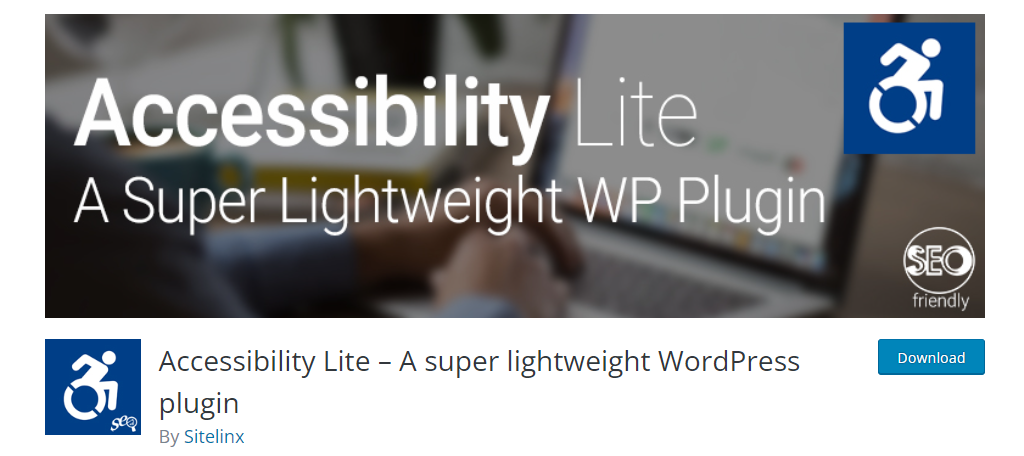 Many users are not a fan of adding plugins because they can slow down your website, but Accessibility Lite was made with that in mind. It's one of the only lightweight accessibility plugins available on WordPress.
And even though it is lightweight, it still does a ton of stuff for your website.
Many of these features sound familiar by now, but for consistency, the key features include link underlining, font resizing, zoom options, disabling flashes and animations, and much more.
It is also possible to use custom CSS to customize the appearance of some of the toolbar. This will ensure it will seamlessly blend into any website if developers know how to insert CSS.
Pros of Accessibility Lite
The plugin prioritizes speed, so, no slowdown
There's an amazing amount of customization available
Supports custom CSS
Cons of Accessibility Lite
Doesn't support many languages
10. Accessibility Press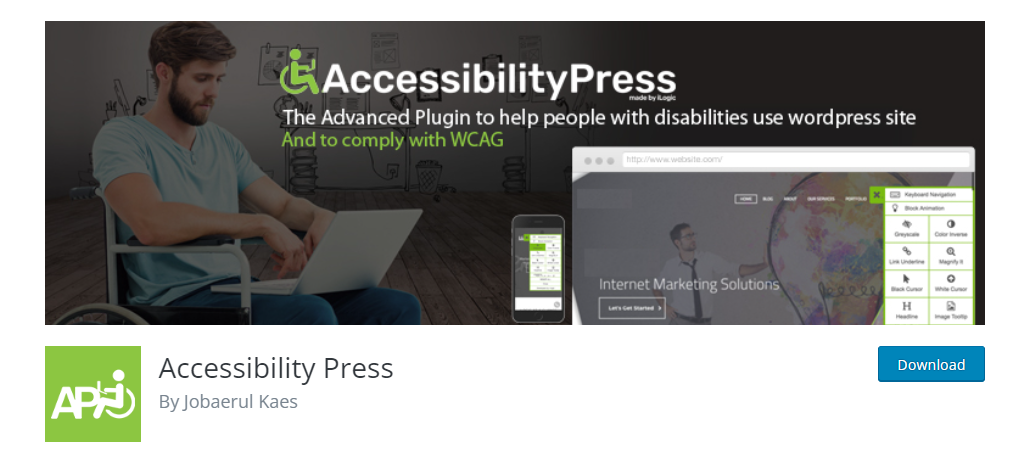 Closing out this list is the Accessibility Press plugin. It's another simple, yet effective, accessibility toolbar plugin for WordPress. However, I happen to think it's probably the best-designed toolbar on this list.
And that's really saying something for an ADA compliance plugin, as many of these are very well developed.
One of the things that really separates it from a lot of other plugins on this list is the language support. This includes both RTL and LTR, so it's a perfect fit for international business.
As you might imagine, the toolbar includes options for grayscale, link underline, zoom control, custom cursors, font size control, and much more. The design is a bit larger than other toolbars, which helps with accessibility.
Pros of Accessibility Press
The accessibility toolbar design is among the best
Support for most languages
Easy to configure
Cons of Accessibility Press
The toolbar needs to be configured to match your website's colors
What About Accessible WordPress Themes?
While the focus today was on accessibility plugins in WordPress, don't underestimate the importance of your theme. In fact, many themes have these types of features built into them.
Thus, with the right theme, you may not even need a plugin, to begin with.
To find out what kind of accessibility options your theme offers, check out the documentation they offer, or hit up the support channels. It's also worth pointing out that even if the feature is not present, you can still add it with code.
All WordPress themes are customizable, thus, it's completely possible to add the accessibility option to it yourself.
Which Accessibility Plugins Are Your Favorite in WordPress?
While this list included 10 unique plugins, there are a ton of them to choose from. We may have missed your favorite so let us know down in the comment section. We may even add it to the list!
What other steps do you take to incorporate accessibility in WordPress?