How to Get the Most out of Your Blog

Content plays an important role in increasing brand awareness, boosting website traffic, and generating new business opportunities.
According to a recent industry report, 97% of marketers have said content is a tactic that's a crucial part of their overall marketing efforts.
Although other types of content, including video, social media posts, and email newsletters, have been picking up steam over the past couple of years, blogging is still going strong. For example, 77% of internet users read blog posts, while internet users in the US spend three times more time on blogs than emails.
But don't forget that the blogosphere is a highly competitive environment, with 70 million blog posts published every month on WordPress alone. Plus, content marketing in the SaaS industry is a little different. Your blog has to educate potential customers about the product or service itself and help them understand what their pain points are.
It's clear that occasionally whipping up a couple of blog posts won't cut it.
Here are some SaaS content marketing tips to help you cut through the noise and make the most of your blog.
Show Your Audience How Difficult Life Is Without Your SaaS Product
You already know why your product or service is awesome and how it can help your potential customers, but the majority of them have never even heard about your company. And some of them don't even know that a solution that can make their lives easier exists.
Most SaaS companies build products for automating some super complex processes and workflows that take a lot of time and energy to do manually. These SaaS solutions can eliminate human error, cut costs, and significantly speed things up.
Create content that will address your audience's pain points in detail, and don't hesitate to tap into their negative emotions. Think along the lines of: their schedule is hectic, they're tired, and there are a lot of tasks to complete manually. Such a scenario definitely triggers your potential customers' frustration over what their life or a regular business day looks like.
After piquing their interest, move on to offering solutions and explaining how much time, money, and energy they will save if they opt for your product.
A blog post is a great avenue for leveraging this spin on the Before-After-Bridge formula, as it allows you to illustrate the power of your product or service and present how your audience will benefit from it.
This post from Scott's Cheap Flights offers a perfect example of that point. It gives long and complex instructions on how to find cheap flights, and then after sketching this process, it says the alternative is to simply become a customer.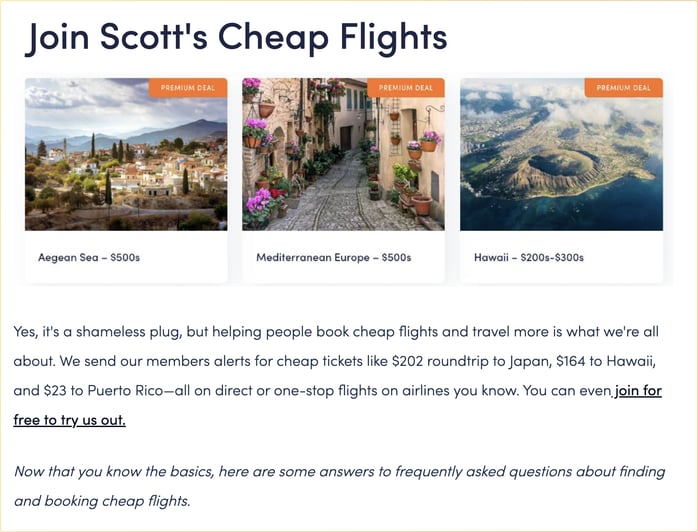 Source: Scott's Cheap Flights
Have a Logical Reason to Talk About Your Product 
Effective blog posts are educational, informative, and useful.
In short, you have to add value to your readers if you want them to believe you genuinely want to help them. So, refrain from turning your blog posts into a sales pitch, as that's a surefire way to lose your readers' attention.
This, however, doesn't mean you shouldn't mention your product or its benefits.
The trick is implementing the right approach and making sure your solution fits in with the objective of the post.
Focusing on your company or your product will be perceived as self-interested, and, as a result, your content marketing tactic will be a flop. 
But, if you set the stage and place your product in the context, your content won't come across as pushy sales talk. Ask yourself whether mentioning your solution makes sense in that particular piece of content and what's in it for your readers. 
They have clicked on your blog post to find answers to their questions. You will certainly alienate them if the post is just a vehicle for blatant self-promotion.
One of our posts featured on the Flamingo blog, 15 Slack Hacks to Improve Your Workflow & Productivity, is an exhaustive piece that truly tries to help our readers. And it made perfect sense to include our product in the narrative as it integrates with Slack and automates leave management. 
As you can see, the blog post doesn't revolve around Flamingo. It's mentioned just once in the article, along with other purpose-built Slack app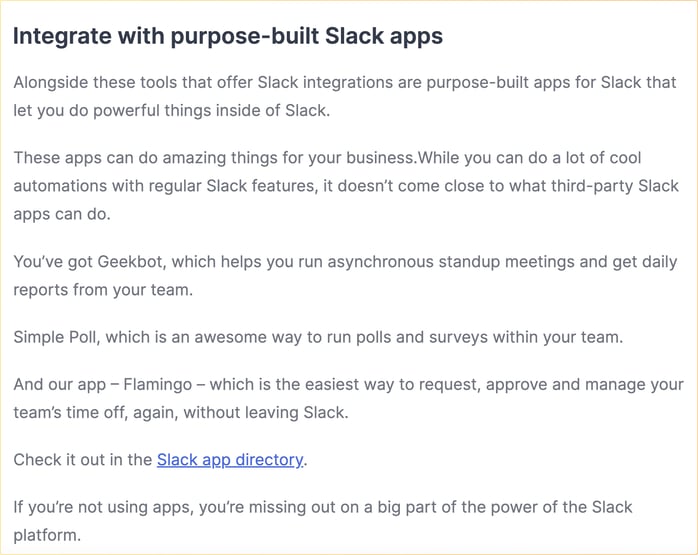 Source: Flamingo 
Create Topical Authority on the Same Niche Topic 
Google is big on content relevance. 
The search engine's ultimate goal is to deliver an exceptional user experience, that is, offer search results that match a particular query as closely as possible. 
Ever since the Hummingbird algorithm rolled out in 2013, Google has been able to analyze natural language and a semantic context instead of putting a greater emphasis on individual keywords and phrases. 
In layman's terms, Google can better understand how relevant a piece of content is for a particular query. And what's more important, it's not possible to trick it by keyword stuffing, cloaking, purchased links, and similar SEO black-hat tactics. 
Only high-quality, relevant blog posts that answer a searcher's question from the query will be rewarded with top rankings, and that's what you're after. 
So, what's topical authority, and how do you build it?
Topical authority refers to a website's perceived depth or expertise over a particular subject. It's broader than keyword authority, which focuses on a single idea or term. 
If you consistently publish tons of original superb content that covers a particular topic extensively, Google will consider your website an authority on it. Just make sure to focus on industry and niche-specific topics and drill down into them. 
This will, in turn, boost your rankings, catapult your content to the top of search results for that topic, and bring you a lot of website traffic. 
Optimal Workshop offers a good example. Their site is packed with articles discussing the tree testing niche topic, which has helped them rank in the top three search results for the keyword "tree testing."
Source: Optimal Workshop
Talk About What Makes Your Product Awesome
We warned you against salesy blog posts that push your agenda and try to convince your readers to buy your product or service. 
Still, it doesn't mean you shouldn't create product-focused blog posts when you have something specific to talk about. Typically, you can resort to this type of content when you want to make new product feature announcements.
These posts are also a great way to talk in much greater detail about your product than you ordinarily would in your marketing/sales copy. 
Here's how to avoid coming off as too promotional. 
1. Address your target audience's pressing pain points 
Although your product is in the spotlight, make sure that your approach is customer-centric. 
So, don't talk about cool specs and features that don't mean much to your potential customers. Focus on the benefits instead. 
Start by addressing your potential customers' pain points and answering their most common questions. 
Then connect your solution to their pain points. 
2. Explain how your product works
Don't overwhelm your readers with too many details, but make sure to explain what your product or service can do. 
You can also add a short video that will showcase your product's most powerful features and show customers how to use them.
3. Tell what makes your product unique
Your customers want to know why they should choose your product instead of opting for your competitor. 
To help them understand, sum up what distinguishes your product and company from the others. 
Ease of use, exceptional customer support, handy features, or super useful functionality that other similar products lack can be the points to discuss in your blog post. 
Affinda's blog post about their new resume parser in Python checks all the boxes and gives readers all the information they need about why this product should be their pick. 
Source: Affinda
Promote Your Content on Social Media 
Doing your SEO right and boosting your Google ranking isn't the only way to get eyeballs on your blog.
Promoting your content on social media goes a long way, and this simple tactic can significantly expand your reach and send a lot of traffic your way. 
Almost 96% of bloggers use social media platforms to promote their content and improve its visibility. This comes as no surprise, considering that there are 4.62 billion social media users around the world. 
However, given that organic reach on social media is in decline, meaning that only about 5.5% of your following will see your post, it's best to start leveraging paid ads.
Thanks to the fact that Facebook, LinkedIn, and Instagram offer pretty granular and detailed targeting options, you can control who will see your ads and show your content to people who will find it relevant. 
A crucial factor for the success of your promotional efforts on social media is a strong following. 
Here's how to build it. 
1. Pick the right channels 
An abundance of social media platforms is a good thing, but you shouldn't spread yourself too thin and use all of them. 
The best approach is to be where your target audience is and focus on engaging with them. 
For example, as a SaaS business, you will naturally gravitate toward LinkedIn and maximize your presence on that platform. 
Also, you can't go wrong with Facebook, as it boasts almost 2.9 billion monthly active users.
It's also a good idea to search social media platforms and identify niche groups related to your industry. This will give you valuable insight into where you can find your target audience. 
2. Post consistently
But not just for the sake of it.
Only valuable and helpful content makes a difference.
If your content misses the mark and isn't tailored to your audience's needs or interests, you'll only overwhelm followers on social media, and they will stop engaging. And in some cases, they will even unfollow you.
So, check your analytics to see which posts get the most engagement, as that's an indicator of what your audience loves. Also, ask your followers what they would like to see and read on your social media channel.
Finally, spy on your competitors and pay attention to how their posts are performing. Then, try to implement their tactics and see how it goes.
3. Engage with your followers
The power of social media lies in its interactivity, and you should use it accordingly.
Bear in mind that it's a channel for two-way communication, meaning that you should talk to your audience rather than at them. They're not just passive recipients of your messages.
So, respond to their comments and questions in a timely manner, as that's the way to spark meaningful conversations and build relationships with them.
Quetext provides a great example of how posting consistently on the right channel can lead to better engagement. Their post on common writing mistakes generated more than 200 likes and seven shares.
Source: Quetext 
Go Evergreen
The secret to creating a blog that scales well is producing evergreen content.
As its name points out, evergreen content has an indefinite shelf life and stays fresh and relevant over a long time. This way, it continues to generate traffic, gets reputable backlinks, and successfully ranks for competitive keywords.
Evergreen content revolves around timeless topics that don't go out of time and are always relevant to your target audience. Another factor that defines this kind of content is its quality. We're talking about well-researched, detailed, and optimized blog posts that will keep on attracting readers after a couple of months and even years.
How to create evergreen content
Here are a few of the basic steps to get you going.
Identify evergreen topics by performing keyword research and pinpointing the keywords with solid search volumes and search potential.
Check how these keywords stand the test of time by analyzing how well they have performed. The search volume of evergreen keywords is never on a decline. Also, these keywords shouldn't be seasonal.
Make sure there's consistent search intent. If a keyword has an unclear and vague search intent that tends to change, then it can result in ranking volatility.
By regularly updating it, you can create a valuable source of new traffic.
However, there's a catch: it's usually expensive, and it takes a long time to research and write. But it's definitely worth the effort. Don't think of this as an expense but as an investment, because a niche evergreen blog post will keep on generating value for as long as you maintain your blog.
Resource roundups lend themselves perfectly to this kind of content.
Aura's massive 64 Best Amazon Seller Tools List is a textbook example of supreme evergreen content in the form of a resource roundup. Since it's so extensive and well-structured, potential clients will refer to it whenever they want to learn more about this specific topic.
Source: Goaura
Buffer's Complete Guide to Instagram Marketing is another resource to take a cue from. Their lengthy resource on creating a successful Instagram strategy is more like a playbook. Readers have all the information they need to start building and growing their presence on this network.
Source: Buffer
Maximize Your Blog's Potential
Your blog has tremendous potential when it comes to helping your SaaS company grow. With carefully created content that provides valuable industry knowledge and resonates with your readership, you can experience an increase in website traffic and, subsequently, revenue. 
Start by understanding your target audience and their needs. This will allow you to produce the content they will read and share with others, thus boosting the visibility of your business and positioning it as an industry leader.