WordCamp San Diego 2022!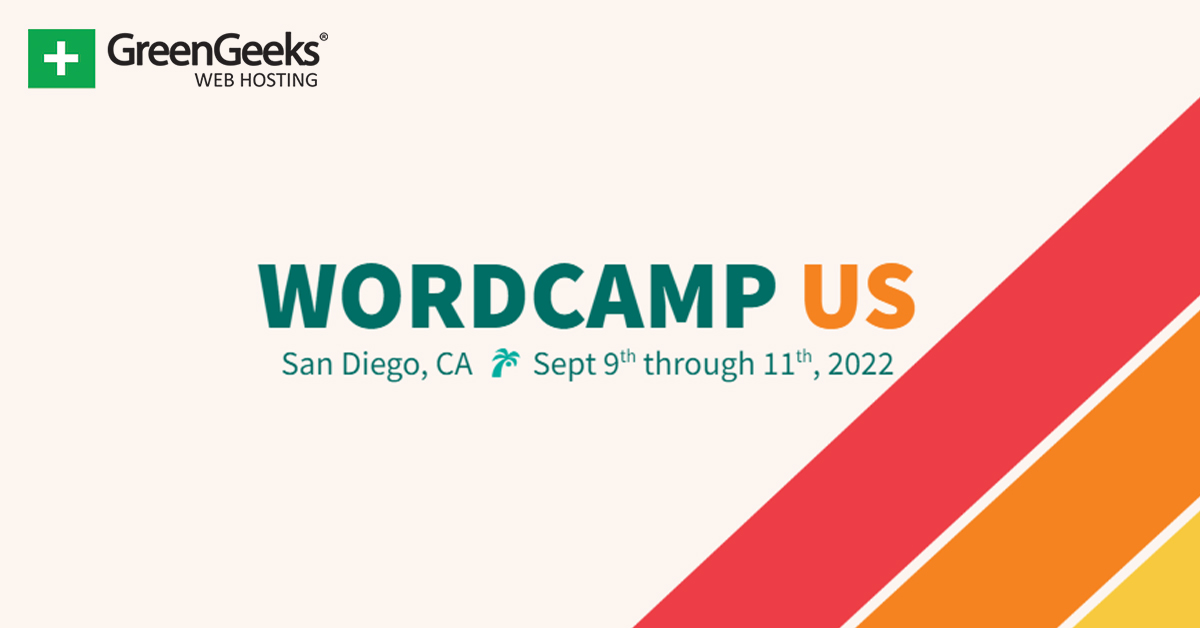 It's been a long time since I had the pleasure of writing about WordCamp. And even longer since I've been able to attend one. Today, I'm excited to talk about WordCamp San Diego in 2022 and how things are getting back to normal. Kind of.
This September 9th through the 11th, we are sponsoring WordCamp San Diego and all of the fun that comes along. We'll be there in person ready to answer any questions you may have about GreenGeeks, WordPress, or to simply chat about your experiences.
We love meeting new people and networking. So, don't be shy.
What's nice about WordCamp San Diego for 2022 is that it's loaded with some great information. Currently, all of the in-person tickets are sold out. However, you can still watch the talks for free during the live streams of the event.
This is something I intend on checking out myself as I am in Colorado and am unable to get away to San Diego for a few days.
What to Expect from WordCamp San Diego in 2022
During this three-day event, there are a lot of interesting sessions available. And as WordPress has evolved a great deal in the past year, the value of information is incredible.
Especially with the new additions of tools in WordPress 6.0 and later.
So, if you're available to attend or watch the live stream, keep an eye out for:
Best Design Practices to Create EngagementLee Levy will discuss ways to perfect your website design in a variety of ways. This includes things from keyword and image ratios to knowing the best plugins to use for performance.
A New Era of WordPress Themes is Here: Block ThemesThemes are the skin of your website. And Rich Tabor will help you understand the evolution of WordPress themes using blocks, patterns, parts, and style variants.
Clue: A Detective's Guide to Troubleshooting in WordPressEven though WordPress is a stable platform, sometimes, things happen. In this session, Micah Wood will help you learn the different types of issues you may come across, how to troubleshoot, and interactions with your web host.
Empowering local stores; learn from the tech giants whilst staying localYes, online shopping is a major industry. In fact, many smaller, local stores are taking to the Internet to reach a wider customer base. Ronald Gijsel breaks down steps that you can use to take advantage of your local market online.
Gamify Your ContentI'm a big fan of gamification to inspire productivity. And in this talk, Ronnie Burt delivers real-world examples of how gamification can improve a wide scope of content types and developments in WordPress.
This is just the tip of the iceberg for the 2022 San Diego WordCamp. You can attend talks on using Google Analytics 4, meeting your customers, accessibility options and developments, and a whole lot more.
Fun Facts About San Diego
Although our main focus is the WordCamp, there is still a lot to explore in San Diego. It's rich with historical background and home to a lot of incredible experiences.
While you're visiting San Diego, keep in mind that:
San Diego County has more small farms established than any other county in the United States, including the mid-east farming states. Its biggest export is avocados.
The world's first transatlantic flight was flown in The Spirit of St. Louis in 1927. It was built in San Diego, and a replica is available at the San Diego Air & Space Museum.
According to the Travel Channel, San Diego is home to the country's most haunted house; The Whaley House Museum.
There are a lot of things to do and explore in the city. So, enjoy the WordCamp, but don't forget to spend a bit of time checking out the surrounding landscape of San Diego.
Getting Back to Normal, But Still, Be Safe
Our own Anna, Ericka, Marco and Phil will be in attendance. So, if you see them in San Diego at the WordCamp, make sure you stop by and say, "hi."
I'm pretty excited that we'll be attending these again in the future. WordCamps are always fun to participate in, and you can meet all kinds of intriguing and amazing people.
I'd like to thank all of the organizers, volunteers, attendees, and sponsors for helping make San Diego WordCamp 2022 happen. I know we've had a rough couple of years, and it's good to see people engaging again.
Have a great time, but always stand on the side of being safe.